Recently, I published my ultimate travel guide for your first time traveling in Hawaii. I have included everything you possibly need to know. However, it didn't answer one of the first questions I had when planning my trip to Hawaii: how do you know which island you should visit? How could you ever choose between these gorgeous places on earth?!
Honestly, there are so many reasons why I loved visiting Hawaii – it really is a bucket list destination! I can't wait to go back and explore some more of the beautiful islands. Really, I wish I could've just visited them all. But since we have to make tough choices, with this guide I hope I can help you choose the best fit for you.
The Hawaiian Islands in this guide
This guide to deciding which island in Hawaii to visit talks about the six major islands visited by tourists. They are Oahu, Maui, Big Island, Kauai, Molokai and Lanai. For three of them (Oahu, Maui, Big Island), I've included my own personal experience visiting the islands. Although I haven't yet had the chance to visit the other three, I've based the guide on elaborate research on the islands. Doing so really made me want to go back and explore much more of this beautiful place!
In this post, I don't focus much on the different activities each island offers. Instead, I list the natural features and overall vibe. In my experience, most islands offer everything your heart could possibly want in terms of activities.
Every island I've visited has had incredible opportunities for snorkelling, swimming with turtles, surfing and even more extreme adventures. So, to say that just one island is the best for a particular activity would be a shame.
Now, let's get straight into the different islands!
Oahu: tropical island meets city life
Oahu is the island which often comes to mind most quickly when thinking about Hawaii. It is home to some of the most well-known features of the state and jam-packed with every experience you can possibly imagine.
Known for: pretty much everything! Tropical beaches, active hiking and lush green nature. It's an interesting combination of local island vibes & urban city life. If you want to visit just one island and want your trip to be as diverse as possible, Oahu is the place to go.
Highlights: downtown Honolulu, Waikiki Beach, Ho'omaluhia Botanical Garden, Pearl Harbour
My experience visiting Oahu
I loved visiting Oahu! Although we were only there for a few days, I tried experiencing as much of the island as I could. I loved to soak up the sun on the most incredible tropical beaches, celebrate my birthday in Waikiki and wander through the stunning botanical gardens. I can't wait to go back and explore the rest of this island.
Thinking of visiting Oahu? Maybe you'd like to read about my favorite Oahu beaches or plan your trip with my 3-day ultimate highlights itinerary. Or, if you can't choose, simply browse through them all.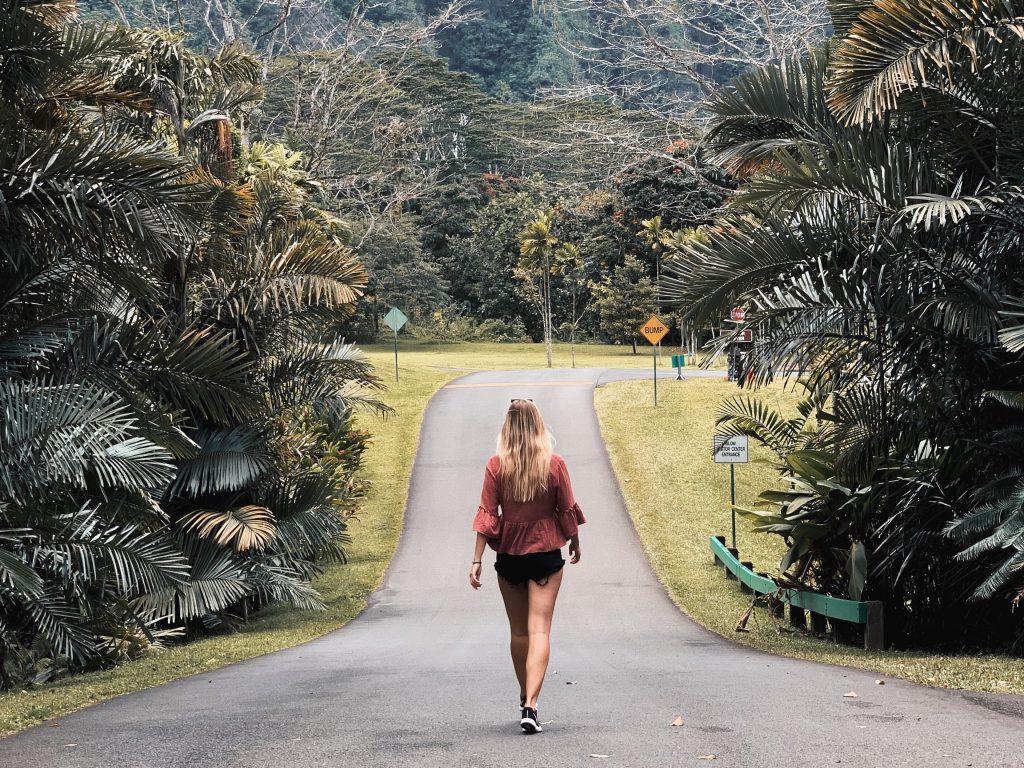 Kauai: dramatic landscapes & hiking
Kauai is of the wettest places on earth! Because of that, it's also the greenest Hawaiian island. Tropical forestation and mountains make up almost the entire island.
Known for: Kauai is home to dramatic landscapes with far-stretching mountains. It's the place-to-be for great hiking and outdoor activities. The island shows incredible, rough nature and treacherous roads. Overall, it's less fancy than some of the other islands and has a more low-key vibe.
Highlights: Nā Pali Coast State Wilderness Park, Waimea Canyon State Park, Wailua Falls, Hanalei Bay, Poipu Beach
Maui: scenic road trips & incredible beaches
Maui is the second biggest island of Hawaii. It's often seen as an ultimate bucket list destination. And for good reason. The gorgeous backdrop is every traveler's dream!
Known for: incredible tropical nature. Rainforest, waterfalls, beaches in every color you can imagine – you can find it all on Maui. Winding roads make for the most scenic road trips you'll ever go on and allow you to discover the best-hidden spots on the island. Another well-known feature is the Haleakala volcano, from which you can witness the most beautiful sunsets and sunrises.
Highlights: Road to Hana, Haleakala National Park, Iao Valley State Park, Molokini Crater
My experience visiting Maui
Although it's a tough choice, Maui might just be my favorite island in Hawaii to visit. I loved every last corner of this island. The multi-colored beaches, the waterfalls, the secluded spots I accidentally discovered and even just the food. It all was incredible and I can't wait to go back one day!
Thinking of visiting Maui? Read all about my 10 ultimate highlights on this island or browse through all Maui posts.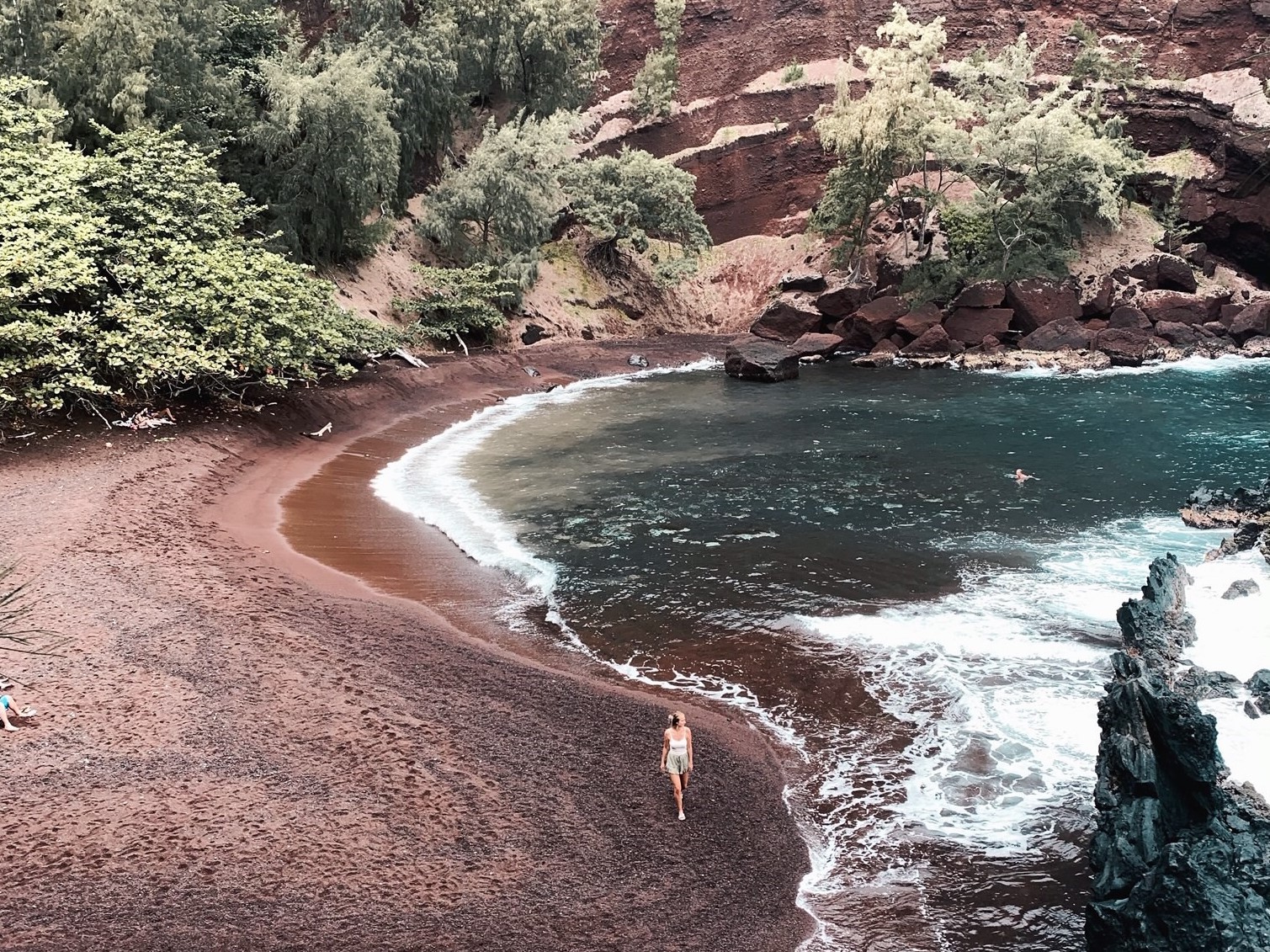 Molokai: authentic, simple Hawaii
Although Molokai is one of the smallest Hawaiian islands, it isn't any less special. The island is home to the largest fringing reef in the United States and also has an impressive underwater world.
Known for: simplicity and rural Hawaiian life. Molokai is the perfect island for you if you want to escape the commercial tourist craziness. You won't find big resorts and mass tourism, but rather the local aloha spirit and a simple way of life.
Highlights: Kalaupapa National Historical Park, Papohaku Beach Park, Halawa Valley, Olo'upena Falls
Big Island: volcanic paradise
Officially called 'Island of Hawaii', Big Island gets its nickname from being the biggest of the Hawaiian Islands – by far. In fact, it's bigger than all the other islands combined.
Known for: Big Island is most famous for its volcanic activity. The volcanic origin of the Hawaiian islands is most visible on this one, which experienced active volcanic flow until very recently. The volcanoes also make a great place for stargazing at night.
Highlights: Hawai'i Volcanoes National Park, Green Sand Beach, Captain Cook Bay (snorkelling paradise), Carlsmith Beach Park (sea turtle heaven!)
My experience visiting Big Island
I doubted for a long time whether to visit Big Island or not. I'm so glad I did! I loved that the island gave so much insight into the crucial role of volcanoes in the existence of Hawaii. It was incredible to see such impressive nature from up close in Hawai'i Volcanoes National Park.
But even besides the volcanoes, the island is well worth a visit. Big Island holds so many incredible natural scenes! It's home to one of only four green sand beaches in the entire world, an incredible underwater world and one of the best places to swim with sea turtles.
Check out my complete list of Big Islands highlights or browse through all Big Island posts.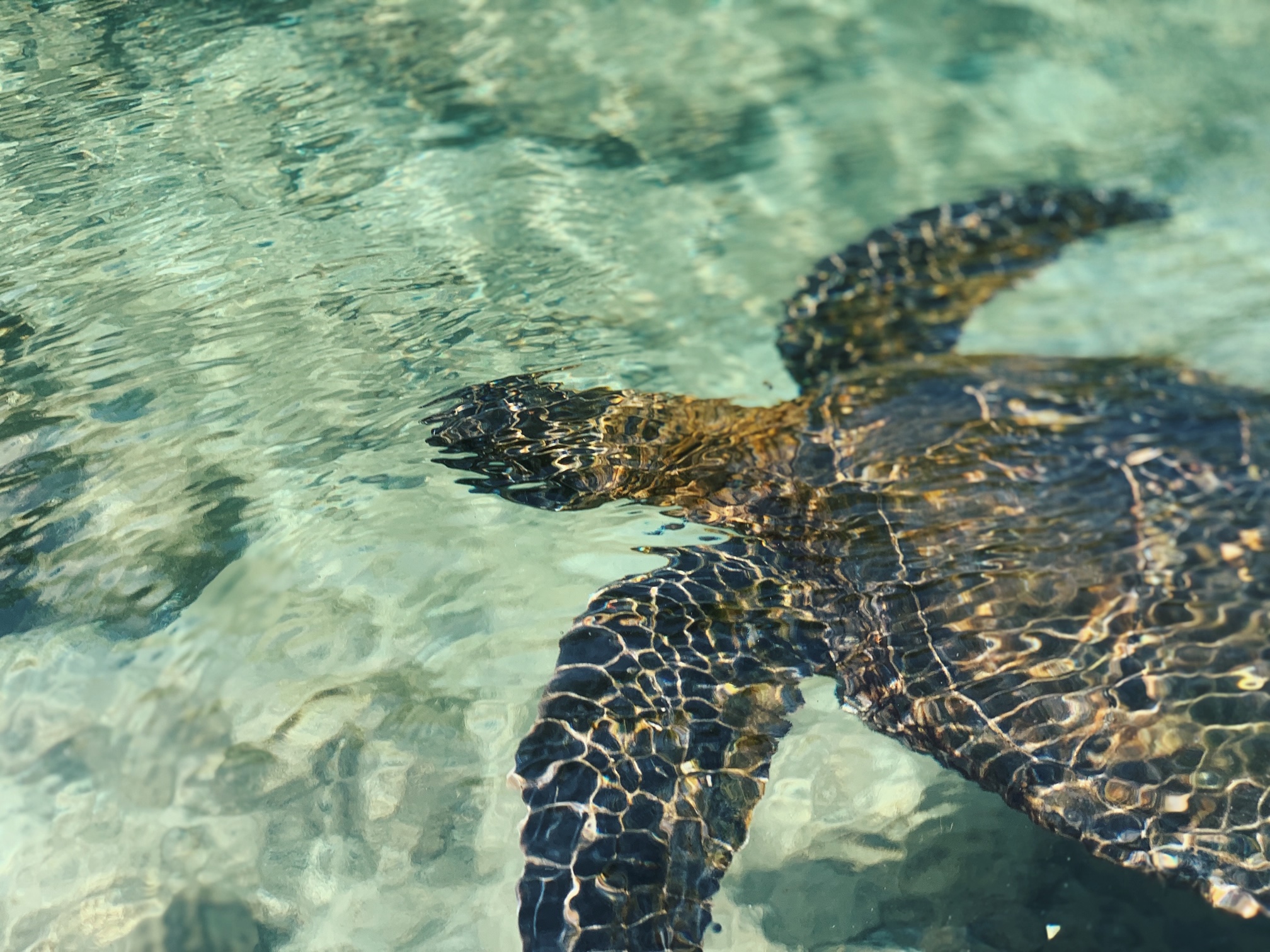 Lanai: remote luxury
Last but definitely not least, Lanai is the smallest inhabited island of Hawaii. It used to be known for its history of pineapple plantations. But now, it's the modern luxury that prevails among tourists.
Known for: luxury and remote quietness. Lanai is the place to go if you're looking for fancy resorts and shops, as well as fine dining. Although geographically close to the islands of Maui and Molokai, Lanai offers its own, unique nature and experiences.
Highlights: Garden of the Gods, Hulopoe Bay, Manele Golf Course
And with that, we have come to an end of this guide! I hope you feel confident in choosing which island in Hawaii you should visit. I'd love to hear which one it's going to be!
Liked this post? Save it for later!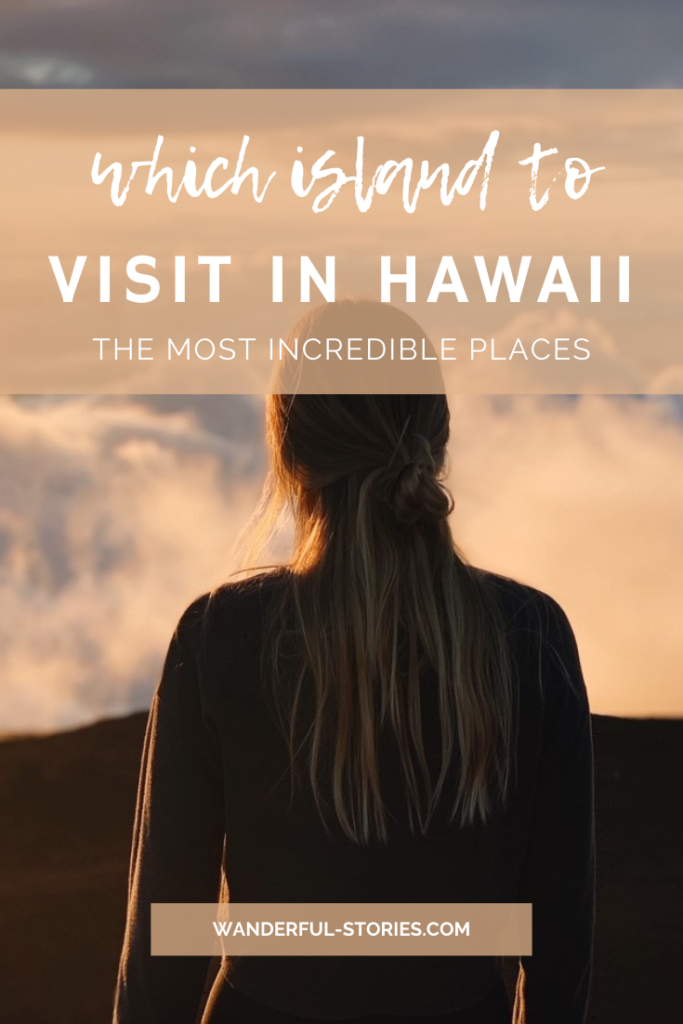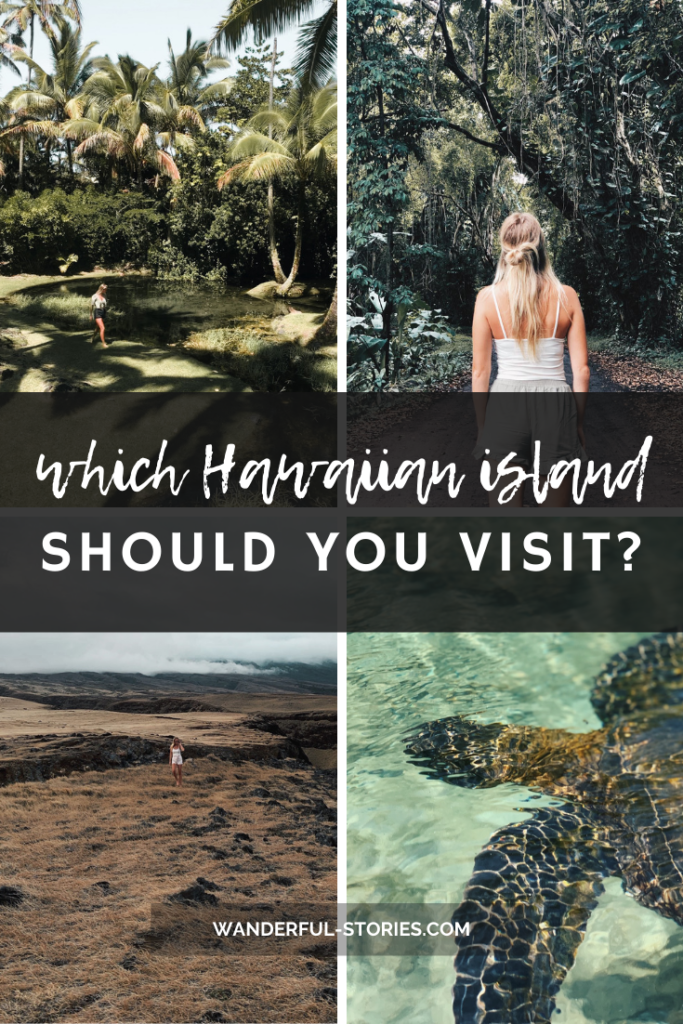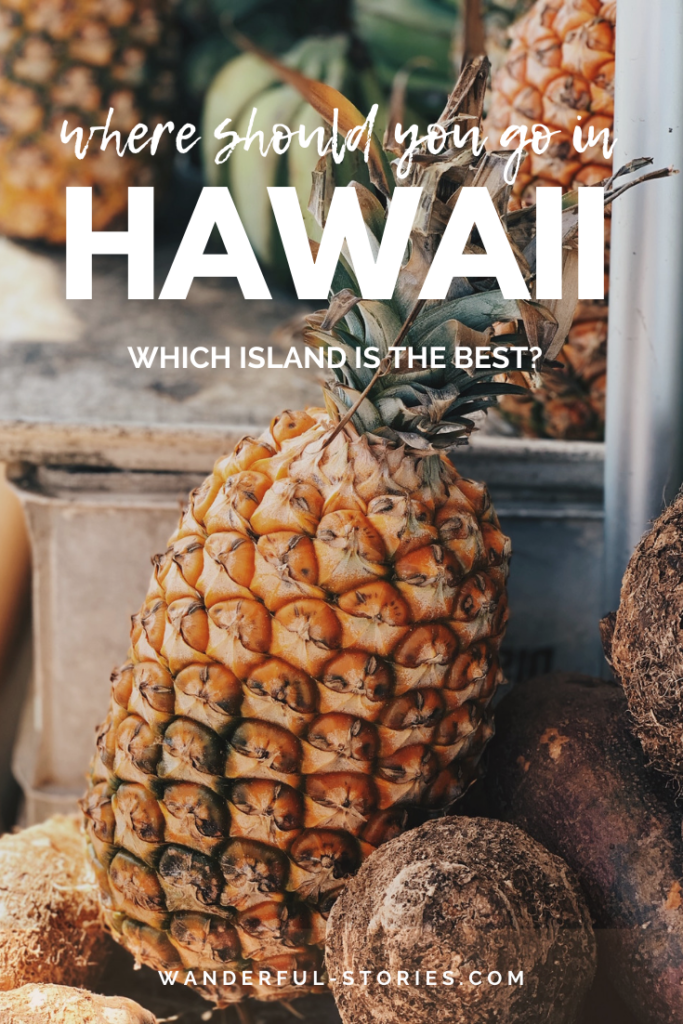 ---
You may also like…