When planning for our trip to Hawaii, the one thing that was probably on the top of my list was seeing turtles in the sea. This dream came true in more ways than I could have ever imagined. Not only did I end up seeing many of them, I also had the opportunity to swim with these beautiful animals many times. Honestly, I think we got lucky to get the greatest tips from locals on where to go. Because I know you probably have the same turtle dream, today I'm sharing these tips with you. I present to you, my ultimate guide to swimming with turtles in Hawaii!
What to know before you go
Rules & regulations surrounding (swimming with) turtles
First things first: let's talk about turtle safety & respect. Besides it being common sense, state and federal law states you cannot harass turtles by invading their space, touching, chasing or feeding them. Pretty much everywhere you go where you can see turtles, you'll see signs telling you to keep a distance of 10 feet (3 meters) to the turtles. This is the case both on land and in the water.
In many places where turtles are basking on the sand, you'll see volunteers and ropes to stay behind. This is not the case in the water, though. So, it's important to try your best to give these beautiful creates some space and enjoy their presence from a bit of a distance.
If you want to read more, check out this helpful website with more information and FAQs on seeing and swimming with sea turtles in Hawaii.
My experience interacting with turtles
I know it can be hard to keep your distance from turtles in the sea. Sometimes, you can not see much further than a few meters ahead of you underwater. It also happens that they approach you from behind. In any way, they can sometimes sneak up on you and come incredibly close when you least expect it. Don't take this as an invitation to approach them, let alone touch them, though. Sea turtles can and will bite you if they feel they need to. 😉
So, whenever I'm swimming in a place with turtles I'm feeling really conflicted. I really want to spot a few of the animals and take a picture of them, but part of me is constantly looking behind me. You know, just making sure no turtle is crashing into me and taking a bite out of my leg, haha.
In all seriousness though, I found that if you just pay attention and try and be respectful towards the animals, you should be more than fine!
Where to swim with turtles in Hawaii
Now, let's get straight into my favorite spots for seeing and swimming with sea turtles in Hawaii! I've personally visited Oahu, Maui and Big Island and have swum with turtles on every single one of them.
Because I'm basing this guide mostly on my own experiences, I'll show you my favorite spots around these three islands. Whether you're island hopping like we did or just visiting one of these islands, there are good chances you'll be able to spot turtles. I've categorized my favorite turtle-spots per island, so you can easily find the ones that are most relevant to you.
Oahu
Oahu is home to many great beaches, some of which turned out to be excellent spots to see and even swim with turtles. These three are my personal favorites:
Waikiki Beach – with its impressive skyline and crowds of tourists, Waikiki Beach may be the last place you'd expect sea turtles to live. This couldn't be further from the truth, though! Head over to the waves crashing into the shoreline and you'll find lots of turtles joining you.
Hanauma Bay – this bay is one of the best snorkeling spots in all of Hawaii and for good reason! It is a beautiful bay full of underwater life, including turtles.
Laniakea Beach – one of my personal favorite spots. You'll pretty much always find turtles basking in the sun on this North Shore beach, as well as a volunteer happy to answer any of your questions. A must-visit turtle spot on Oahu!
Maui
One of my ultimate highlights on Maui are the island's beaches. Red, black, brown, grey or white sand, you'll find them all. Here are my two favourite turtle spots on this island:
One'uli Beach – this dark-colored beach is so gorgeous! It's set in a more quiet part of the island in the midst of beautiful rocks and mountains. I loved strolling past the shoreline and watching as two turtles searched for food on the bottom of the sea.
Ho'okipa Beach – set on the very beginning of the Road to Hana, this beach is a must-see if you love turtles! The beach is also a great spot for surfing, so there's usually lots going on to keep you entertained. Because of the rough waves and the water activities going on, I'd recommend being a bit more careful when swimming here, though.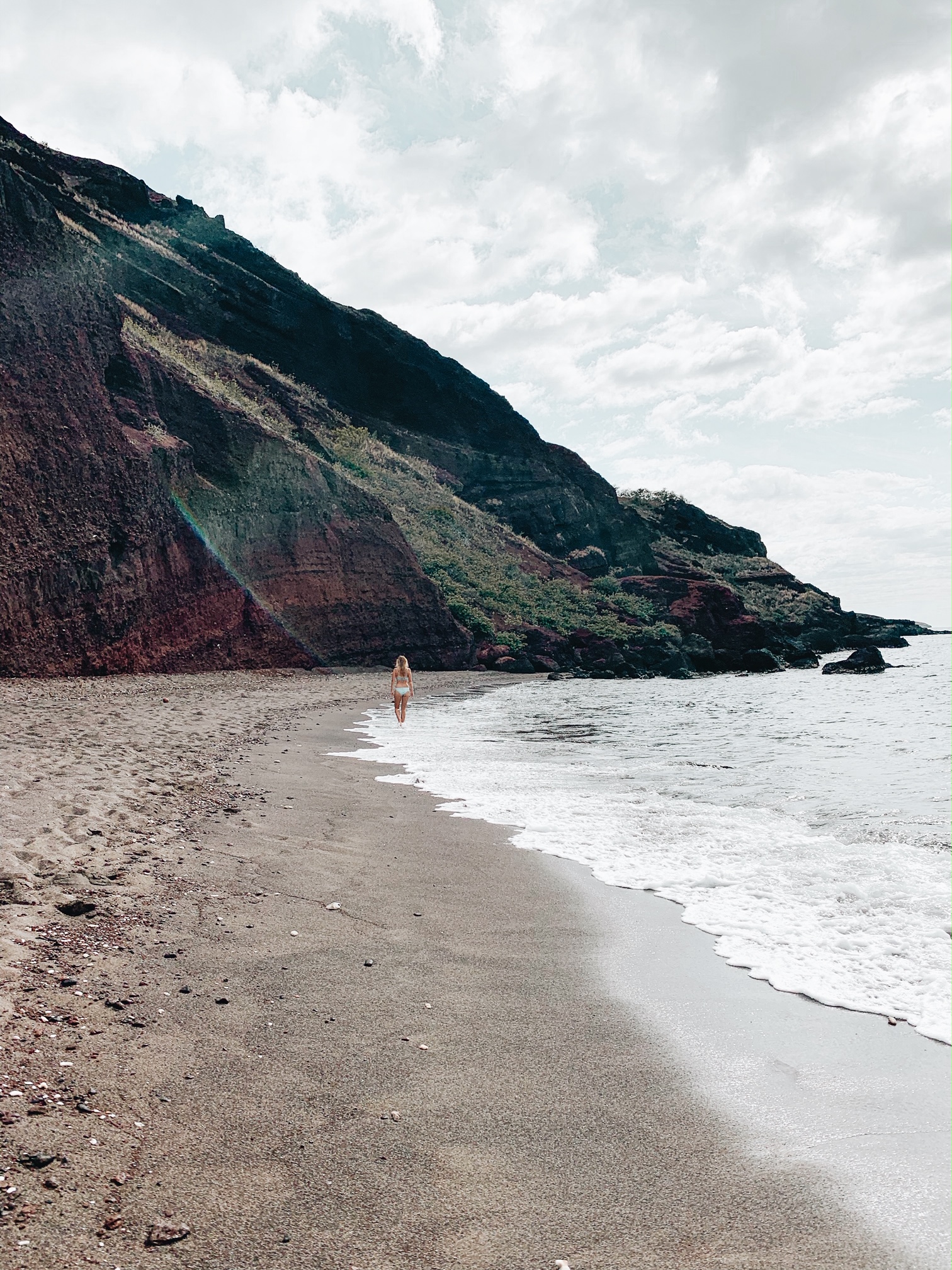 Big Island
Unexpectedly, Hawaii's Big Island actually turned out to be my favourite island in terms of turtle adventures. The following two spots are definitely worth a visit when you're there:
Carlsmith Beach Park – my #1 turtle spot! Wow, this place was simply amazing. The water was clear and there were lots and lots of turtles, which almost seem to want the attention of the tourists here. Still, don't touch or feed them, but I'd highly recommend this place. We ended up visiting this spot about 5 times during our stay on the island.
Punalu'u Beach – a gorgeous black sand beach in the south-east of Big Island. It's a popular spot for spotting and swimming with turtles, but also a fun place to just relax and enjoy the sun. It's a bit more crowded than some of the other spots in this post, but not any less fun.
What to bring
Finally, let me give you some pointers on what to bring to your turtle spotting adventure. Here's everything you're gonna need to make the most of your turtle day trip.
Swimwear
Snorkeling gear – you might not need it for every spot on the list above since the water is pretty shallow usually. If you have it, I would recommend bringing it anyway, though. Nothing beats seeing a turtle underwater!
Camera & underwater camera – to capture those special moments from the shore and in the sea.
Your basic sun protection items – sunglasses, a hat and lots of reef-safe SPF.
A beach towel & flip flops
Enough water and some snacks – not to feed to the turtles, obviously. 😉
Hawaii Travel Guide
Ready to make some amazing memories in Hawaii? Don't forget to check out my complete Hawaii travel guide (it's free!)  It's got everything you want to know for your trip.
More blogposts you'll love for your trip to Hawaii:
Or check out all posts for Oahu, Maui or Big Island!
And that's it, with those tips and my very favorite beaches, you should be all set to go out and meet some turtles! Let me know how it goes and if you have any tips for swimming with turtles in Hawaii!
Some links in this post may be affiliate links, meaning I earn a small percentage of any purchase made. They're at no extra cost to you, but allow me to keep creating new content for you guys. Of course, you're free to use any other link!
Liked this post? Save it for later!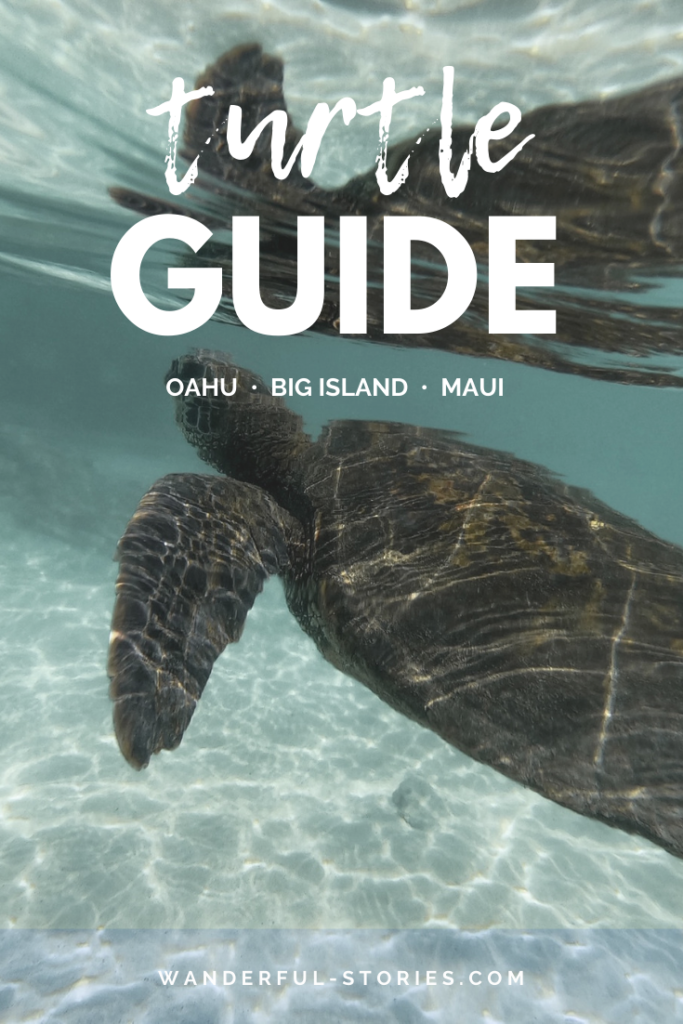 ---
You may also like…