Out of the three Hawaiian islands I've visited, Maui might just be my favorite. There are so many incredible things to do and see! Just visiting this one island would give you a great impression of the diversity of the beautiful nature it has to offer. Today, I'm sharing my 10 ultimate highlights in Maui, including all the must-see spots and the very best activities.
1. Red Sand Beach (Kaihalulu Beach)
I'm starting off with one of my favorites, Red Sand Beach. You'll know why it's one of my ultimate highlights on Maui once you visit it. The color of the beach is incredible, unlike anything I'd ever seen before. Moreover, the blue water and rough waves of the ocean make the entire scene seem so untouched and undiscovered. You can reach the beach by parking on the nearby streets – be sure to check where it's allowed, though. Then, hike for a short while along the hills. Be careful when hiking as some parts of the hike can be a bit tricky, especially in bad weather conditions.
2. Turtle spotting Ho'okipa Beach
Ho'okipa Beach is one of the first stops along the Road to Hana and is a pretty magical place. It's the perfect place to spot sea turtles, which come ashore to bask and chill on the sand. This was one of the first spots we really got to get a good look at these beautiful animals. By federal and state law, you can't come too close to the sea creatures, to give them their well-deserved space and not disturb them. On the beach you'll find a line, behind which you can stand to take pictures, as well as a viewing platform to take a good look from above. Please respect these animals by not coming too close. Often, volunteers will be present to make sure the rules are respected. They're usually more than happy to answer any of your questions about the turtles.
3. Venus Pools
This spot is a paradise! It is a definite must-visit and might be the one that ranks the highest among my ultimate highlights in Maui. Unfortunately, it is hard to locate and not easily accessible. And even if you do, you have to cross private land (even though the spot itself is not private property) along an unmarked path. When you do reach it, though, you won't believe your eyes. The best thing is, you won't have to share it with a lot of people, because many don't know about or find it. Swimming in the Venus pool was absolutely unbelievable, as you float in clear blue water in a lush green setting full of palm trees. Words can't describe it.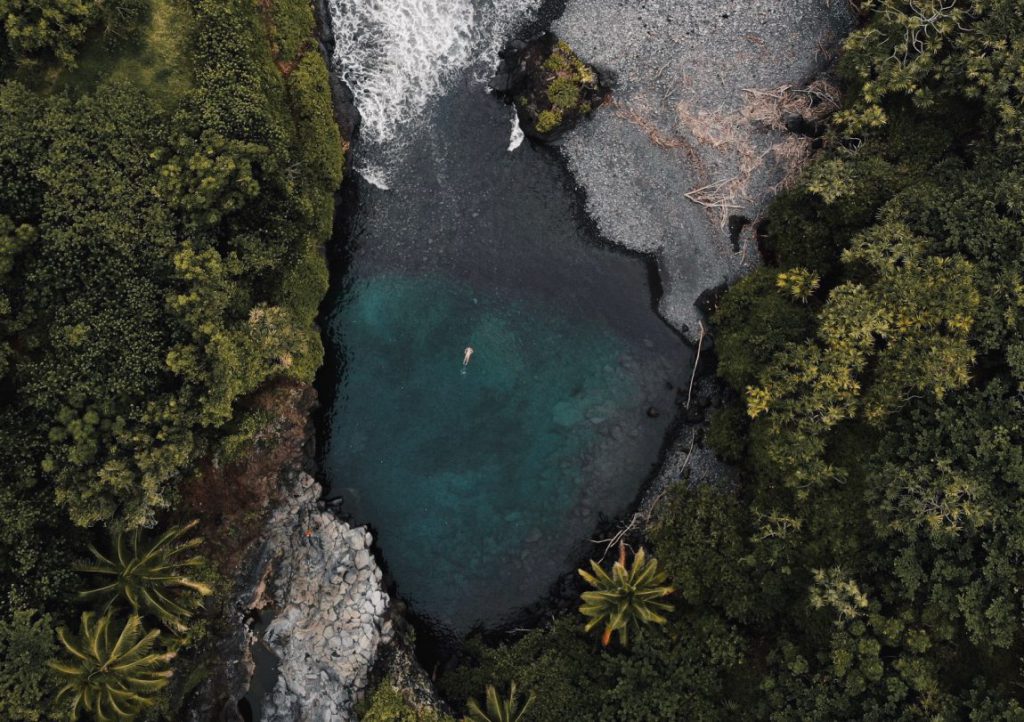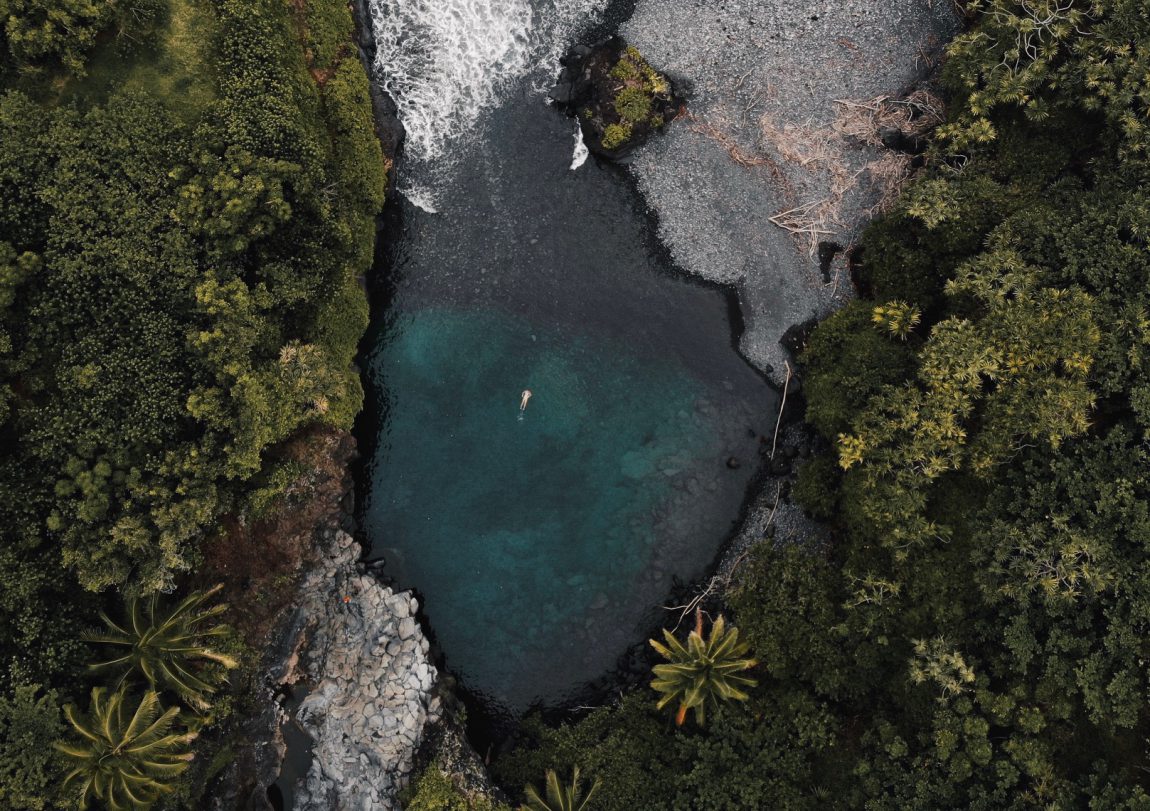 4. Multi-colored beaches
Maui is home to many gorgeous beaches in all different colors. Besides the red sand beach mentioned above, you'll also find black sand beaches in all different colors and shapes. One of my favorites was Oneuli Beach, with black/greyish colored sand and beautifully set against a backdrop of red and green mountains. I also loved the fact that this beach was much less busy than a lot of other ones on the island (you know I love a good hidden gem). We shared it with only four others, maybe. Oh, and not to forget: you can also watch sea turtles in the waves! I haven't seen them come ashore, but did spot them looking for food and floating in the waves as those washed upon the beach.

5. Drive the Road to Hana
Although some of the spots mentioned before are part of the Road to Hana, I thought it was worth mentioning the road separately, as everything has a unique beauty. The Road to Hana is a 64.4-mile road (about 104 km). It takes you from Kahului to Hana, along many beautiful spots. Besides the different destinations, the road itself is worth paying a visit. You'll drive through a tropical setting with lush, green settings and waterfalls. It's a perfect compilation of Hawaiian island life, in my opinion. So, this one definitely deserves a spot in the list of ultimate highlights in Maui!
Planning your road trip along the Road to Hana? Here, you can read all about my favourite stops along the road and my top 10 tips you need to know before going.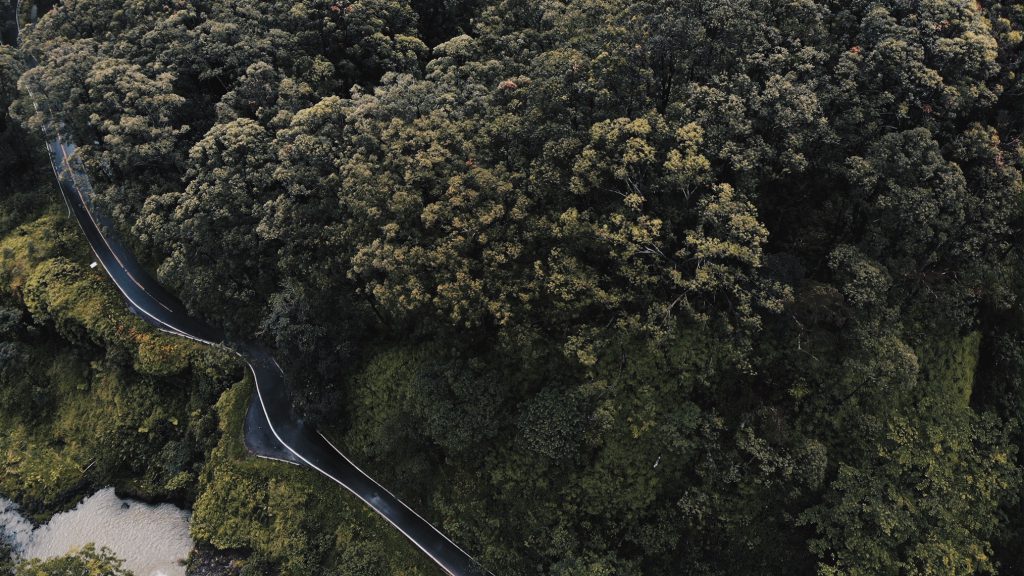 6. Visit local towns: Paia & Wailuku
As much as I love Maui's nature, I also really appreciate visiting local towns. I think they are a great way to experience the local culture, compared to some of the bigger cities. On Maui, I especially liked Paia and Wailuku, both of which had their own personality.
Paia is great for local shopping and eating true Hawaiian food, ranging from poke to shaved ice and more. I visited the local boutiques and got a salad in a local health café. In Wailuku, I loved visiting the local market, which sold everything from local art and jewelry to fruits and veggies. This place is also home to many colorful buildings and is a great place to spot beautiful street art.
7. Drive along the South coast
I discovered the south coast by accident. We were driving back from our final stop along the road to Hana, which actually is located way below Hana. Frank and I were debating whether to take the same road back to our hotel or drive further down across the south coast and then make our way up to Kahului. Since Google showed us that the latter option would be faster and we thought it would be nice to see a different part of the island, we decided to drive down south.
First, we thought we were in a lot of trouble; we encountered one bad gravel road after the other (thanks for that, Google). We were actually doubting if we should just turn around and take the long way back before we'd wreck our rental car. But a bit later on, the roads improved and we drove across the most gorgeous landscapes. This part of the island turned out to be much more deserted than the north coast. Even though we'd been on the road for over ten hours in total that day, we couldn't help but stop and take some pictures as the sun was going down. I'd highly recommend exploring this place. Do make sure your (rental) car can handle the rough roads and drive slowly, though.
8. Visit food trucks
Yup, I'm a bit of a foodie. And a picky one, because I am vegan and prefer healthy foods over junk food any day. At home, it's a good combo that generally keeps me healthy. However, out on the road it has proven to be far from ideal. However, compared to some other countries I've been to, Hawaii is not such a bad destination for me. In general, you can find many food trucks across Maui that serve the most delicious and often freshly prepared meals. And, they often have vegan options! I've tried many different things, ranging from nutritious burrito bowls, falafel salads, Pad Thai and – of course – acai bowls. Other local specialties include shaved ice, banana bread and poke bowls, which you can find all over the island.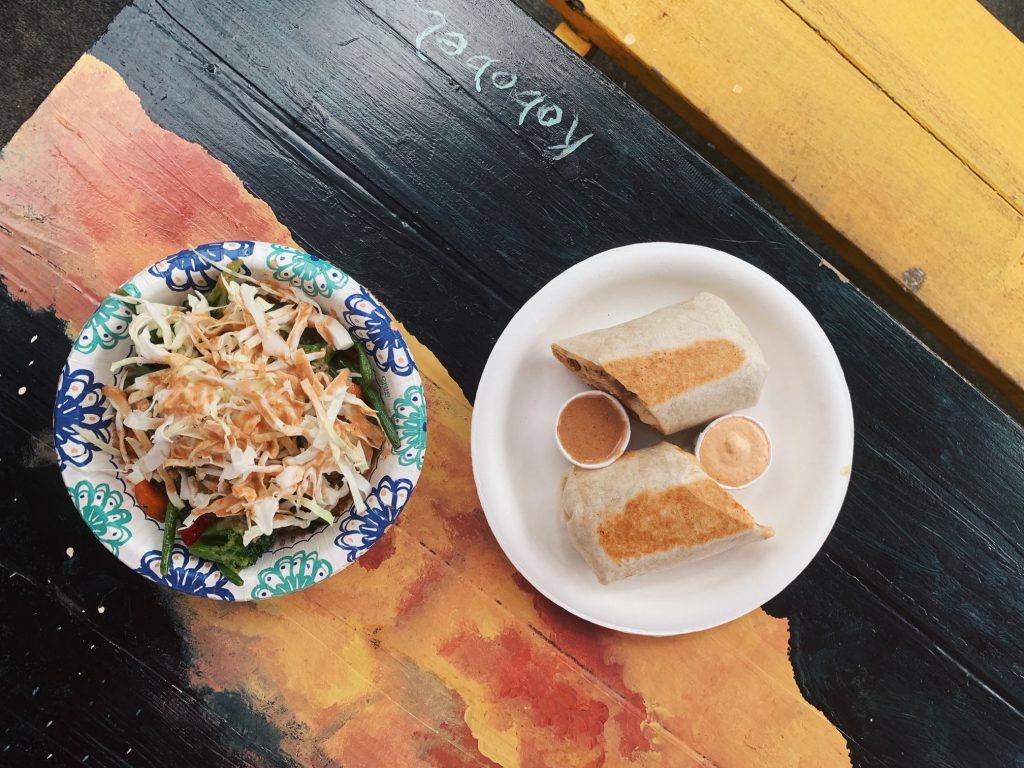 9. Iao Valley State Park
On our last day on the island of Maui, we decided to pay this park a visit and I'm glad we did! Iao Valley State Park is a gorgeous park with green mountains everywhere. We loved doing the small hike up to the lookout, which gives you a great view of the Iao Needle and which is no longer than a few hundred meters long. Unfortunately for us, it started raining pretty badly. We tried waiting it out in a shelter, but eventually had to run through the rain to our car and didn't get to explore more of the park. The place is easily accessible by car, which you can park either beside the road (for free) or on the official parking lot (for a few dollars). So, although this one was the last one added to my list of ultimate highlights in Maui, it's definitely not the least!
10. View the sunset at the Haleakala summit
This experience was so incredible! Even though I'd read about the popularity of watching the sunrise on this volcano, I wasn't sure whether it would be worth getting a National Park pass and reserving a spot. Well, turns out that when we finally decided to give it a go, I was too late to make a reservation anyway. (FYI: spots to view the sunrise book out way in advance, but the National Parks department releases a limited number of final spots (80) in the final 48 hours. If you want to get a spot, I'd suggest getting one on time.)
We ended up watching the sunset, for which you don't need a reservation at the moment and which was just as magical. Also, I was kind of glad we didn't have to drive up to the summit at 3 am. 🙂 On the top of the volcano, you'll have a panorama view of its surroundings. When the sun goes down, the sky turns all different kinds of pastels. It's like being in a cotton candy world, without a doubt the most beautiful sunset I've ever seen.
I'm glad we did go and this definitely is one of my ultimate highlights in Maui! You can get your National Park pass upon entering one of the different spots of the park. It costs $25 per car and is valid for three days. So, you can combine it with visiting other parts of the park, like the Seven Sacred Pools along the Road to Hana.
You can read the full story of my sunset experience at the Haleakala summit here!
Where to stay in Maui: my recommendations
During my trip, I stayed at the Maui Seaside Hotel and I loved it. The room was really beautiful and spacious, the swimming pool was perfect for relaxing in between day trips and – honestly – the bed was just the best! It was definitely a great option in between hostels and camping and pretty budget-friendly. I saw it is recently renovated, so it's probably even more beautiful and better now. Overall really good value for your money. 🙂
There you go, those are my 10 ultimate highlights in Maui. Have you visited the island? What did you love most about it? I'd love to hear from you in the comments!
Some links in this post may be affiliate links, meaning I earn a small percentage of any purchase made. They're at no extra cost to you, but allow me to keep creating new content for you guys. Of course, you're free to use any other link!
Liked this post? Save it for later!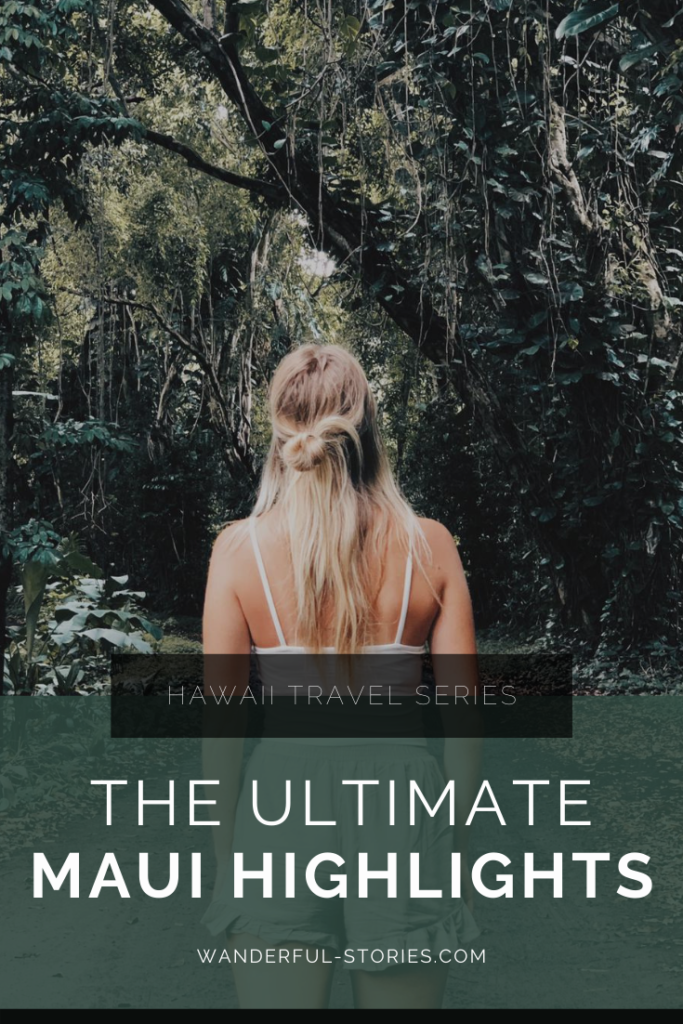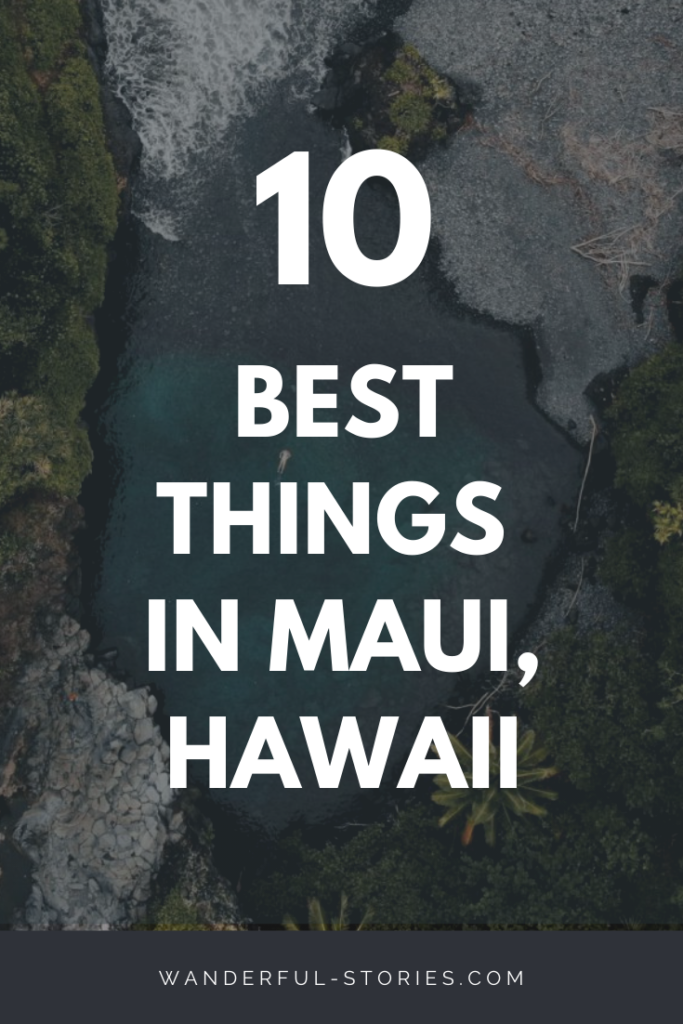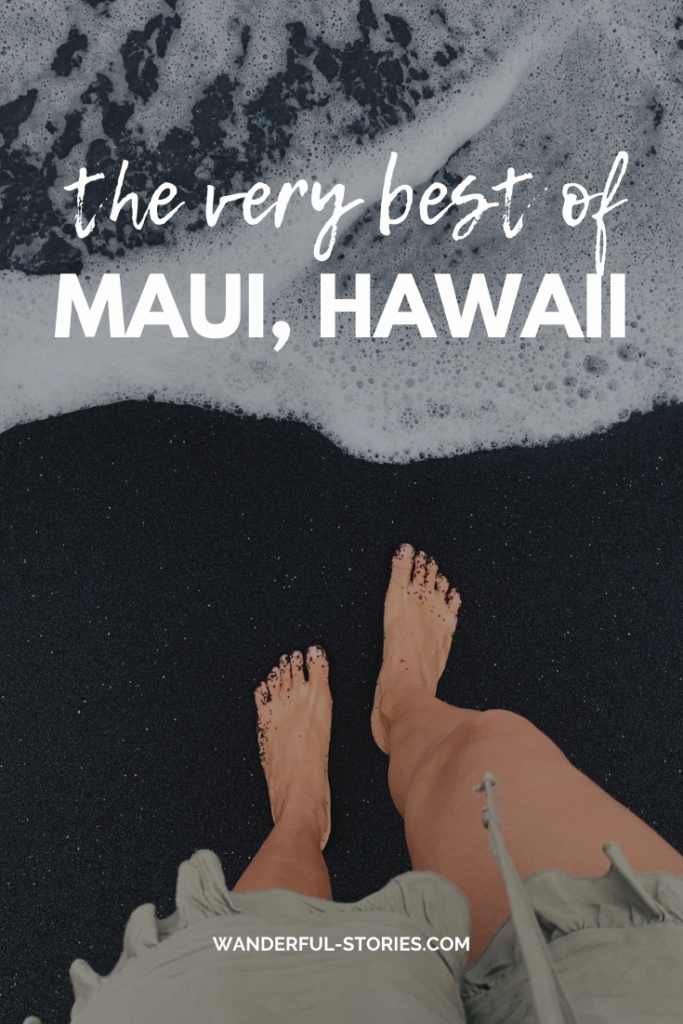 ---
You may also like…