Hi again! In this post, I am sharing about one of my favorite Hawaii moments, one Frank and I shared on Maui: viewing the sunset at Haleakala, the main volcano on the island. It truly was a one-of-a-kind experience and one of the most gorgeous sunsets I have ever seen!
First things first, though: I know it's been a few weeks since I last posted here. Between my last days in Hawaii and my next adventure, a road trip along the west coast of the United States, I've got to be honest: there was so much to see and so many memories to capture and enjoy in such little time, that I've had to postpone the remainder of my Hawaii blog posts (as well as so many new road trip related ones!) for a little while. But believe me, there are still many things I want to share. So here we go again!
Haleakala: House of the Sun
The meaning of the name Haleakala is 'House of the Sun'. It is on the summit of this volcano that – according to legends – demi-god Maui captured the sun to slow it down and prolong the day for his mother. Throughout history, the place has been sacred to the Hawaiian people for many different reasons, ranging from divine admiration to death rituals and even the creation of tools.
Currently, the peak is probably most known as a popular spot for sunrise viewing. And when I say popular, I mean it: you need to make a reservation way in advance. By now you probably know that after seven months of travel, my planning style is relaxed. OK, let's be honest, it's non-existent. Unless it's absolutely necessary, in which case it's still pretty minimal. So, naturally, when I found out you'd need some kind of reservation, I wondered whether it was worth it and put a pin in it (seriously, why though). And of course, as we decided just before that it would indeed be worth it, all the spots were long gone. And so, we ended up 'opting' for sunset instead.
If you are smart enough to plan in advance, you can make your reservations here (up to two months in advance). But even if you're as last-minute as I am, still might be in luck: they release 80 more tickets two days in advance at 4 pm (local Hawaiian time).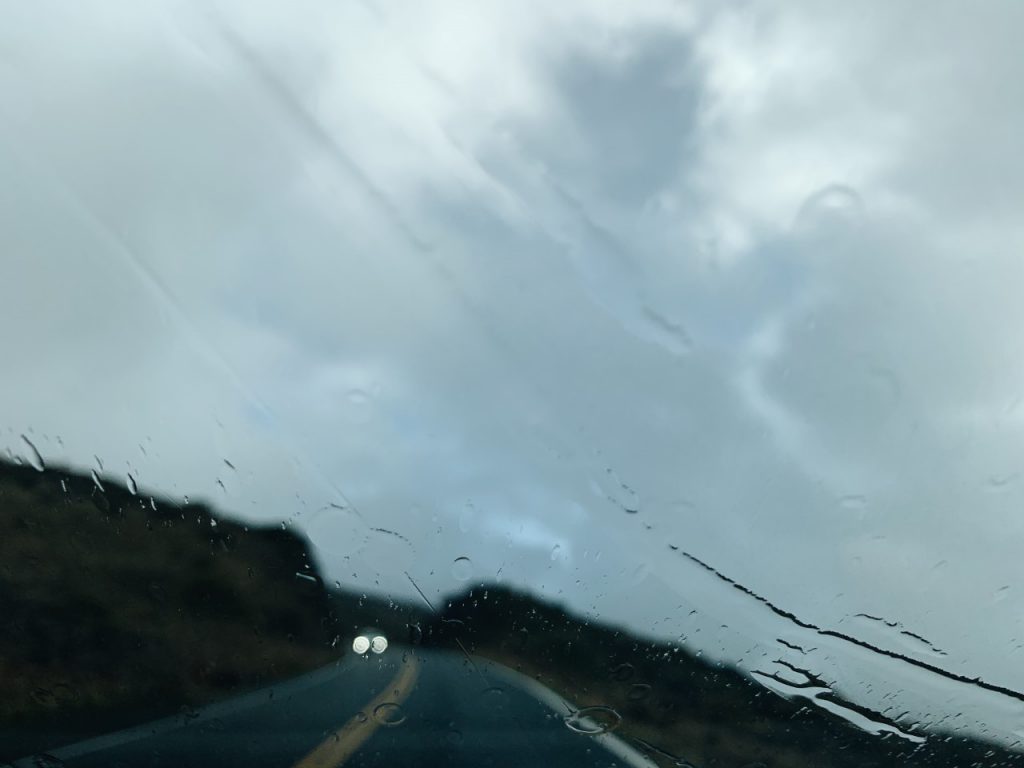 The drive to the summit
After learning that the sun would set at Haleakala around 6:45 pm and knowing it would take us at least one hour and 15 minutes to reach the peak from our hotel, we decided to get in the car at 4 pm. That way, we were sure we'd have enough time to look around and enjoy the view. However, by the time we had picked up some food at a local food truck, it was already 4:45 pm. We hastily set out for our journey east.
When we approached the foot of the mountain, it started raining pretty badly. As we began our climb up to the peak, thick, foggy clouds soon surrounded our car. We worried that the weather might ruin our only chance of viewing the sunset at Haleakala. We hoped that we would leave the clouds behind and would reach a clear top. Yet as we made our way through one layer of clouds, another one soon followed. We could only hope for the best and enjoyed our view of the road and our surroundings – as much as we could see, at least.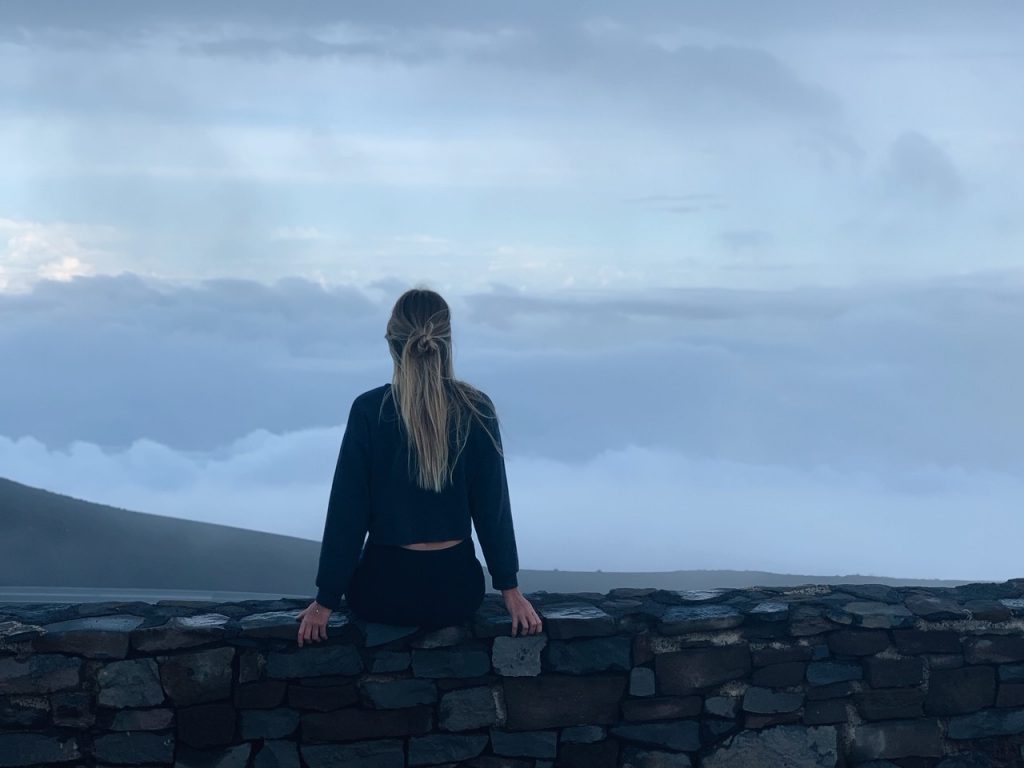 Haleakala summit & observatories
When we arrived, an unexpected cold hit us immediately. The weather in Maui had been fairly hot for the entire time we'd been there. So, I was still wearing my shorts and top as I got out of the car. Luckily, I'd brought some warmer clothes, just in case, and after a quick change, we made our way out of the parking lot and admired the views.
Thankfully, it had stopped raining. Although it was still pretty cloudy, this didn't make the view any less amazing. Everywhere, the earth was red and rocky, making it clear we were standing on a volcano. Yet it might as well have been an unknown planet. The Haleakala Observatories, several white buildings with round roofs, are the only buildings to be seen. They give the entire landscape a bit of a science-fiction-vibe.
Maui stargazing
Even though we'd left later than planned, we still had some time left and read up on the surroundings of the peak. (Btw – we were glad we didn't come earlier, our hands were cold enough as it was). We read that the observatories are the home of powerful telescopes for both defense and scientific purposes and that they track every single man-made object in space (over 8.000!).
There's a good reason for this, as Maui has the fourth-best viewing conditions on the entire planet. I also loved seeing the contrast between these supermodern technologies and the history of the place. However, they still align as even all those years ago, Haleakala was the center of stargazing and interpreting activities. How cool is that?!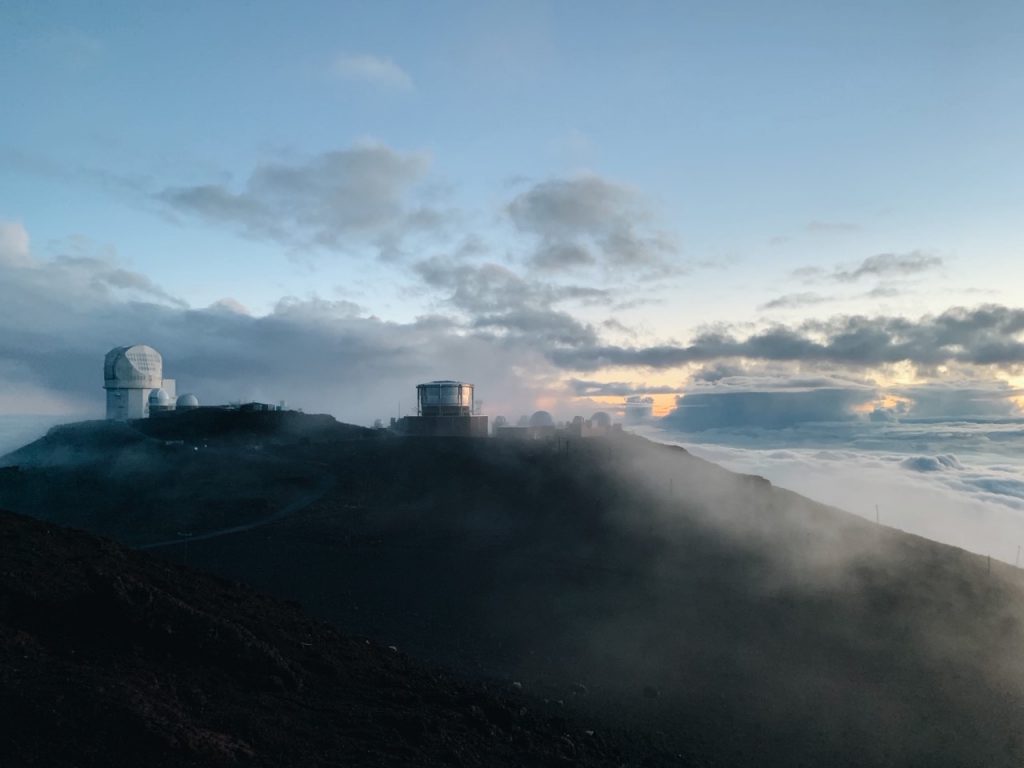 Gorgeous colours and blankets of clouds
As if arranged by some divine planning, the fog disappeared and the clouds shifted as the sun began to set. Two layers of clouds remained, a thick one below us and a thin one above us. Between them, we could watch the horizon change color. Cotton candy-like blankets of clouds made way for deep blue and orange hues. We watched in awe as the place slowly got darker and darker.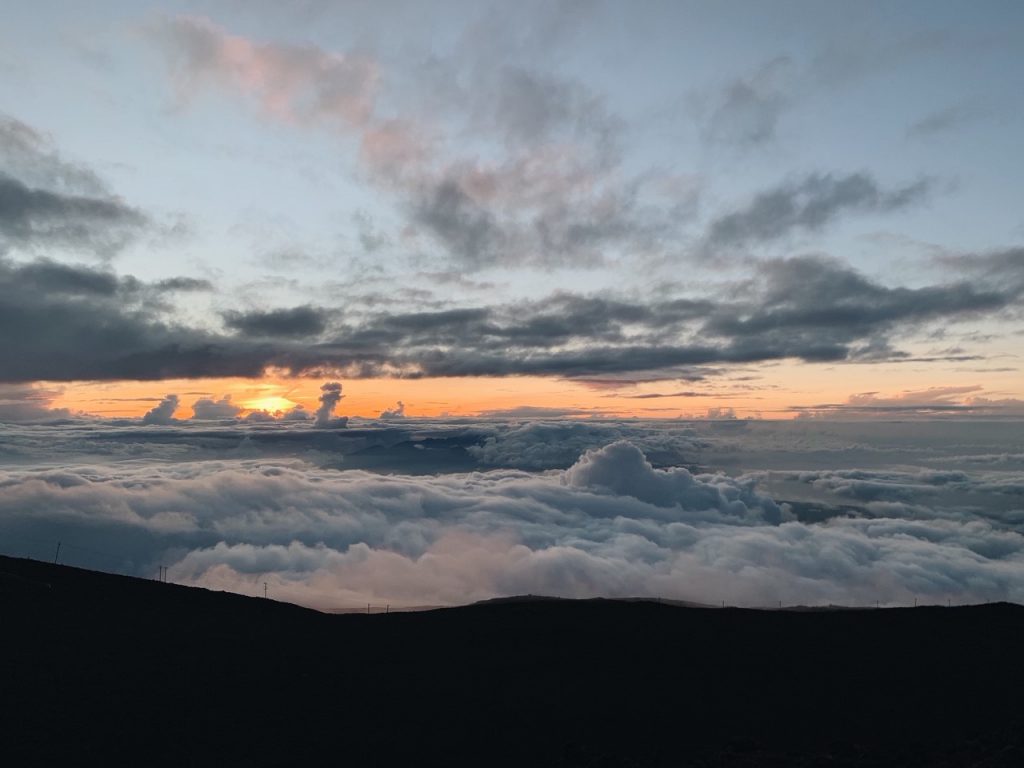 As the final strokes of colors finally vanished from the sky, the darkness started to embrace us. We tried to stick around for as long as possible to fully grasp the experience. Finally, though, I almost begged Frank to walk back to the car with. My sweater and sports leggings really were not fit to stand the freezing cold that was descending upon us.
I really cannot believe I almost missed the incredible experience of viewing the sunset at Haleakala, due to my lack of thorough research and planning. It was one of the most incredible sunsets I've ever seen – if not the very best one. (Yes, I admit I am one of those persons who loves sunsets and may have said this before. But I promise you – this one will not be trumped easily.)
Even though I haven't seen the sunrise to compare, I cannot recommend the summit for sunset viewing enough. Although the sunrise is probably lovely too, I guess the evenings will probably be a lot less busy than the mornings. Moreover, you don't need a reservation – oh, and you won't have to drive up there at 3 am. 😉
Let me know if you will be viewing the sunset at Haleakala summit, too, or if you already have! I'd love to know about your experiences. Want to know about the other best experiences on Maui? Make sure to check out my 10 ultimate Maui highlights!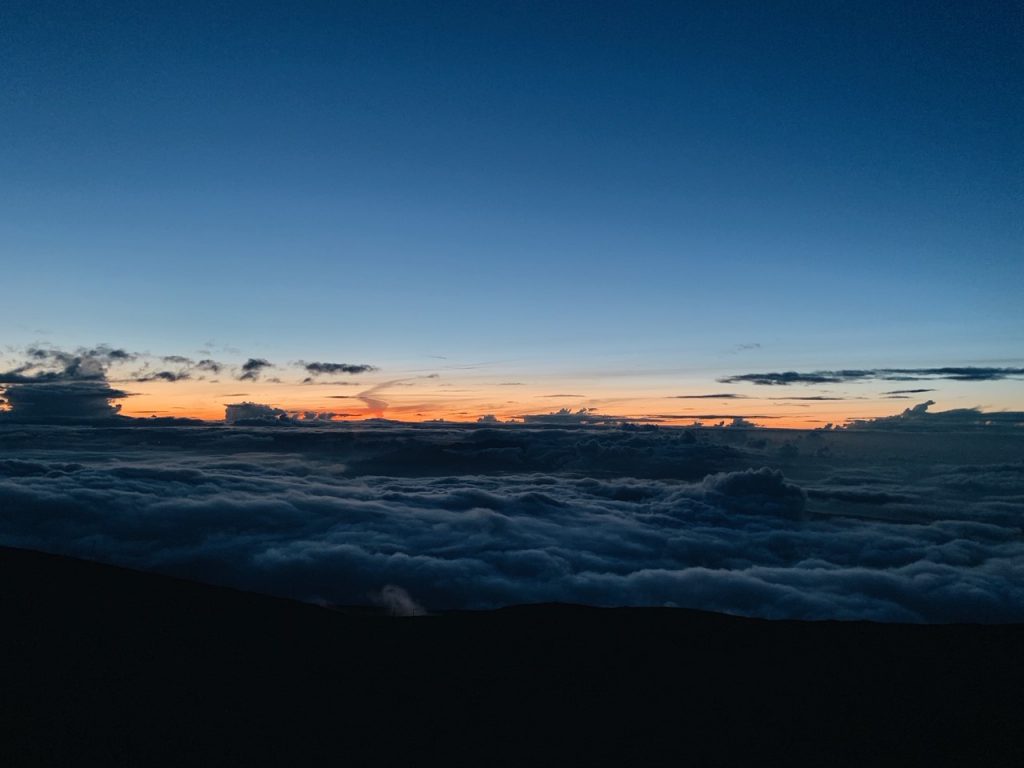 Liked this post? Save it for later!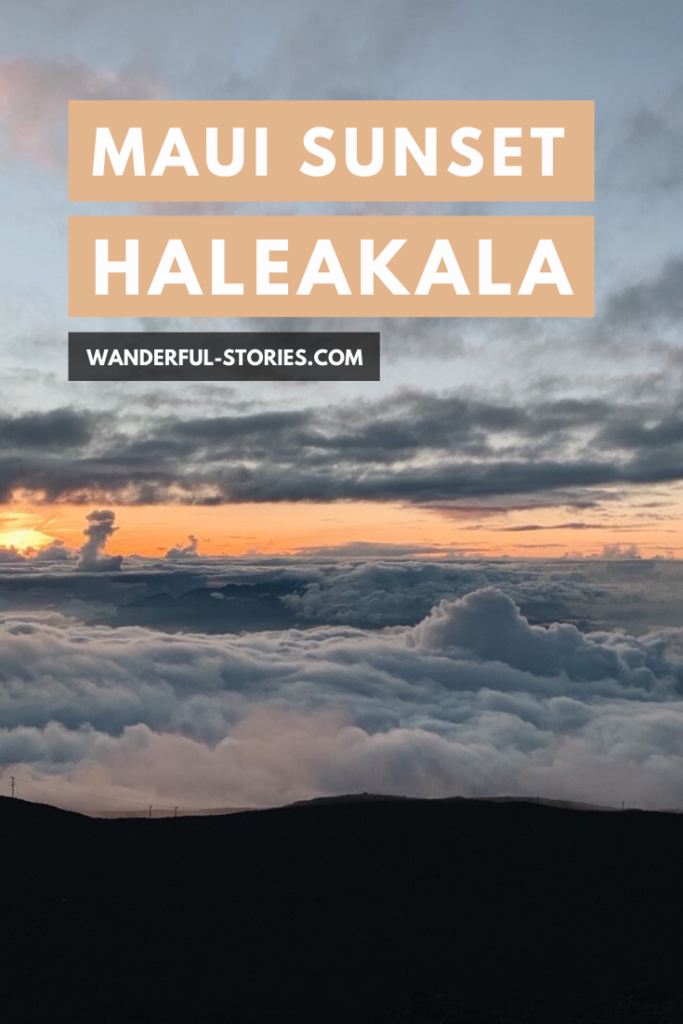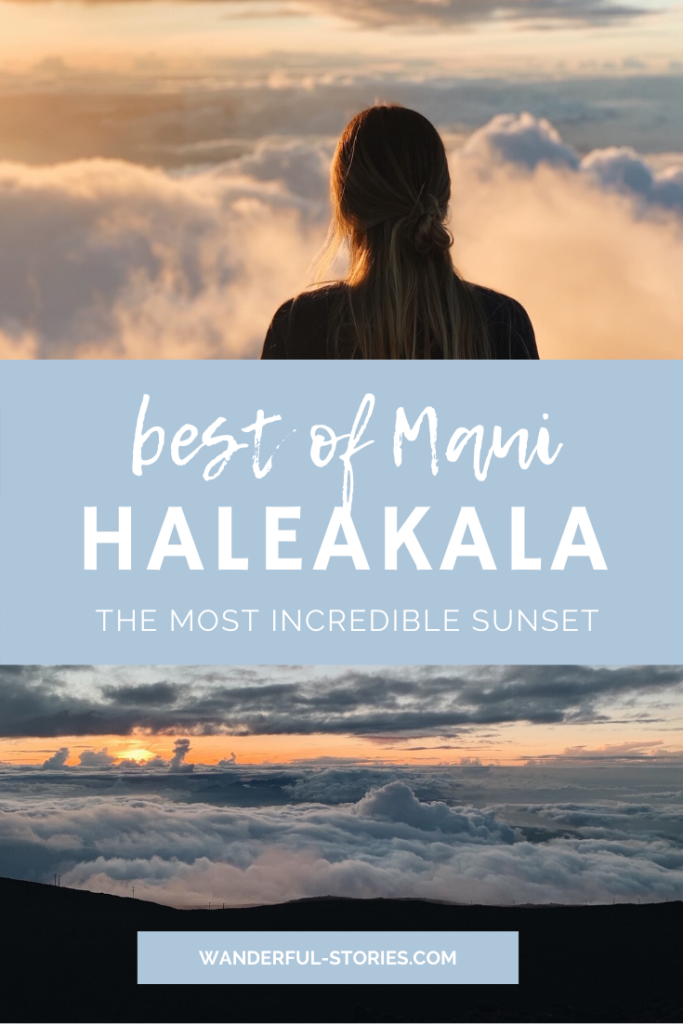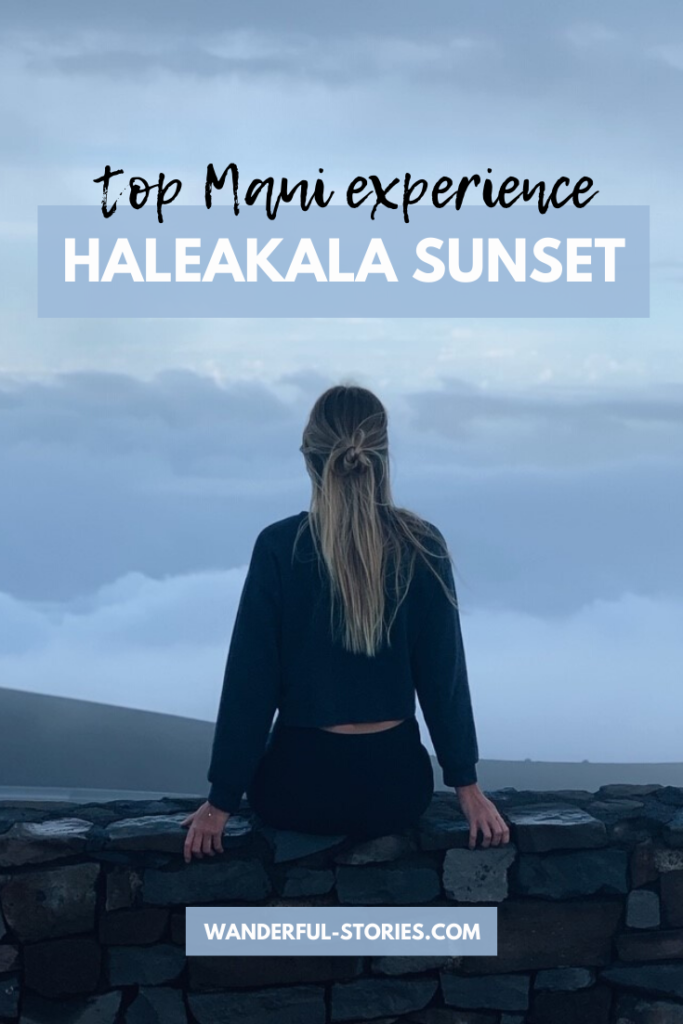 ---
You may also like…