Just like the other Hawaiian Islands, the Big Island of Hawaii has many beautiful beaches. One of them stands out in particular: Papakolea Beach, also called Green Sand Beach. Wait, what – green, you said? Yes, that's right, the sand is green! So, of course, when we decided that we'd spend our last week in Hawaii on the Big Island, I knew I could not leave before visiting this Green Sand Beach. In this post, I'm sharing all about my experience and the things you need to know before going.
When I heard there's such a thing as a green beach, I was kind of expecting a dull grey color that could maybe pass as green-ish. You know, if you sort of squeeze your eyes and don't look too closely? But no, the sand on this beach is actually green! There are only four known beaches in the entire world that have green sand and this place is one of them. How cool is that?
The origin of the green colour
Naturally, I wondered what causes the sand on these beaches to be green. And why are there so few of them in the world? As it turns out, the color of the sand has everything to do with the volcanic origin of the Big Island. Just like the other Hawaiian Islands, volcanic activity created the Big Island of Hawaii. One of the components of the magma that erupts from these volcanoes is the green-colored mineral olivine.
At certain places, the natural surroundings cause the olivine fragments to accumulate. At the Green Sand Beach in Hawaii, a combination of the bay's cliffs and the heaviness of the minerals (compared to the other volcanic parts) prevents them from being washed away by the waves.
Papalokea Beach is special, even compared to some of the other green beaches, as it contains high amounts of olivine. That makes this specific sand especially green. By comparison, other green beaches can seem more grey-ish (just like my initial fear, haha). This is because the olivine grains make up a smaller part of the total beach.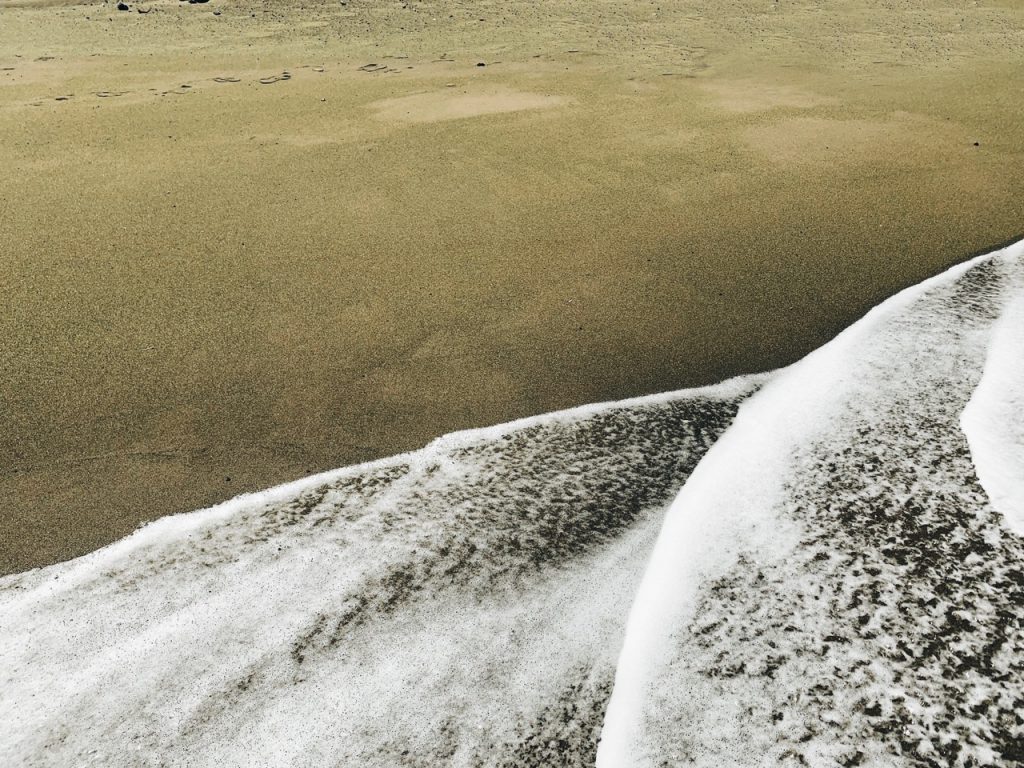 Visiting Green Sand Beach: how to get there
The Green Sand Beach in Hawaii is located near South Point, the southernmost point of both the island and the United States. Officially, you can only reach the beach itself on foot. From the nearest parking lot (where you can park for free), it is roughly a 2.5-mile hike (about 4 kilometers). This takes about an hour to complete. To get there, simply set your navigation to the Green Sand Beach trailhead. From there you can start walking.
I've got to be honest: upon hearing the trip would require a hike, at first we weren't too sure if we wanted to go. Spending that much time walking in the Hawaiian heat and humidity, just to visit a beach? And not to mention the way back again. We'd already done a few hikes in the burning sun and knew we shouldn't underestimate them. However, visiting a green beach is such a rare opportunity that I felt we really had to go. Because really, how many chances would I get to visit a place like that?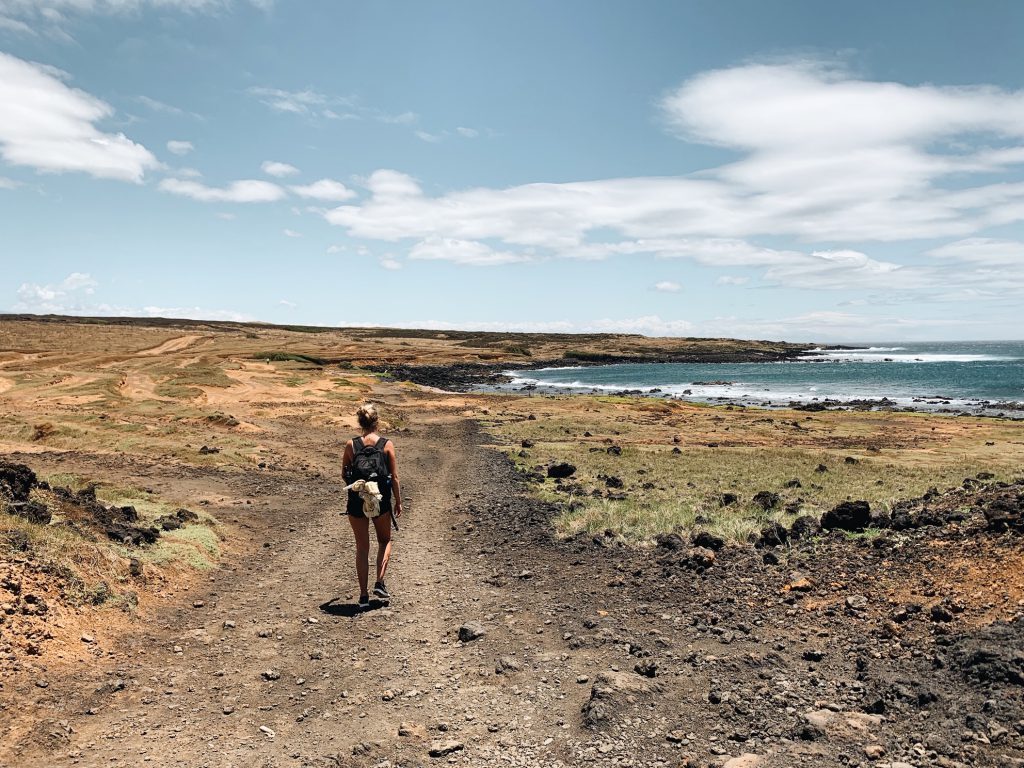 Driving vs hiking to the Green Sand Beach
When I say that going by foot is the only official option, it is because there are roads and tracks along the hike that can easily be accessed by car. In fact, driving there used to be a common practice. However, because of the great damage this was causing to the natural environment, all vehicles were recently banned. (If you want to know more, you can read all about it here.)
Unfortunately, you'll still see many 4x4s driving past as you walk the path to Papakolea Beach. Some of these will be tourists, others will be locals offering you a ride for a fee. Both activities are illegal, however. I had read about these practices before going, as well as the pleads to not accept these offers.
So, if you're thinking of going there, I'd really urge you to respect the local rules. After all, isn't it our responsibility as travelers to treat a country's nature (among other things) with respect and leave as small a footprint as possible? Plus, the hike will be a fun experience and a great way to see the stunning surroundings in detail!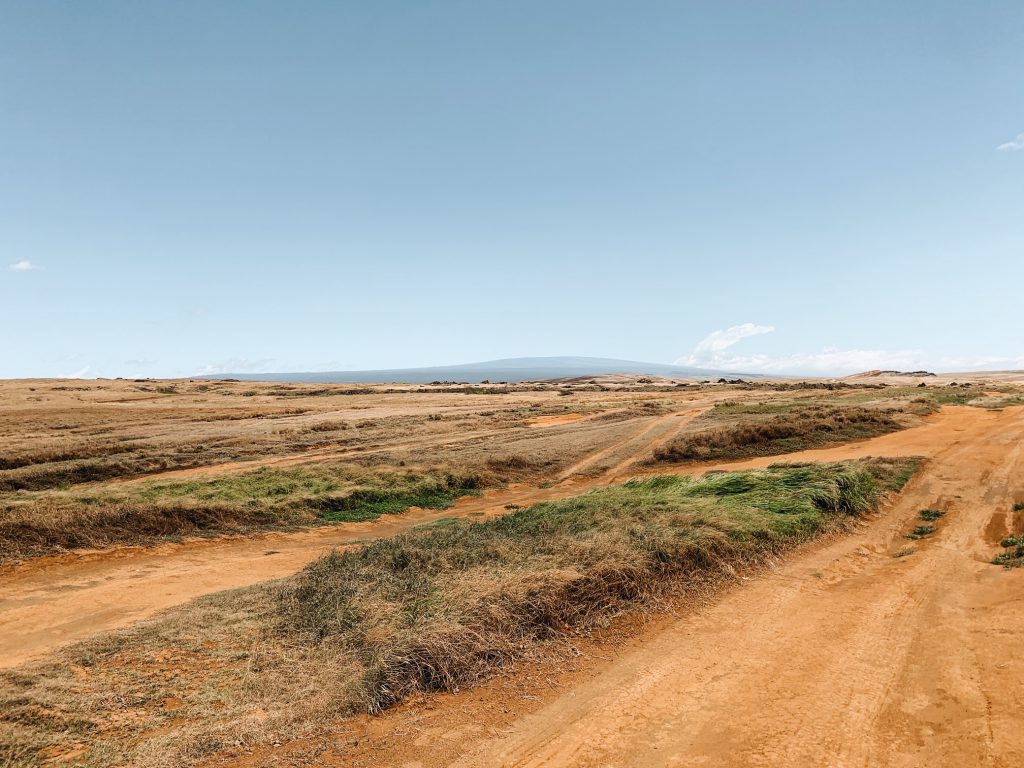 My experience visiting Green Sand Beach
Knowing all of this, Frank and I braved the sunny path to the beach on foot. And honestly, it really wasn't too bad. Sure, it was hot in the Hawaiian sun, but the track was mostly flat and very easy to walk. We saw many cars pass us on the way, but could also clearly see the damage and erosion it is causing the ecosystem. Overall, you can easily spare nature and walk to the beach by preparing and packing a few essentials. I'm naming mine at the end of the post!
After walking for about an hour, we could see Papakolea Beach stretched out ahead of us. I had been so excited to see this magical beach and it truly was a gorgeous view! I immediately noticed that the color of the sand really was green and couldn't wait to take a closer look. We made our way down from the cliffs and stepped onto the beach. At that point, however, I realized that this beach was slightly different than other Hawaiian beaches I'd visited.
Green sand attacks & bouncy waves
It became clear that visiting Papakolea Beach was not going to be the chilled beach day I knew from other beaches on the islands. If you have visited the beach, you'll know what I mean. We were instantly attacked by thousands of little grains of sand, blown everywhere by the strong wind. We'd felt some wind during our hike, but nothing compared to what it was like at the beach itself. So, instead of admiring the green color with my eyes, I mostly just closed my eyes and felt the sand. Everywhere.
Instead of finding a spot to lay down on the sand, we rushed to the rocks on the side to find some shelter for our bags. Then, we went for a swim in the ocean. Because of the wind, the waves were high and the currents strong, and we mostly bounced around on the waves. It made for a fun experience, as we enjoyed the beach from the water.
At one point, I did force myself to walk across the beach to take a few photos – I mean, I had to, right? The result was two pictures and instant regret, haha. I literally had to wipe the sand out of my eyes, ears and nose by the time we walked back. But the beach was truly stunning. The green color and the natural surroundings of the beach amazed me. It absolutely didn't disappoint and was well worth the hike.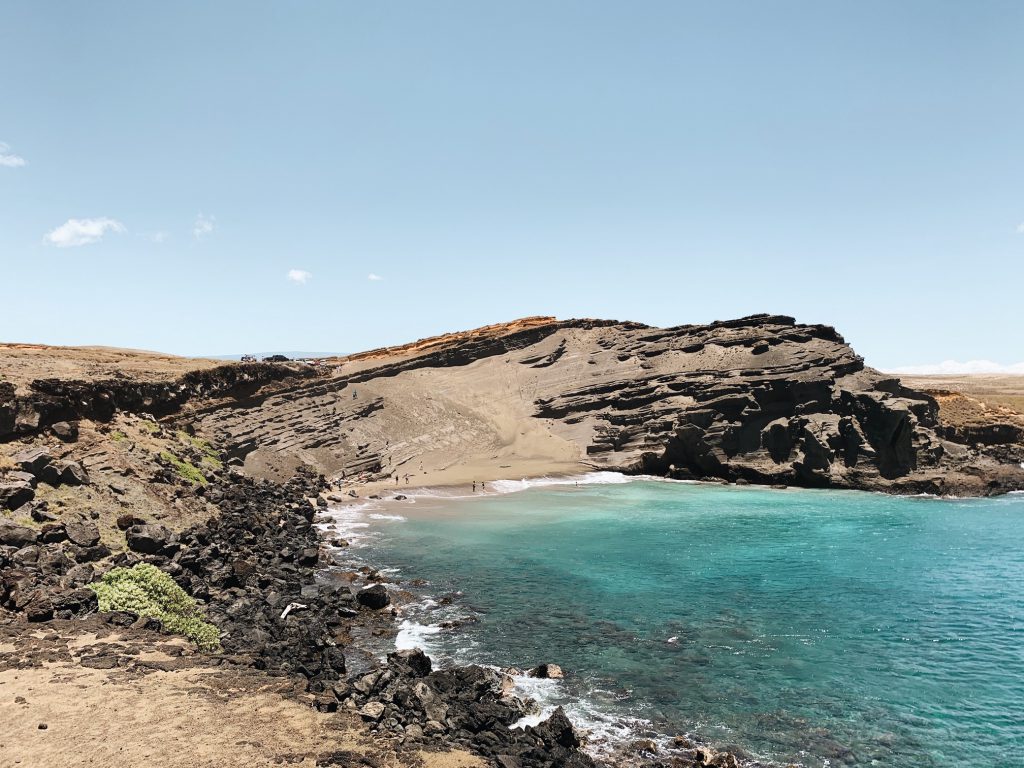 What to know before going
In retrospect, there was one thing I would've loved to know before going. You've guessed it – the windiness of the beach. I know, this probably sounds super whiny, but I am not exaggerating. As I said, you can find Papakolea Beach near the southernmost point of the island. (This place is worth a visit by the way, while you're there). Apparently, this part is especially windy and home to wind farms and a rough sea.
And as has probably become clear from my store, you'll definitely notice it once you're there. The way to the parking lot and the hike to the beach isn't too bad, luckily. It's only the final part, as you arrive at the beach, that you'll feel the wind kicking in. So although most beaches in Hawaii are exactly what you think they're gonna be – calm blue water, gorgeous sand and a tropical backdrop – this one is a lot rougher. But just as beautiful, though! Thinking back, however, I cannot help but laugh at how much I was struggling at the beach.
And I wondered why, looking down from the cliffs, I didn't see a single person laying on the beach, haha. But that's alright! The Hawaiian islands have many calm beaches where you can relax for days anyway, so this is a fun change. And besides, I personally thought the beach showed a beautiful aspect of the island's nature.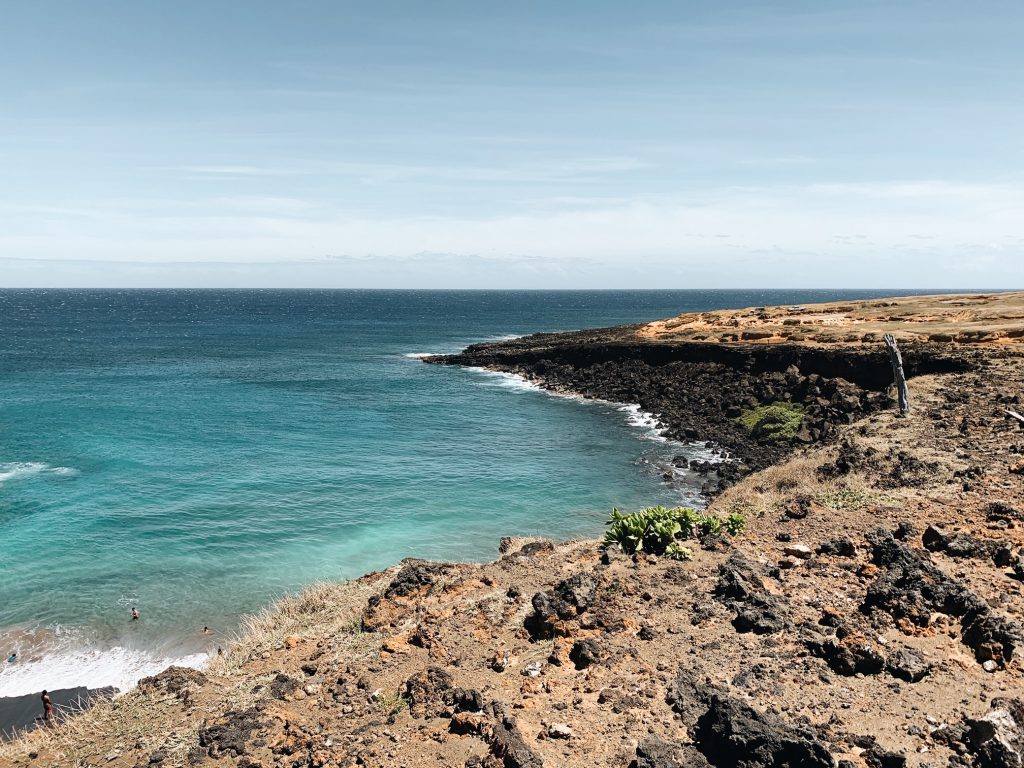 What to bring on your day trip
To make sure you bring all of the necessities and leave the stuff you won't need at your accommodation, I've made a little packing guide for your trip.
When visiting Green Sand Beach in Hawaii, I'd recommend bringing the following items:
Sneakers or hiking shoes, since it's a pretty long walk
Swimwear and a towel to dry yourself
Plenty of water and some food
Sunglasses – besides it being sunny, you're going to want to protect your eyes from the sand
If you bring a phone or camera, bring a protective case or bag to make sure your items won't be filled with sand
I wouldn't bother with these items, though:
Hats or other lightweight (read: easy to blow away) items
Snorkeling gear or underwater cameras – unless you're a really strong, experienced swimmer, you probably won't explore the underwater world. So, there will be little use in dragging your gear along on the walk.
I've seen many gorgeous places during my travels, but visiting this Green Sand Beach in Hawaii was definitely one of the most unique experiences. Even though (or maybe because) it's not your regular beach day, I'd really recommend visiting this special place. And definitely don't let the hike discourage you. It's easy and such a good way to appreciate the beautiful surroundings. I'd love to know if you found this blog post useful. Don't forget to let me know about your experience visiting the beach!
Some links in this post may be affiliate links, meaning I earn a small percentage of any purchase made. They're at no extra cost to you, but allow me to keep creating new content for you guys. Of course, you're free to use any other link!
Liked this post? Save it for later!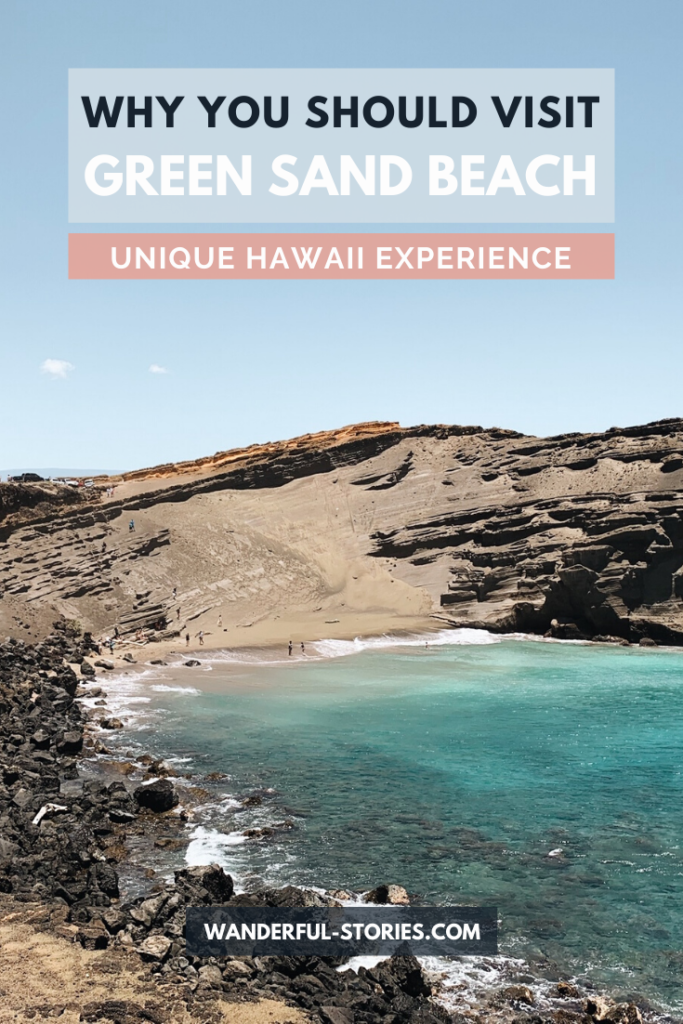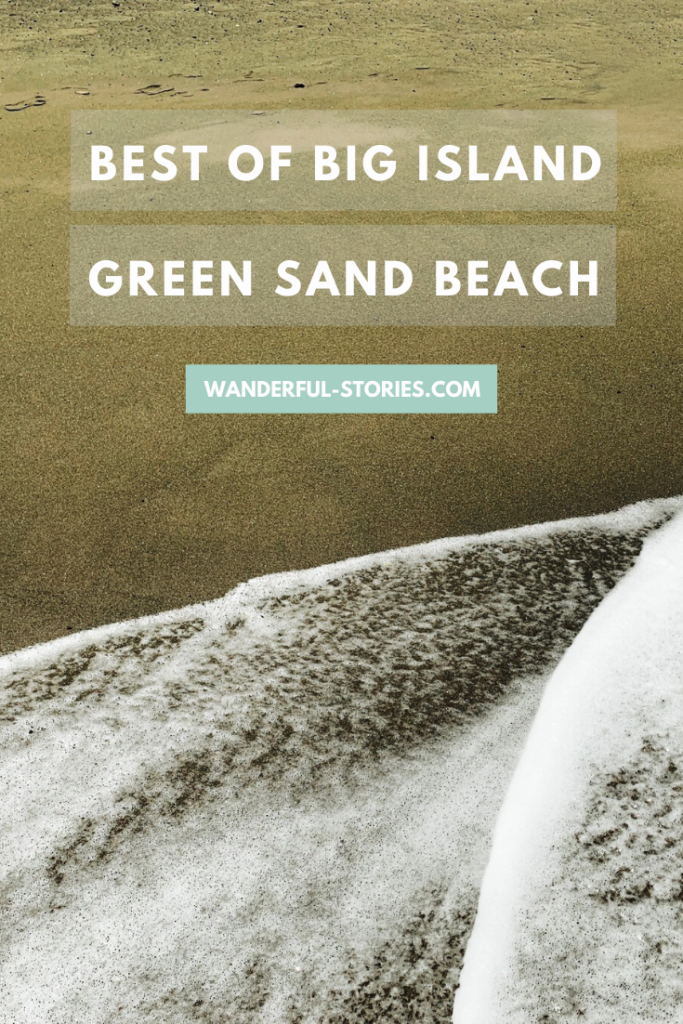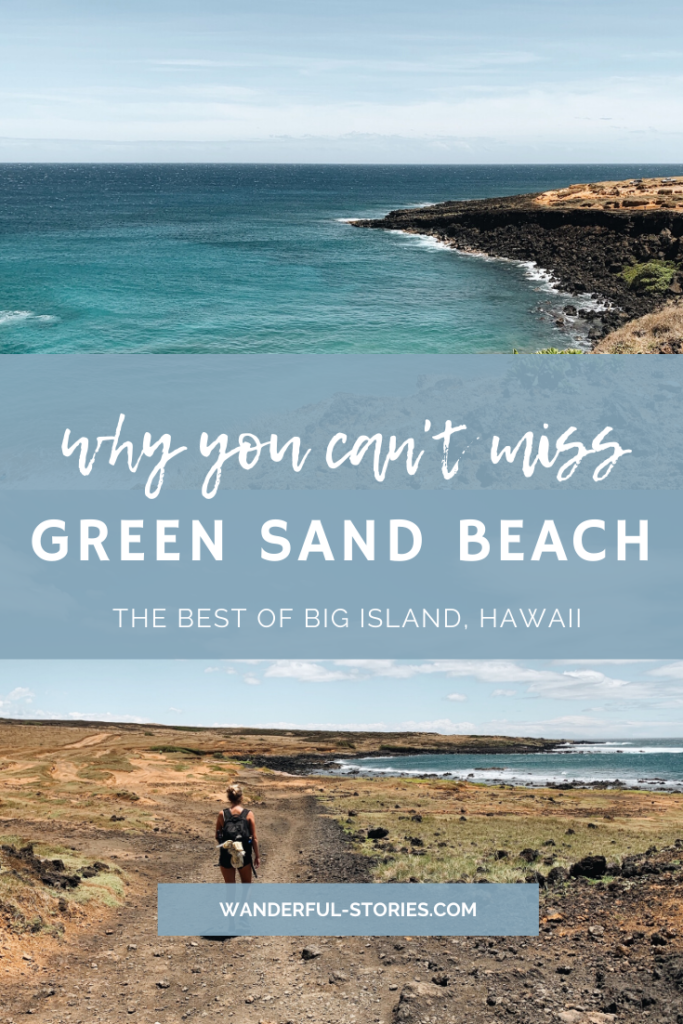 ---
You may also like…