Even though I was only in Oahu for three full days and my itinerary was jam-packed, I managed to squeeze in some hiking besides all of the sightseeing, chilling on beaches, shopping and snorkeling. After the super intense stair master experience at the Koko Head hike, I set out to make my way up to the summit of Diamond Head State Monument.
Diamond Head
The Diamond Head hike is probably Oahu's most popular and crowded hike. Because of this, I first wasn't completely sure whether or not to do the hike. We'd spoken with some locals and friends who'd visited Oahu before us; most of them told us that there were equally fun, less crowded hikes on the island. However, on our last day, we had some spare time (though barely) and decided to see what all the fuss was about. And I'm glad we did!
Since it was my birthday, I didn't want to get up extremely early to start the hike ahead of the crowds. We managed to arrive at 8.30 am – and my feeling hadn't been wrong. It definitely was super crowded. Now, I've done some popular hikes, but nothing beats the number of people we saw on this hike. It was fine for me, but if that kind of crowdedness is not for you, you might want to either skip this hike or start right when it opens.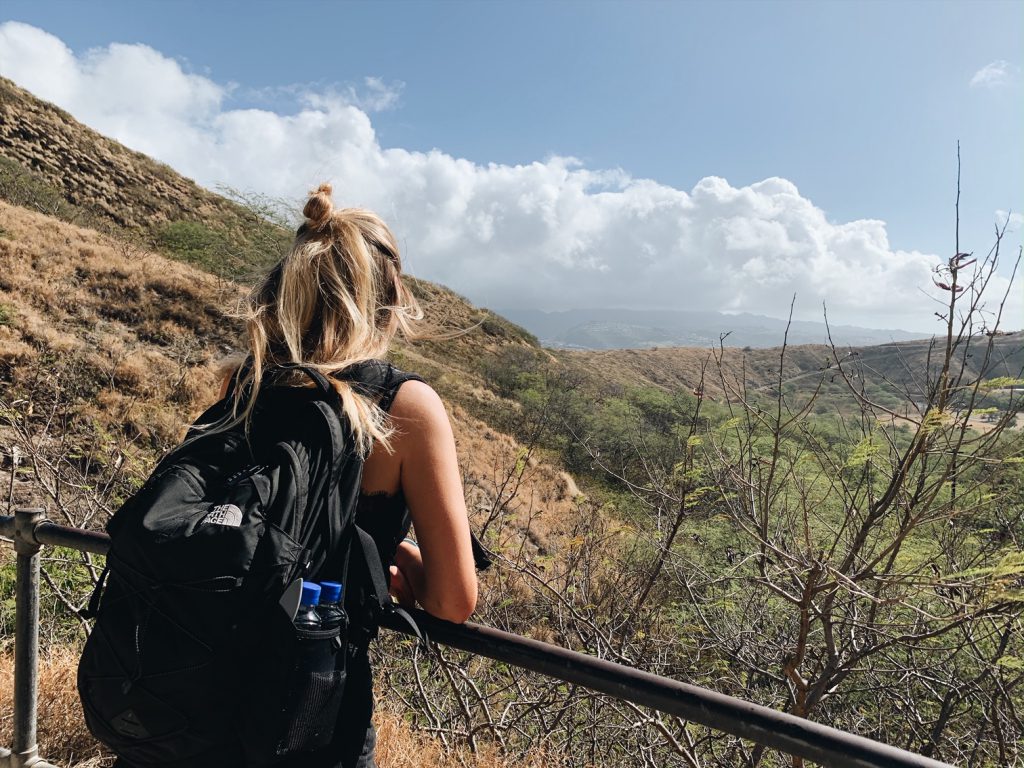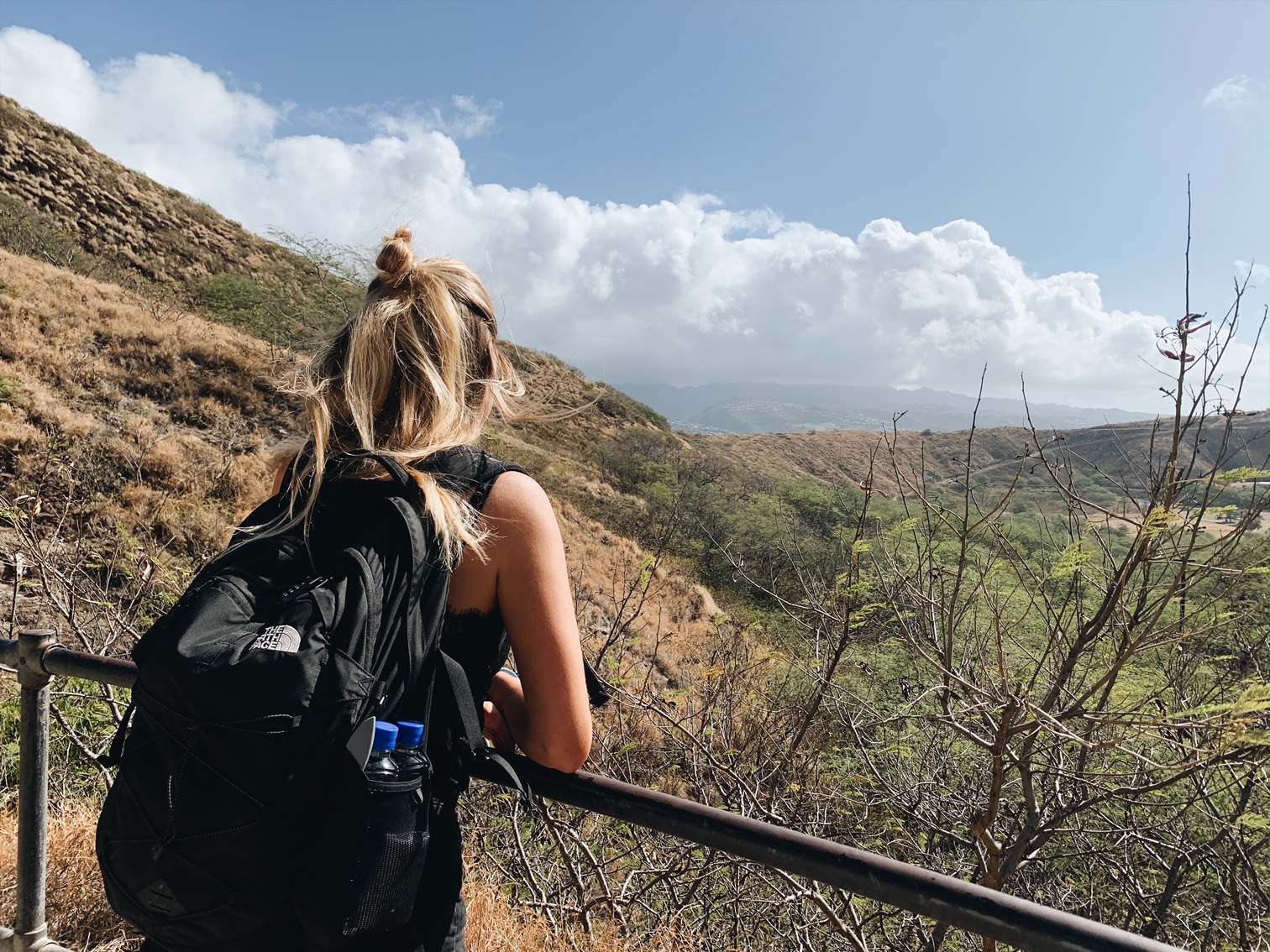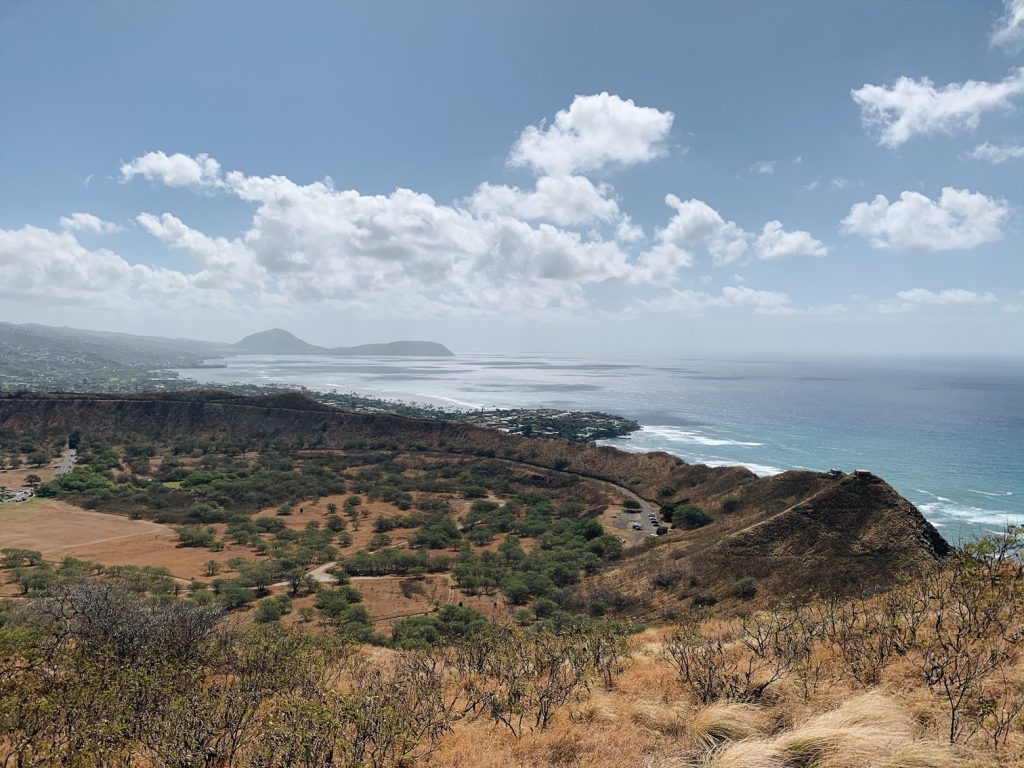 Hiking the historic trail
The trail starts on the crater floor and takes you to its summit, which I think is pretty cool. Although the distance to the summit is only 1.3 km, you gain 171 m in elevation. That is undoubtedly thanks to three pretty steep stairs, for the rest of the trail is very doable in terms of steepness. I found that the difficulty of the hike indeed lies in those stairs, as I witnessed several people become unwell. Don't believe me? Try them out for yourselves, you will definitely feel the burn. 😉
Besides those stairs from hell, the trail has some other cool features. At one point, you're walking through a small tunnel, the next moment you're climbing through a slit in one former bunker. Even though I would necessarily call myself a history-fanatic (at all), I found I really appreciated the history of this place. Plus, the variety definitely made this hike a lot of fun!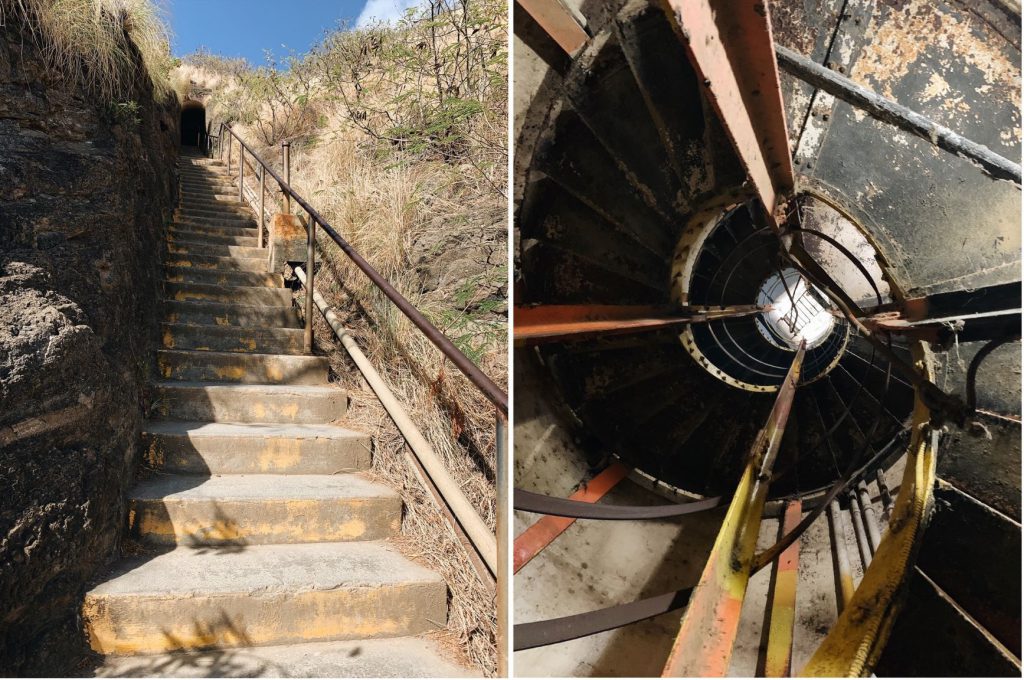 Incredible views
When you've reached the summit, you are treated to some incredible views. All around you, there are different things to look at. You can see the views over Honolulu and the crater itself, and there even is a gorgeous little lighthouse you can spot. I loved it over there and we definitely took our time to take lots of photos.
The trail is designed in such a way that you make a loop around the top part. That way, you avoid having to take the stairs again on your way back. This also prevents the place from crowding up too much. Eventually, you get back on the same path you took upwards and can make your way down to the parking lot.
What to know before doing the Diamond Head hike
Overall, the Diamond Head hike really pleasantly surprised me and I'd definitely recommend hiking it! Here are a few things to keep into consideration when you do:
The hike is accessible between 6 am and 6 pm. Make sure you leave in time, as the gates do lock. For that reason, you can't start the hike any later than 4.30 pm.
Your best chances at beating the crowd are probably by going early, although I don't think this is quite as effective here as in other places. When we arrived at 8.30 am, the entrance area was already full of people returning.
I personally found the hike overall easy, but don't be fooled by some of the parts. There are several long, steep stairs in the hike. I've actually seen people get unwell during these parts of the hike. In total, it took us about 40 minutes one way.
Bring enough water and sunscreen, because it's Hawaii and it's hot and humid. 🙂
If you have a (rental) car, you can drive pretty far and park your car at the parking lot near the start of the trail. Parking costs $5 per vehicle, while those entering on foot pay $1 each (cash only). For more details, check out the official website for the Diamond Head state monument.
Let me know if you try the Diamond Head hike and what your thoughts are. I hope you have a great time!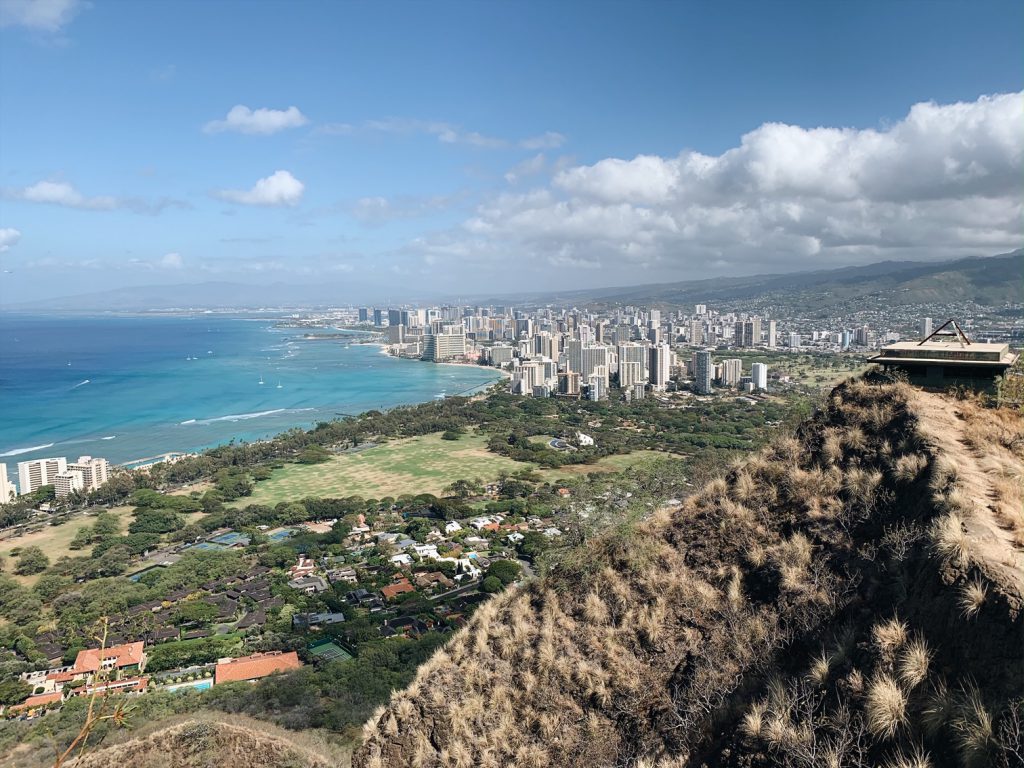 Liked this post? Save it for later!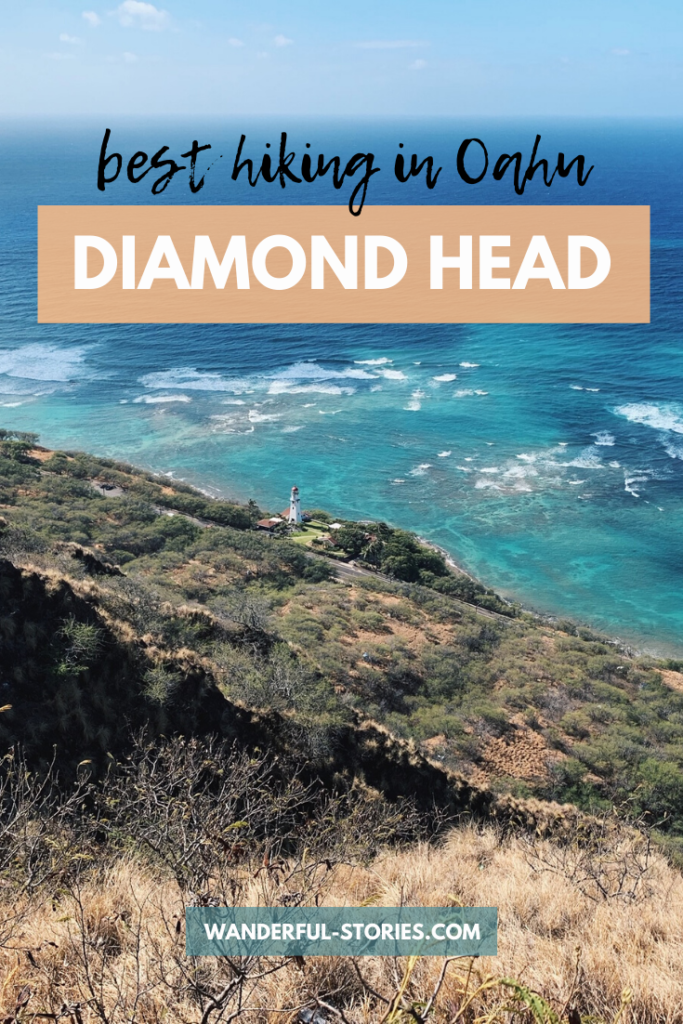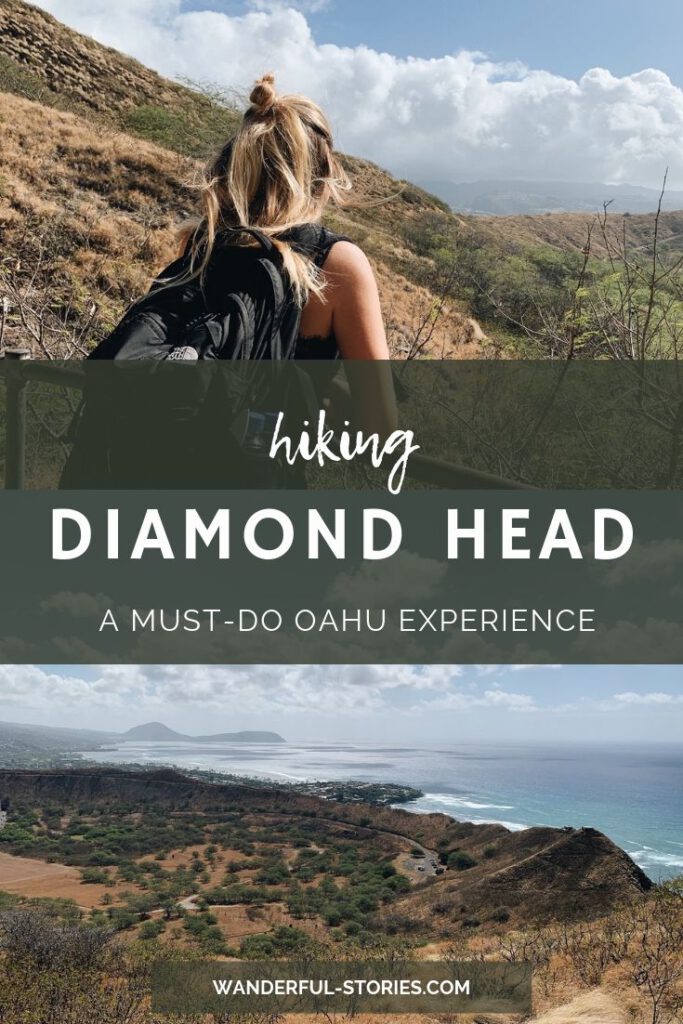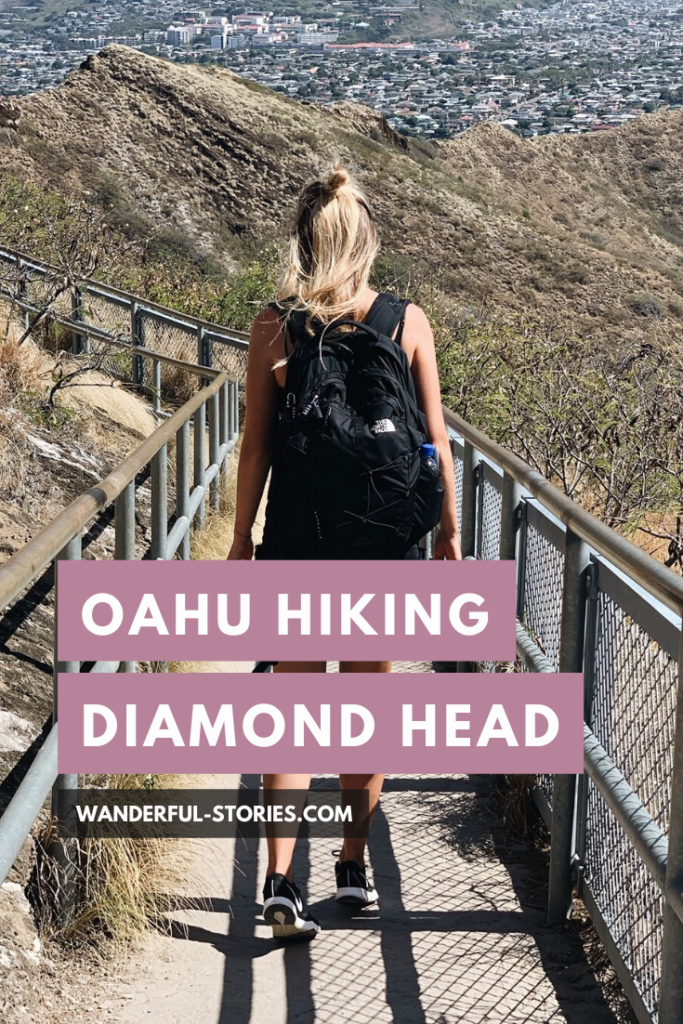 ---
You may also like…