My recent trip to Curaçao was unlike many of my travels. Not only was this trip more like a family holiday than it was a backpacking adventure, but I also knew there was limited time to spend on the island. So, I wanted to prepare a little better than I normally would, making sure we would make the most of our short trip! Today, I'm sharing everything we did and saw around the island in this ultimate one-week Curaçao itinerary.
We spent a total of 7 full days on the island, not counting our travel days. That period of time was perfect for us to see many of the island's ultimate highlights, while also having plenty of time to relax. It was a perfect balance! This one-week itinerary combines the most stunning Curaçao nature with city life and takes you from active hikes up the highest mountain to the best beaches. And of course, it also gives you a taste of the ultimate luxury island vibes.
This one-week itinerary is part of a two-part Curacao Travel Guide series. Here, you can check out my complete Curacao travel guide with lots of practical tips.
Itinerary overview
Day 1: unwind at Grote & Kleine Knip
The first day is all about beaches! I couldn't wait to visit some of the most beautiful spots of paradise as soon as I stepped foot on the island. I was in desperate need of some sun, sea and sand – and I bet you're too! And what better way to unwind from the long flight, than relaxing at the beach.
Grote Knip (Playa Kenepa Grandi) and Kleine Knip (Playa Kenepa Chiki) are two of the most well-known and popular beaches on the island. Both places have clear blue water and are perfect spots for snorkeling. So definitely make sure to bring your gear and underwater camera! (Oh, and don't forget reef-safe sunscreen for eco-friendly travel 🙂 ).
Both the big and small beach have sunbeds and umbrellas for rent. Grote Knip has a bathroom and a stand selling drinks, but you won't find anything on Kleine Knip. Because of the limited facilities, I recommend packing enough snacks and drinks for your beach day. Also, make sure to bring sunscreen with high SPF and other sun protection. The Curaçao sun is hot and you'll burn easily.
You can find both beaches near Westpunt, very close to each other. By car, it'll take you only about 2 minutes to drive from one to the other.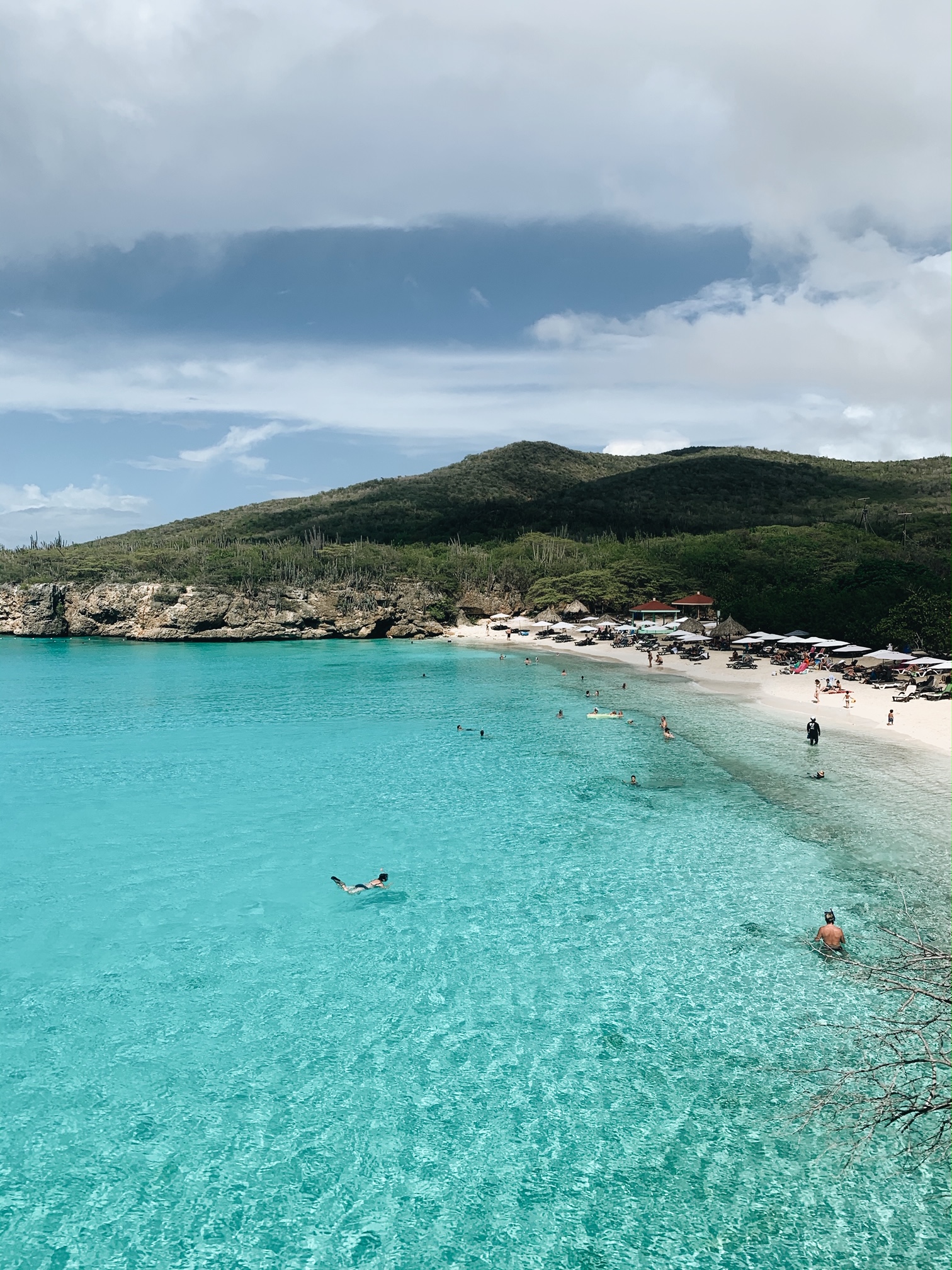 Day 2: explore colourful Willemstad
Now that you're all relaxed and accustomed to island life, it's time to explore Willemstad, the capital of Curaçao. Similar to the rest of the island, the city bursts with color and good vibes. My sister and I loved admiring the colorful buildings and taking lots of photographs.
Besides strolling through the colorful streets, Willemstad offers lots of other fun things to do and see. From shopping and visiting local markets to walking the famous bridge or having lunch by the waterside – there's something for everyone! The city isn't too big, so most people can easily walk from one spot to the next.
In the map above, I've added several of my favorite places around the city. If you want to know about all of the best things to do and see in the city, check out my blog post on how we spent a day in Willemstad. This post features a complete city map and is perfect to plan your day trip to the city!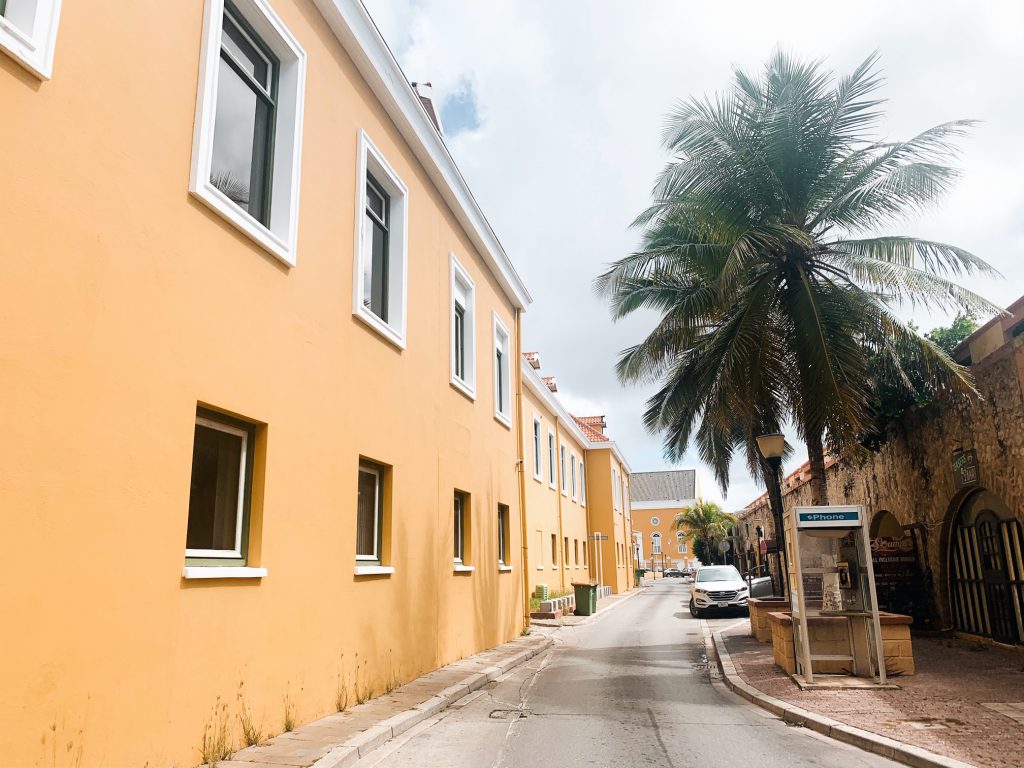 Day 3: enjoy tropical luxury at Oasis Coral Estate
Day 3 of the week-long Curaçao itinerary is all about getting a taste of the luxurious Caribbean island life. As someone who usually travels pretty low-budget, I loved having a little bit different of an experience. If this sounds like you, this day is gonna be perfect for you!
For today, head over to Oasis Coral Estate. This resort is part of Coral Estate, a gorgeous luxurious collection of properties right by the ocean near Westpunt. We stayed here during our trip and I absolutely loved it (definitely recommend it to stay at – it's incredible!). Spending a day at Oasis Coral Estate is a great way to get a taste of the luxurious island vibes, without breaking the bank for a full week stay at a luxurious accommodation.
As you drive upon the estate, you receive a visitor ticket for your car. Keep on driving down the road to go all the way to the resort. Simply set your navigation to Oasis Coral Estate if you want to make sure you stop at the right parking lot.
Morning: breakfast at Karakter
Start your day off with breakfast at Karakter Curaçao. This restaurant serves amazing food, has super friendly staff and truly is unlike any other place I've visited on the island. Karakter serves breakfast every day between 8 am and 11 am and offers something for everyone. From avocado toast to yogurt or superfood bowls and large breakfast spreads; they even accommodated my vegan diet beyond their standard menu.
Enjoy a view over the calm water and palm trees while you sip on a smoothie or have a coffee. It was without a doubt one of my favorite breakfast experiences ever!
After breakfast, head to the private beach next to the restaurant and grab a sunbed and umbrella. Spend the morning swimming and snorkeling in the ocean or grab a good book or magazine and enjoy the beach. If you want, you can rent or buy swimming or snorkeling items at the dive school & shop just outside the restaurant's entrance. Or take it even further and book a diving trip or lesson!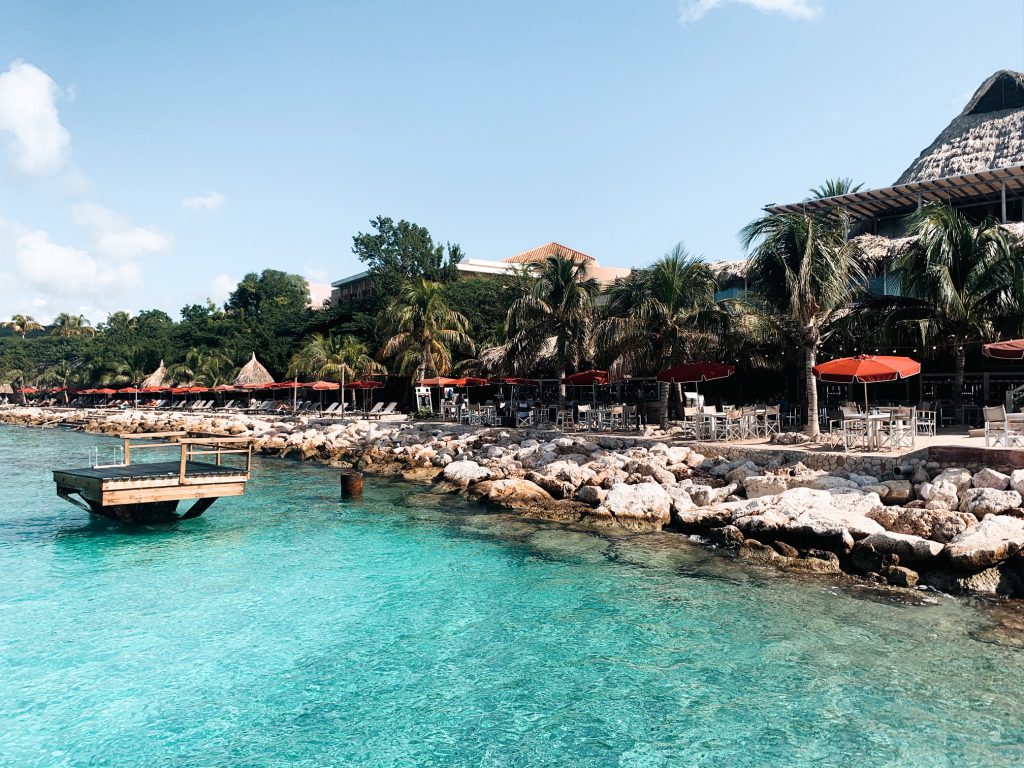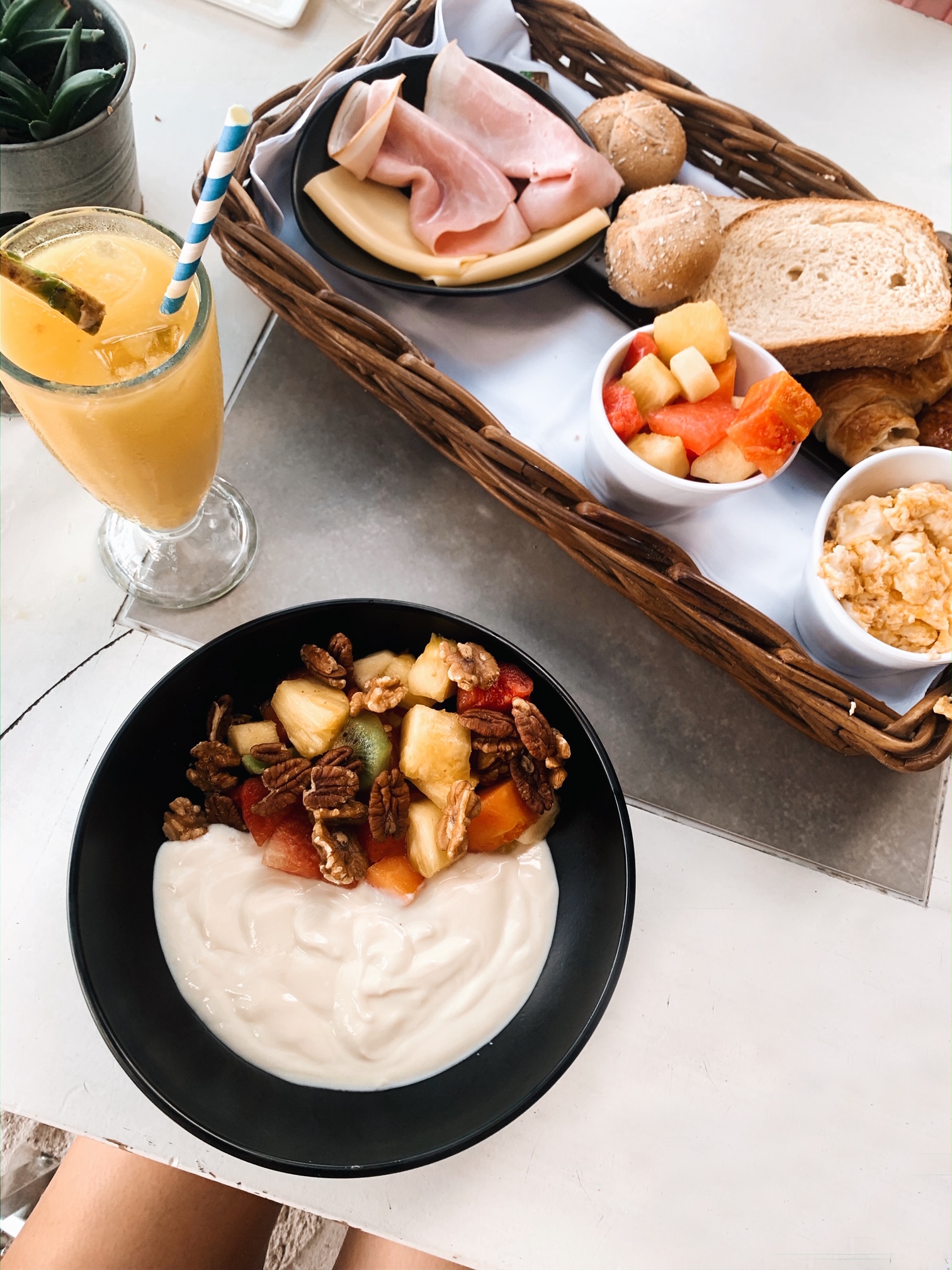 Afternoon: chill at Koraal's infinity pool
Koraal Rooftop Terrace is the upstairs neighbor of Karakter. With an incredible infinity pool, it draws visitors from all over the island on a daily basis. Looking over the edge of the pool gives you a view of the ocean, beach and restaurant Karakter. Watch as boats go by and people dive in the ocean or spot iguanas chilling in the sun. With good music and non-stop service, you'll enjoy every second of it!
Koraal isn't as much of a proper restaurant as is Karakter, but does serve amazing snacks and beautiful cocktails. You can choose to order them from your sunbed by the pool or have a seat on the rooftop terrace. Koraal also has several themed days every week, such as Sushi Saturday and Green Egg BBQ Sunday.
I'd recommend sticking around until sunset, which is truly a one-of-a-kind highlight to watch from the edge of the pool.
Good to know: entrance to the pool is free when you spend at least Nafl. 50.00 (28 USD) per person on food and drinks at the pool bar. Otherwise, a surcharge of Nafl. 20.00 (12 USD) per person is added to the bill.
Dinner options at Coral Estate
If you want, you can have dinner at either Karakter or Koraal. Karakter has a great menu with the most incredible dishes, both in terms of taste and aesthetics. Besides that, they're also very accommodating to any dietary wishes or needs. Alternatively, go for a cocktail and a snack upstairs at Koraal.
Want to read more about Karakter Curaçao and Koraal Rooftop Bar? I've written all about them in my blogpost on 10 favorite places to eat and drink on Curaçao.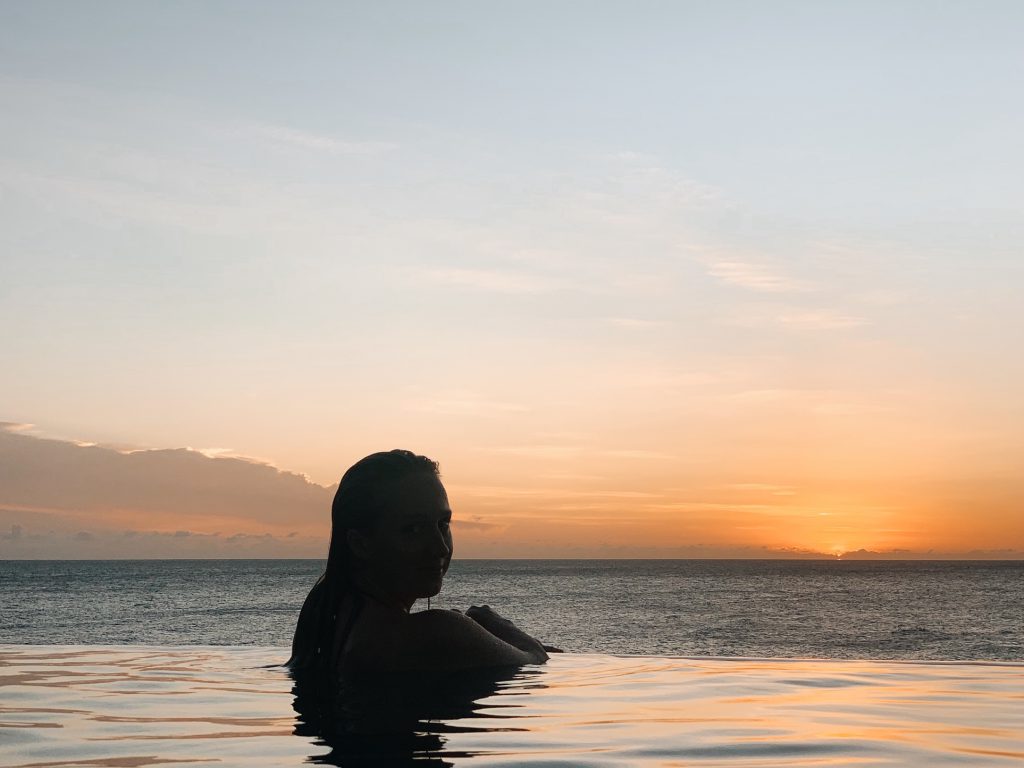 Day 4: hike Mt. Christoffel & recover at the pool or beach
Morning: hike to the top of Mt. Christoffel
Day 4 on Curaçao starts off on an active note! Besides being home to the most amazing beaches and colorful cities, Curaçao is also the place-to-be for great hikes. Who knew this island was so diverse! My favorite is the track up to the top of Mt. Christoffel. At 372m above sea level, standing on top of the mountain gives you incredible views over the island. It is an absolute Curaçao highlight!
The hike to the peak of Mt. Christoffel is challenging but doable. With a reasonable level of fitness, you should be able to make it all the way to the top. For my full experience hiking Mt. Christoffel and all my practical tips & tricks for the track, check out this blogpost! But don't worry, this is by far the most active day of the week in this Curaçao itinerary. 😉
Mt. Christoffel is found in Christoffel National Park. Entrance to the park costs Nafl. 25.00 (14.50 USD) per adult. If you're interested in the cultural history of the island, be sure to check out the nearby Savonet Museum. Entrance is free when with any purchase of a National Park ticket for the hike. In the museum, you can get a quick peek into the plantation history of the land.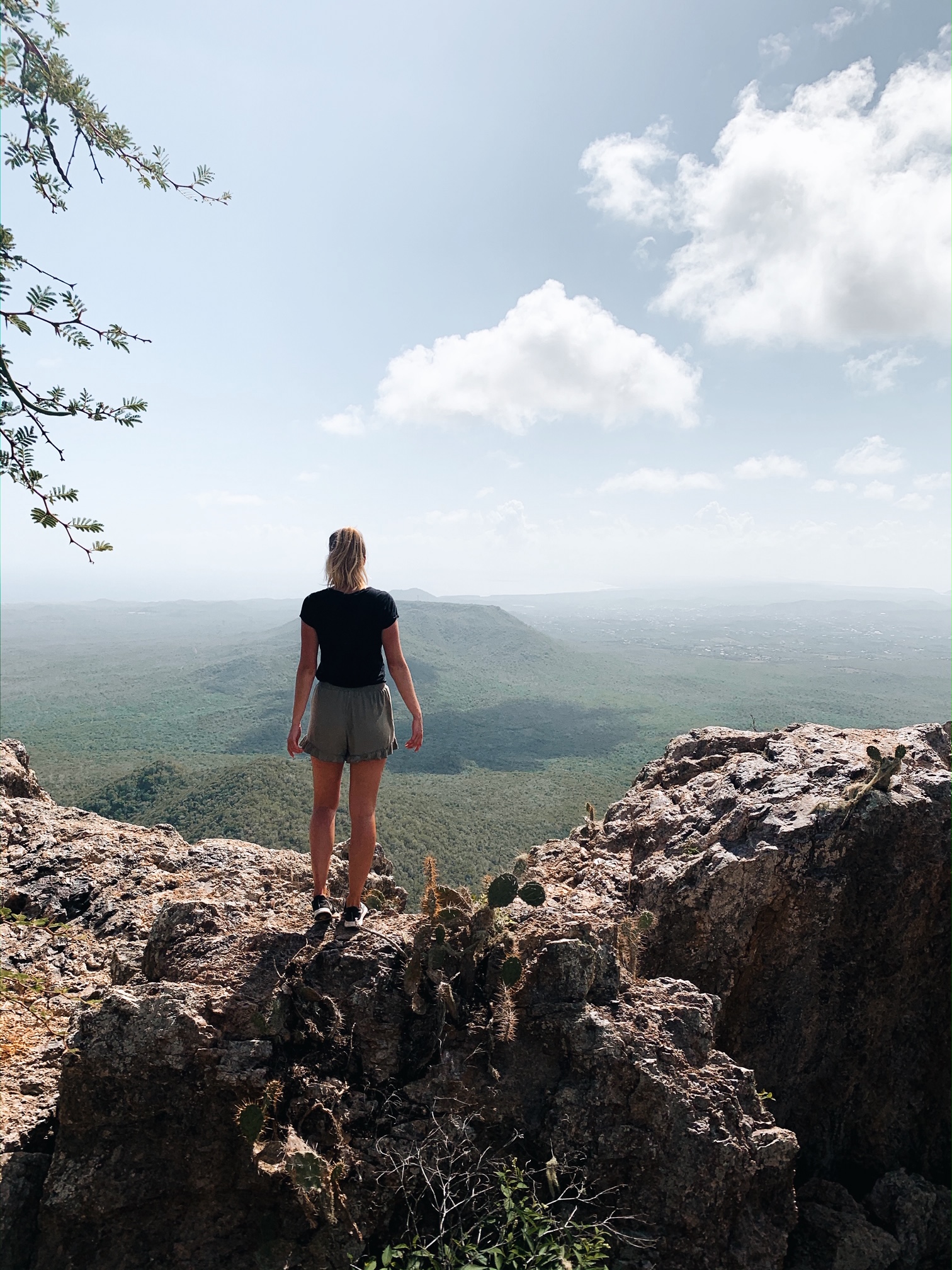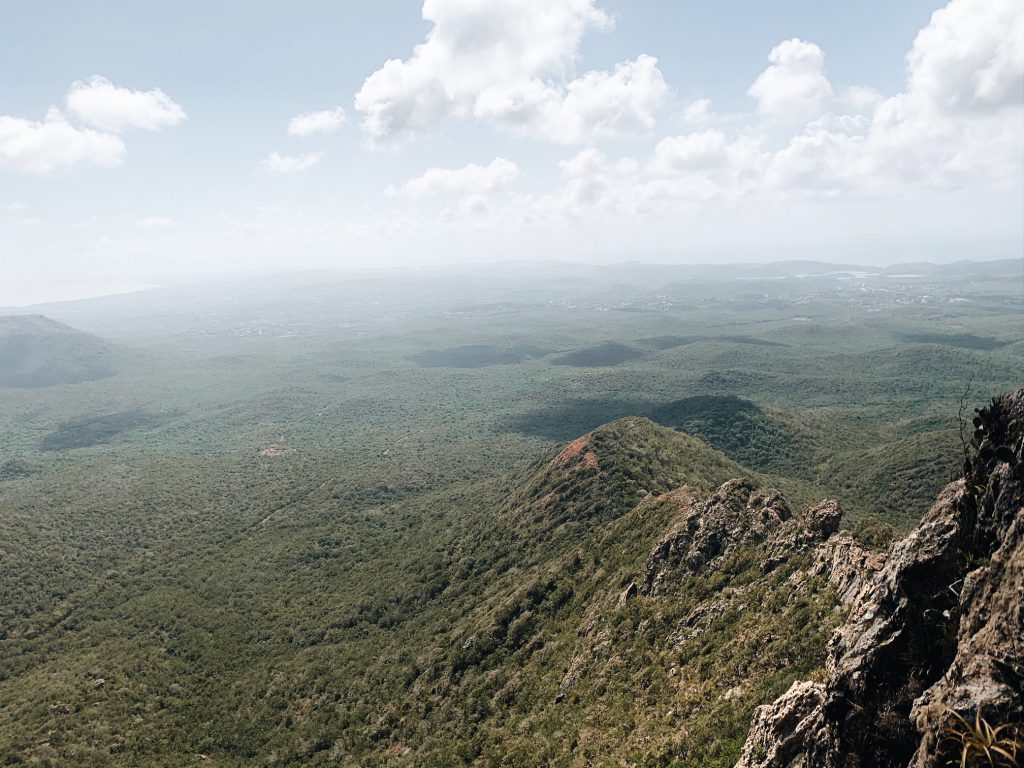 Afternoon: chill at your favourite spot
After your morning workout, get some well-deserved rest at the pool or beach! We spent the rest of the day chilling by the pool and sipping drinks. Life is all about balance, right? 😉 If you don't have access to a pool or are more of a beach-person, check out my favorite Curaçao beaches to pick one that suits your taste. Or do something completely different with your free afternoon!
Day 5: swim with turtles at Playa Grandi & relax at Playa Forti
Time for another beach day! You're on Curaçao after all, right?! Today is all about visiting the beautiful spots near Westpunt, the area found in the northwest of the island. Honestly, this day of the week might just be one of my favorites in this Curaçao itinerary!
Morning: turtle adventures
Start off by heading towards Playa Grandi. This beach is one of my favorites for one reason: sea turtles, and lots of them! If you love these animals as much as I do, Playa Grandi is the #1 spot you can't miss during your stay on the island. Bring your snorkeling gear and a waterproof camera, because you will be able to get incredible views underwater. If you're comfortable in the water, I highly recommend swimming beyond the crowd of tourists. You'll be able to get a good view of the turtles without legs or selfie sticks in your face (trust me on this). Above all, it gives the turtles their space.
Even if you're not keen on stepping into the ocean and swimming among the turtles, you're still in for a good experience if you visit Playa Grandi. The turtles swim in the shallow water near the shore and find most of their fish treats near the jetty in the water. So, you have a great view anyway, especially if you stand on the jetty.
Whether you enter the water or view from the shore, always be careful to respect the turtles' natural space and never feed or touch them. (You can find some tips on interacting with turtles in this guide.)
You'll probably spend all your time on this beach admiring the sea turtles, rather than grabbing a sunbed and enjoying the sand and waves. The beach itself isn't the best (especially compared to the other spots of paradise on Curaçao). Most people visit it for the turtles. Luckily, I've got you covered for an afternoon of relaxing at another tropical oasis!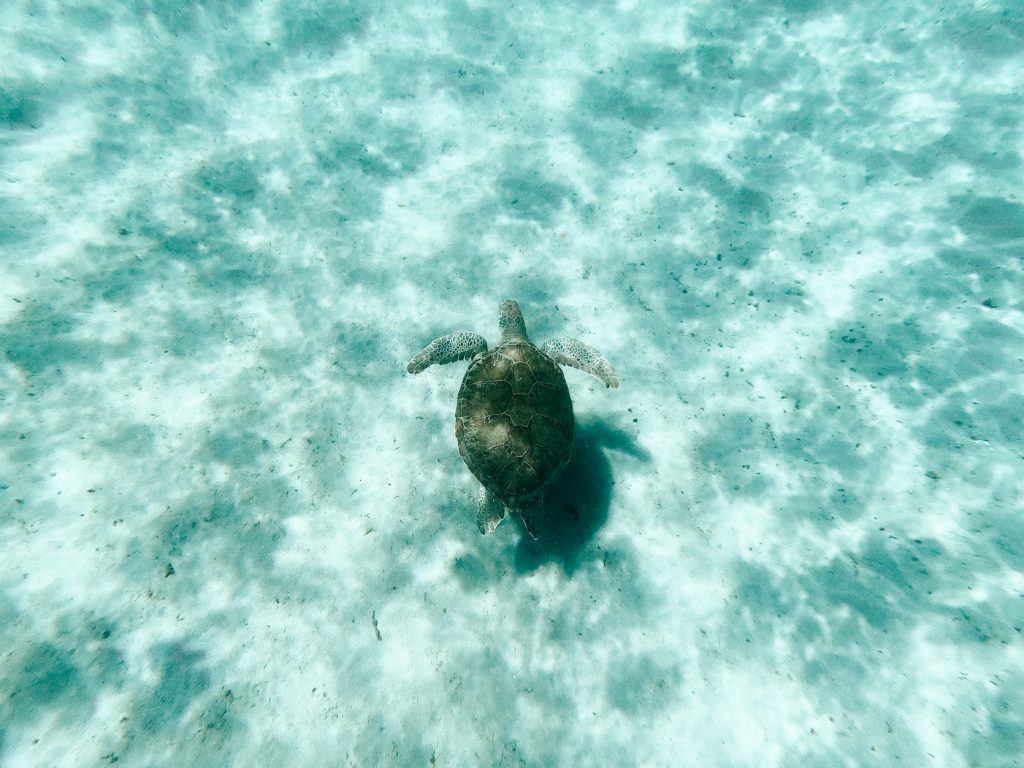 Afternoon: relax at Playa Forti
After your turtle adventures, head over to Playa Forti. Although only a few-minute drive away from Playa Grandi, this beach couldn't be more different. While Playa Grandi is crowded with tourists, this beach is a secluded and calm tropical paradise. Just like many of the other Curaçao beaches, it has beautiful sand and clear blue water. Spend the afternoon sunbathing and snorkeling in the shoreline.
If you want, stop for lunch or dinner at the nearby restaurant of the same name. The food isn't anything too special, but the view over the beach is incredible and the staff is really friendly. Moreover, there's a great atmosphere on the terrace. You can spot iguanas sunbathing on the edge and there is a spot from which you can jump straight into the ocean (at 12m above sea level).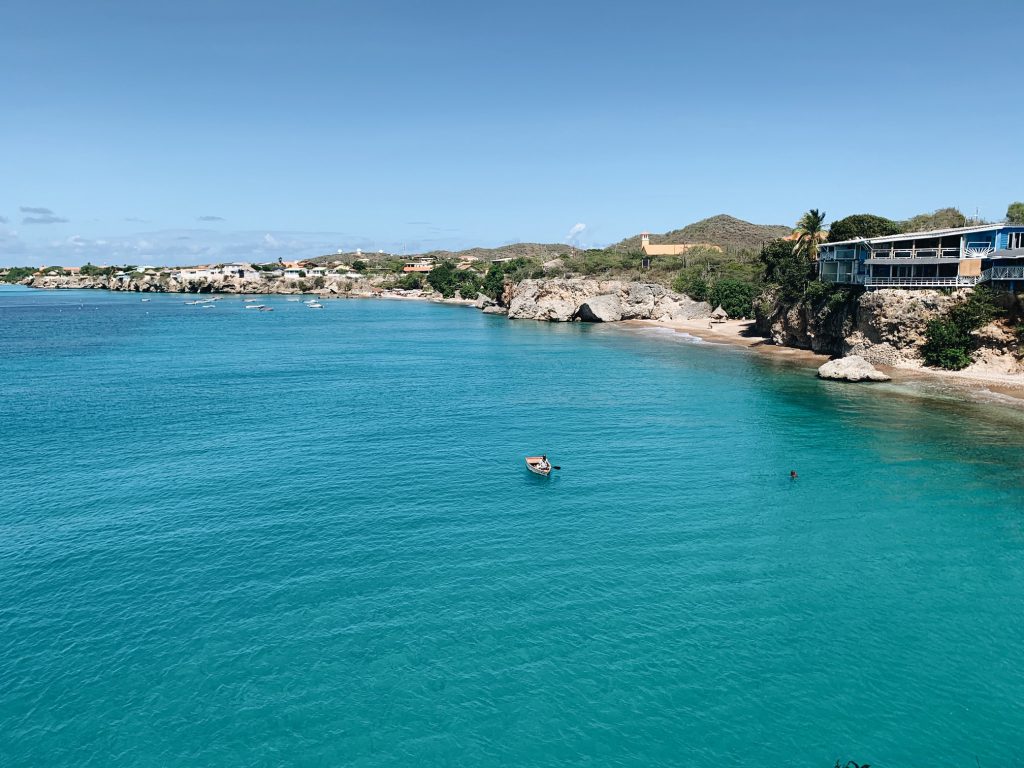 Day 6: explore Shete Boka Park & snorkel at Playa Lagun
Today is all about visiting beautiful and diverse part of the island. They are a little less touristic than some of the most popular highlights but definitely not any less worthy of a visit!
Morning: be in awe at Shete Boka
Shete Boka Park probably was the biggest surprise of the trip for me. The nature found in the park is so different from the rest of the island. With rough waves, rocky cliffs and a combination of green and dry wilderness, it is a treat to explore this park and a highlight you don't want to miss during your trip.
The main attractions of the park include Boka Wandomi, Boka Table and Boka Pistol. I loved seeing Boka Pistol, where the waves crash against the rocks and the water blows high up in the air. Another favorite of mine was exploring the beach. Although very different from the rest of the Curaçao beaches and not the best for sunbathing, there was a unique beauty to this beach.
While going to the various spots in the park, you can be as active as you want. Either choose to take the walking paths to explore the different parts, or take your car to the parking lots spread across the park and walk from there.
Shete Boka Park is open every day between 9 am and 4 pm each day. Entrance costs Nafl. 17.50 (10 USD) per person.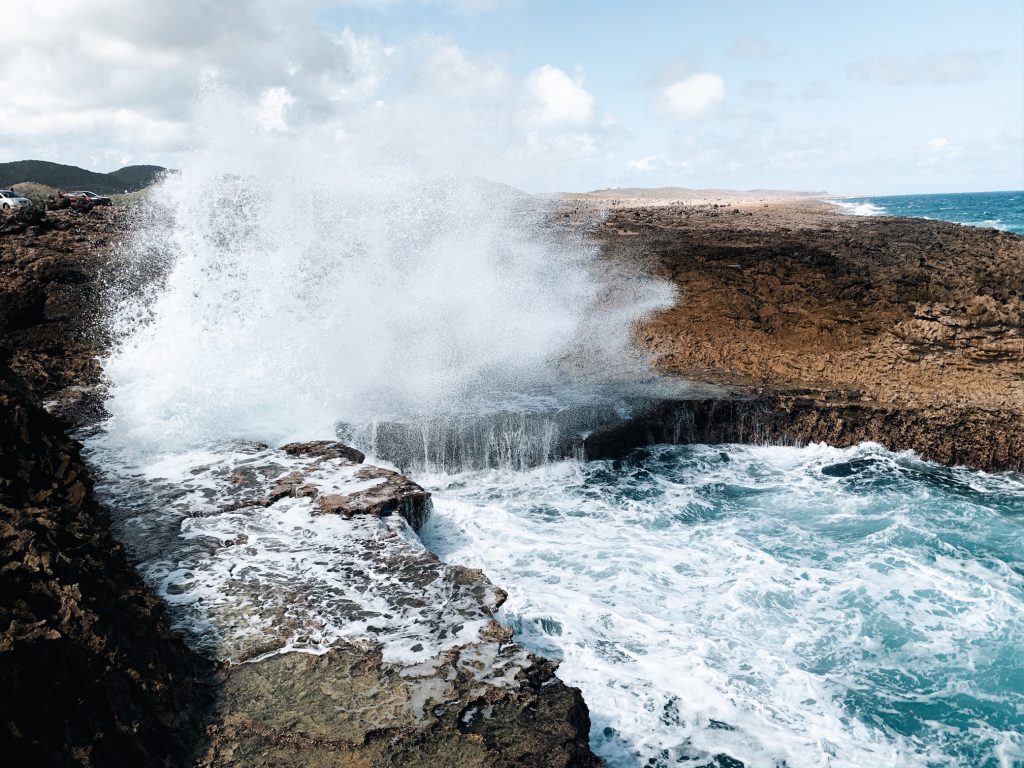 Afternoon: visit Playa Lagun
After the adventures in Shete Boka Park, head over to Playa Lagun. Found on the west coast of the island, it is approximately a 20-minute drive. You can find this secluded beach in between two small cliffs, with gorgeous blue water captured in between. On the beach itself are colorful little houses and boats, giving it the ultimate tropical vibes.
I loved visiting this beach in the afternoon. It wasn't too busy and there was plenty of space, both on the beach and in the ocean. I recommend bringing your snorkeling gear and an underwater camera for this beach. You'll find lots of fish and sea urchins in the sea, especially near the rocks.
Like most Curaçao beaches, it is possible to rent sunbeds on Playa Lagun. There is a local restaurant selling food and cocktails on one of the cliffs, which is accessible via stairs. They also have snorkeling and diving gear for rent, as well as toilets available.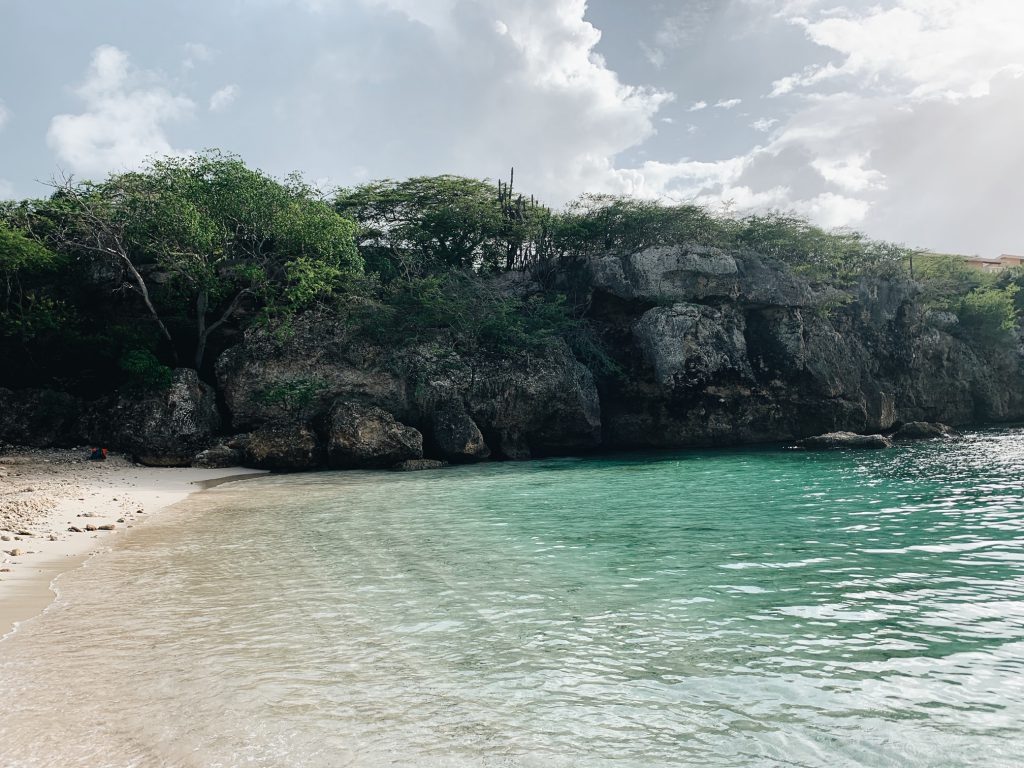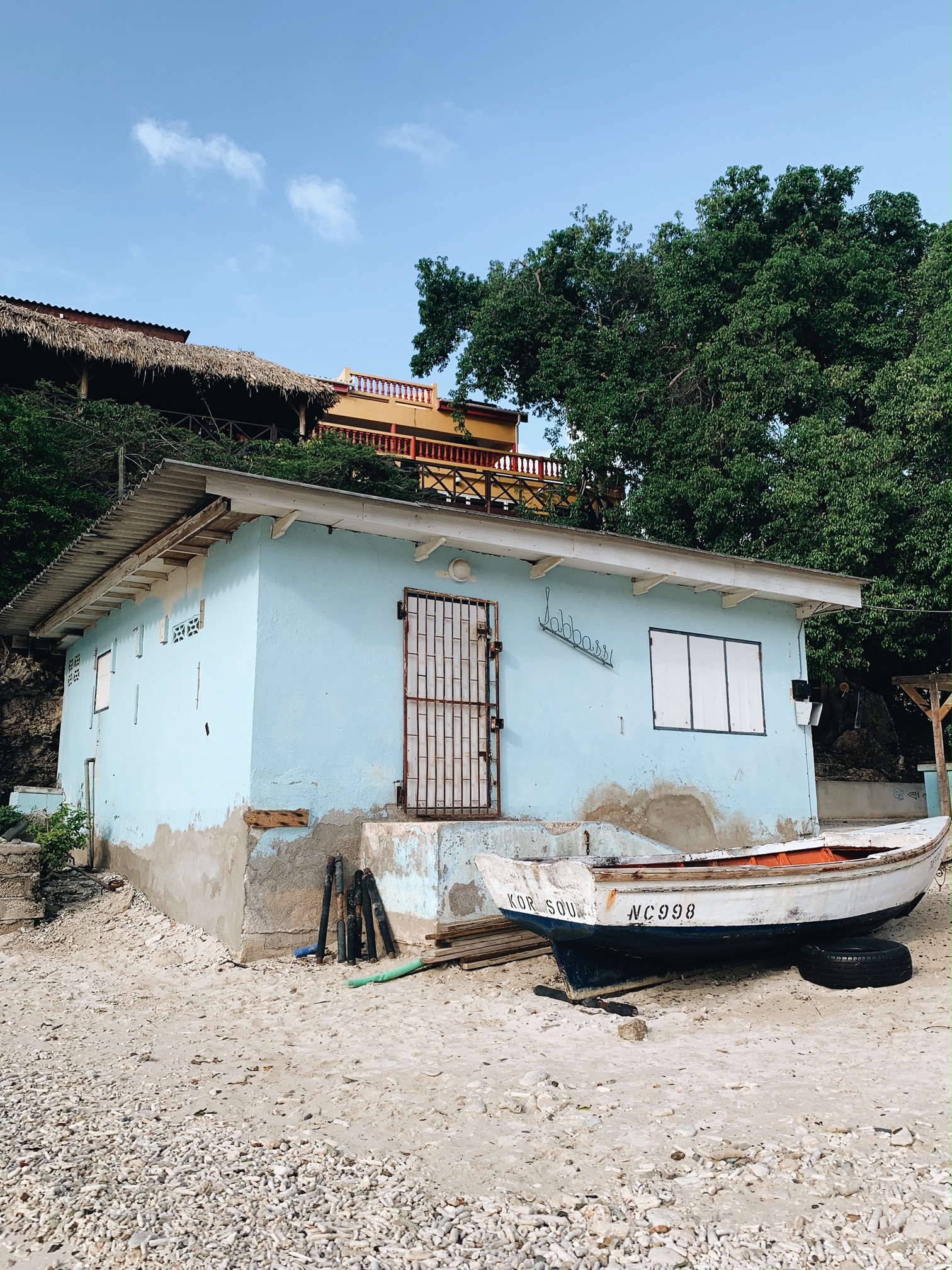 Day 7: Santa Martha lookout, flamingos & beachy pigs
Day 7 of the Curaçao week itinerary is all about several unique stops that show you different sides of the island. I personally loved all of the experiences of this day!
Morning: visit the lookout & spot flamingos
Start off by visiting the Santa Martha Bay View lookout. This spot gives you a fun view over green hills and blue water. On the hill, you can spot little houses and fisherman boats. It is a little less well-known among tourists, making it a great hidden gem to visit during your stay. An added bonus is that you probably won't find huge crowds, so you'll have plenty of time to enjoy the view and take some photos. You can drive all the way up to the lookout and park your car, so no walking is required.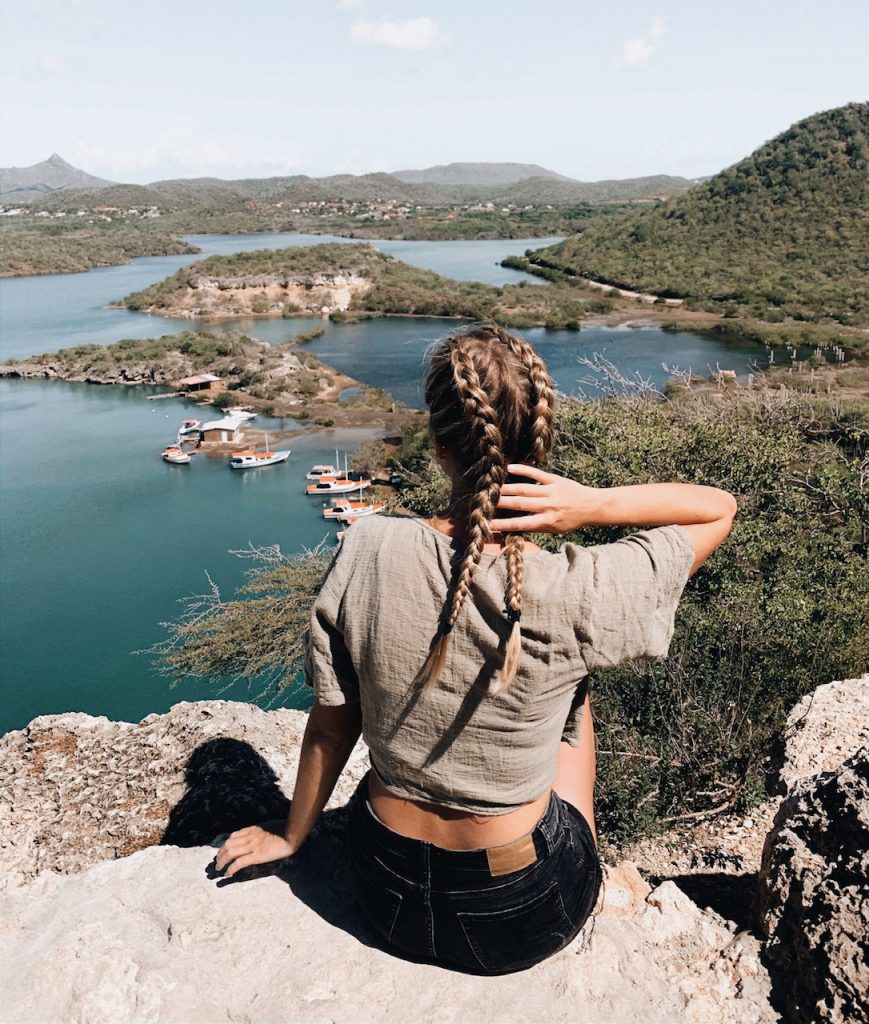 Next, head to St. Willibrordus. From the lookout, it takes about 15 minutes to get there by car. And this little drive is well worth it, because the town is home to a fun little pink population: flamingos! I loved watching the flamingos go about their daily life. To locate them, simply set your navigation to the Williwood letters. By the fun Hollywood-style sign of this place, you'll find big puddles of water in which the flamingos scour for food. It may depend on the time of your visit whether you can see the flamingos from up close or if they keep their distance.
Although the cute pink birds are the highlights of St. Willibrordus, while you're there I'd also recommend visiting the Church of St. Willibrordus. Of course in the distinctive Curaçao-fashion, this church is one of the most colorful you'll ever come across. It's hard to say the exact color of the church, which depends on the time of day of your visit. When we visited during sunset, the church was a bright shade of pink, but during the day you'll likely find it to be more yellow/orange-ish. In any way, it's gorgeous and definitely worth a visit while you're there!
Afternoon: relax at the beach & spot pigs
From St. Willibrordus, hop in the car for a quick five-minute drive to the final stop of the day, Playa Porto Mari. This beach is well-known for its inhabitants: pigs! They live in the area surrounding the beach and are known to regularly make an appearance on the beach.
Unfortunately, the pigs didn't end up showing up during our visit. However, even if you don't see any pigs, you'll still love Playa Porto Mari. I've written about this beach in my favorite Curaçao beaches and for good reason! The water is a gorgeous shade of blue and the vibe is great. There is a beach club with free wifi and several little shops. You can rent sunbeds, get drinks or grab a bite to eat.
So, it's the perfect place to enjoy the last Curaçao sunrays. Relax one final afternoon and have dinner on the beach while watching the sunset, if you want. Finally, head back to your accommodation and pack your suitcase for the trip home.
Good to know: Playa Porto Mari is big on protecting and preserving nature and charges an entrance fee of Nafl. 5.00 (3 USD) per person.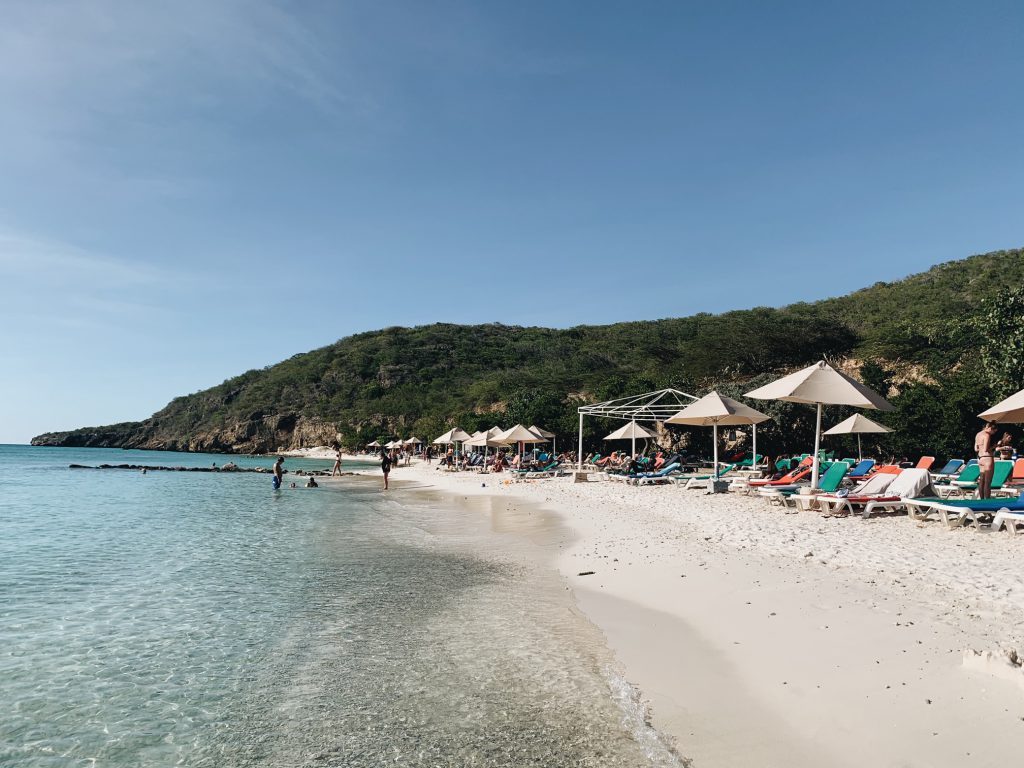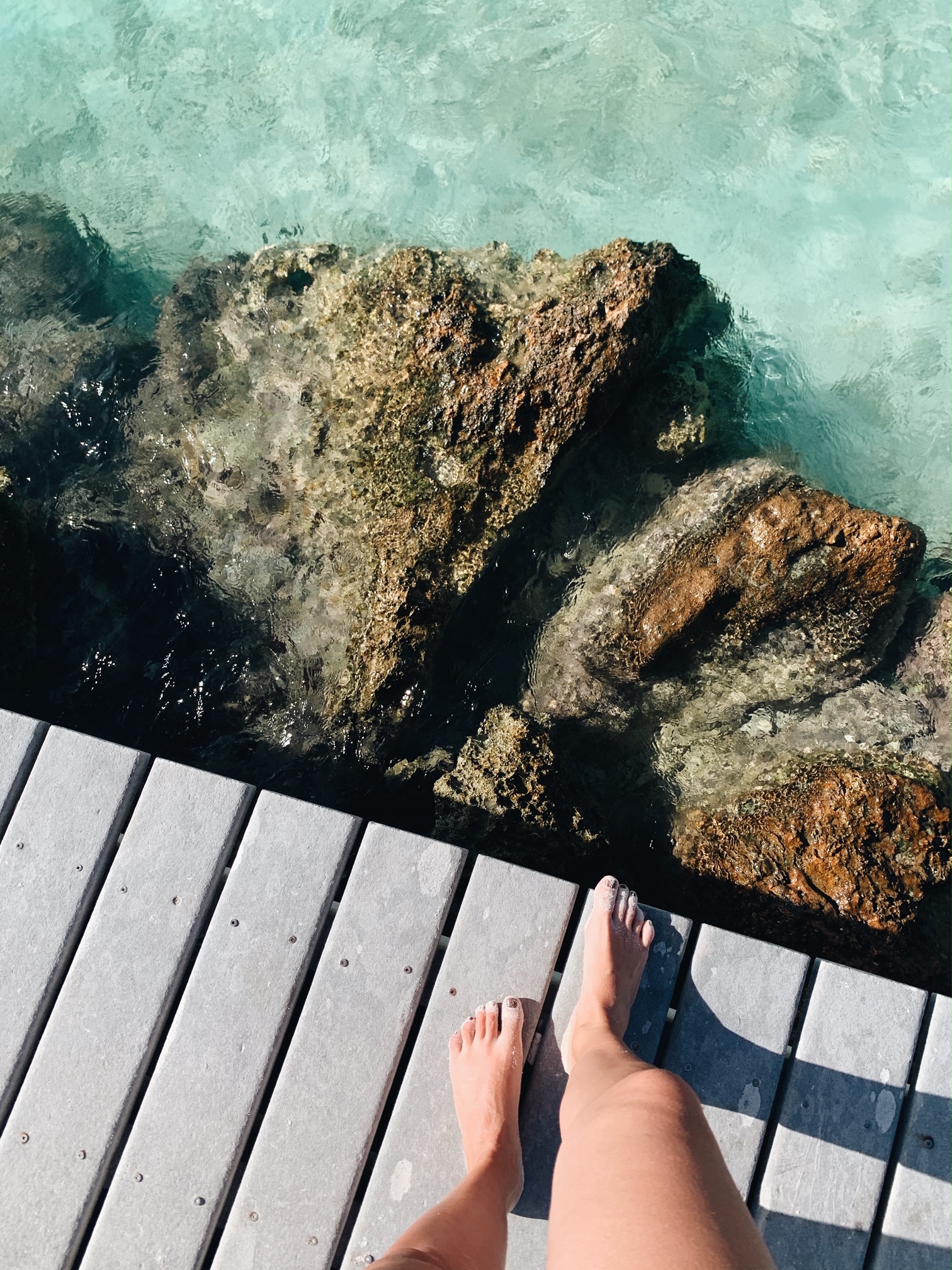 Where to stay in Curacao
We stayed in the Oasis Coral Estate Beach, Dive & Wellness Resort and WOW – it was absolutely amazing! Everything was great, from the clean and spacious rooms to the food and cocktails – and let's not forget about that infinity pool. Oh my god – can I please go back? As you can see, I can absolutely recommend it! 🙂
It is not the cheapest option, but booking.com sometimes has great deals for the resort – so definitely check it out! If your budget is a bit lower, don't worry – you can also find lots of cheaper hotels on the island. Or go for a hostel if you love a very social experience!
And that brings us to the end of this one week Curaçao itinerary! I hope you find this overview of my ultimate highlights useful. Planning your trip to the island and want some more inspiration and tips? Take a look at the rest of my Curaçao posts, check out my recent Instagram pics from my favorite places or continue reading below. I hope you have the best time on the island!
Some links in this post may be affiliate links, meaning I earn a small percentage of any purchase made. They're at no extra cost to you, but allow me to keep creating new content for you guys. Of course, you're free to use any other link!
Liked this post? Save it for later!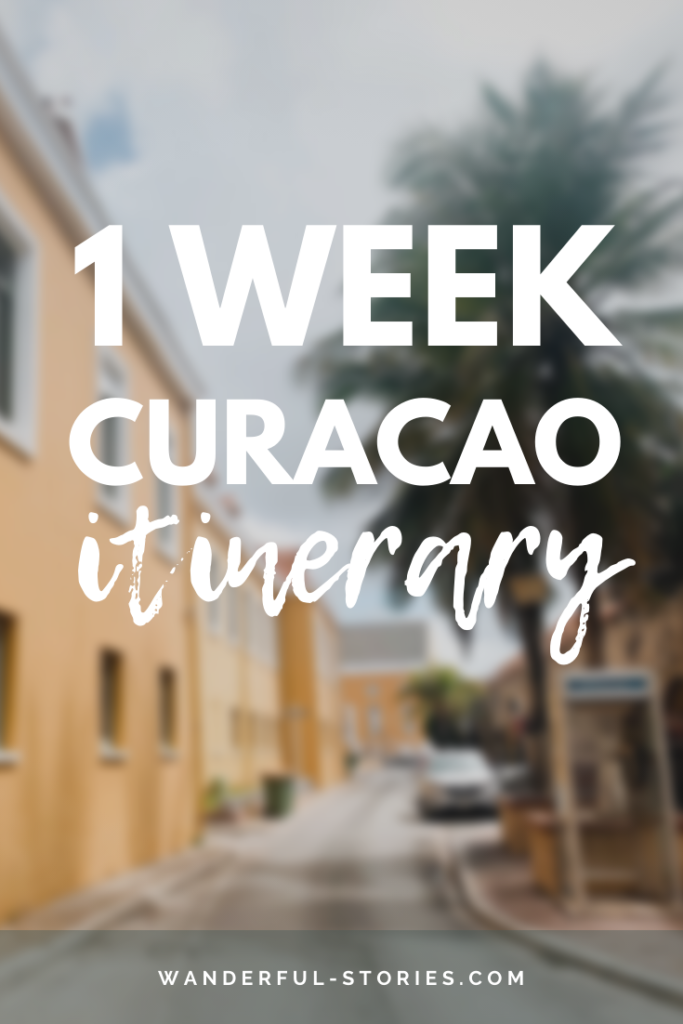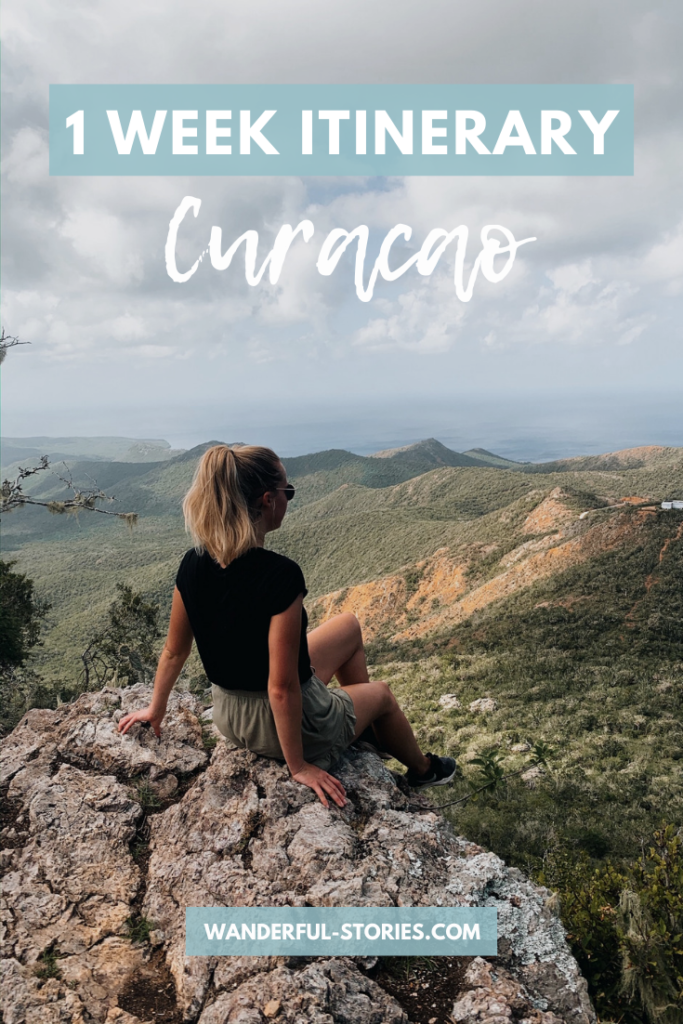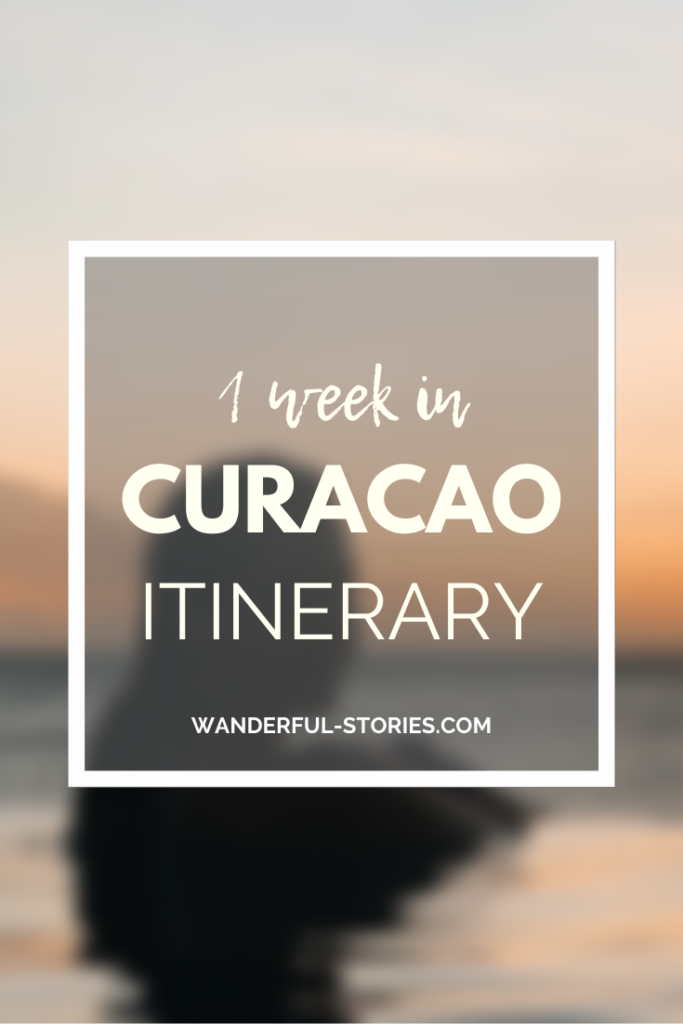 ---
You may also like…