White sand beaches, clear blue water… those were the things that always came to mind when thinking of Curaçao. Although the beaches definitely did not disappoint, Curaçao proved to be so much more diverse than I could've ever imagined. From colorful cities and great cuisine to incredible hiking and spotting wildlife; this small island really does offer it all. Today, I'm sharing my Curaçao highlights with you, including the ultimate things to see and do and the places you can't miss on your trip.
1. Relax at the most gorgeous beaches
Yes, I know, I just said Curaçao is much more than just beaches. But come on, how could I not start off with my favorite thing in pretty much every country? 😉 If you follow me on Instagram, you'll know that I adore the sea, sun and sand and am always up for a good beach day. If you're like me and you cannot get enough of beaches, Curaçao is the place to be! There is a gorgeous piece of paradise around every corner. Most beaches have good facilities and a few even have tropical beach clubs. Talk about those island vibes!
My favorite beaches include Playa Lagun and Grote Knip, but there are many more. Here, you can read all about them!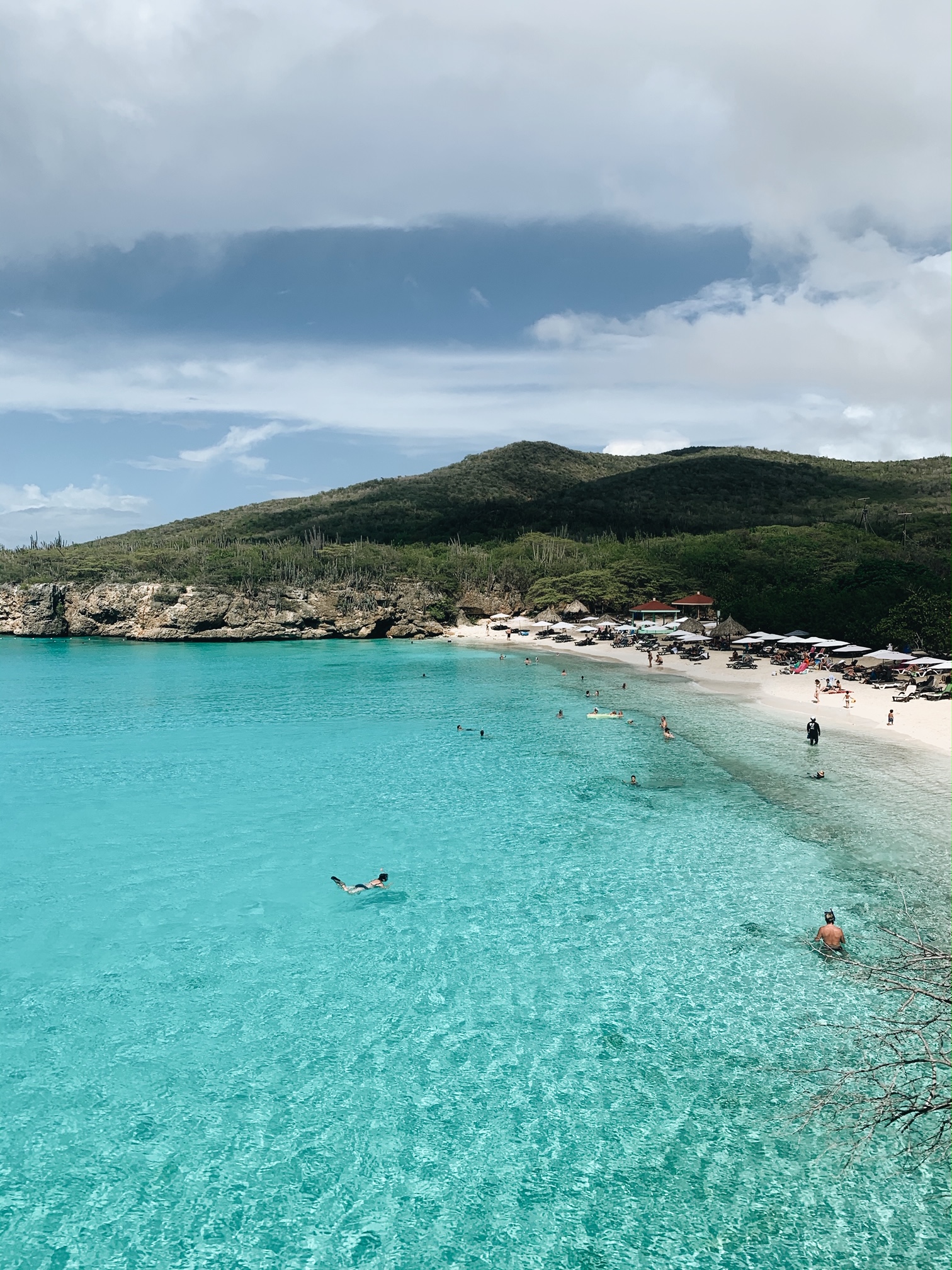 2. Stroll along colorful buildings in Willemstad
From beach life to city life! We spent one entire day in Willemstad and I really enjoyed exploring the capital of Curaçao. Although it's a tough choice, my favorite thing about the city was probably all of the colorful buildings in it. From blue to pink to yellow and everything in between – there's not a color that's not represented in Willemstad's cityscape. My sister and I loved looking for the prettiest houses and taking lots of photos of them.
Planning to visit Willemstad? Be sure to check out my blogpost about the highlights you can't miss in this colorful city.
3. Admire flamingos in their natural habitat
Aren't flamingos just the cutest things? Although I've always loved watching flamingos, I'd only ever seen them in zoos and Las Vegas casinos before – so, not the best environments. Naturally, then, seeing them in their natural habitat was one of my absolute highlights of Curaçao.
The ultimate place for flamingo spotting can be found in the town of Sint Willibrordus, where many birds gather in the shallow water. Just driving by, you'll likely be able to spot at least a few. If you're lucky, the flamingos have gathered nearby the road, allowing you to take a closer look. They are shy though, so approaching them or coming too close will scare them away.
Tip: while you're in the town, pay a quick visit to the closeby church. The Church of Sint Willibrordus is a beautiful orange and pink building, fully in the colorful style of the rest of the island.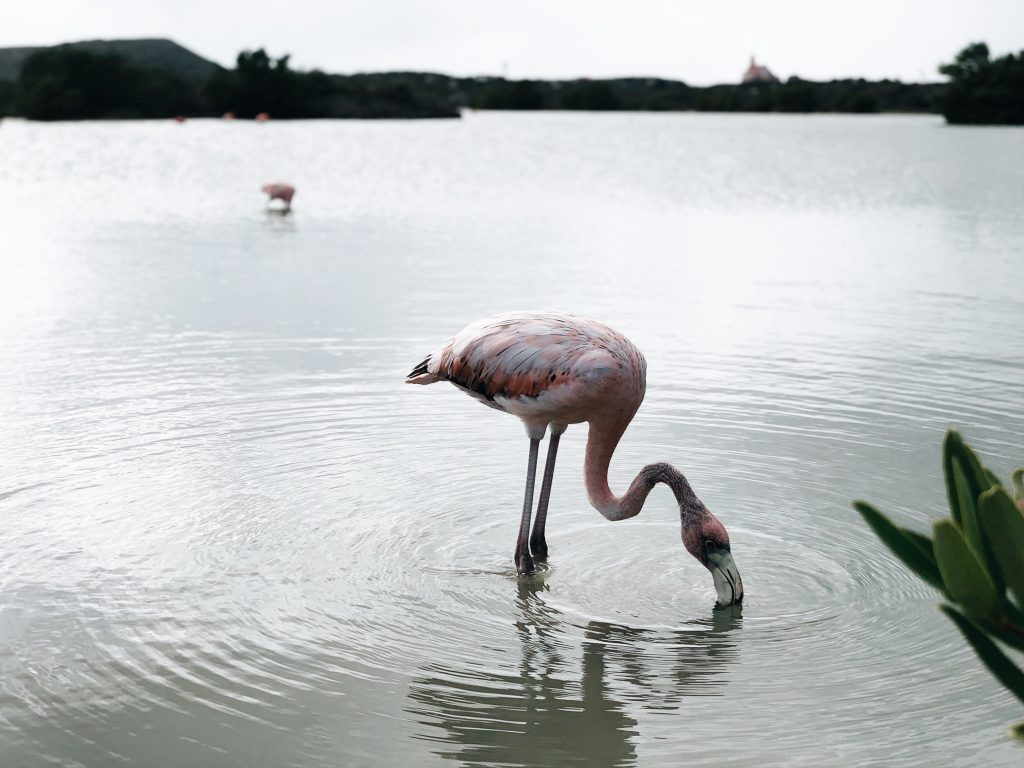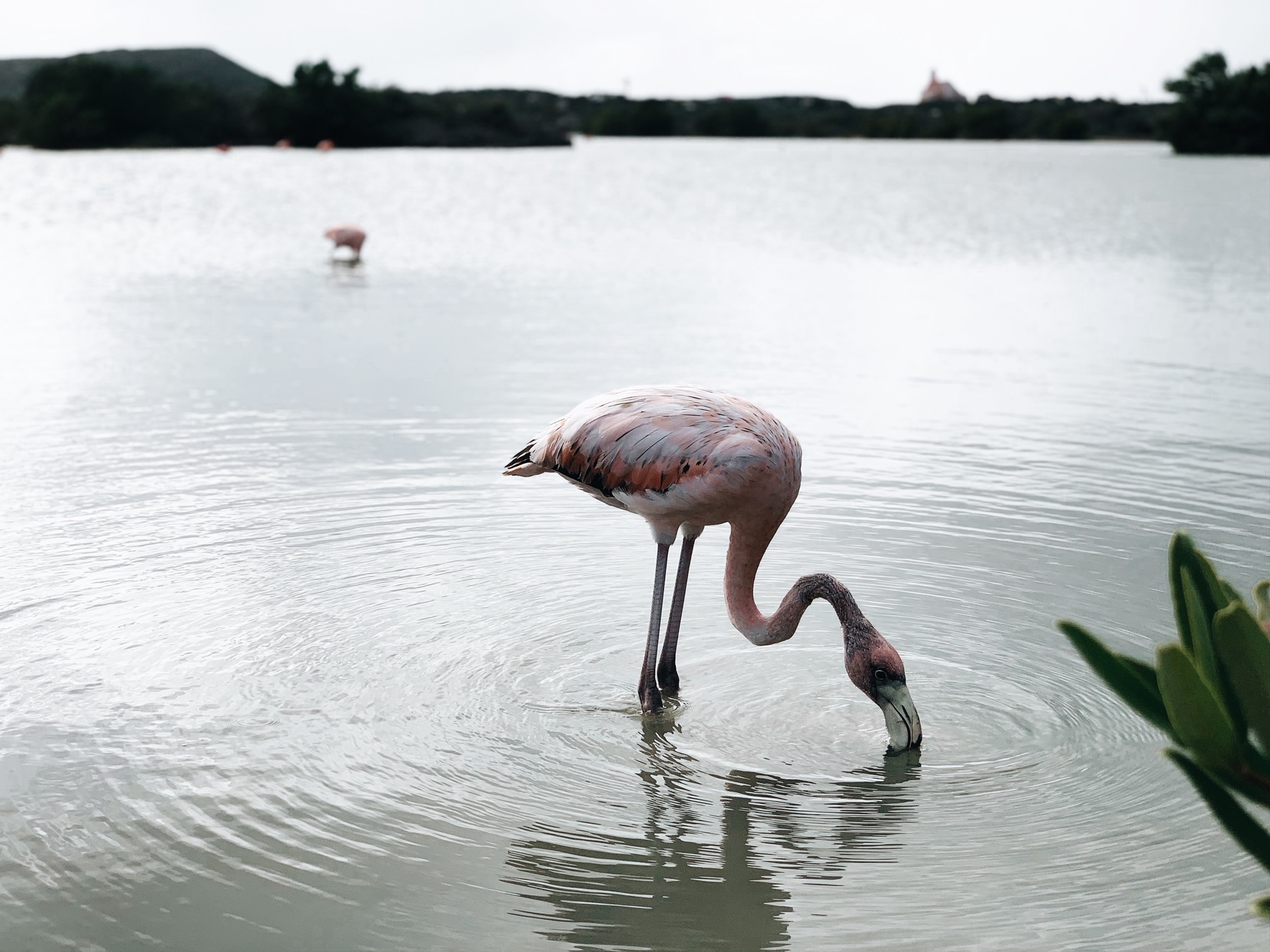 4. Hike Mount Christoffel
I have to admit: before going to Curaçao, I had no idea you could do some amazing hikes on the island. Luckily, we found out about Mount Christoffel. Although there are several tracks you can walk in Christoffel National Park, I'd really recommend hiking all the way up to the peak of the mountain. At 372 m above sea level, this track takes you all the way up to the highest point on the island. Once you've climbed to the top, you are rewarded with an absolutely stunning panorama view of the island. Definitely one of my ultimate Curaçao highlights!
The hike starts relatively easy but gets more difficult as you get higher up the mountain. Although it's challenging at some points, the hike is generally doable for people of different ages and fitness levels. Just make sure to bring enough water and sun protection, and always hike at your own pace.
Planning your hiking trip to Christoffel National Park? Here you can read all about my experience and best tips for hiking Mount Christoffel.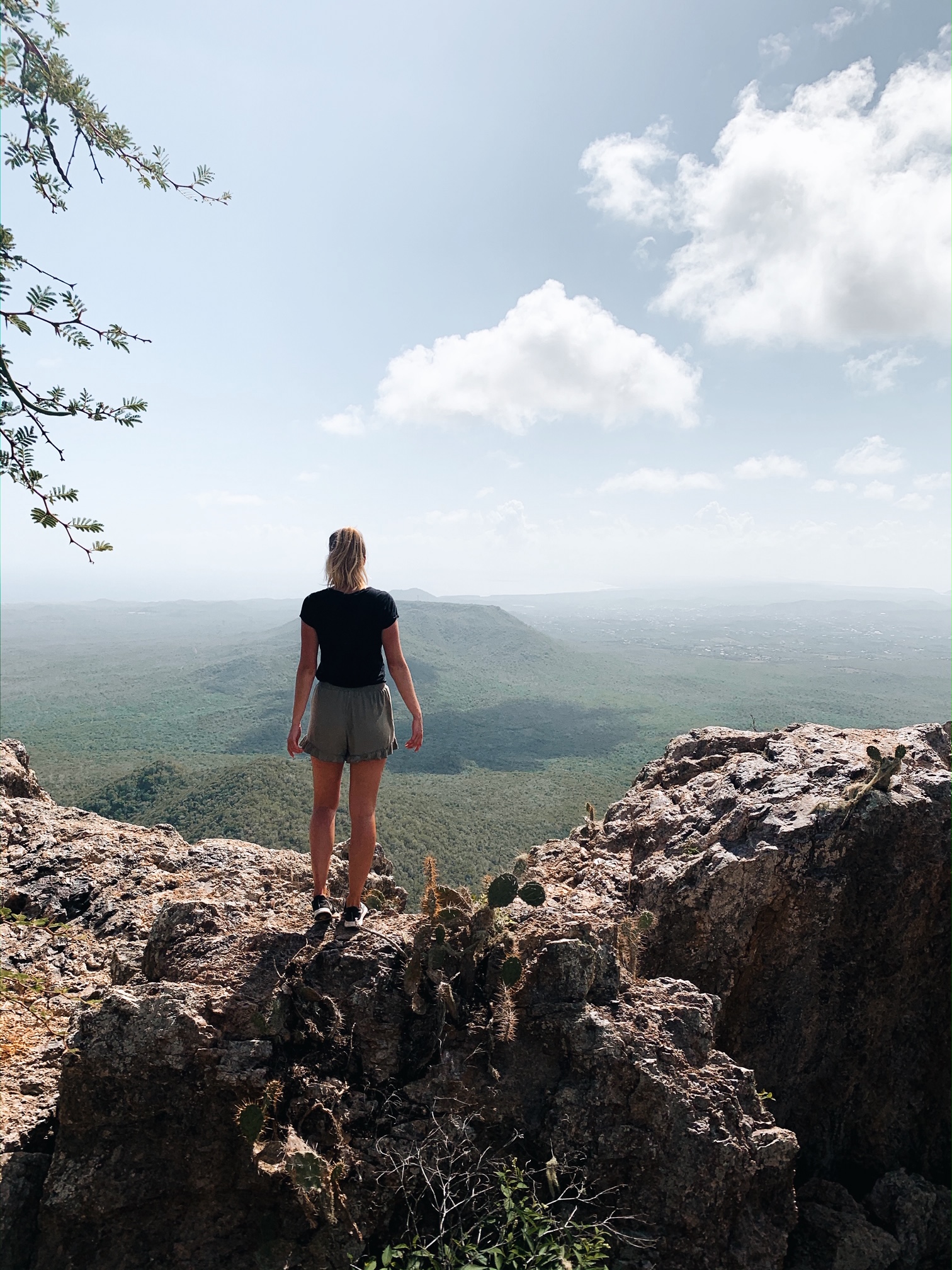 5 & 6. Experience ultimate holiday vibes at Koraal & Karakter Curaçao
Although I've written an entire blog post about my favorite places to eat and drink on the island, Koraal and Karakter hold a special place in my heart. Found in the beautiful Coral Estate, both restaurants offer some of the ultimate luxury holiday vibes you're gonna find on Curaçao and are some of the island's best highlights. (By the way – Coral Estate is the ultimate accommodation for your stay. I spend a week there and absolutely loved it. Highly recommended!)
When you go for a cocktail or a bite to eat at Koraal rooftop's terrace, you get a chance to use the restaurant's infinity pool. And let me tell you – it is worth it. Hanging over the edge of the pool, you can enjoy an incredible view over the Caribbean ocean, with boats and palm trees on the beach. You can also opt for a relaxing visit to that very same beach when you visit Karakter Curaçao, the downstairs neighbor of Koraal. Enjoy incredible food, an even better view and the most friendly staff.
Good to know: entrance to the infinity pool is free when spending Nafl. 50 (28 USD) per person on food and drinks at Koraal. Otherwise, a Nafl. 20 (12 USD) surcharge is added to your bill.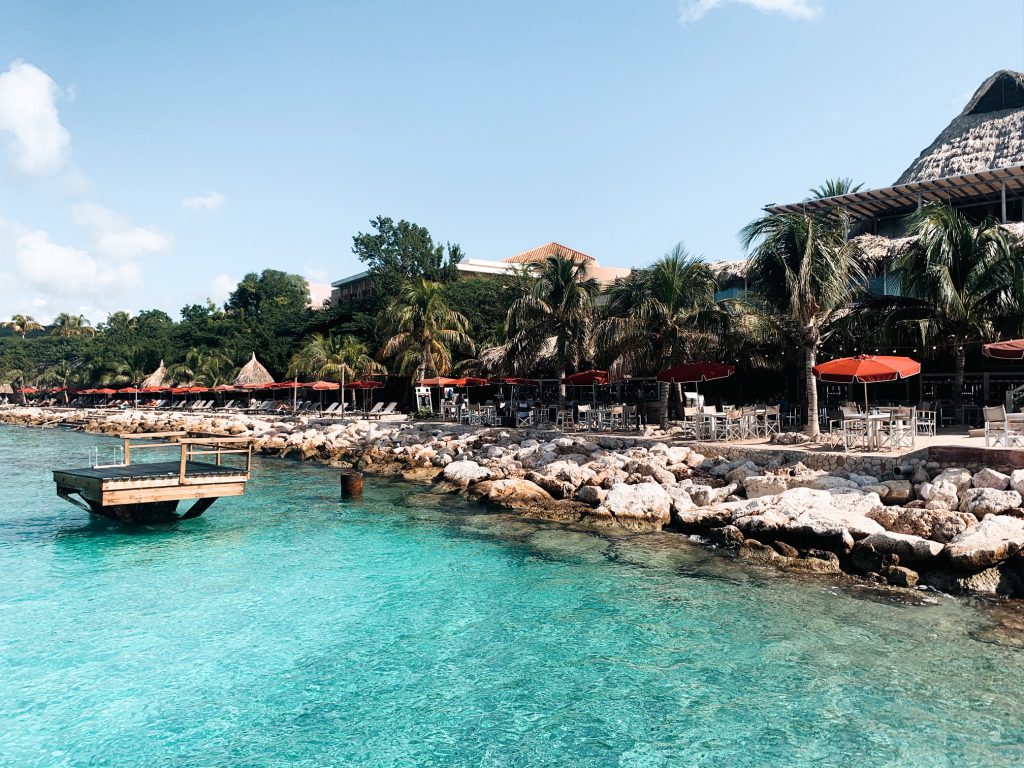 7. Explore Curaçao's underwater world
If you've read some of my blog posts before, you will probably know that I absolutely love snorkeling. There's something so special about exploring the calm underwater world. If you are just as big a fan of snorkeling as I am, the Caribbean ocean is perfect for you! My favorite snorkeling spot was probably Playa Lagun, pictured below. In this gorgeous small bay with clear blue water, you can spot lots of different fish and sea urchins.
Good to know: I've found that buying or renting snorkeling gear on the island wasn't as cheap as I'd hoped, so I'd recommend bringing your own items with you if you have them. Because I planned on snorkeling for multiple days, we decided to buy a mask and snorkel at a local store. This ended up being a much cheaper option than it was to keep renting the materials.
If you want to know more about the best beaches and snorkeling spots across the island, be sure to check out my ultimate list of 8 favorite Curaçao beaches.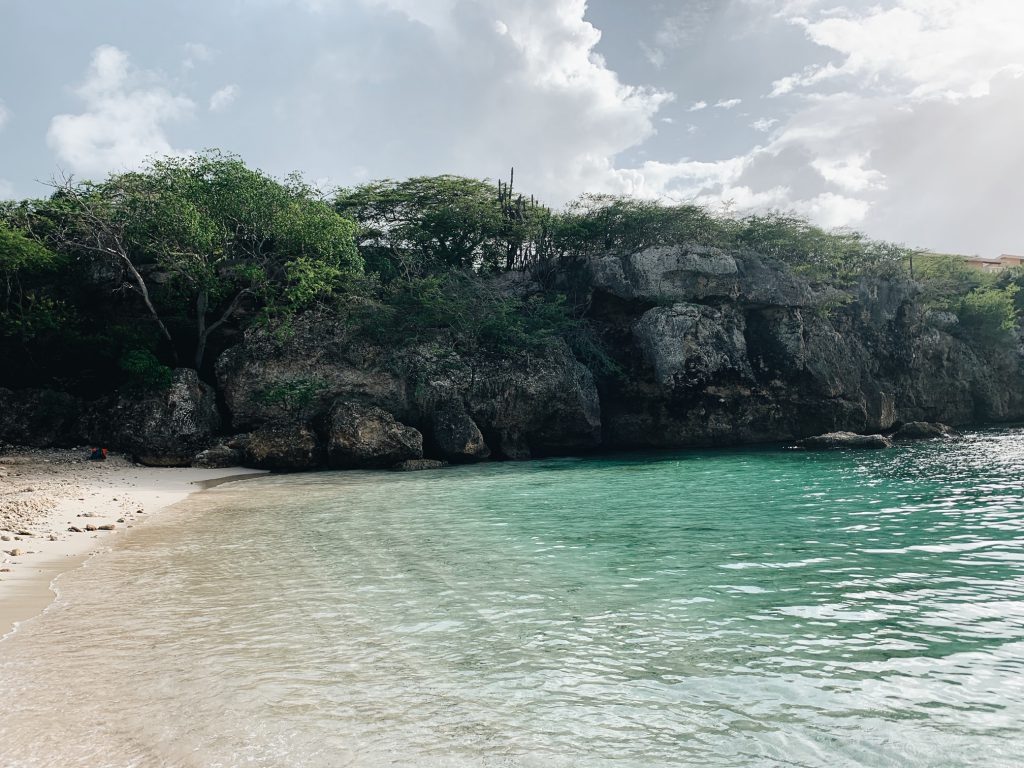 8. Swim with turtles
Swimming with turtles in clear blue water – what more could you possibly want on your trip to Curaçao, right? Playa Grandi (also called Playa Piscado) is the place to be for this incredible island experience. The beach is the ultimate turtle hot spot because the local fishermen dump their leftover bits of fish in the ocean. Because of this, the turtles all gather in the shallow water near the beach.
Although I've seen many turtles in Hawaii, my experience with the turtles at Playa Grandi in Curaçao really was unlike anything else. They really didn't seem to care about swimming past (or even bump into) the tourists in the water to get to the best pieces of food. If you have one, definitely bring your underwater camera! You'll be able to get some incredible shots of the animals. If you'd rather not get into the water with the turtles, the jetty still allows you to get a great look at them.
Good to know: always make sure to give sea turtles their space and never touch or feed them. Try to be as unintrusive as possible when being in their natural environment.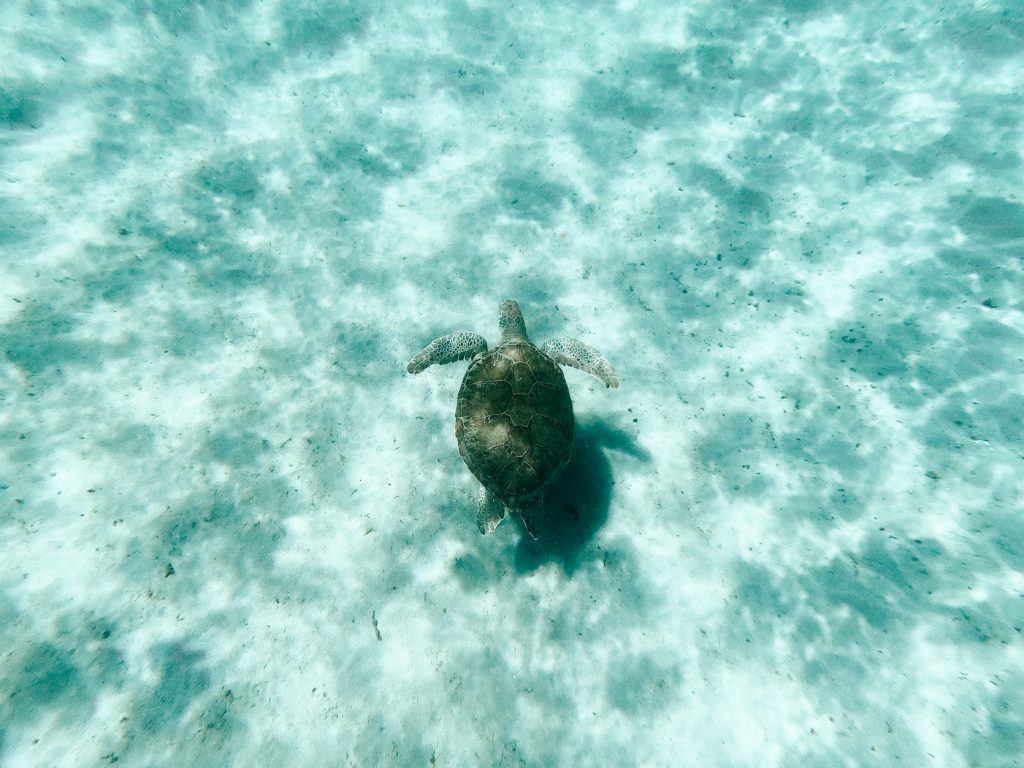 9. Enjoy the local cuisine
What better way to experience the local culture than by trying the island's cuisine? In my experience, the food in Curaçao is pretty diverse. Enjoy typical Dutch delicacies, taste Indonesian influences or go for your favorite European dish. There is something for everyone on the island! My favorite meal was the veggie rice platter at Landhuis Daniel, which they were so kind as to adapt to suit my vegan diet. Highly recommended!
Wondering where to eat and drink on Curaçao? Here, I've shared my favorite restaurants across the island.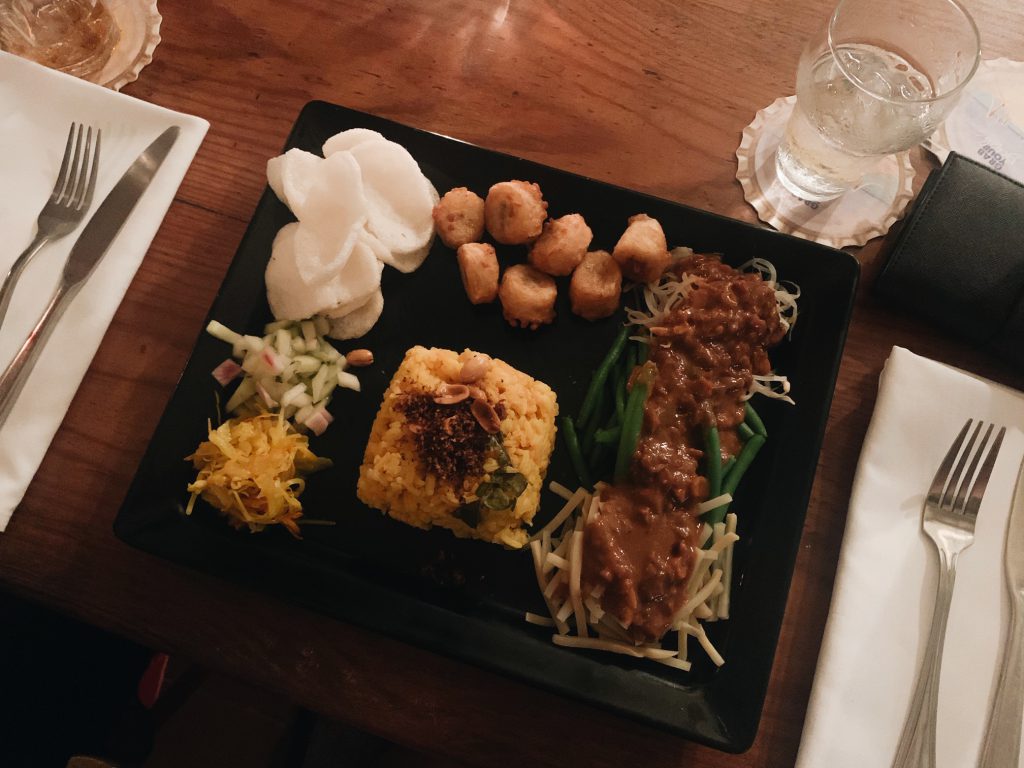 10. Admire rough nature at Shete Boka Park
Last but not least, visiting Shete Boka Park was one of my favorite Curaçao highlights. The park, which is found near Westpunt, is absolutely beautiful and shows a side of the island that is very different from the rest. Boka Wandomi, Boka Table and Boka Pistol are just some of the rough natural attractions that make this park so unique. I personally really loved visiting the beautiful beach, which is so different from the other beaches on the island. All in all, definitely worth a visit!
Good to know: Shete Boka Park is open every day between 9 am and 4 pm. Entry to the park costs Nafl. 17.50 (10 USD) per person. You can either explore the park on foot or drive your car to the parking lots spread across the park and walk from there. Although the paths are pretty accessible, I'd recommend wearing good shoes because of the rough surfaces.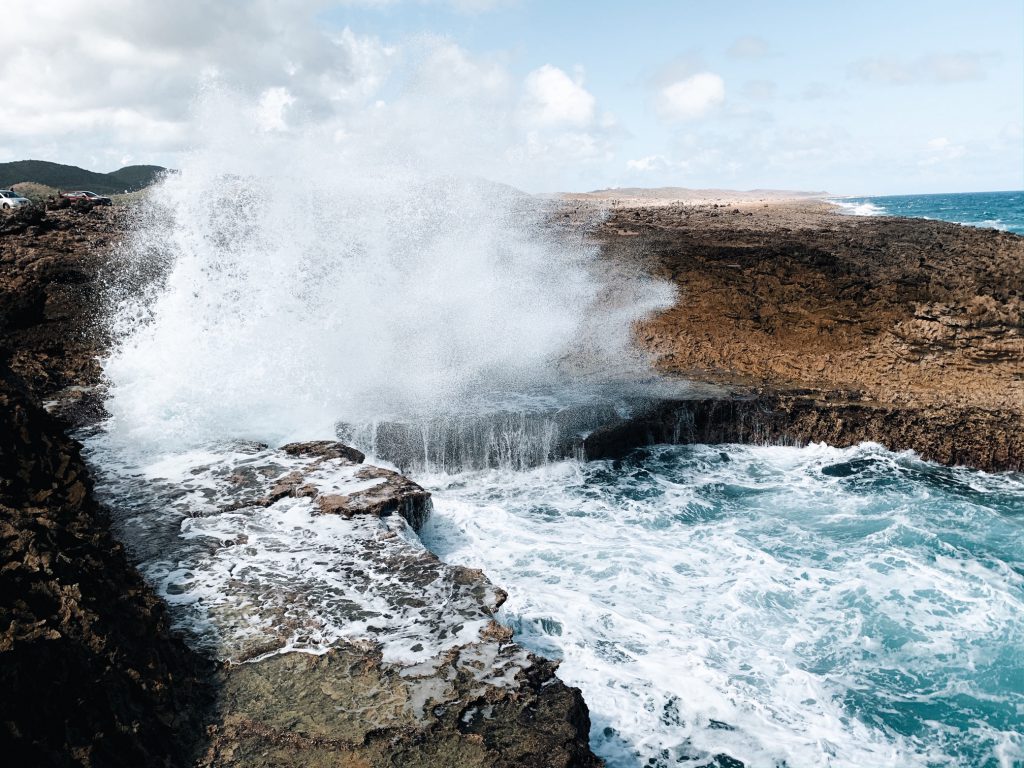 Where to stay during your trip to Curacao
Still looking for the best spot to stay and make the most out of your Caribbean trip? I stayed at Coral Estate Resort and absolutely loved it. Honestly, it is such a beautiful environment with the most incredible food and specialty cocktails, super friendly staff and that infinity pool – I mean, wow. I can highly, highly recommend it! (Btw, don't worry if you have a small budget, they do have some really great deals occasionally!)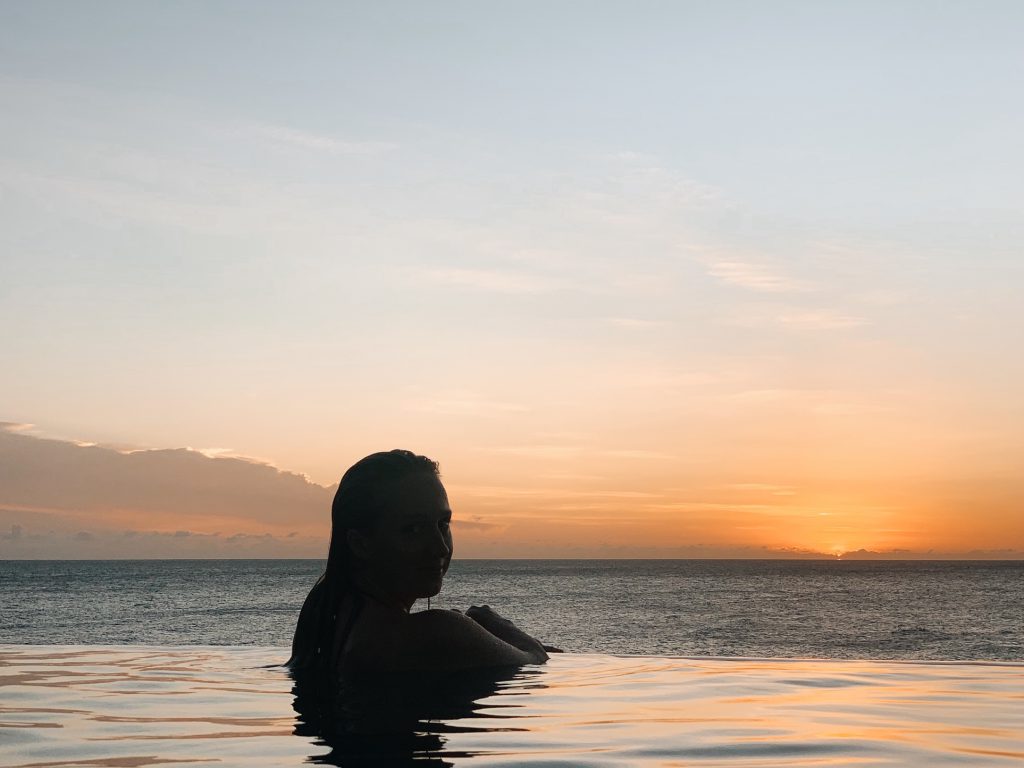 Ah, how I wish I could've spent much more time on Curaçao! I absolutely loved my week on the beautiful island and really appreciate the diversity in nature and culture I encountered. I can't wait to come back again to see so much more of the island. What are your ultimate highlights on Curaçao?
Some links in this post may be affiliate links, meaning I earn a small percentage of any purchase made. They're at no extra cost to you, but allow me to keep creating new content for you guys. Of course, you're free to use any other link!
Liked this post? Save it for later!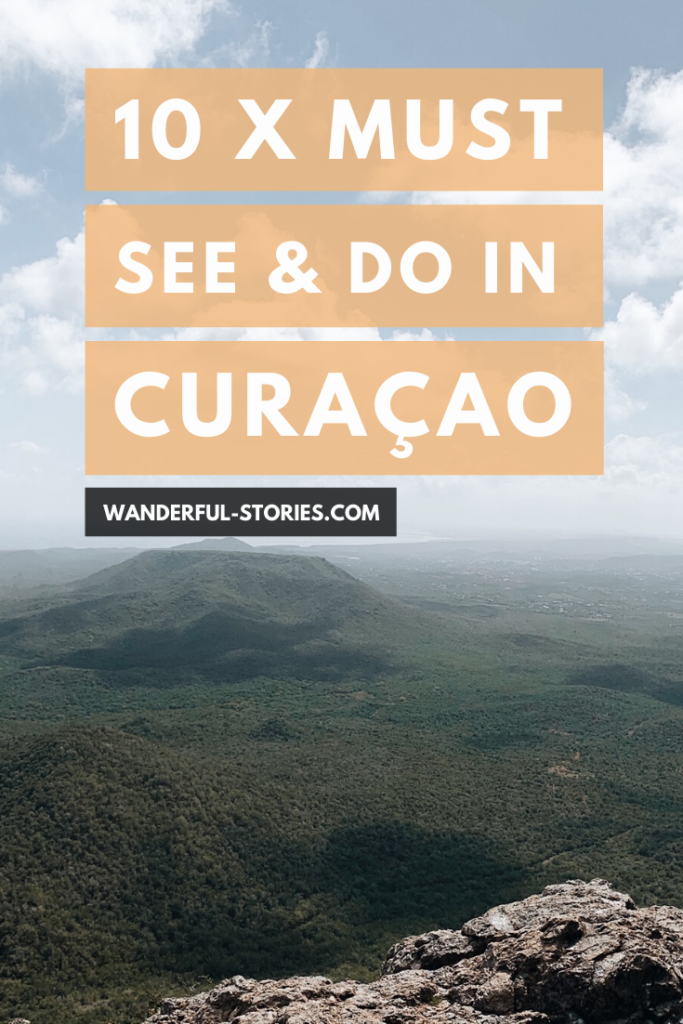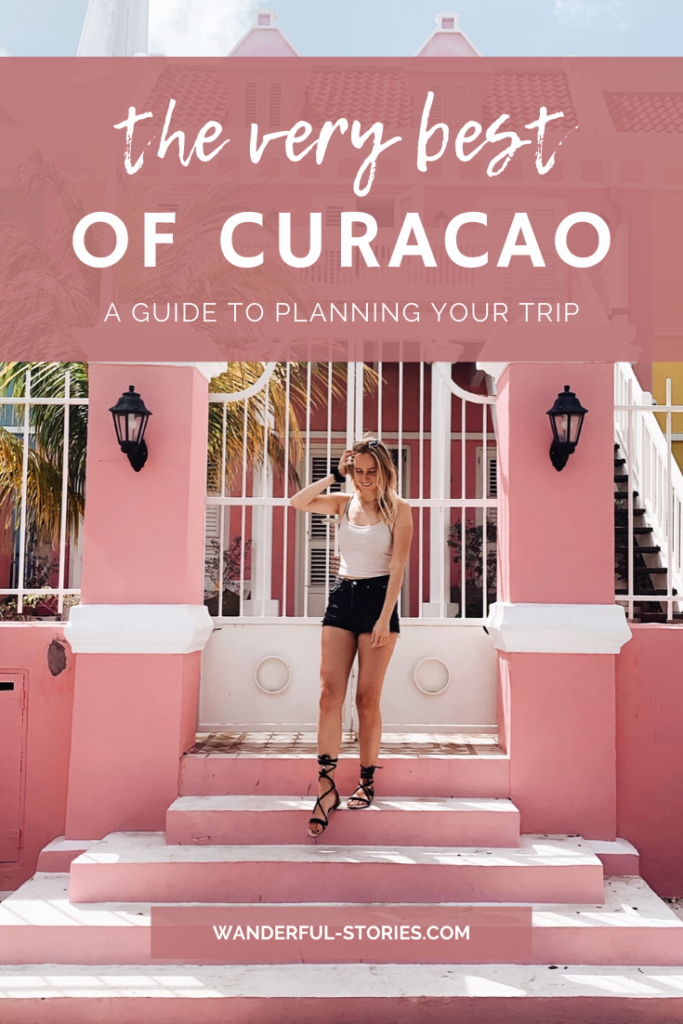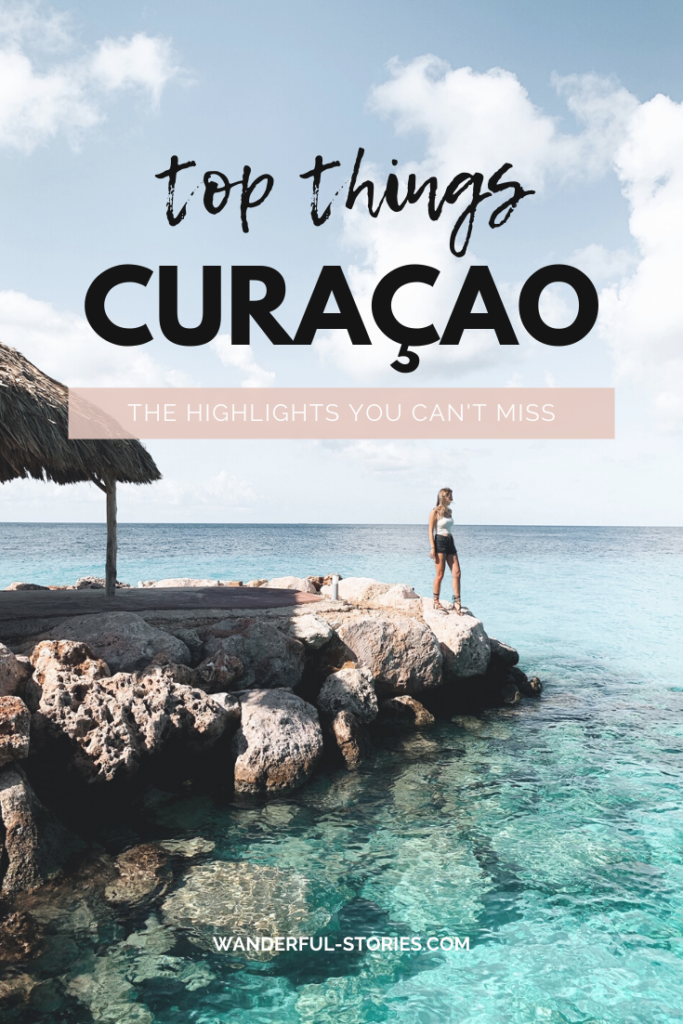 ---
You may also like…