Although temporarily being home for the holidays is great, I am definitely not loving the winter cold. So, upon finding out we'd be going on a trip to Curaçao, I was incredibly excited about a week of soaking up the sun on gorgeous white sand beaches. And the island did not disappoint! Today, I'm sharing the very best beaches in Curaçao. They include all my favorites, from small and quiet beaches to the biggest, most popular ones. This list of eight spots takes you all around the island to discover the best Curaçao has to offer.
1. Kokomo Beach
The first beach I visited during our stay in Curaçao was Kokomo Beach. It immediately became one of my favorites! Although Kokomo Beach is definitely one of the more popular beaches on the island, it doesn't feel overcrowded. The vibe is absolutely great and palm trees & string lights give the place an ultimate tropical feel.
There's plenty to do on the beach. Grab a sunbed and relax, go for a swim and snorkel in the ocean, grab a drink in the beach club or take a picture on the Instaproof swing. Kokomo Beach is the place-to-be for an awesome beach day.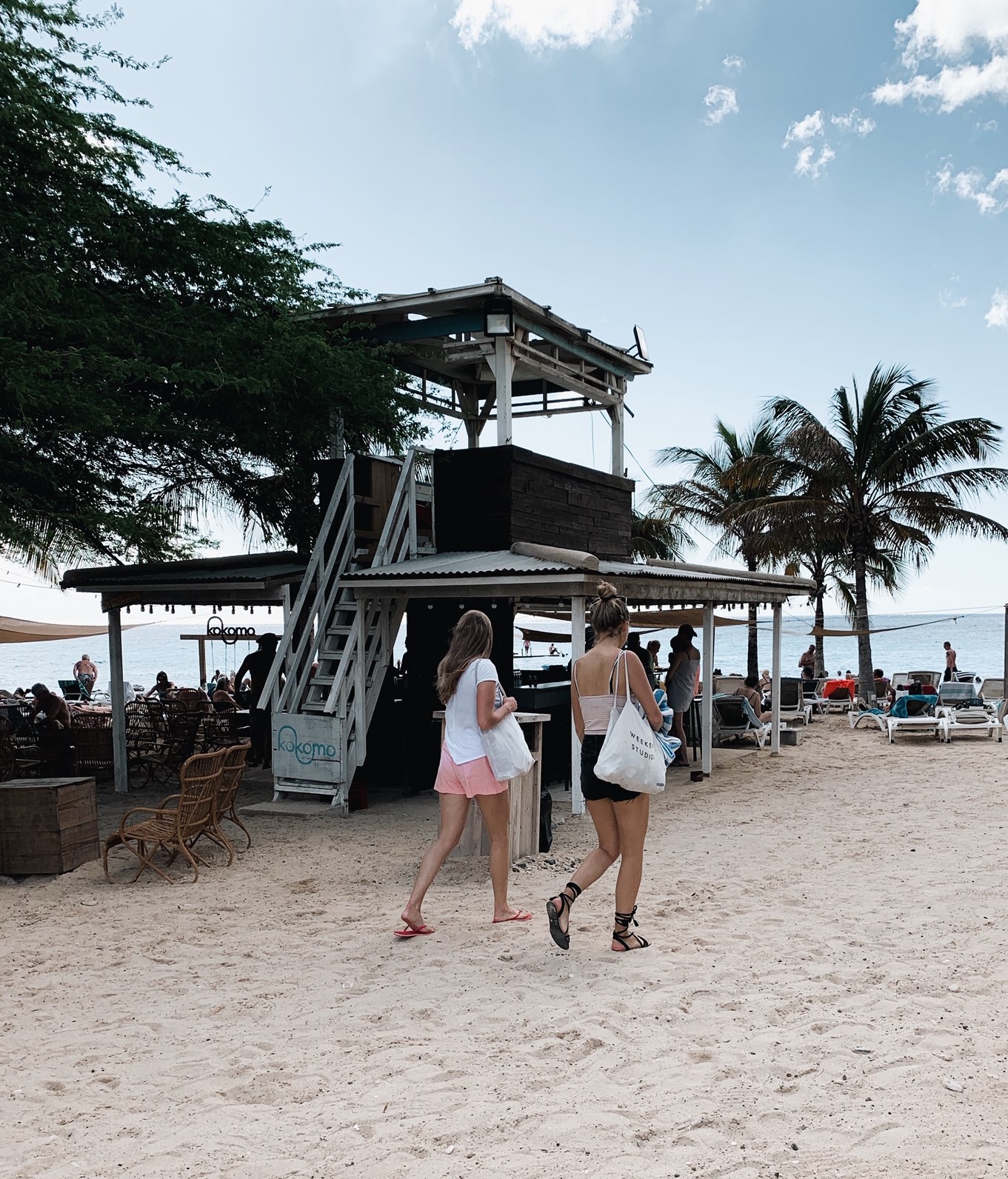 2. Playa Grandi
If you want to spot turtles during your time in Curaçao, look no further! Playa Grandi is the #1 spot when it comes to meeting these incredible sea creatures. Grab your snorkel and your underwater camera or watch them from the jetty. Either way, you won't be disappointed. Playa Grandi is such a great place for meeting these animals because the local fishermen dump bits of fish waste in the ocean. Which, as it turns out, is some sort of food heaven for the turtles. 🙂
Especially on the shoreline, it is seriously crowded with turtles. Even though I've snorkeled with turtles plenty of times in Hawaii, I've never seen them as used to people as on this beach. They will literally bump into you if you're in the way of the good food, haha. Of course, this is not to say you shouldn't be careful being around them. Always try your best to give them their space and never touch them on purpose.
Tip: if you prefer to admire the turtles without 10 other tourists (& their cameras) in your face, go a bit further into the ocean. You'll still see plenty of turtles, but you get to enjoy them in a much more relaxed way.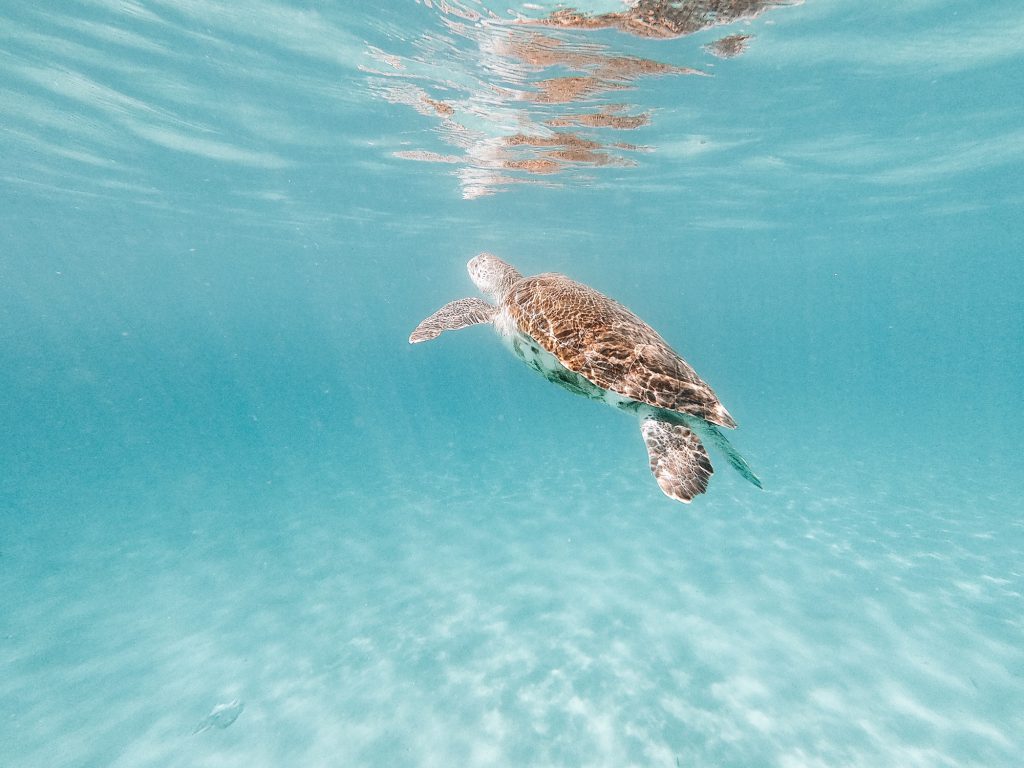 3. Playa Porto Mari
Before going to Curaçao, I'd done some research on the best beaches on the island (I needed sea, sun and a tan, after all). When I came across Playa Porto Mari, the images I found were nothing short of the Bahamas: a deserted white beach with clear blue water… and pigs! I'm sure you can imagine my total excitement about the possibility of swimming with pigs.
Unfortunately, we didn't see any of the cute beach inhabitants when we visited Playa Porto Mari. The pigs definitely do live in the area and visit the beach, though, we just lucked out that day. However, we still did have a great time chilling on the beach and going for a swim in the gorgeous blue water. Although Playa Porto Mari was more crowded than the pictures showed, it's nevertheless a great place to grab a sunbed and a drink and relax.
Good to know before you go: Playa Porto Mari has an entrance fee of Nafl. 5.00 (3 USD) per person. That fee is on top of anything you spend on sunbeds & consumptions.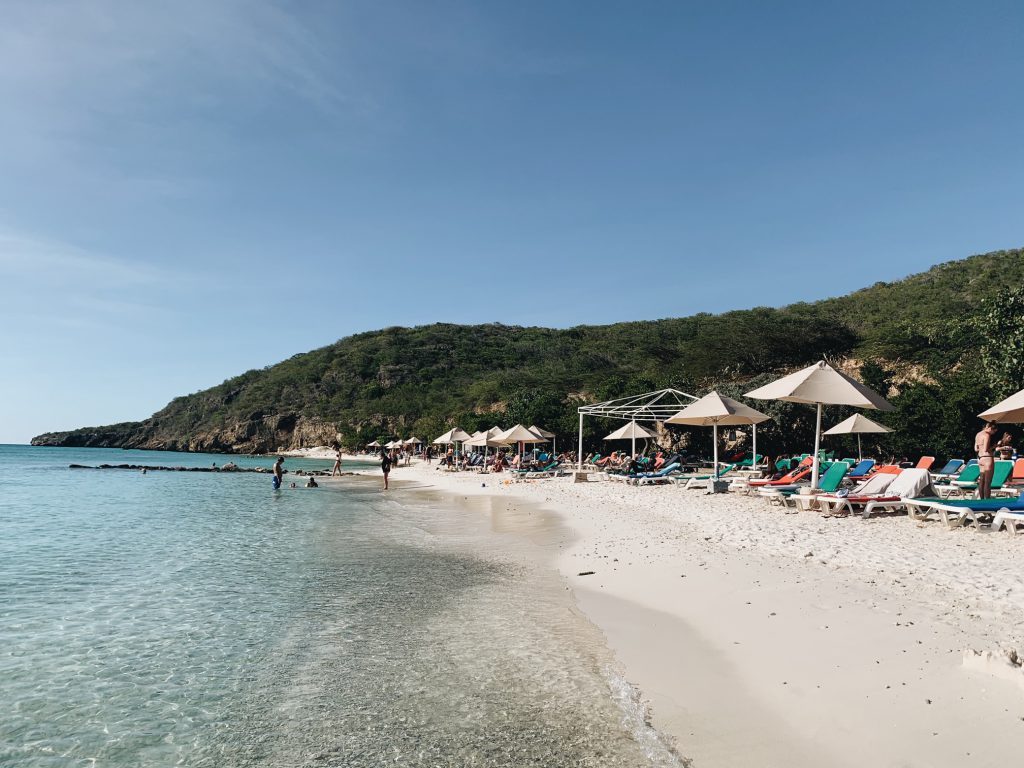 4 & 5. Playa Kenepa (Grote Knip & Kleine Knip)
Playa Kenepa consists of two beaches: Playa Kenepa Grandi (the big one) and Playa Kenepa Chiki (it's smaller counterpart). Also called Grote Knip and Kleine Knip, the beaches are some of the most well-known on Curçao. And for a good reason! The beaches are amazing places for swimming and sunbathing. I've also seen lots of people snorkel in the ocean. Especially the reef on the sides of the beaches is a great place to take a peek at the underwater world.
Good to know before you go: on Grote Knip, there are currently two parties renting out sunbeds. One of them allows you to use your sunbed ticket on Kleine Knip as well. So, if you are planning on visiting both on the same day, you don't have to pay for it twice.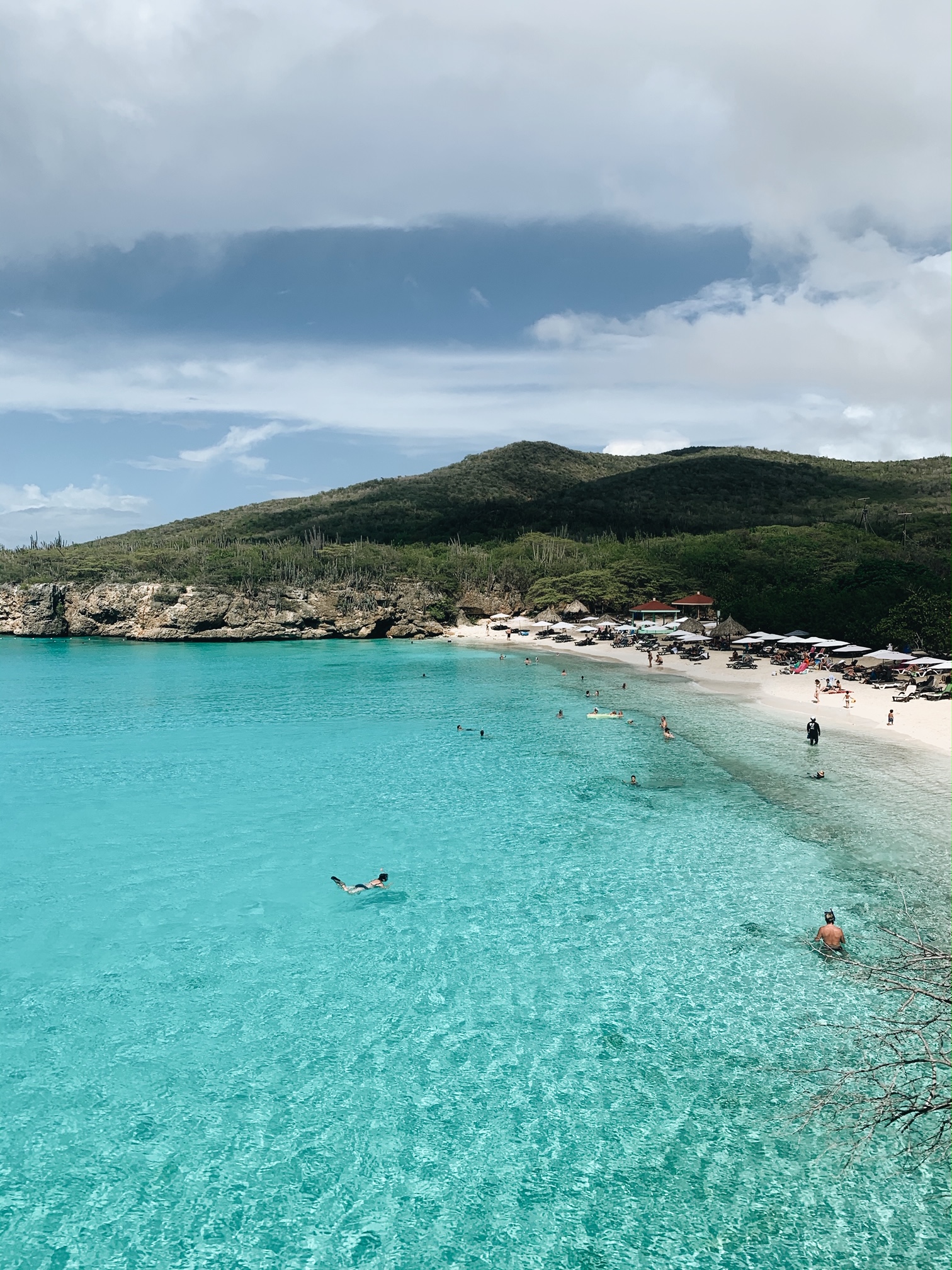 6. Boka Kalki
Boka Kalki is a bit different from the rest of the beaches in this blogpost. Found in Shete Boka National Park, the beach is found in the most stunning natural surroundings. Rocks, rough see and blowholes are just some of the things that give this park a magical beauty. Though it's not the best beach to relax and go for a swim, it's just as beautiful and worth a visit during your time in Curaçao!
To reach Boka Kalki, you can either walk from the National Park entrance or park your car at the parking lot most closeby and walk from there. Either way, I'd recommend bringing shoes. The walk is technically doable on flipflops or sandals, but you have to be careful with the rocks.
Shete Boka National Park is open every day between 9 am and 4 pm. Entry costs Nafl. 17,50 (10 USD) per person. This may seem expensive for just a visit to a beach, but the funds help with the preservation and maintenance of the park. Plus, upon visiting the beach, I'd definitely recommend checking out other highlights of the park, such as Boka Wandomi, Boka Table and Boka Pistol.
7. Playa Lagun
This beach is such a gem! Playa Lagun is a little bay in between two grand cliffs with lovely blue water. It's a great place for snorkeling, with lots of fish and sea urchins living near the reef and rocks. On the beach you'll find colorful houses and boats, giving it an ultimate tropical vibe.
In my experience, Playa Lagun was so much less busy than most of the other beaches in Curaçao. We visited in the afternoon and shared the beach with perhaps 15 other people. If you're like me and appreciate a more quiet beach experience, I'd definitely recommend visiting a bit later on the day.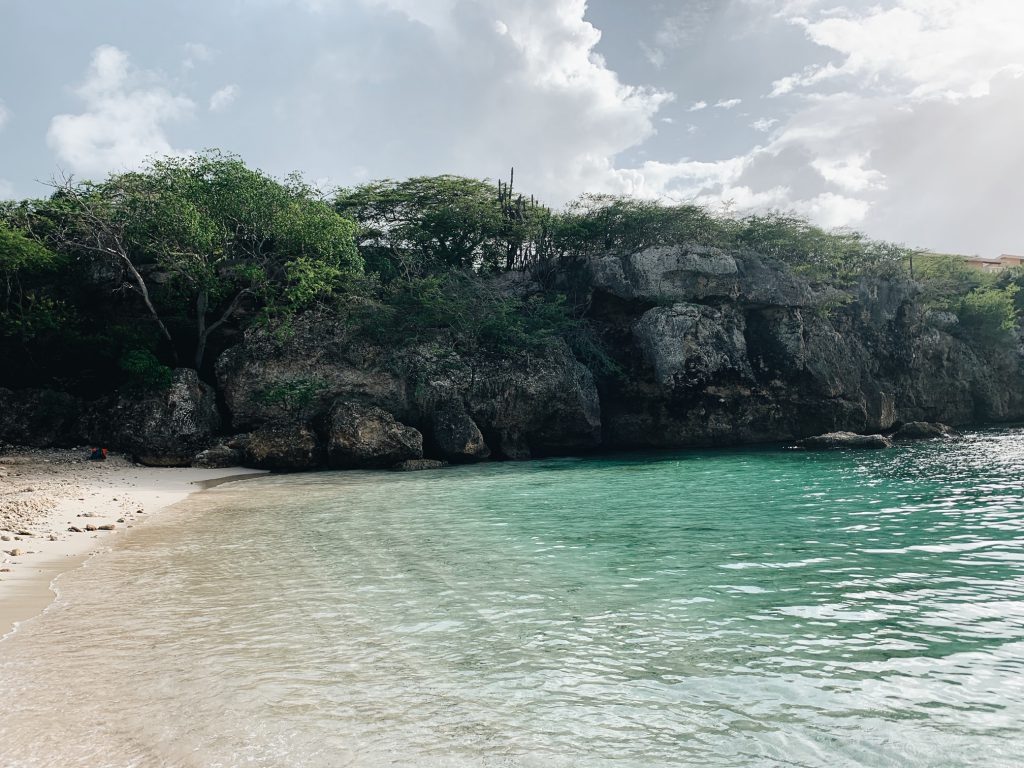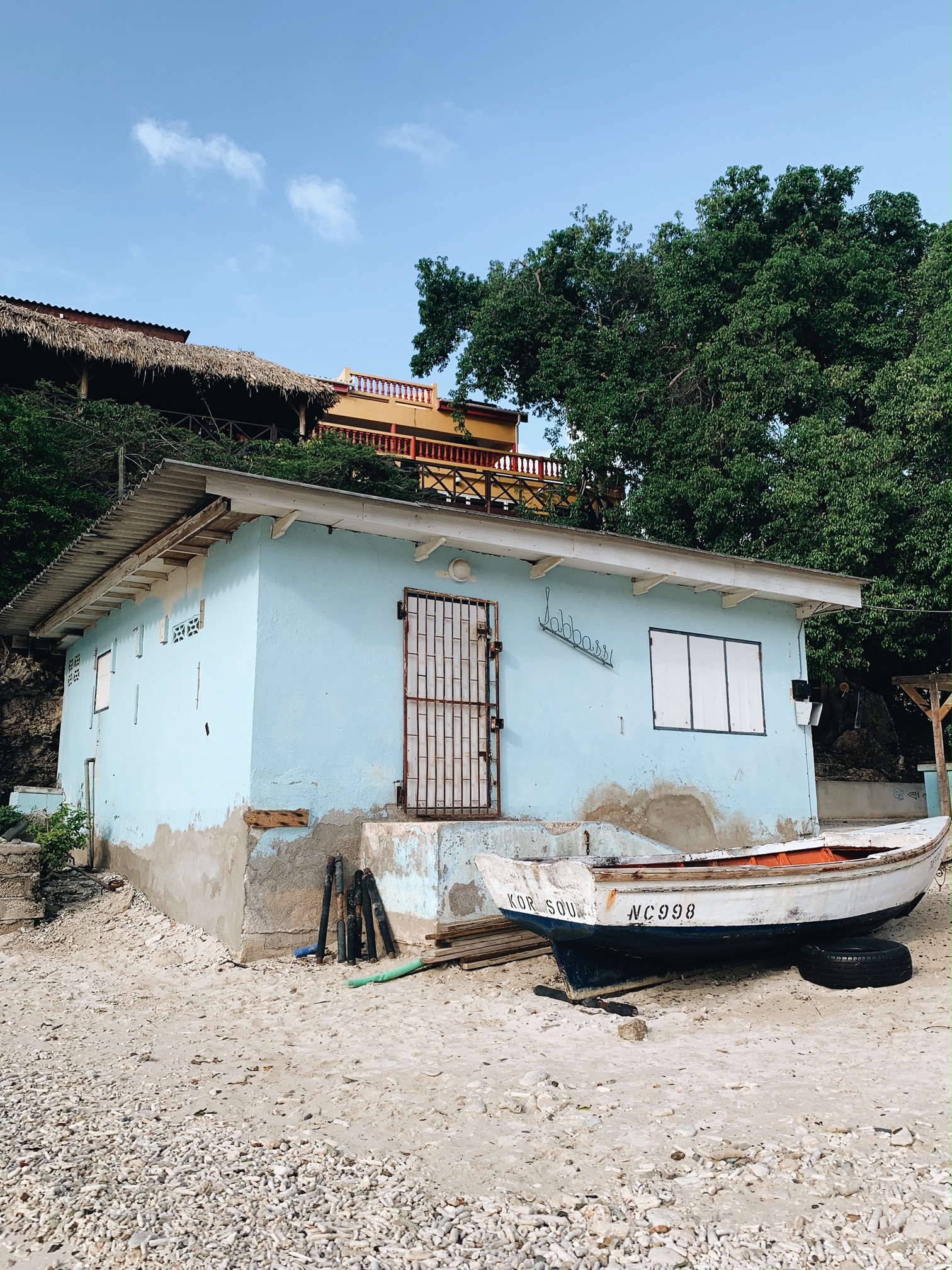 8. Playa Forti
We stumbled upon Playa Forti by accident, as we stopped by the nearby restaurant on our way to another beach. And I'm happy we did! This beach is unlike many others on the island. It's much more calm and untouched than some of the more popular ones on the island, such as the nearby Playa Grandi. If you love a quiet spot to wind down, this beach is perfect for you!
I'd recommend stopping by the nearby restaurant for a quick lunch. Sitting on their terrace gives you a lovely view of the beach and ocean. Watch locals swim from above or sit back and enjoy the view of little boats floating across the ocean. And for the daredevils: the restaurant's terrace is a popular spot for jumping into the ocean.
Want to know more about the best restaurants across the island? Here are my favorite places to eat and drink in Curaçao!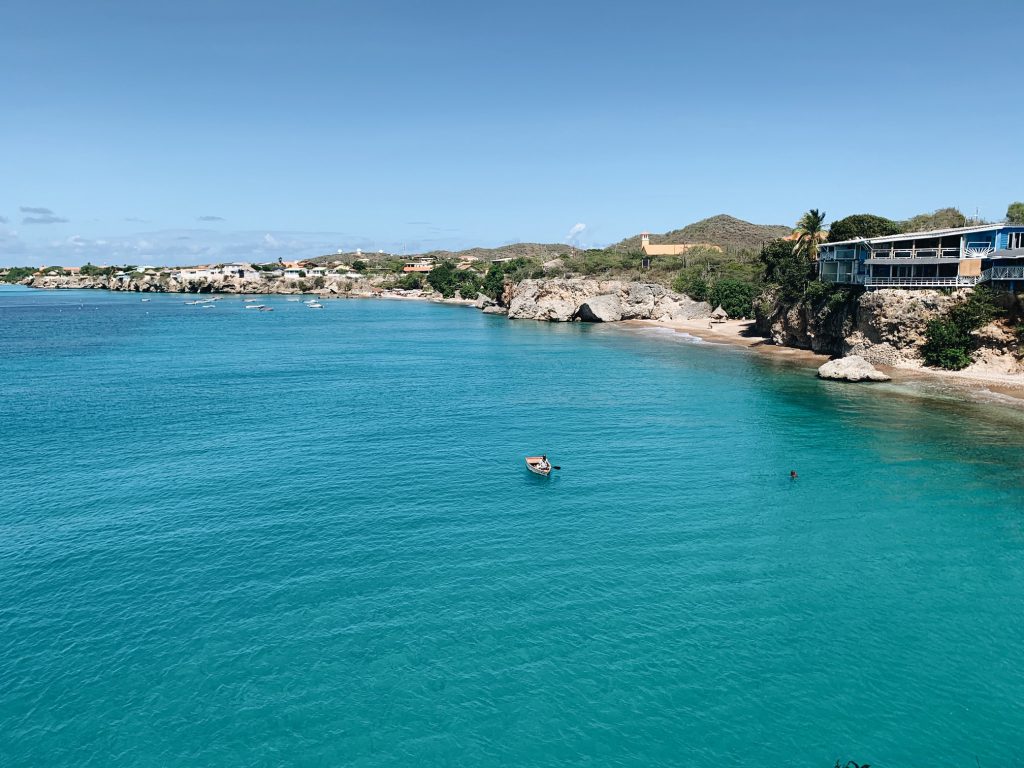 I wish I'd had more time to explore the island. I would've loved to visit every single beach on the island. Let me know which beaches in Curaçao you think are the best!
Some links in this post may be affiliate links, meaning I earn a small percentage of any purchase made. They're at no extra cost to you, but allow me to keep creating new content for you guys. Of course, you're free to use any other link!
Liked this post? Save it for later!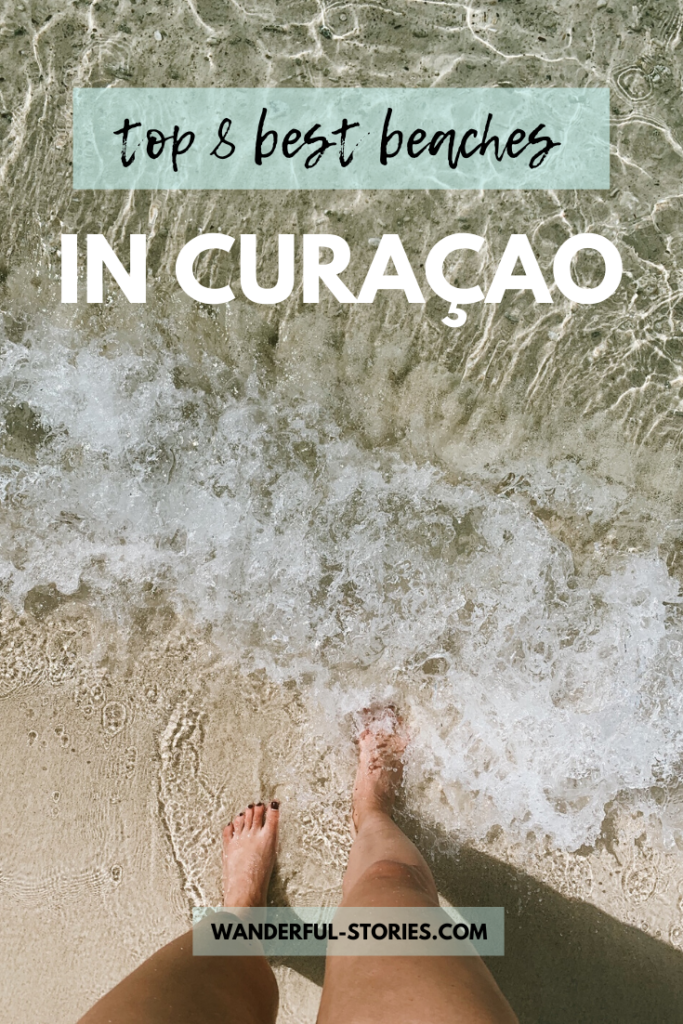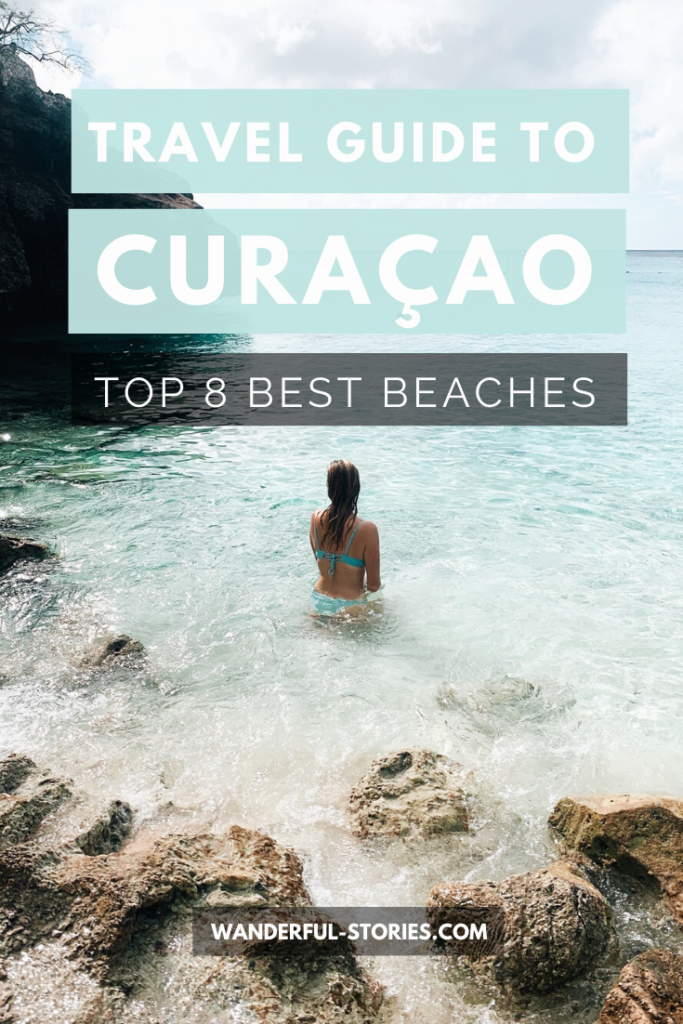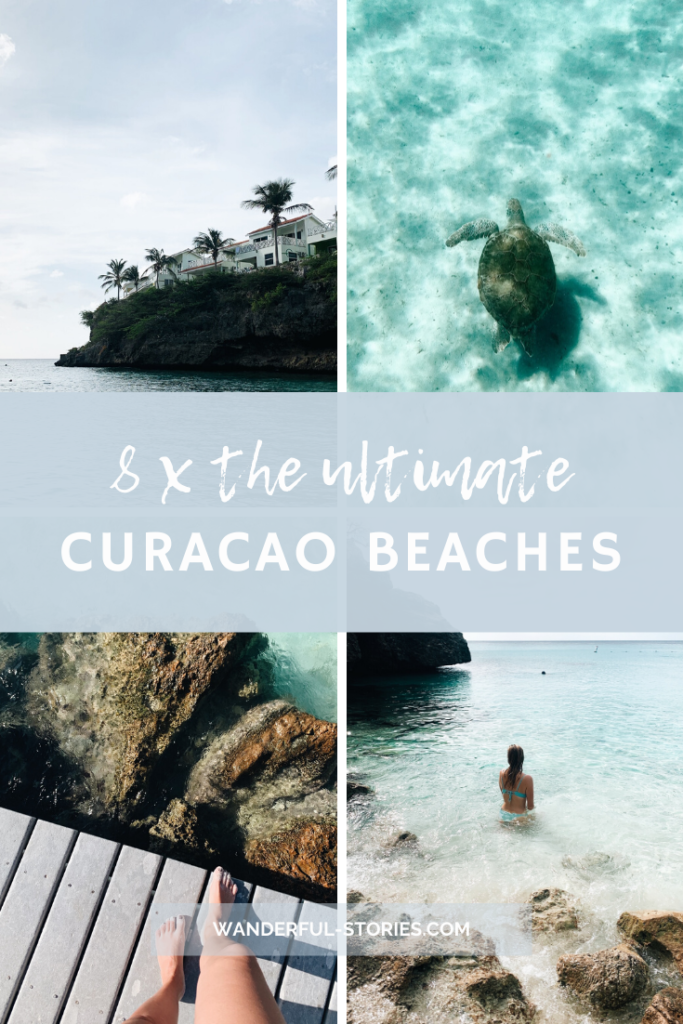 ---
You may also like…