Based on my previous Curaçao blog posts, you may think that all I did on the island was to find the best beaches and places to eat and drink. And while that for sure describes most of my week, we were active, too! One thing I really loved doing on Curaçao was hiking Mount Christoffel. Today, I'm sharing my experiences and tips on climbing the mountain.
I love hiking. It's such a good way to be active while exploring different places. Making your way up a mountain may be hard sometimes (OK, it usually is), but that makes the views at the top even better. Yup, I appreciate a good hike in every destination I visit and hiking Mount Christoffel in Curaçao was no difference.
Christoffel National Park
Mount Christoffel – or Christoffelberg for my fellow Dutchies – can be found in Christoffel National Park, the largest National Park on the island. It is incredibly diverse with unique flora and fauna and shows a beautiful, untouched and rough side of the island. Besides gorgeous nature, the park also offers a rich cultural history. Much of the current National Park ground used to belong to the Savonet Plantation, one of the biggest on Curaçao.
Upon purchasing your entry ticket to Christoffel National Park, you receive free entrance to the Savonet Museum. Unfortunately, we completely forgot about visiting the museum when we returned after the hike, all overheated and exhausted. But I wish we hadn't! The free ticket to the museum offers a great chance to delve more into the cultural history of the island. I'd highly recommend it, even if you just stop by for a quick moment.
Want to know more about the history of Curaçao and Christoffel National Park? You can read all about it here!
Hiking Mount Christoffel
We heard it was recommended to start the climb up the mountain as early as possible, preferably no later than 7 am. Even though that was early, for sure, we decided to give it a go anyway. And we really did – very unsuccessfully. By the time we had bought our tickets and were driving to the start of the hike, it was already past 9 am. Fortunately, starting as late wasn't as bad as expected. Sure, it was hot and humid. But hey, it's Curaçao after all. Luckily, there were plenty of clouds and shade during the hike, so we didn't have to hike in the burning sun.
The track up the mountain starts relatively easy, over a rocky but relatively flat path. Slowly, the incline builds up as you make your way up the 372 m mountain. Still, the hike was very doable. We took a few breaks to catch our breath and drink plenty of water, before continuing on our way again.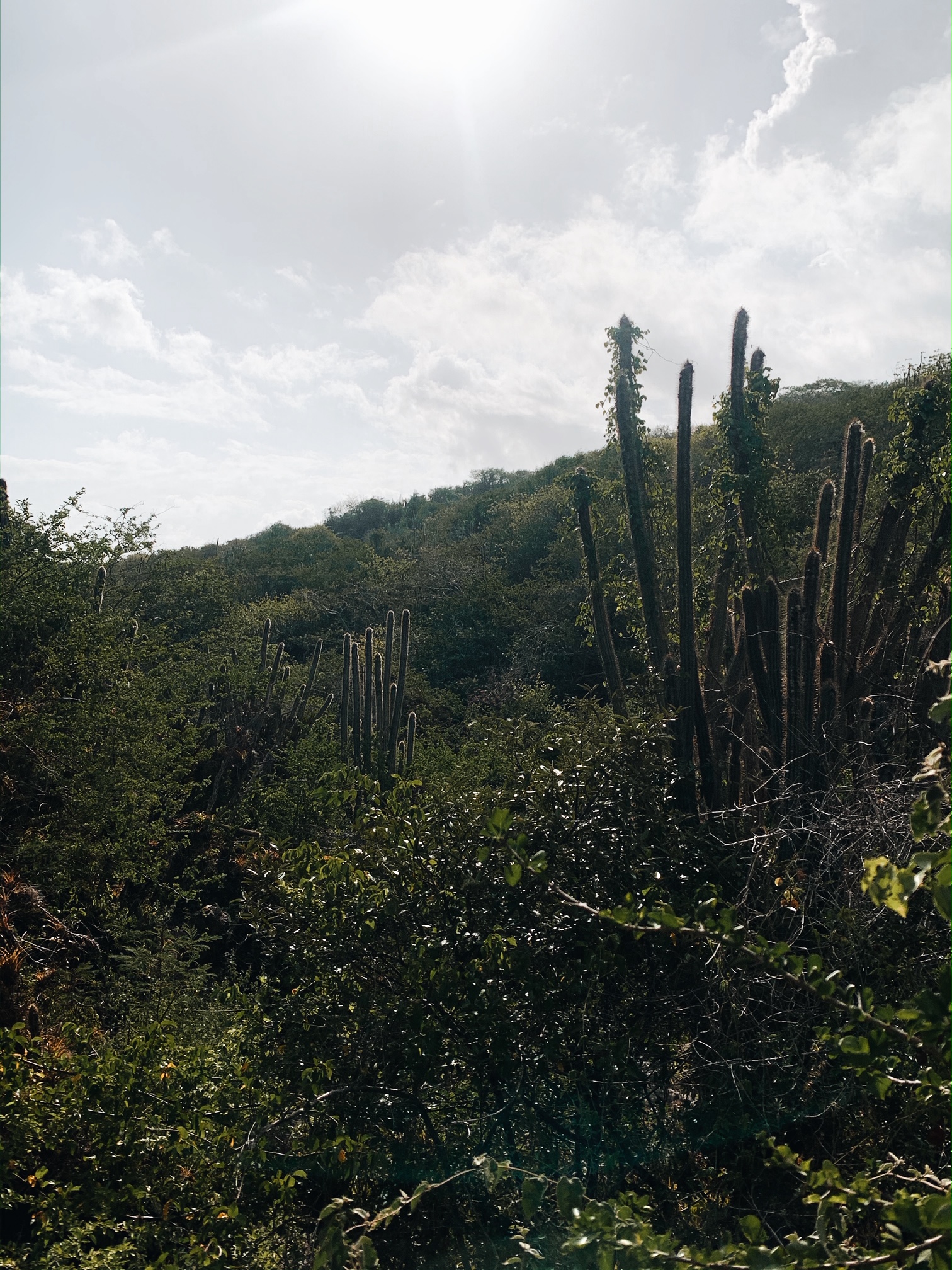 A tricky final climb
After hiking for about 45 minutes, we came to a little intersection. For the final climb to the top, we could take one of two paths; the right one was marked difficult, the left one easy. My dad seemed to be at his physical limit by then, having climbed over 300 meters already. He decided to stay behind and wait for me and my sister, as we were deciding which way to take. For some reason, we thought the easy path would lead us to a different, less beautiful viewpoint. This is not the case at all, haha. Whichever route you take, you end up with the same beautiful views.
But we didn't know that yet and opted for the difficult route. And honestly, it was pretty hard. We had to pull ourselves up the mountain through a small cliff in the rocks and walk right by the edge, with a steep drop just beside us. Although it was still really doable, I'd recommend taking the easy path to anyone afraid of heights.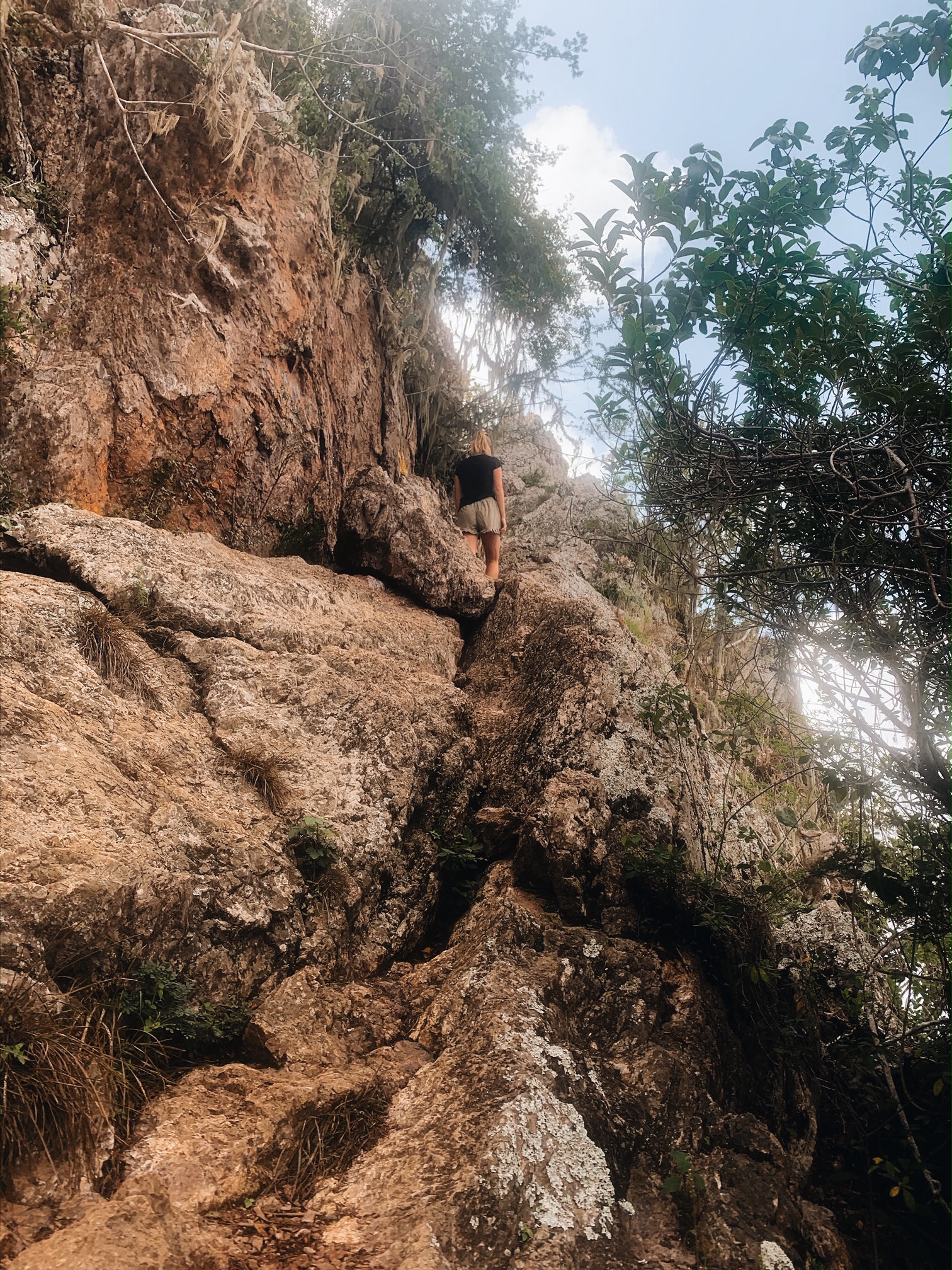 Views at the top
At 372 m, the top of Mount Christoffel is the highest point in all of Curaçao. Once we reached it, we were greeted by a gorgeous panorama view over the island. Everywhere we looked, we saw mountains, green forests and the ocean. We instantly forgot about the tiring climb.
We tried to find some of the limited shade on the top of the mountain and sat down to drink some water. After a little while, as we were just about to take some pictures of the amazing views, we heard someone come up the mountain behind us. It was our dad! I have no idea how he made his way up after all (taking the difficult route, no less), but it was great to enjoy the view together. In any way, it goes to show that hiking Mount Christoffel really is doable for most people, as long as you take your time and do so at your own pace.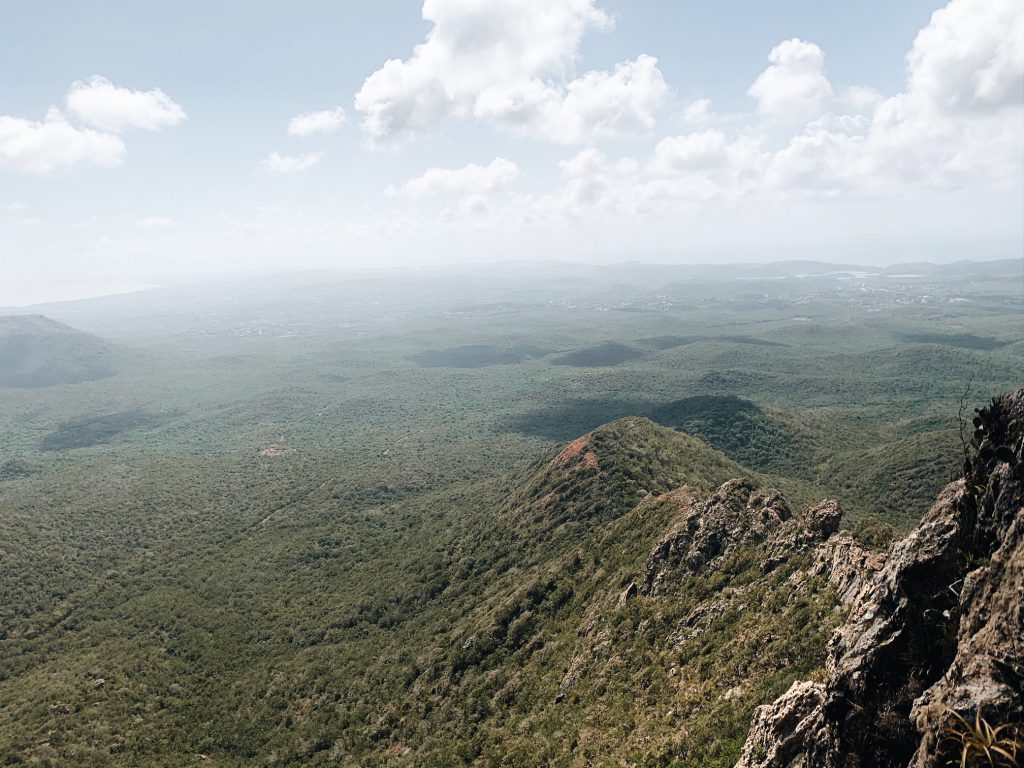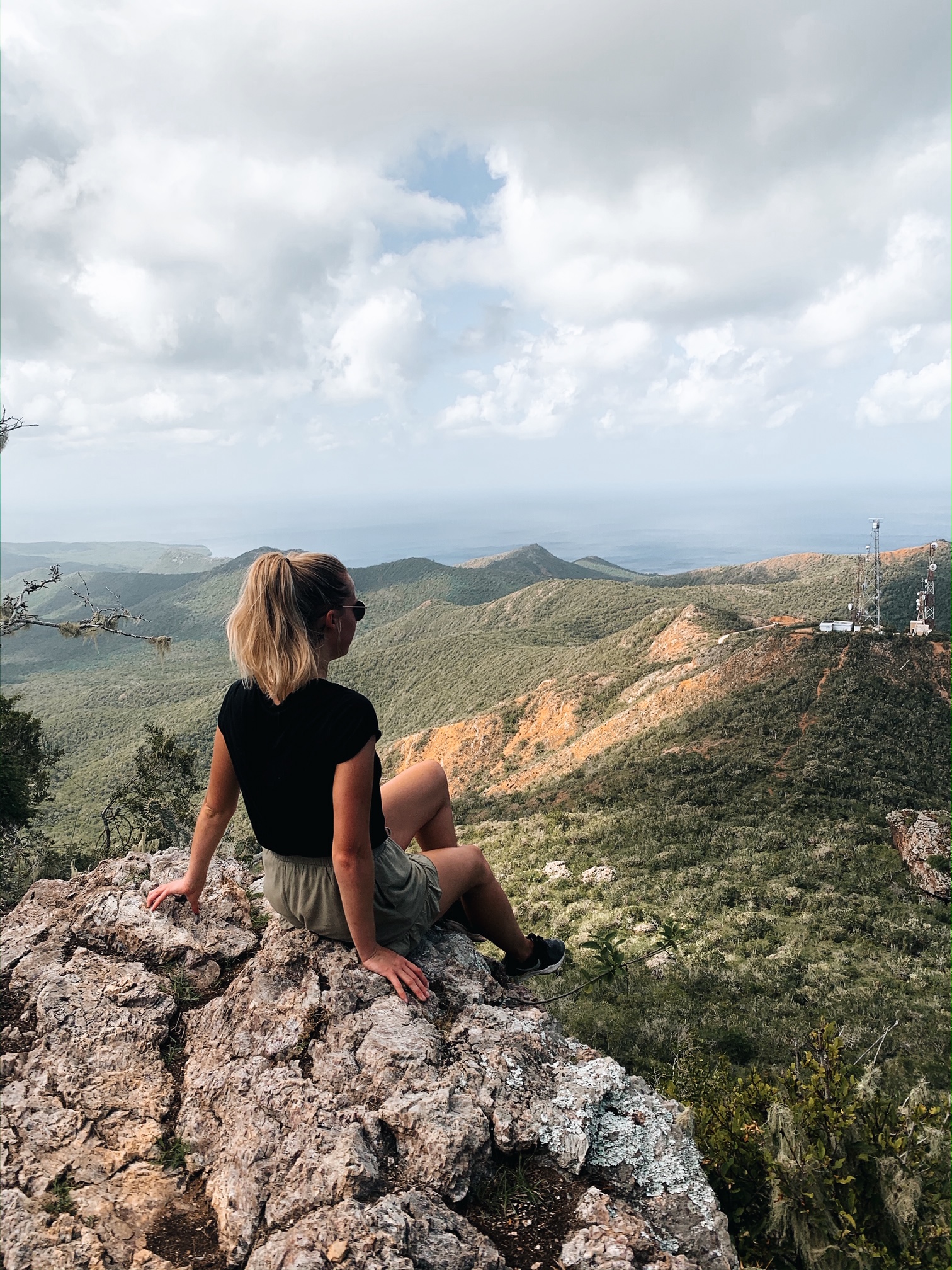 Tips on hiking Mount Christoffel
Of course, I can't finish this blogpost without giving you my best tips on the hike. Here's everything I wish I knew before going!
Christoffel National Park is open every day between 6 am and 2 pm.
Tickets to the park cost Nafl. 25,00 (14,50 USD) per adult and include free entrance to the Savonet Museum. Tickets can be bought until 1.30 pm.
Not starting the hike as early as possible wasn't as big a deal as we'd thought. However, currently starting the climb is not allowed after 10 am.
Curaçao is hot & humid, so be prepared to hike in those circumstances. Bring SPF and a hat to avoid sunburn or sunstrokes.
Bring plenty of water for hydration and some snacks for fuel. We brought 1L of water per person, which I think is the minimum for a hike like this.
Wear proper shoes. These don't have to be proper hiking boots (they can be, though!), sneakers with decent grip are fine. I wore these Nikes. Avoid wearing flip-flops or sandals, though.
You can start the hike either from the foot of the mountain (like we did, 2 hrs return) or from the visitor's center (3 hrs return).
For the final climb, you can choose between two paths. If you're afraid of heights, go for the easy (*) option, rather than the hard (***) one.
Be careful on your way down. Although it may seem easier than going up, there are some steep parts and the rocks can be slippery.
Let me know if you give hiking Mount Christoffel a go! Hopefully, my experience and tips are helpful to you. If you have any extra tips on the hike, don't hesitate to share them in the comments. 🙂
For more information on the National Park, the hiking trails and Caribbean history and culture, visit the official website.
Some links in this post may be affiliate links, meaning I earn a small percentage of any purchase made. They're at no extra cost to you, but allow me to keep creating new content for you guys. Of course, you're free to use any other link!
Liked this post? Save it for later!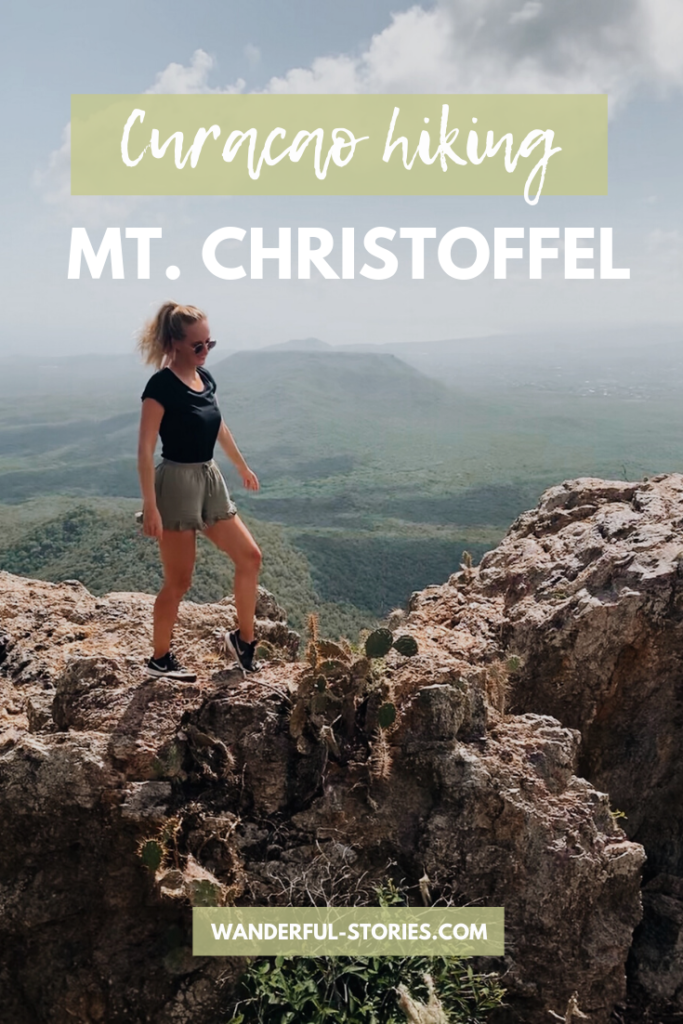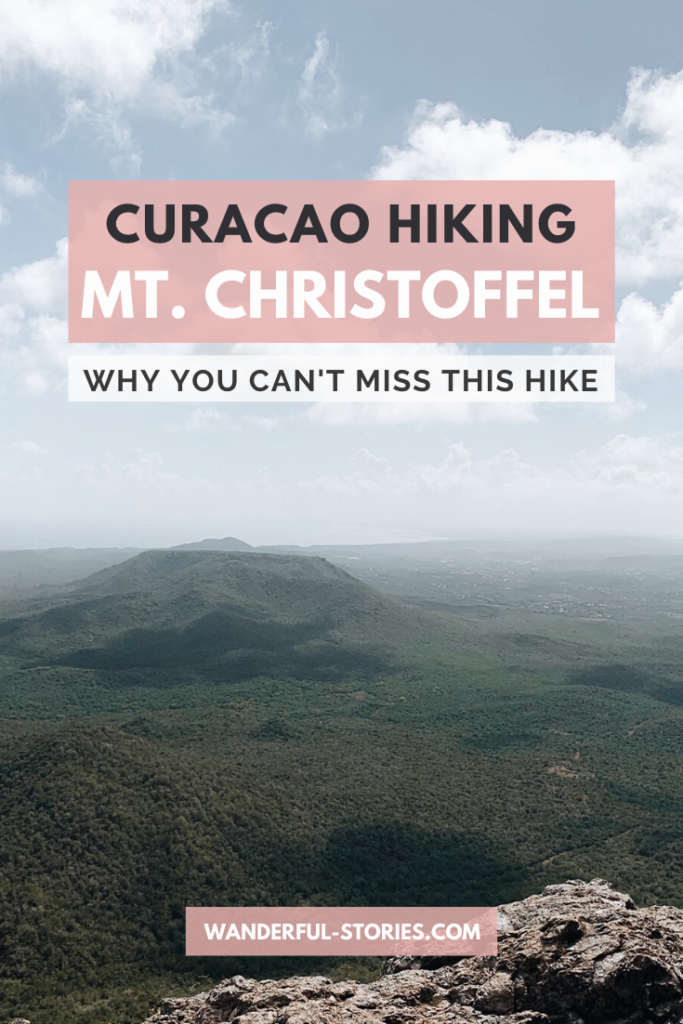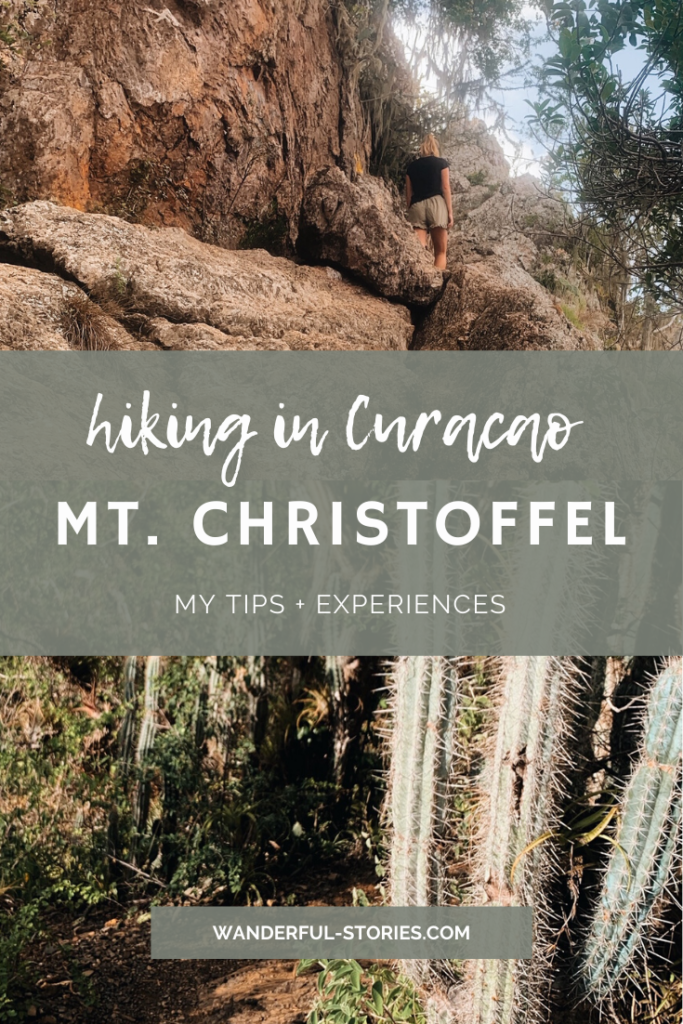 ---
You may also like…