During our week-long stay on Curaçao, I feel like I've seen at least as many cafes and restaurants as I have beaches. Normally during my travels (read: when on a backpacker budget), I try to make most of what I eat myself. In a lot of countries, doing so can save you a lot of money. However, as we stayed with the family in a hotel on Curaçao, it feels like we pretty much ate our way around the place. Because the island has so many unique little spots to offer, I'm sharing my 10 favorite places to eat and drink on Curaçao.
The foodie in me loved exploring new places to eat and drink wherever we explored on the island. The vegan in me? Slightly less so. Unfortunately for those eating plant-based, I found that Curaçao is not the most vegan-friendly place. Often, restaurants would only have one or two vegetarian options on the menu, the rest being mostly meat and fish.
That being said, though, the locals usually were very friendly. A few places really went out of their way to come up with a vegan option for me. So nice! And in the other cases, you can pretty much always order either a portion of fries and/or a salad, so you won't go hungry. Even though my diet may or may not have been 50% fried food, I'm not complaining. It was worth it to hang out in the most diverse and colorful spots and enjoy everything the beautiful island has to offer.
1. Karakter Curaçao
Even though the different restaurants in this post are in no particular order, I had to start with my favorite one. Karakter Curaçao is a gorgeous little beach restaurant that offers breakfast, lunch, dinner and everything in between. Because Karakter is part of the hotel we stayed in, we started each day with breakfast at the restaurant.
Besides the good food and amazing setting, I especially loved Karakter because they were so accommodating to my vegan diet. Although they did not have a whole lot of vegan options on the menu, they made sure to get vegan stuff from the store just for me. I kid you not, on the second morning I received my own handwritten menu with plenty of options I got to choose from every day. When we had dinner, the chefs made sure to personally come to our table to discuss what they could make for me that day. So kind of them!
All in all, I'd highly recommend this place. It honestly combines the best options to eat and drink with the most beautiful Curaçao setting! Enjoy a juice while overlooking the ocean or have dinner with a sunset ocean view.
Location: Coral Estate, Rif St. Marie, Willibrordus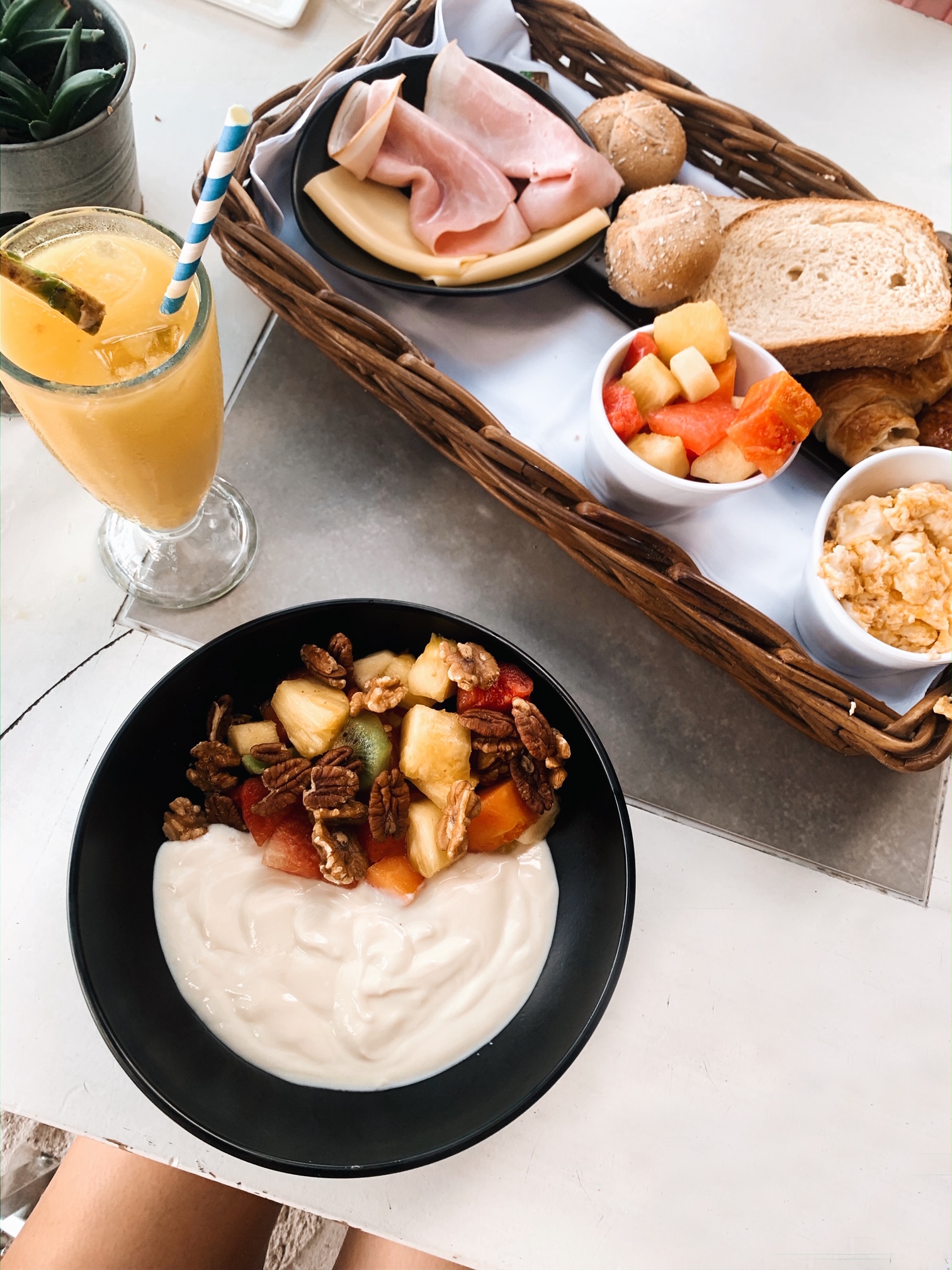 I enjoyed vegan yoghurt with fruits and nuts while my family ordered the breakfast spread
2. Bistro E Lanternu
E Lanternu is a cute little bistro in a part of the island that is a bit quieter and offers a variety of different foods. Friendly staff and a cozy outside dining area make for a great experience. You can take a seat at one of the picnic tables beneath the string lights. The perfect setting for a low-key night out!
I'd recommend going once it's dark. You'll find there are a lot of mosquitos around, but most of them disappear when it's completely dark outside. We really noticed a difference and it made our dinner a lot more comfortable.
Location: Fontein 20
3. Kokomo Beach Curaçao
Who doesn't love a good beach club?! Kokomo Beach is a great spot to wind down and enjoy the sun and sea. Whether you want to stop by for a quick drink on the beach or for a meal, this beach club is the place to be. Enjoy the ultimate holiday vibes underneath the palm trees and string lights. Cool down in the sea and chill out in a hammock. It doesn't get much better than that.
Location: Vaersenbaai, accessible through Weg Naar Bullenbaai
Love that beach life just as much as I do? Check out my top 8 favorite beaches on Curaçao!
4. Koraal Rooftop Terrace
When considering where to eat and drink on Curaçao, Koraal has to be a part of your list. Honestly, if you're going to visit just one of the spots mentioned here, go for Koraal. The restaurant comes with an incredible infinity pool, from which you have an amazing view of the beach and ocean below.
Besides being an incredibly gorgeous spot, the place actually also has some really good food and drinks. I'd recommend Sushi Saturdays at Koraal, their sushi looks like a work of art! And if you're into cocktails, definitely try one of theirs. Perfect for sipping on their rooftop terrace while watching the sunset.
Good to know before going: consumptions are mandatory when using the pool. Entrance to the pool is free when spending Nafl. 50 (28 USD) per person on food and/or drinks. Otherwise, you pay an entrance fee of Nafl. 20 (12 USD), which is added to your bill.
Location: Coral Estate, Rif St. Marie, Willibrordus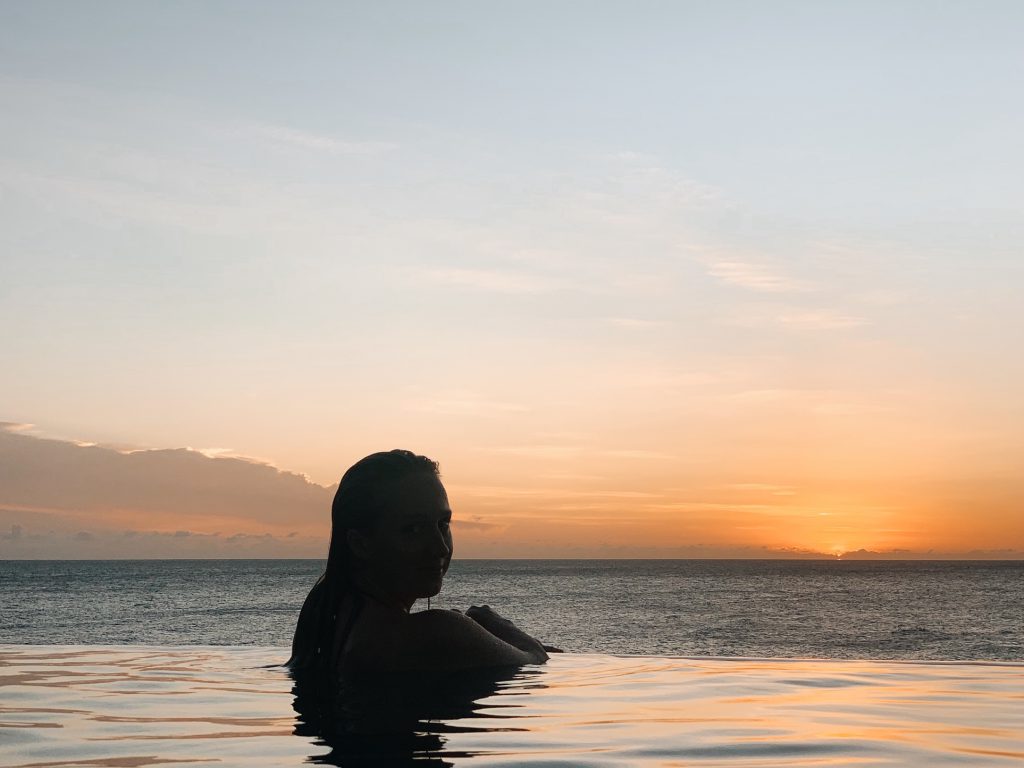 5. Porto Marie beach
Just like Kokomo Beach, Playa Porto Mari is the perfect place to enjoy a great beach with a cool beach club. One thing that's special about this beach in particular, though, is its population of… pigs! Yes, there are wild pigs roaming around the area and visiting the beach. In the beach club, you can find a wide range of food and drinks, as well as lots of (shaded) seating and free wifi. Relax on the terrace or on one of the sunbeds and enjoy the Caribbean sun.
Location: Playa Porto Mari
6. Playa Forti
Located right next to the beach of the same name, this restaurant is a great spot to visit during a beach day. During our week-long stay, we visited this place twice. Although the food itself is not particularly special, we came back for the great ambiance and view. The staff is friendly and there's a very laidback, chill vibe to the place overall. You have a beautiful view of the gorgeous beach and clear water.
You're seated on a little covered terrace, from which you have a beautiful view of the gorgeous beach and clear water. From the terrace, you can see lots of iguanas basking in the sun. And if you step over the edge, you can jump straight into the ocean! All in all, this is definitely one of my favorite recommendations on where to eat and drink on Curaçao.
Location: Playa Forti, Sabana Westpunt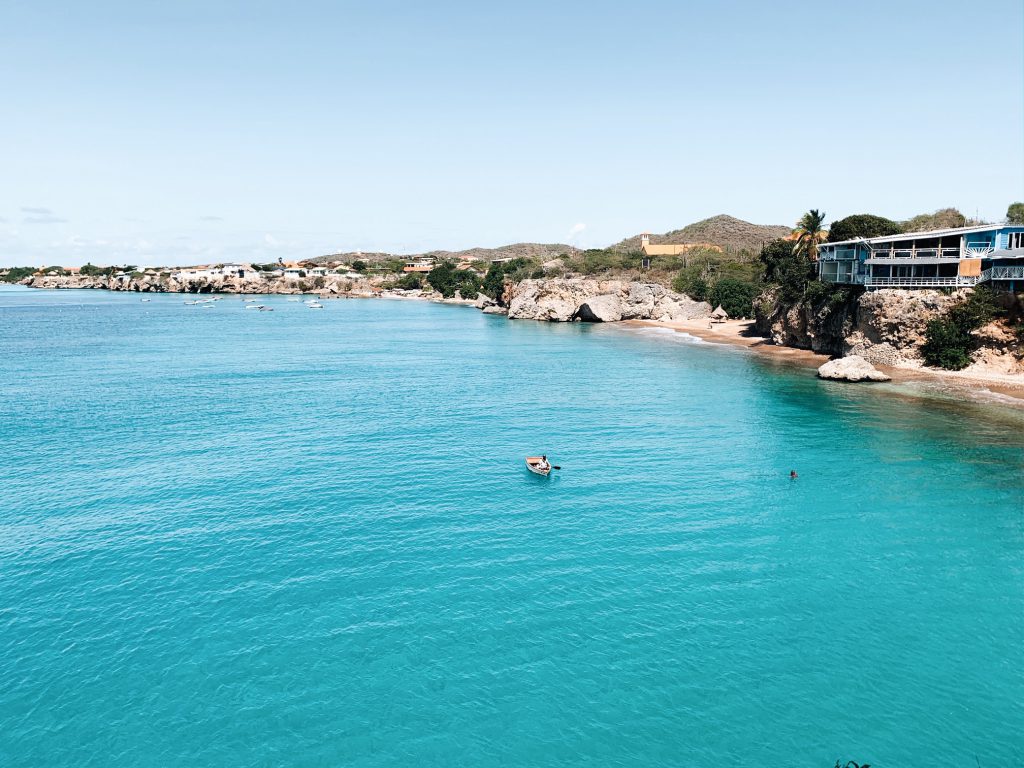 7. Iguana Cafe
During our day in Willemstad, we decided to stop at Iguana Cafe for a quick little lunch. If I'm completely honest, the food and staff were nothing too special, especially compared to some of the other places in this post. However, the location makes up for all of that. Iguana Cafe is located on the water, right by the Queen Emma Bridge. It's a nice place to sit and relax on a hot day and enjoy the vibrant city.
Location: Handelskade, Willemstad
8. Landhuis Daniel
I loved Landhuis Daniel. We had dinner there twice and it was delicious both times. Not only is the food good, but the location is gorgeous, too. Situated in an old plantation landhuis (mansion), you are immersed in the country's colonial history during your visit. Even more special was the staff of the restaurant. They were incredibly friendly and went out of their way to adjust one of their dishes to make it vegan for me. I ended up getting the vegan version of the vegetarian rice table and it was some of the best food I've had on the island. I highly recommend this place!
Location: Weg naar Westpunt, Tera Kora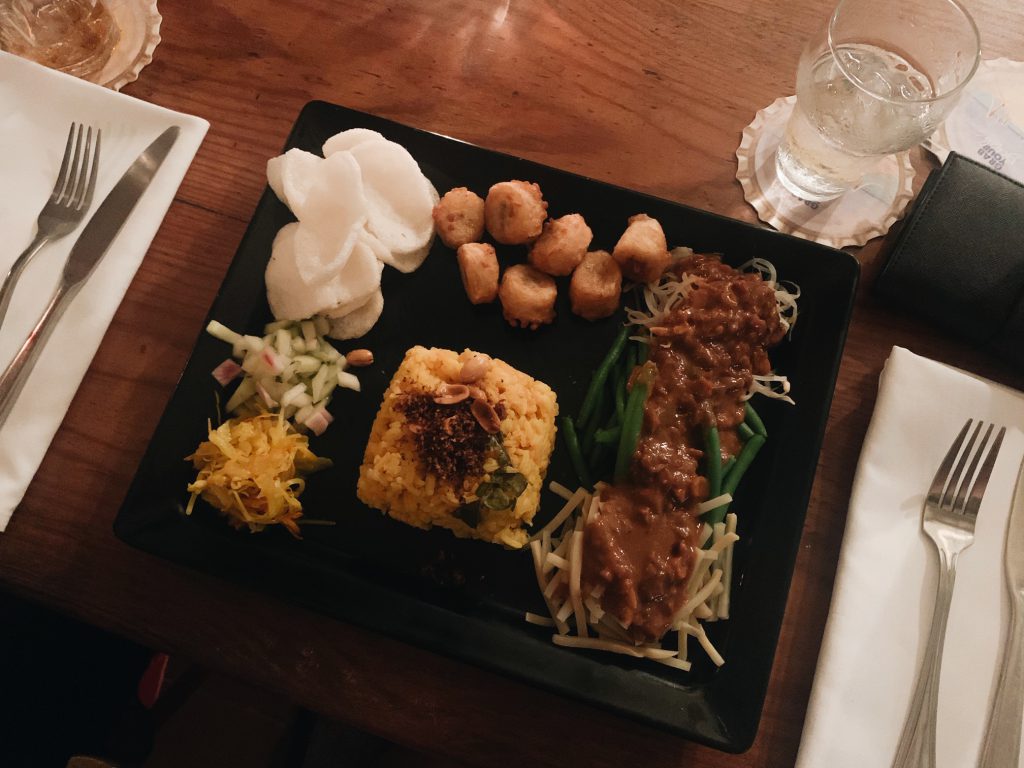 9. Discover Lagun
We paid Discover Lagun a quick visit on our way to the nearby beach Playa Lagun. The little cafe is open all day and offers a wide variety of food, from toasties and sandwiches to salads and full dinner plates. Besides those, you can opt for one of their Dutch snacks and specialties. With friendly staff and a nice atmosphere, this place is a great stop when visiting Playa Lagun.
Location: Lagun nst 51, Lagun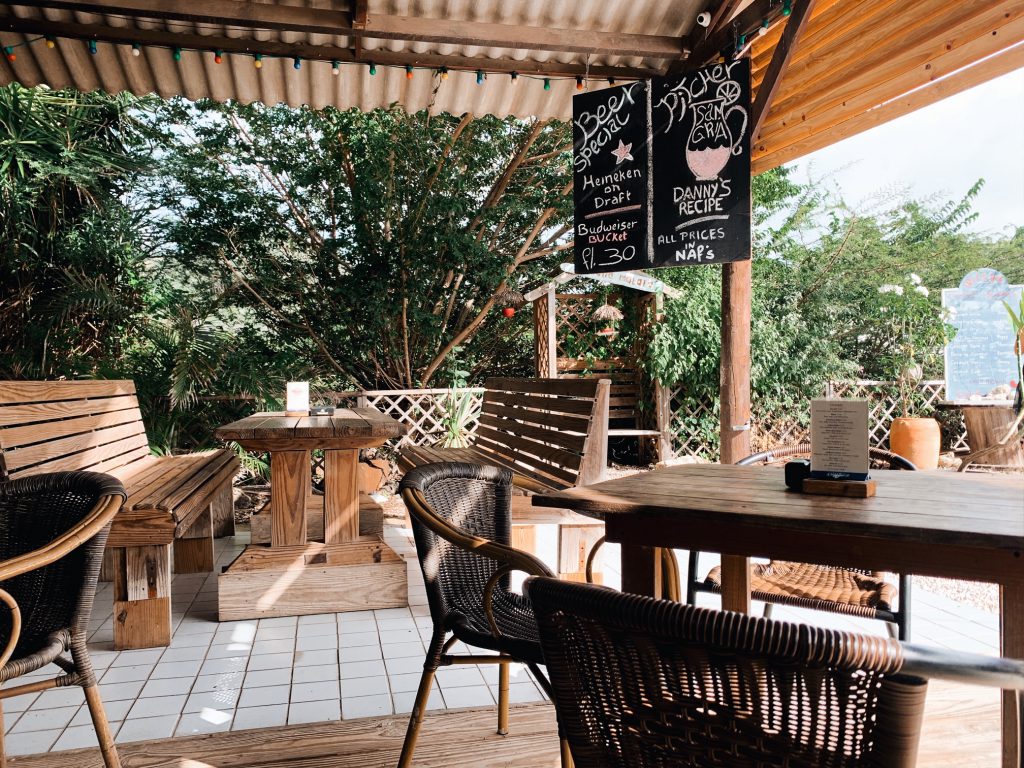 10. De Gouverneur
Last but definitely not least, De Gouverneur is a beautiful restaurant in Willemstad. Located right by the river, you have a great view of the Queen Emma Bridge and colorful riverside buildings. The restaurant offers a variety of different cuisines during every part of the day.
Compared to most of the other places listed here, it's a little more on the fancy side. Unfortunately, they do not offer a lot of vegan options. However, they did definitely have the best fries I've had during my stay on the island. 😉 I recommend stopping by for dinner, to see the bridge and houses lit beautifully in the dark. It gets busy though, so you might want to make a reservation beforehand.
Location: De Rouvilleweg, Willemstad
Accommodation tip: Oasis Resort
If you're still looking for a place to stay in Curacao, I've got you! I stayed at Oasis Coral Estate Beach, Dive & Wellness Resort and it was absolutely amazing. Yup, that's the place where you can also find Karakter Curacao and Koraal Rooftop Terrace, numbers 1 & 4 on this list. With the infinity pool – need I say more? As you can see, I can highly recommend this super beautiful spot. Pleeeease, can I just go back already?!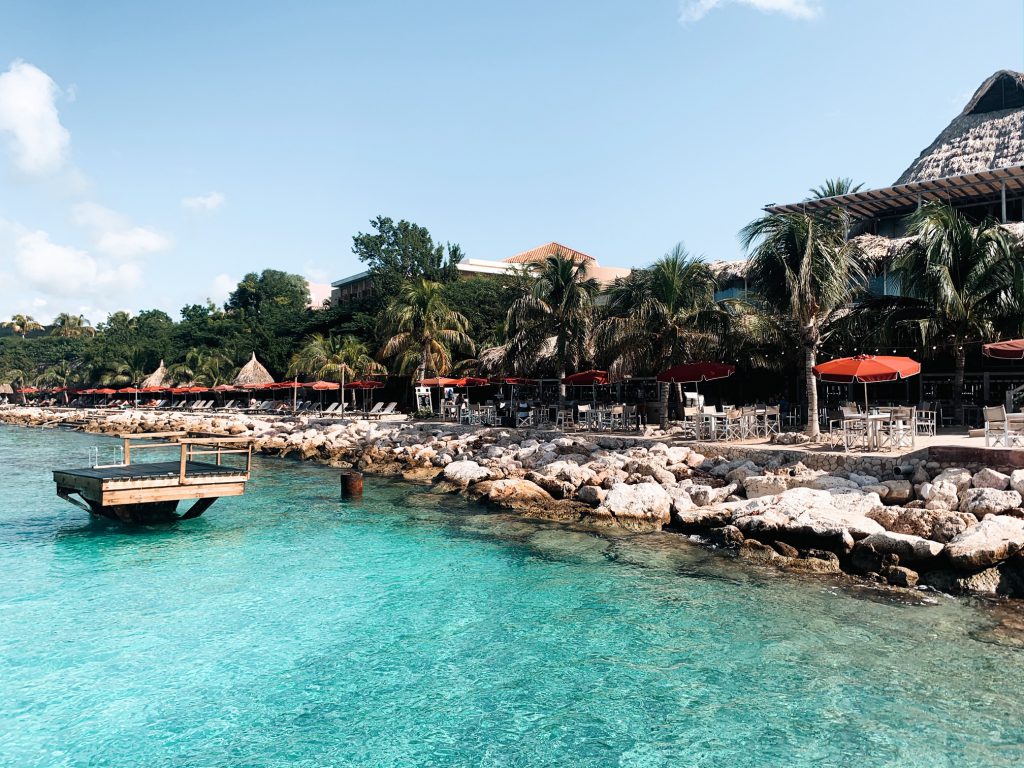 And there you go, my 10 favorite cafes and restaurants! With these recommendations, I hope to give you a good idea of where to eat and drink on Curaçao. From little beach cafes to sophisticated dining, there's something for everybody on this list. I'd love to hear if you try any of these spots!
Some links in this post may be affiliate links, meaning I earn a small percentage of any purchase made. They're at no extra cost to you, but allow me to keep creating new content for you guys. Of course, you're free to use any other link!
Liked this post? Save it for later!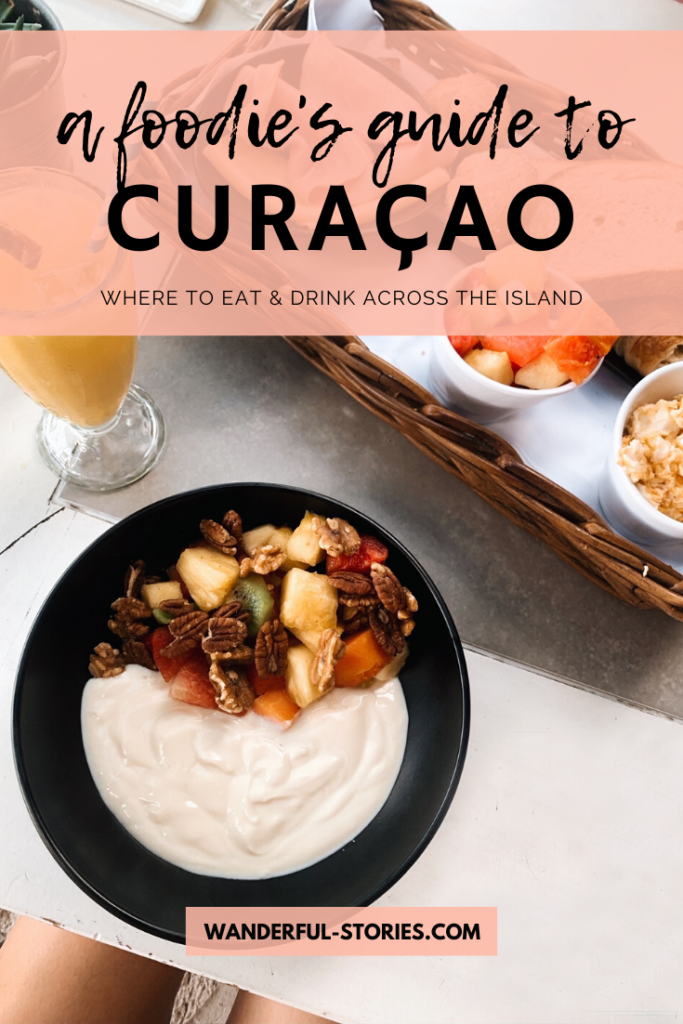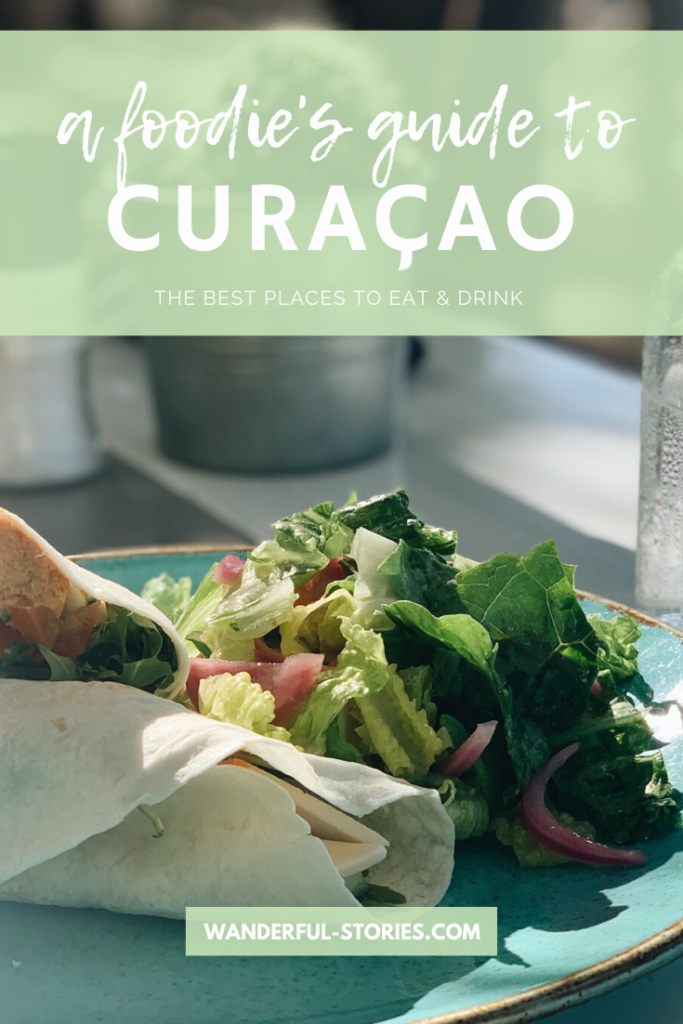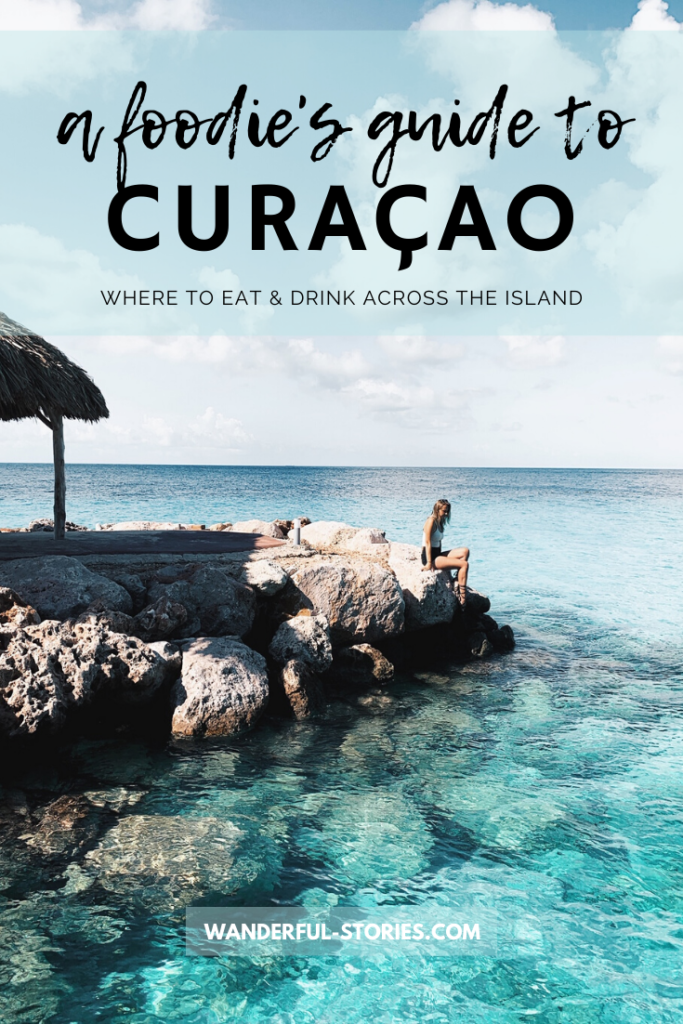 ---
You may also like…