I love snorkeling. Exploring in the water is like being invited into a whole other world, silently watching the fish and other sea creatures go about their daily lives. If you're going to Hawaii and are as big a fan of snorkeling as I am, I've got good news for you. The different islands are a great place to grab those flippers and snorkel and go out into the ocean to explore. I've snorkeled in many places across several islands – pretty much every time there was an ocean closeby. However, there are three places that have proven to be the very best places for snorkeling in Hawaii.
In these spots, the waters are exceptionally clear, there's a beautiful reef and there are many different types and colors of fish. And, if you're lucky, you might also be able to spot sea turtles! (But if you're not, definitely keep an eye out for my tips on swimming with turtles in Hawaii!) The places are spread across the three islands I've visited (Oahu, Maui and Big Island). So, you don't have to miss out on a great snorkeling experience, even if you only visit one. Without further ado, here's my top 3, based on both personal experience and chats with locals.
#1 Kealakekua Bay (Big Island)
I personally think this is the very best snorkeling spot in all of Hawaii and locals I spoke to agreed with me. We actually stumbled upon this amazing bay by coincidence, as we initially only planned to visit the Captain Cook Monument at the bay. Captain Cook was an 18th-century explorer and cartographer. He is linked to many places I've visited (including Australia, New Zealand and Hawaii), so it felt right to visit the place where he ultimately died in conflict with the natives of Hawaii in 1779.
Although the monument was impressive, I was even more in awe by the underwater life in the bay. I couldn't believe my eyes when I first ducked my head underwater. The water is crystal clear and you can see dozens and dozens of different kinds of fish in there, all in different colors and with different patterns on them. I loved it here!
How to get there
In order to reach the bay, you have to hike for about 3 km. Just type in "Captain Cook Monument trail" in Google Maps, and it will take you to the start of the hike. Reaching the bay is not hard, as it is a straight path downwards. However, the way back is everything but easy, as you walk that same distance, but now in a constant climb. Be aware that, for the most part of the hike, there is no shade from the sun. And since it is Hawaii, it gets very hot. Make sure you're up for the hike and bring loads of water and sunscreen.
I'd recommend visiting this place in the afternoon as the guided tours (which can crowd the bay a bit) have left at around 4 pm. Furthermore, the sun will have gone down slightly and your hike back might just be a little less burning hot. Just make sure you take enough time for the hike back. Personally, the way down took me about an hour, while I needed an extra twenty minutes (so 1h20) for the way back.
Location: Captain Cook Monument trail
When to go: (late) afternoon
Fee: free! (Unless you take a guided tour, which is really not necessary to enjoy it.)
Want to know more about my experience snorkeling in Kealakekua Bay? Here you can read all about this ultimate Big Island experience.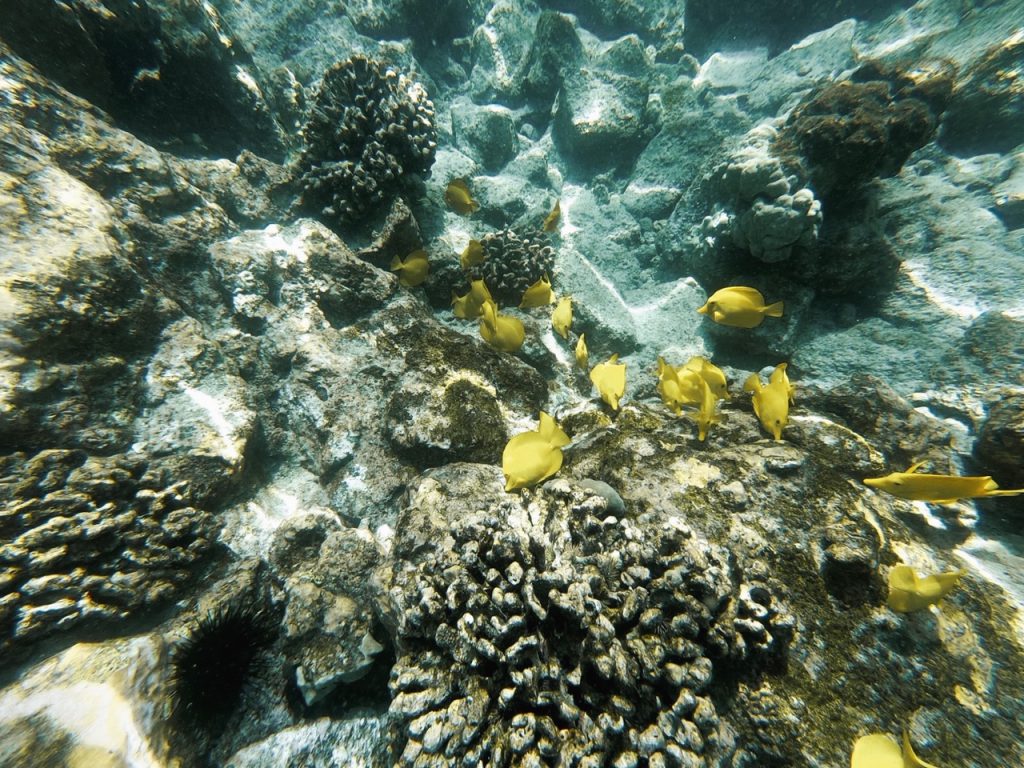 #2 Molokini Crater (Maui)
Molokini Crater is a small, uninhabited island formed by a volcanic crater off the coast of Maui. You can only access it by boat, usually in combination with a guided tour. This is the only place on the list I didn't get to visit myself, unfortunately. We'd have loved to go here, but we only had limited time and money to spend on the island and ended up doing other things, instead. However, I have heard that Molokini Crater still deserves the second spot among the best places for snorkeling in Hawaii. It is the place-to-be to spot some beautiful fish.
Location: just off Maui's south coast, accessible by boat
When to go & fee: depending on the tour you book

#3 Hanauma Bay (Oahu)
I recently wrote about my visit to Hanauma Bay in the post on my favorite beaches in Oahu. You can find Hanauma Bay against a gorgeous backdrop of mountains and lush palm trees. It is a beautiful spot to go snorkeling! Unfortunately, we arrived too late to actually get into the water. For preservation purposes, the ocean closes to the public at around 4.30 pm. However, the bay is one of the best places for snorkeling in Hawaii and many kinds of incredible fish can be seen in the water.
What to know before you go
Hanauma Bay is an exception to many other Hawaiian parks and beaches, in several regards. For one, the park closes to the public one day a week and only admits a certain number of people per day, just like you cannot swim in the late afternoon. Such things are done in order to preserve the reef and fish in the bay. For similar reasons, it is mandatory to get a short safety briefing before entering the beach. That way, you learn the proper way to respect the sea life.
Finally, this beach is not free to enter, the costs of doing so can be found below. Although the bay is really busy and full of tourists, it is still a really nice place to visit. This bay has several facilities, such as places to get food and rent snorkeling gear if you don't have your own, which can come in handy.
Location: Hanauma Bay State Park
When to go: early! Although we were lucky and were able to get in late, I recommend going early to avoid long lines. That way, you also don't risk being refused access when it's full. Hanauma Bay is closed on Tuesdays (read more here).
Fee: entrance $7.50, parking $1 (cash only)
And there they are, my top 3 of the best snorkeling places in Hawaii! Definitely let me know if you try one of them, I'd love to hear about your experiences. I hope you'll have as awesome a time as I did exploring the underwater world of Hawaii.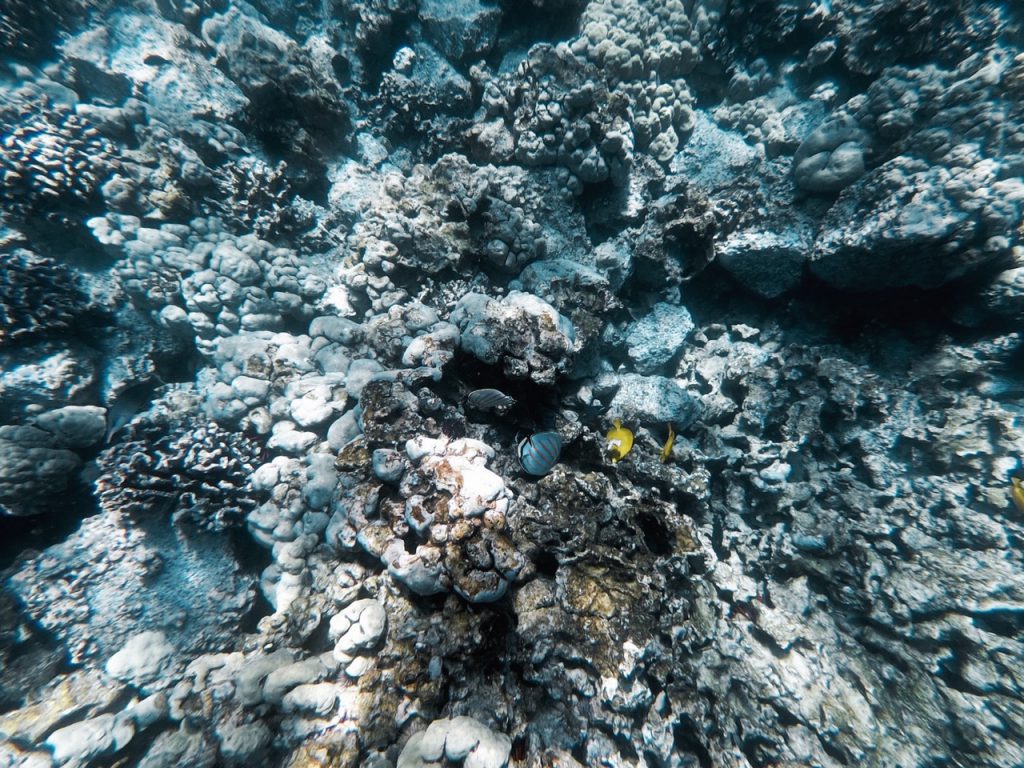 Liked this post? Save it for later!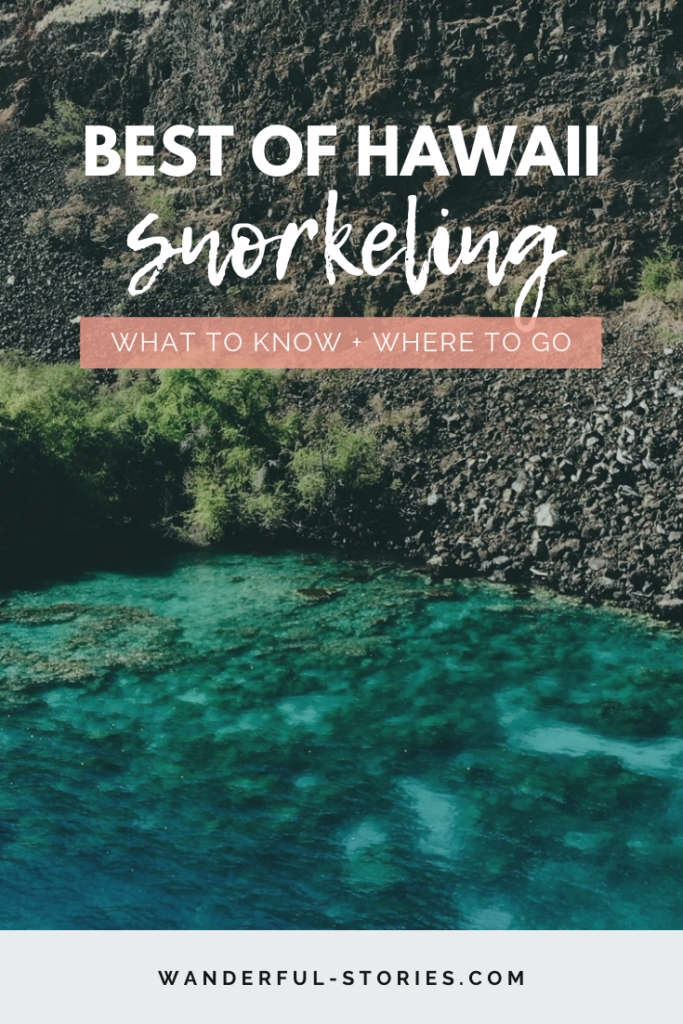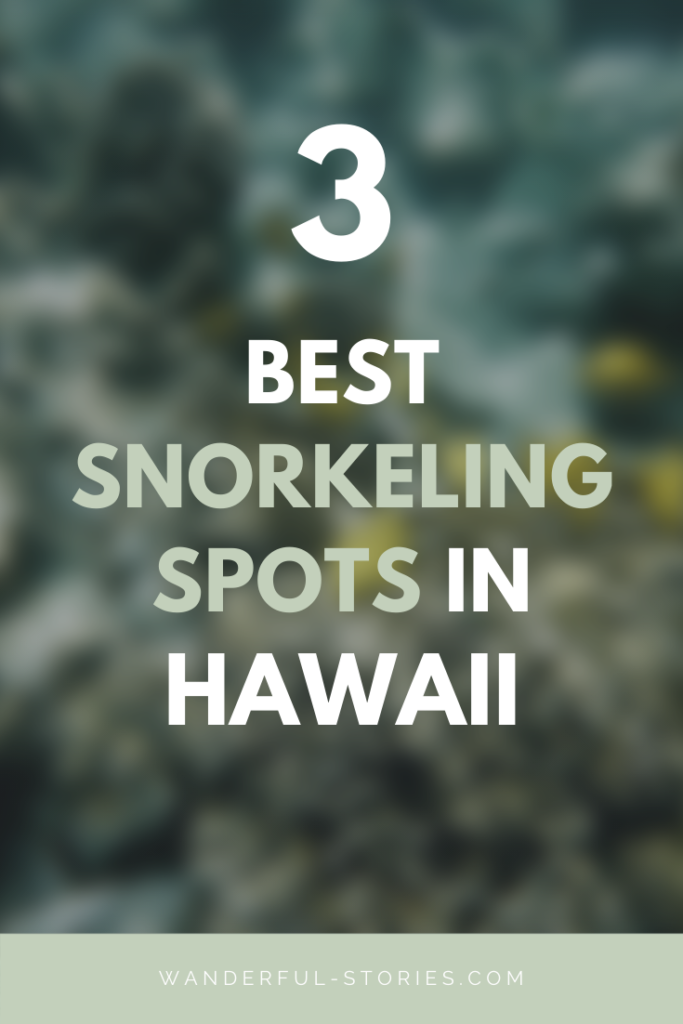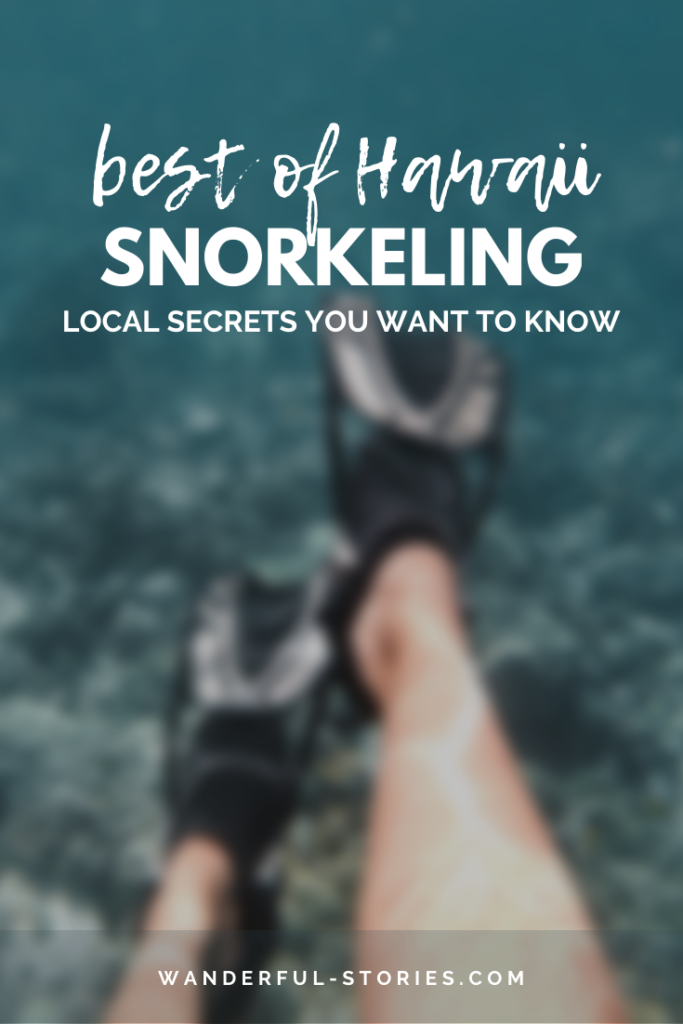 ---
You may also like…