One must-do for me while in Maui was driving the Road to Hana. This beautiful winding road takes you from Kahului to Hana, a scenic town on the east coast of Maui. When researching about the best things to do on the island, this was one of the first things I found out about. I immediately fell in love with all the pictures I saw of the gorgeous spots along the 64.4-mile (about 104 km) road. So, naturally, one of the first things we did on the island was to plan a day-trip that would take us to all of the best stops on the Road to Hana.
Unfortunately, the weather didn't quite agree with us. The forecast showed nothing but clouds and rain in our week for that part of the island. We decided to go on a day that was supposed to be as good as it was going to get. Well – it wasn't. The first few hours of the day were so rainy and stormy that we even discussed turning around and driving back. We stuck it out, though, and skipped some of the flooding and muddy parts to go a little further along the road to places
I'm glad we did, because we ended up having pretty okay weather for those parts. Because of the weather, we did experience some parts in a different way than we would've otherwise. In the end, though, it led us to some really cool unexpected places. So, today I am sharing my personal best stops on the Road to Hana, from start to end.
Paia
Paia is a lovely little town that I'd definitely recommend while you're there. Now, officially it is a little before the start of the road, but who makes these rules anyway, right? 😉 I loved strolling around the little shops and getting some food at a local health bar. Although these places are probably still closed if you start the drive early, you can always visit them on your way back.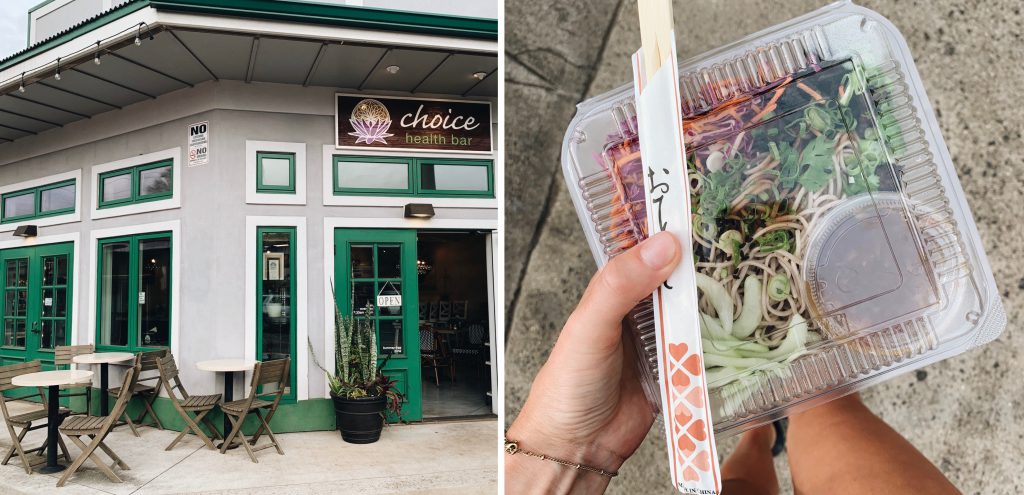 Twin Falls – mile marker 2
At mile marker 2, you'll find The Twin Falls, the first of the official stops along the Road to Hana. We started driving pretty early and by the time we arrived at the stop, the place was just about to open, at 8 am. Unfortunately, we were accompanied by the rain and after a short but muddy walk in a wet yet beautiful forest, we were stopped by a gate that prevented us and a dozen other tourists from accessing it. Apparently, the rain had caused bad flooding and going to the falls would be dangerous. So, bad luck. I have included it in the list though, because I think it is one of those things you can't miss along the Road to Hana and which will be beautiful when dry and accessible. I hope you'll have more luck than I did!
Ho'okipa Beach – mile marker 9
This first of the official stops on the Road to Hana is a great one, as the beach is a great place to spot turtles – and many of them! The turtles can be found mostly on the right side of the beach. You can usually see one or two dozen basking on the beach. Keep in mind when visiting them to keep a distance of at least 10 feet! 🙂 Besides being a prime turtle-spotting spot, I also was lucky to spot the endangered Hawaiian Monk Seal on the other side of the beach. You can often spot a lot of surfers in the ocean, too. Unfortunately, though, the high waves make the place less suitable for swimming and snorkeling.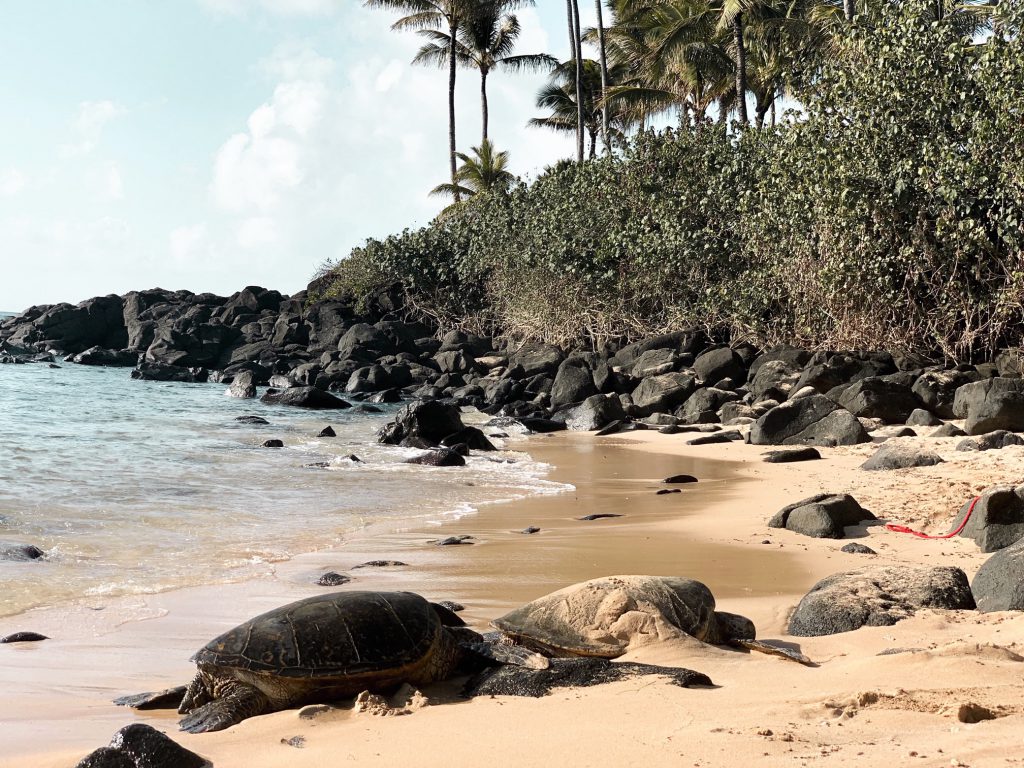 Three Bears Falls (Upper Waikani Falls) – mile marker 19.5
The Three Bears Falls is a beautiful waterfall you drive past on the Road to Hana around the 19-mile marker. In order to pause and enjoy the waterfall, it's best to park a little further up the road and walk back. When we were there, it was pouring rain. We had to make our way down there on the slippery road in our raincoat and flip flops. Luckily, it stopped raining for a little while just in time to take a picture, only to resume as soon as we were walking back. I believe it is also possible to hike to the bottom of the Falls, but due to the rainfall, I am not too sure.
Waianapanapa Beach (black sand beach) – mile marker 32
Waianapanapa State Park (what a mouthful, right?) is a beautiful black sand beach located about halfway along the road. The beach really has gorgeous black sand, especially compared to some other black sand beaches I've visited which were duller, grey-ish. I really loved exploring this place for a little while. I'd recommend walking a little bit further on the pathway that leads you from the initial beach towards others, as the beach does get really busy. All in all, definitely one of the stops you can't miss on the Road to Hana!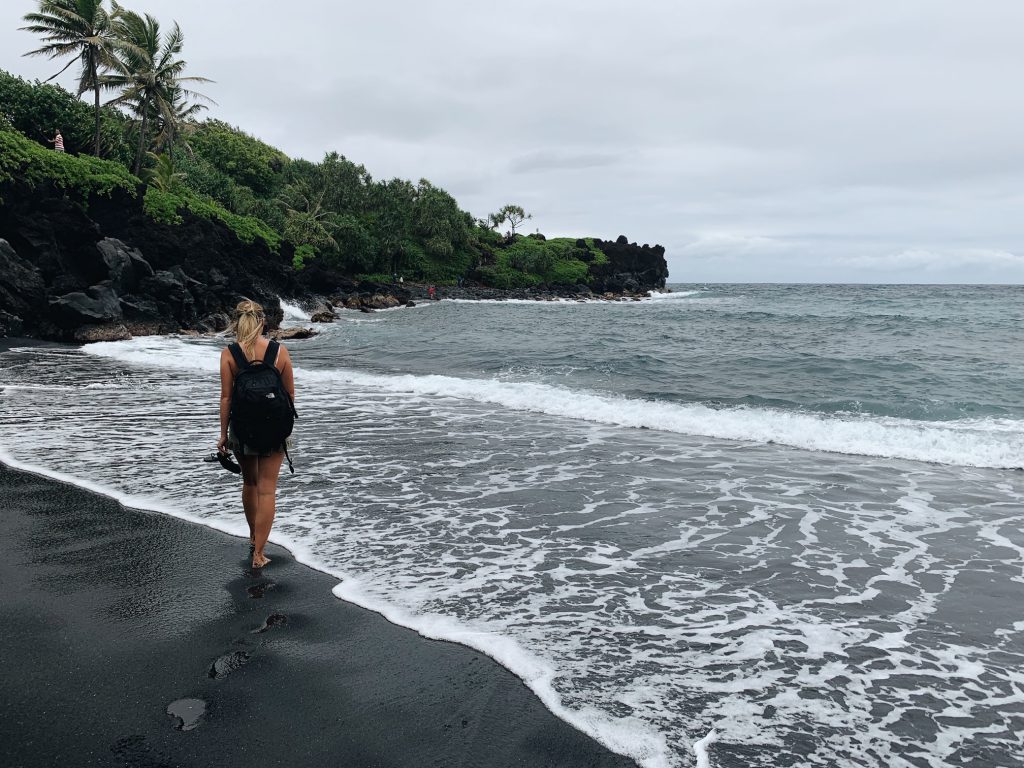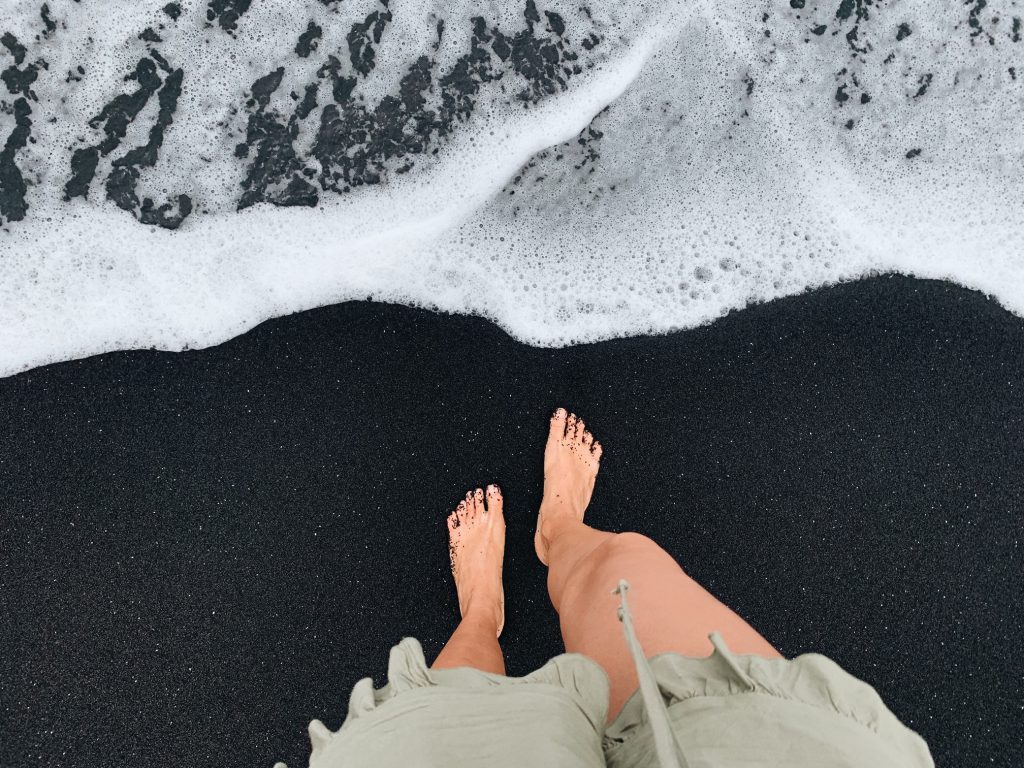 Kaihalulu Beach (red sand beach)
Kaihalulu beach is located a bit beneath Hana and thus is not officially part of the road. But who cares, because this spot is gorgeous! I have never seen a beach with such red sand. In combination with the stunning blue colors from the ocean and the rough waves crashing into the rocks, this is one of the most picture-perfect spots along the way. You will not find the beach beside a road, however. Instead, you'll have to park your car and hike a bit. Keep in mind that the trail can be a bit tricky to hike, so be careful!
Venus Pool (Waioka Pond)
Now this place is gorgeous. Of all the best stops on the Road to Hana, the Venus Pool is my favorite for sure. It's a remote, hidden spot with stunning blue water, set in tropical surroundings filled with palm trees. This place is really quiet compared to the other spots on the road since it is pretty hard to find. We first drove to completely the wrong place, but eventually found it and had the place almost exclusively to ourselves. Swimming in this calm oasis was a dream! Officially, this place, too, is not on the Road to Hana. However, I think it's a destination that cannot be missed when there.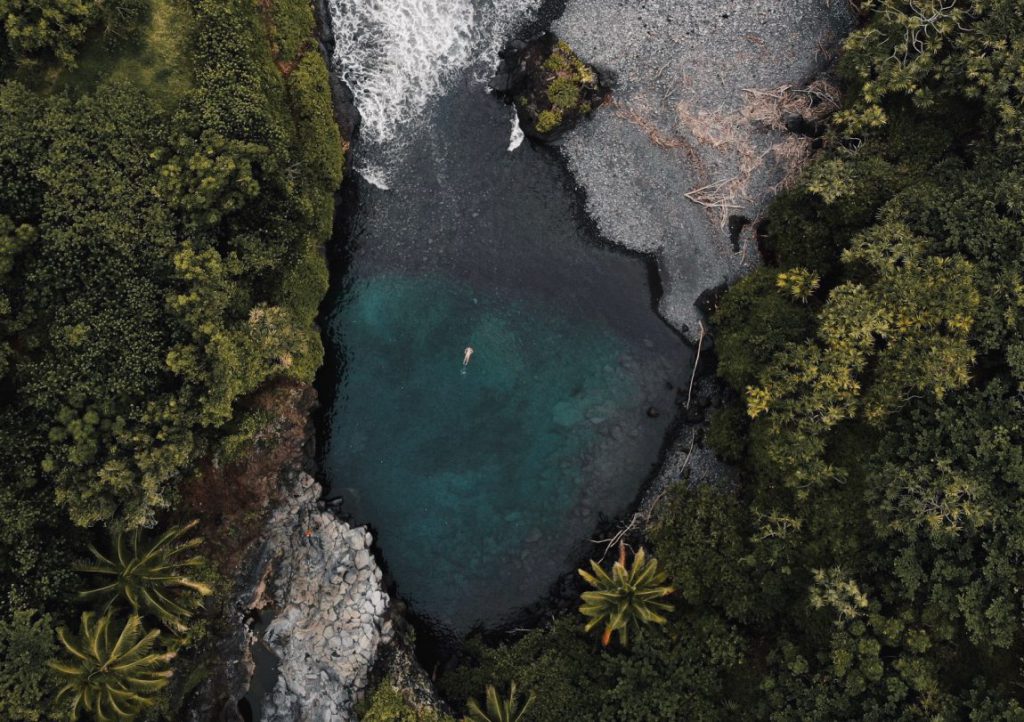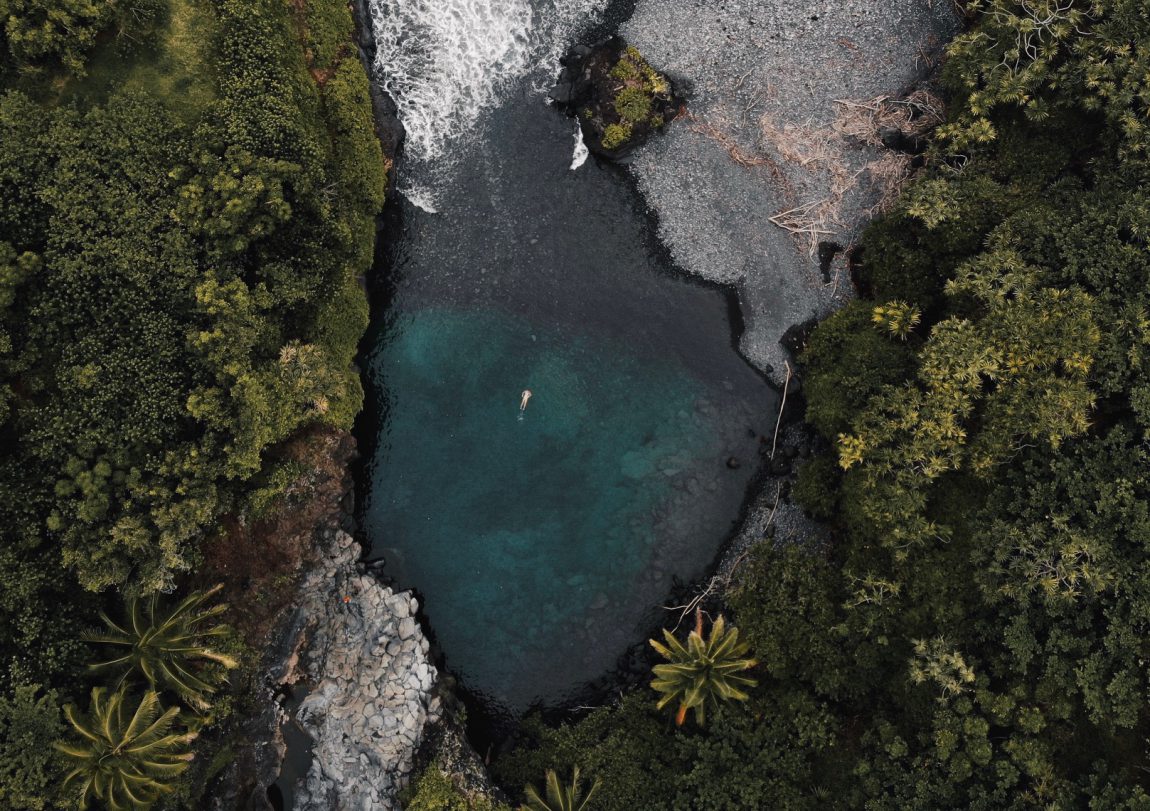 Seven Sacred Pools at Ohe'o
This, for me, was the number one thing that was kind of ruined because of the bad weather. I'd really been looking forward to visiting the Seven Sacred Pools, which seem absolutely awesome with blue water descending from one pool to another. Even better, you can actually swim in them. They looked amazing. And I'm sure they are, except they were a muddy brown color when we were visiting. All of the water was flooding, so there was no way you could swim. Not that we wanted to at that point, anyway.
Don't get me wrong, it was still nice to see them, but this is one of those things that is just a lot better with good weather. Or, well, just any weather better than that day. Although it was kind of a let down for us, I've included them in here anyway, because 1) they're gorgeous and you shouldn't miss out on them and 2) the surroundings are still really nice.
If you go, keep in mind that you have to have a Haleakala National Park pass to enter. You can buy them there or use one you already have. Be really careful if you do approach the water. The water level can increase incredibly quickly and deadly accidents have happened because of it.
Try local food trucks
I love trying local food, because – well, because I love food and it gives me a good excuse to eat. But of course, I do really like trying new things. So, whenever there's a local food truck that sells vegan food, I cannot wait to try it. (Yes, that's pretty much the only condition.) As it happens, the Road to Hana is a great place to do so. You'll especially see quite a few places to buy banana bread. I ended up getting a lovely burrito bowl for lunch at a Mexican food truck. If that's not your thing, there are several other options along the road for you to find what you're craving.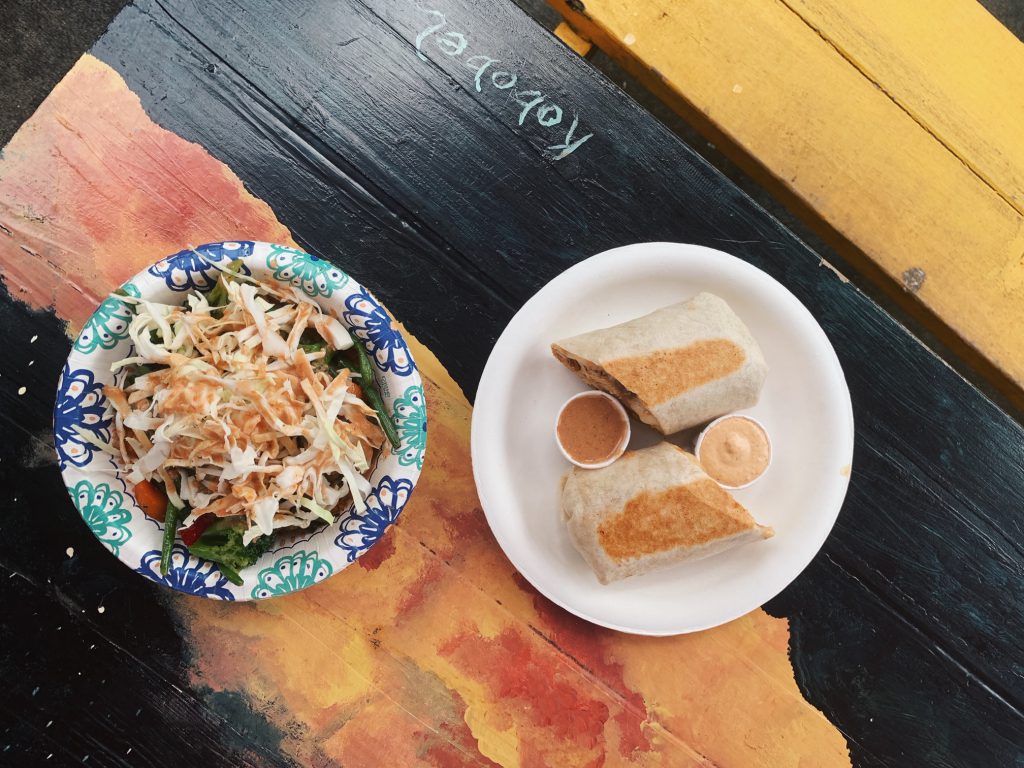 Bonus: driving the south coast
Okay, so this is technically not a part of the Road to Hana, but by now you probably know I'm making my own rules. 🙂 I really wanted to include it here, you'll probably only visit it when driving the Road to Hana. And you should, because it is gorgeous!
We stumbled upon this place by total accident, when driving back from Hana to our hotel in the north, taking the way along the southern part of the island. Although the road was pretty rough and definitely not formally drivable with a rental car, it was so worth it. After a while, the road improved and we came across the most insane landscape. Spacious, golden-toned fields along the mountains, totally different from the rest of the island. It was almost completely deserted, apart from the occasional car.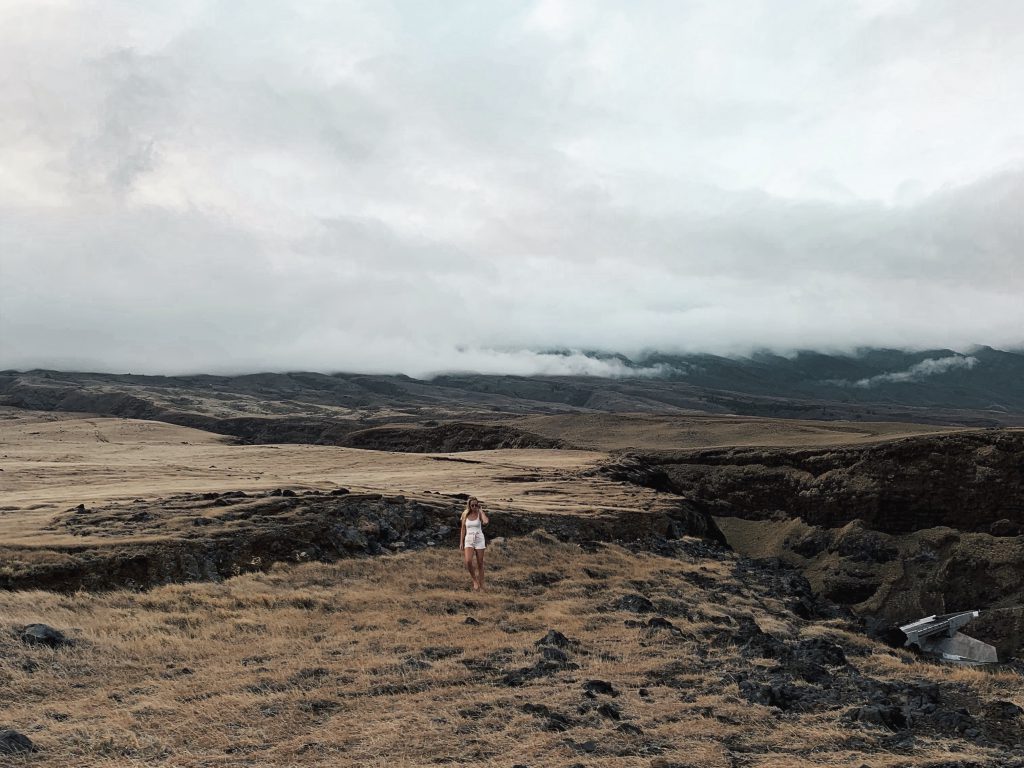 I'd been pretty much done with the day after sitting in the car for approximately ten hours, when we came across these views. We were just in complete awe and couldn't help but get out of the car for one more time that day and take some pictures. Seriously, it is one of the most beautiful spots you'll see. I'd recommend going there when the sun is going down, which is perfect timing after doing the Road to Hana. But please do take into account the kind of car you're driving and drive carefully.
And there you go, these are my recommendations for the best stops on the Road to Hana. I hope you find them useful for planning your own trip. If you do drive the road yourself, let me know which place sticks with you the most! And if you want to know my ultimate tips for planning your trip to Hana, be sure to check out this blog post!
Liked this post? Save it for later!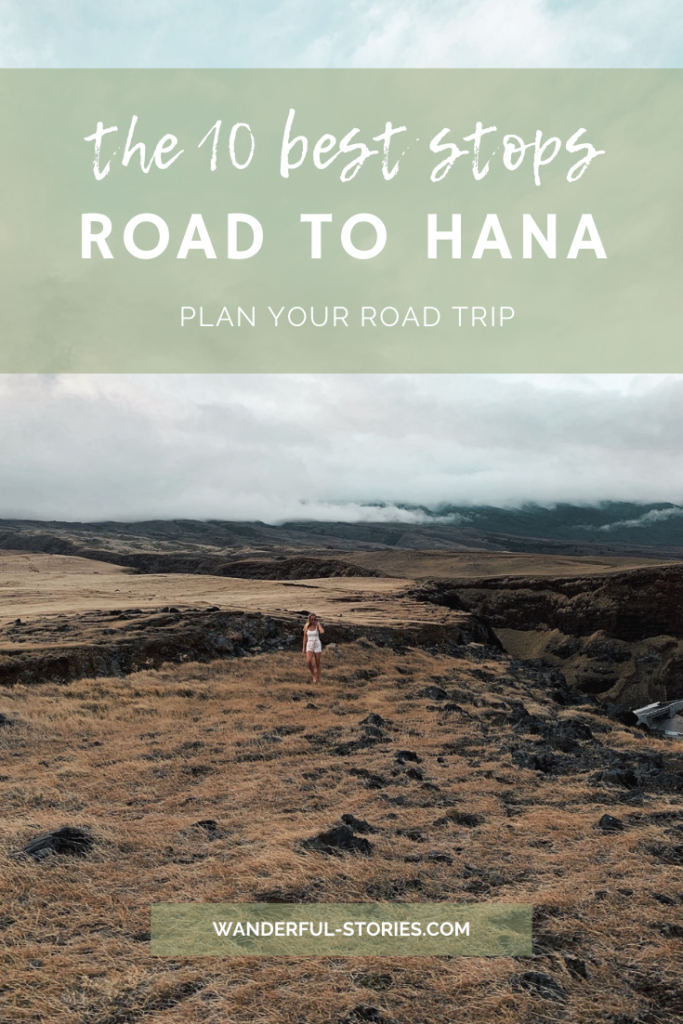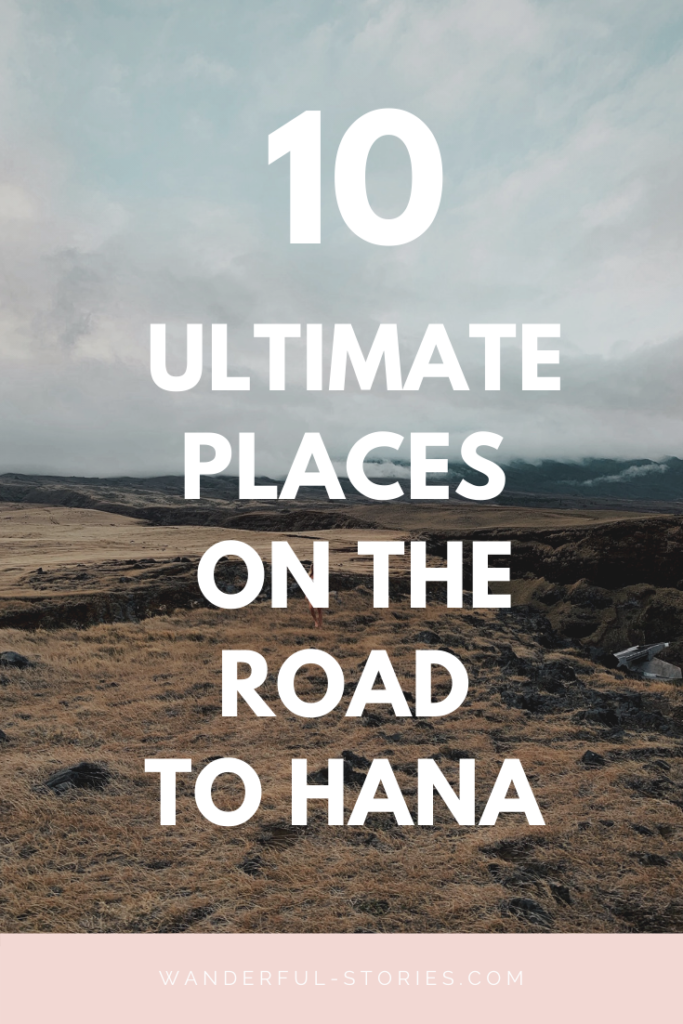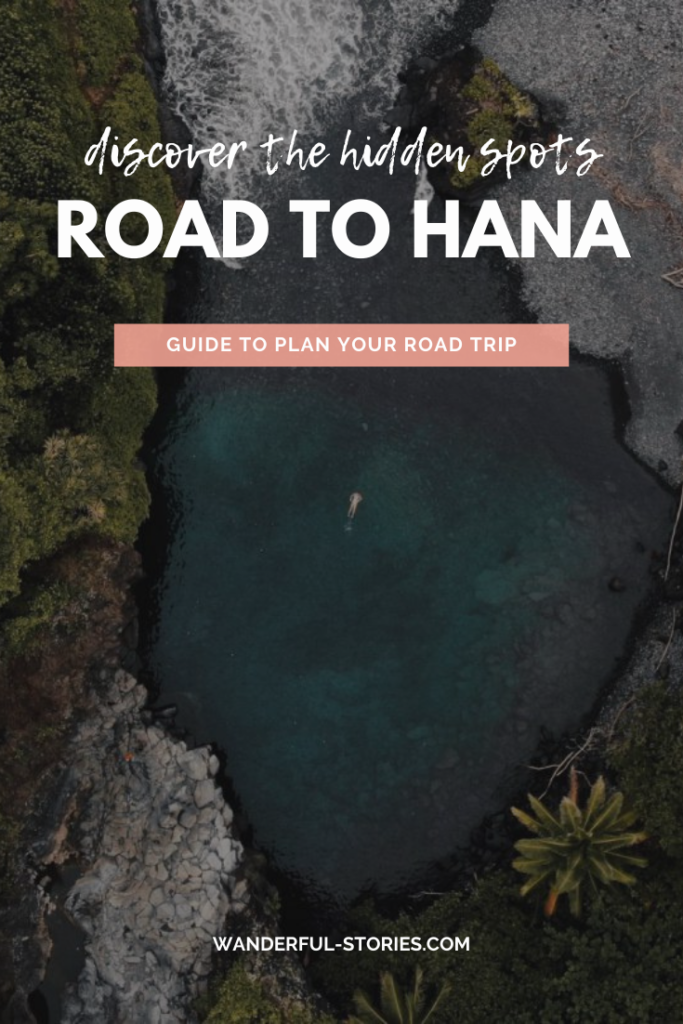 ---
You may also like…