There's nothing I love more than hopping in a car and just driving around a country. Seeing nature flash by through the car window, driving from one amazing sight to the next… it's the best! One place that is particularly great for this kind of adventure, is the South Island of New Zealand. So, if you've always wanted to travel to this beautiful place and love a good road trip, you're in luck! Today I'm sharing my ultimate 3-week South Island road trip itinerary.
In this itinerary, you'll find both the greatest highlights and the hidden gems of New Zealand, that are often missed by tourists. I've traveled around the South Island 3 times now and made sure every single one of my favorite places is included in this itinerary. So, you don't have to miss out on anything!
Overview: 3 week South Island road trip itinerary
About the itinerary
Before jumping in, let's have a look at ways you can customize the itinerary to fit your stay and budget.
How to get around on the South Island
This itinerary is a road trip itinerary – I've created it for you to have your own amazing road trip adventure. I've always traveled around New Zealand with my own car and I can't recommend it enough. It gives you so much freedom! Besides, driving in the gorgeous New Zealand nature is an incredible experience on its own.
You can get a rental car or van, but you can also buy your own backpacker car if you're in the country for a long time. Getting and driving a car is super easy in New Zealand, lots of tourists do it. Just make sure to stick to the left side of the road, though. 😉
Not a fan of driving yourself? Find the type of transport that's right for you and simply adjust the itinerary a bit!
Got more or less time? No problem!
I created this South Island road trip itinerary for 3 weeks, simply because I think it's the perfect amount of time to see the island's major highlights without having to rush. However, it's very easy to adjust this itinerary, depending on how much time you've got:
1 week – limit your road trip to a certain part of the island, e.g. the upper or lower half. See what you love most and come back another time for the rest.
2 weeks – try and see if you can skip a few highlights or combine them, by spending less time on each. Think about what kind of adventures you love most (e.g., nature, cities, hiking) and focus on those.
4 or more weeks – I've added extra dark blue markers on the map below. These are other things I love on the South Island, so you can easily add them to your itinerary!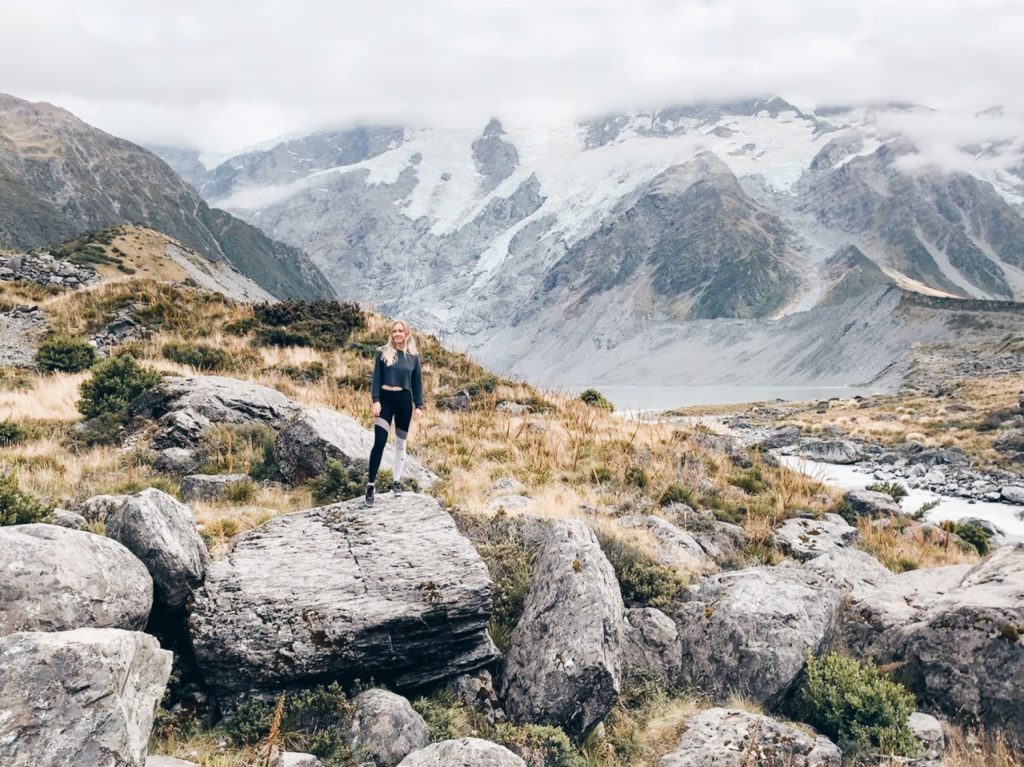 How to make the road trip happen with a small budget
Unfortunately, New Zealand isn't a cheap country to travel in. But don't worry! Even if you're budget is a little smaller than you'd like, you can still have an amazing trip. Luckily, there are lots of ways to fully customize your South Island trip to your budget. First of all, lots of the best highlights you'll find in this itinerary are totally free to visit. And even better, there are lots of ways to save money during your travels.
Check out these resources I wrote if you want to know more about keeping the costs of your trip low:
3 weeks on the South Island: the ultimate road trip itinerary
This itinerary starts in Christchurch, the biggest city in the east of the island. It's the place where most travelers begin their trip, after flying to the big international airport.
Arriving on the South Island by ferry? You'll arrive in Picton, in the northeast of the island. You can just as easily start off in Picton (day 2) and catch up on the rest in the end.
Now, let's jump straight into this 3 week South Island road trip itinerary!
Day 1: Christchurch – Kaikoura – Blenheim
Driving time: 2h 25m in the morning + 1h 40m in the afternoon
Total distance: 310 km (192 miles)
The first day starts off with a trip past the beautiful southeast coast.
First, make your way to the little seaside town of Kaikoura. This town is famous for its incredible sea life population and wildlife spotting. It is the perfect place to see lots of dolphins, swimming and jumping just off the coast. While you drive near or in the town, keep an eye out for any dolphins near the coast. There are lots of places you can stop your car and admire the dolphins in their natural habitat. If you're lucky and visiting at the right time of year, you may even be able to spot whales!
After your wildlife spotting adventures, find a lunch spot in Kaikoura. It's the perfect place if you love seafood, but the town also offers many other options. Then drive further to the Marlborough region.
Stop and stay for the night in the city of Blenheim. It's a relatively big city that's at the heart of the Marlborough wine region and gives you a perfect starting point for tomorrow's adventures.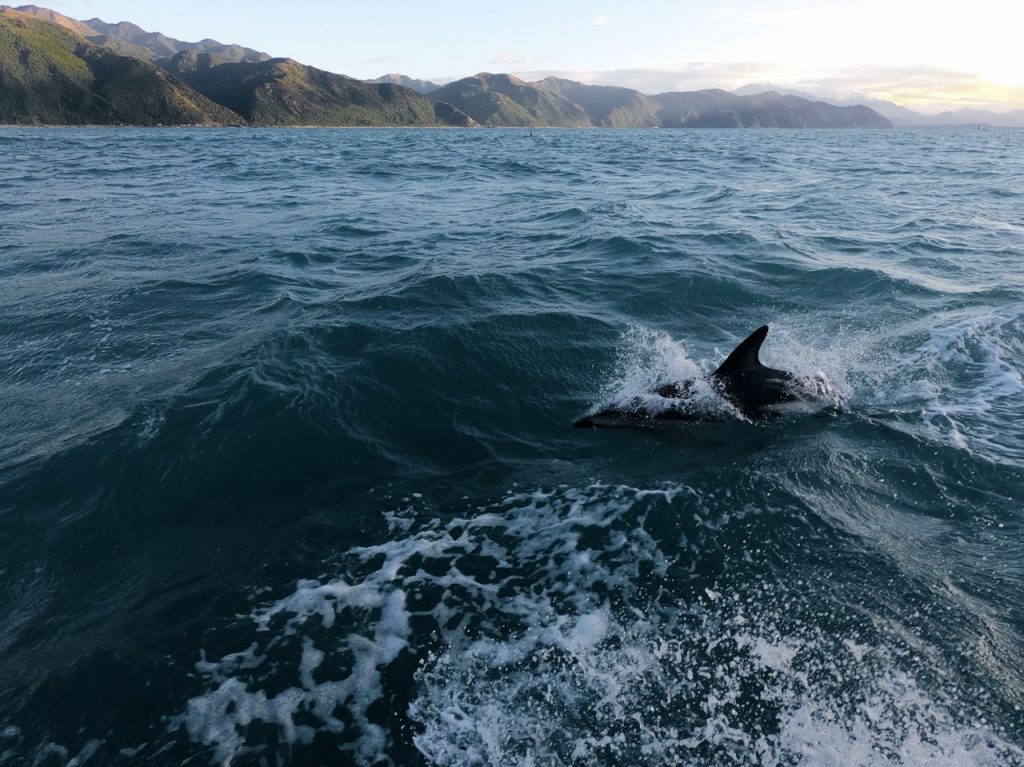 Day 2: Blenheim & Picton
Driving time: 2 x 25 mins
Total distance: 55 km (34 miles)
Added time + distance depending on your activities
Today, it's time to explore the region of Marlborough. This area is well known for two things: world-famous wine and the gorgeous Marlborough Sounds.
Morning: explore the Marlborough Sounds
First off, head over to Picton, the harbor town in the midst of the Marlborough Sounds. The Sounds are sunken river valleys that form the most beautiful South Island coastline. Picton is a perfect starting point to explore them. I'd recommend just taking your car and start driving. The winding roads will take you deeper and deeper into the stunning and deserted landscape. This local secret is something that tourists don't often do, but it honestly is one of the most gorgeous experiences of New Zealand.
During this road adventure, you can park your car near any viewpoint and explore the area. Find hidden gems, short hikes and small beaches along the coast (but be careful, because a lot of it is privately owned by families).
Afternoon & evening: wine tasting
In the afternoon, it's time to enjoy the best wine New Zealand has to offer. From Picton, make your way back to Blenheim. The vineyards surrounding the city offer wine tastings that are often cheap or even totally free. I'd highly recommend visiting Cloudy Bay. It's a gorgeous estate with incredible wines – lots of their wines are hand-picked (helped by me, haha!). Cloudy Bay offers tastings ranging from $10 to $25 per person.
Not a wine lover? Neither am I! It's still worth visiting a vineyard, though, because it's such a big part of New Zealand culture and export. If you really want to avoid everything wine-related, simply spend more time in the gorgeous Sounds & Picton!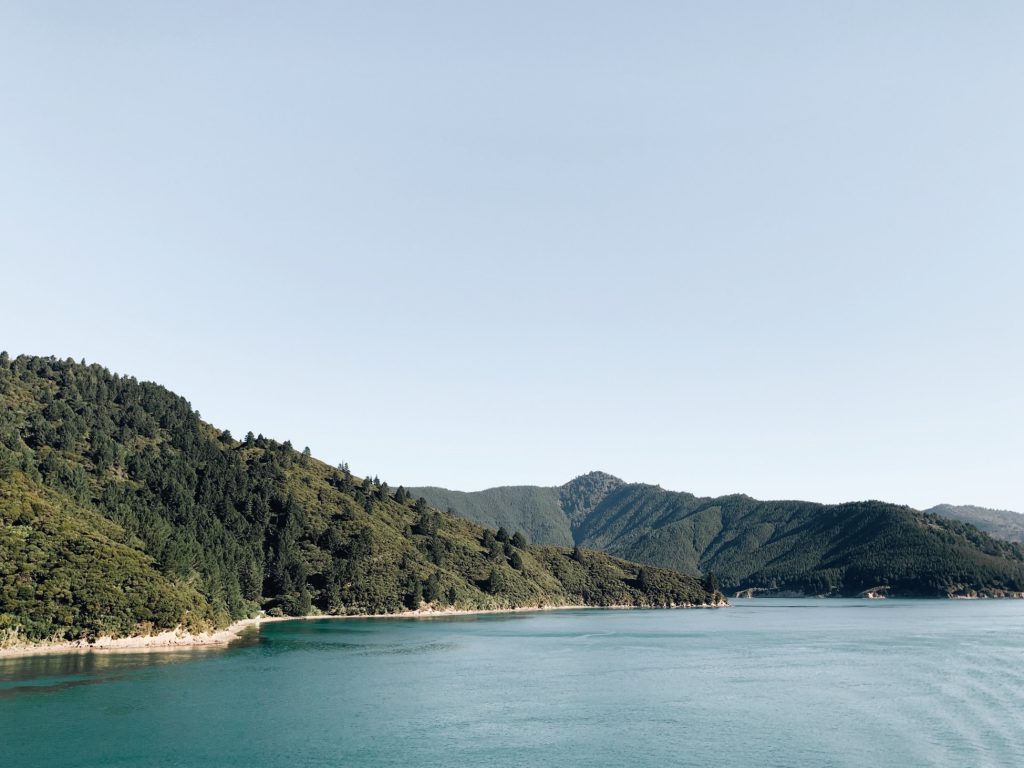 Day 3: Blenheim – Nelson – Abel Tasman
Driving time: 1h 30m in the morning + 2h 30m in the afternoon
Total distance: 250 km (155 miles)
After a day full of exploration (and wine), it's time to get back on the road. Start driving along the north coast, heading for Nelson.
Make a stop in Nelson for a little break. Stretch your legs or grab lunch in a local cafe. Some of Nelson's highlights include a quick walk to the geographical Centre of New Zealand (with some amazing views) or a visit to Jens Hansen, the ring maker of the One Ring in the Lord of the Rings.
The final stop of the day is the Abel Tasman region. Here, you can do lots of incredible activities, from hiking part of the incredible Coast Track (recommended!) to renting a kayak. But that's for tomorrow! Today, I'd recommend visiting a local i-site to find out which activity you'd love to do the most in this incredible park. They are happy to give you a map of the region or map out a hike for you. Spend the night in a place close to the starting point of your Abel Tasman adventures, so you can enjoy a full day in the incredible National Park tomorrow.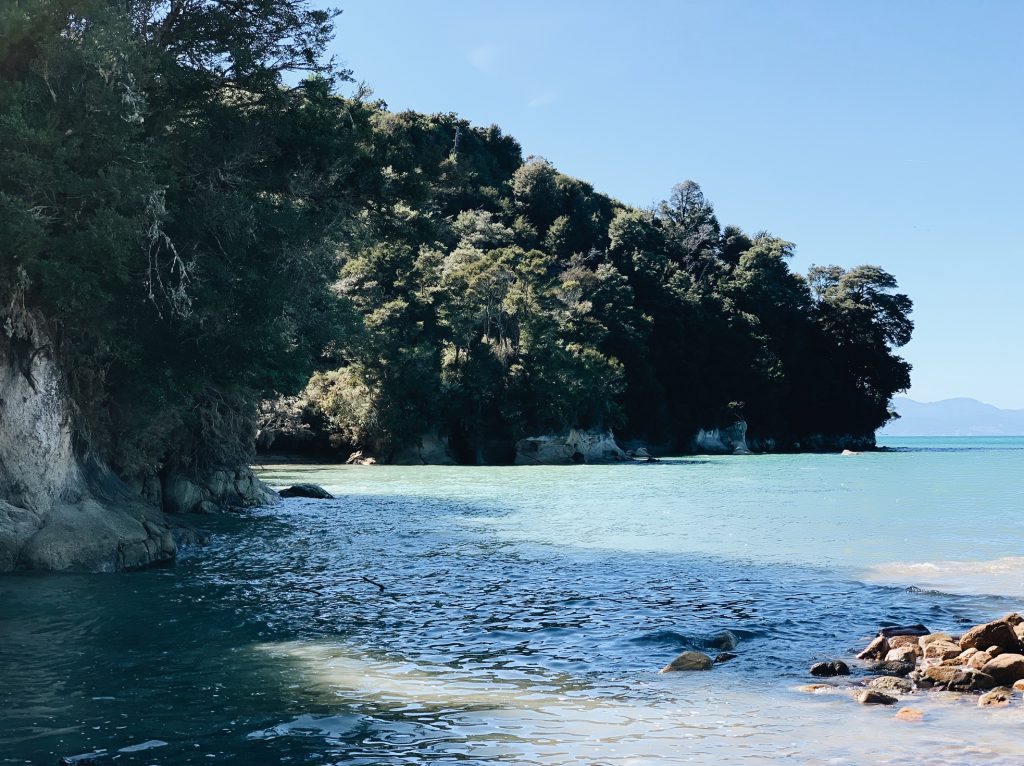 Day 4: Abel Tasman National Park
No driving required (depending on activities)
Today is a full day to explore and enjoy the incredible Abel Tasman National Park. This park is known for a gorgeous tropical setting. You can find beaches everywhere in the park. Some are immense while others are tiny hidden gems.
How you want to spend your day in the park is totally up to you! Personally, I can really recommend hiking part of the Abel Tasman Coast Track. You don't have to be super fit, but it's good to take into account that it is quite uphill. Other incredible Abel Tasman activities include renting a kayak, going on a boat trip or exploring the park by bike. You can also go snorkeling or skydiving even!
If you liked your accommodation of the night before, simply head back there for tonight. There's no driving involved today!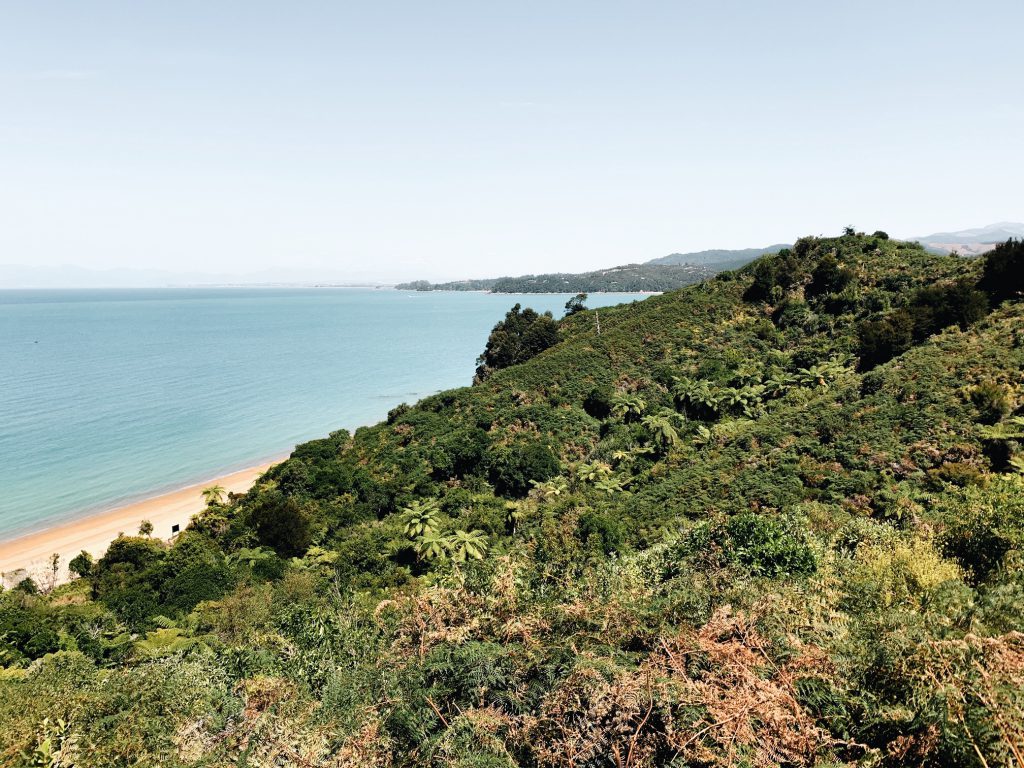 Day 5: Abel Tasman – Golden Bay – Richmond
Driving time: about 1h 50m in the morning + 2h 25m in the afternoon
Total distance: about 225 km (140 miles)
Time + distance depend on your Abel Tasman accommodation
On the morning of day 5, make your way out of Abel Tasman by heading up north to Golden Bay. Golden Bay is the northernmost area of the South Island and home to incredible nature and far-stretched beaches.
Though there are many gorgeous places to visit in the Golden Bay area, I'd recommend heading towards Wharariki Beach. This beach is one of my all-time favorite places in all of New Zealand! Oh, and if you visit in summer, you may even be able to spot lots of baby seals playing around in the puddles of ocean water. If you want to know when & where to go, you can read all about that here.
Depending on how long you want to spend on Wharariki Beach, you can further explore Golden Bay before heading back down south. Drive for about 2,5 hours back, past Abel Tasman National Park to Richmond. This city is a great spot to get groceries or other items you may need and spend the night before heading south in the morning.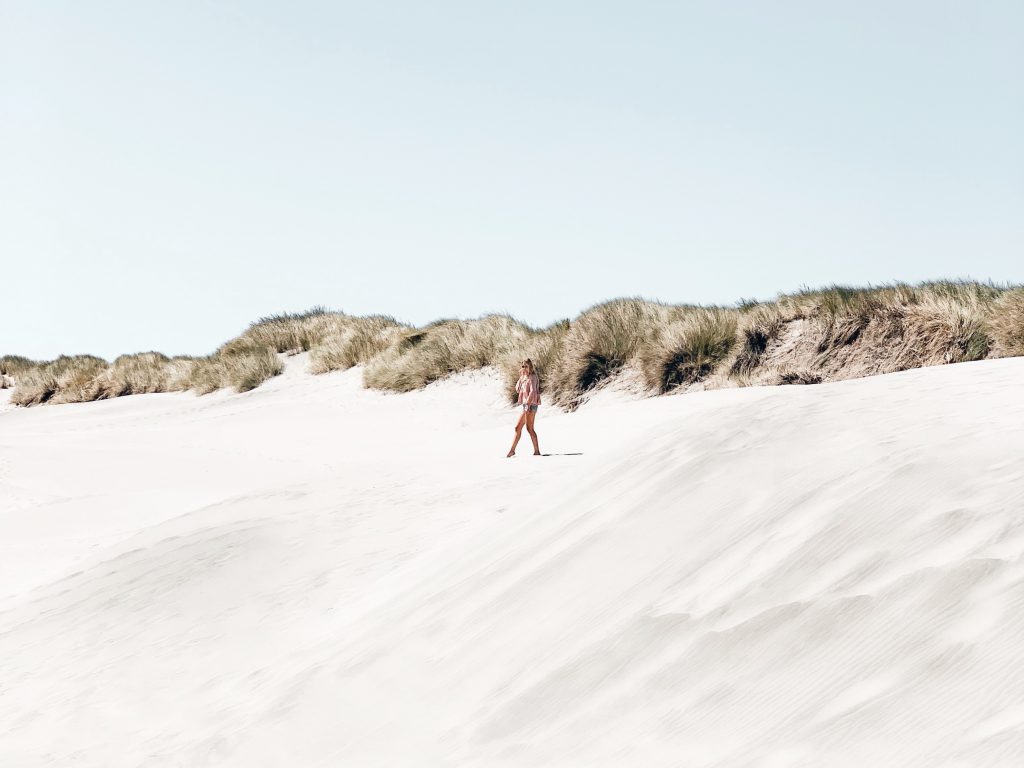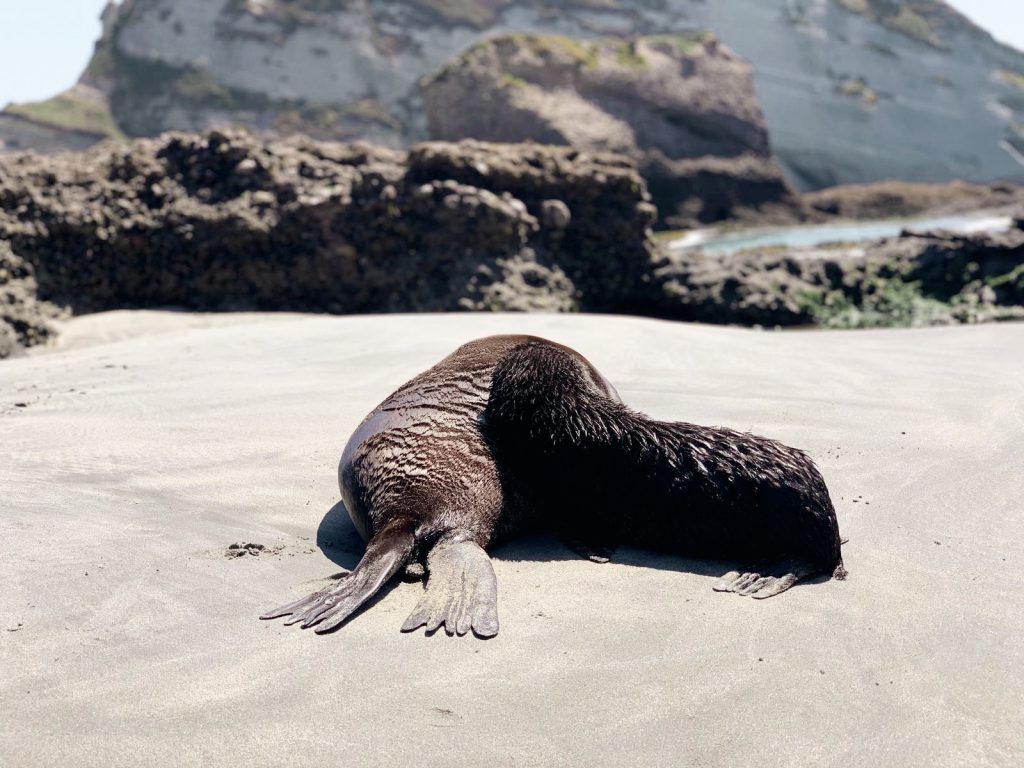 Day 6: Richmond – Punakaiki
Driving time: 3h 30m
Total distance: 250 km (155 miles)
In the morning, make your way down south through forests and mountains, until you finally meet the sea. The winding roads along the west coast of the island make for incredible sightseeing. Honestly, simply driving and enjoying the still nature is one of my all-time favorite things to do in New Zealand.
After about 3,5 hours you'll reach Punakaiki, a little coastal town. Here, you'll find the famous Pancake Rocks and the blowholes in between them. The rock formations are named after their layered appearance, created by thousands of years of rain, wind and ocean water. The Pancake Rocks are located right on the side of the road. Opposite it, you can browse a gift store or visit a cafe. You won't find a whole lot of buildings, but the area is great for outdoor activities.
Besides the Rocks, I also loved visiting Punakaiki Beach. I stumbled upon it during an evening run from our campsite and was in awe by the far-reaching, totally deserted beach. It was incredible and I still remember the beach fondly. Punakaiki offers a few accommodation options, so spend the rest of the day enjoying the outdoors and incredible nature before heading off to bed.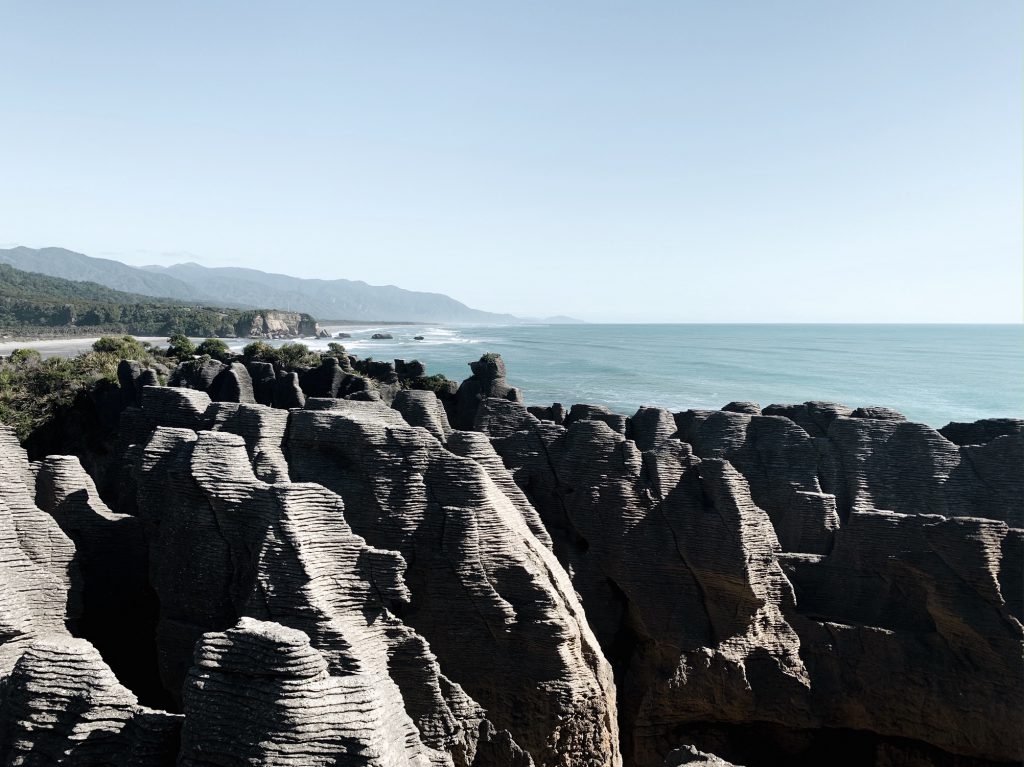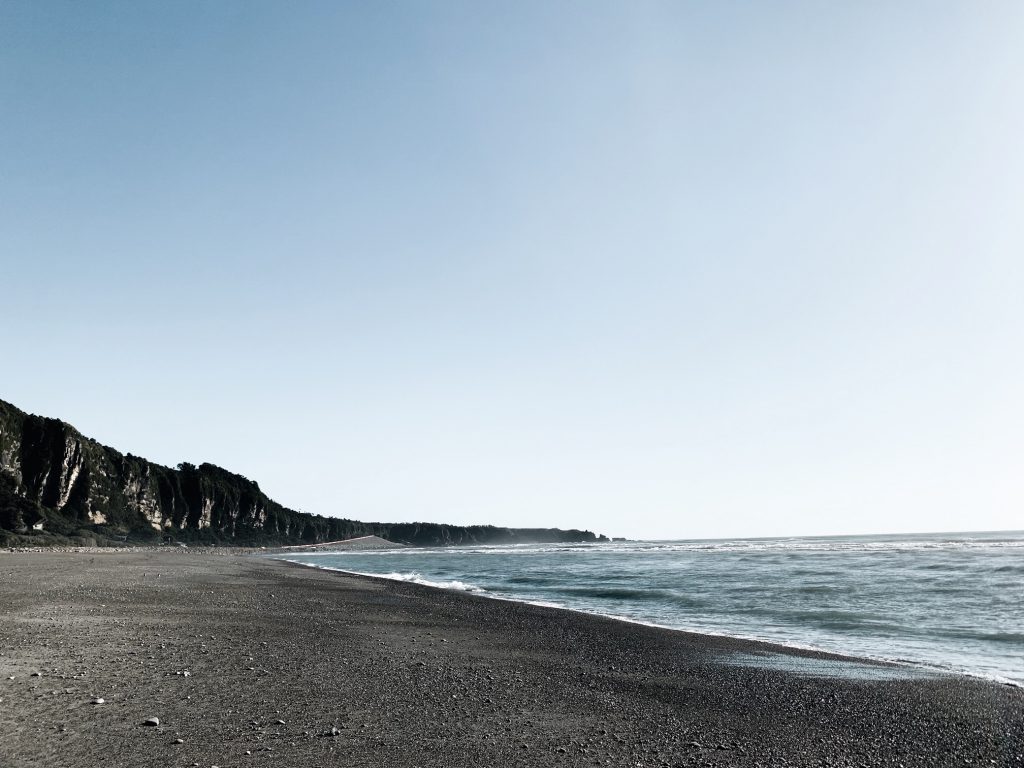 Day 7: Punakaiki – Arthur's Pass
Driving time: 1h 55m
Total distance: 140 km (87 miles)
Although you've only just reached the west coast, today is all about making a little detour back inland before heading back out again. From Punakaiki, drive to Arthur's Pass National Park. Arthur's Pass is a gorgeous park that – in my opinion – is really underrated by most visitors.
If you love hiking, you're gonna love Arthurs Pass. There are lots of hikes you can do, totally depending on your level of fitness and the time you want to spend being active. Upon arrival in the park, I'd recommend visiting the local i-site. Arthur's Pass is not big, so it won't be hard to find.
Despite its small size, Arthur's Pass does have some accommodation options for you to stay the night.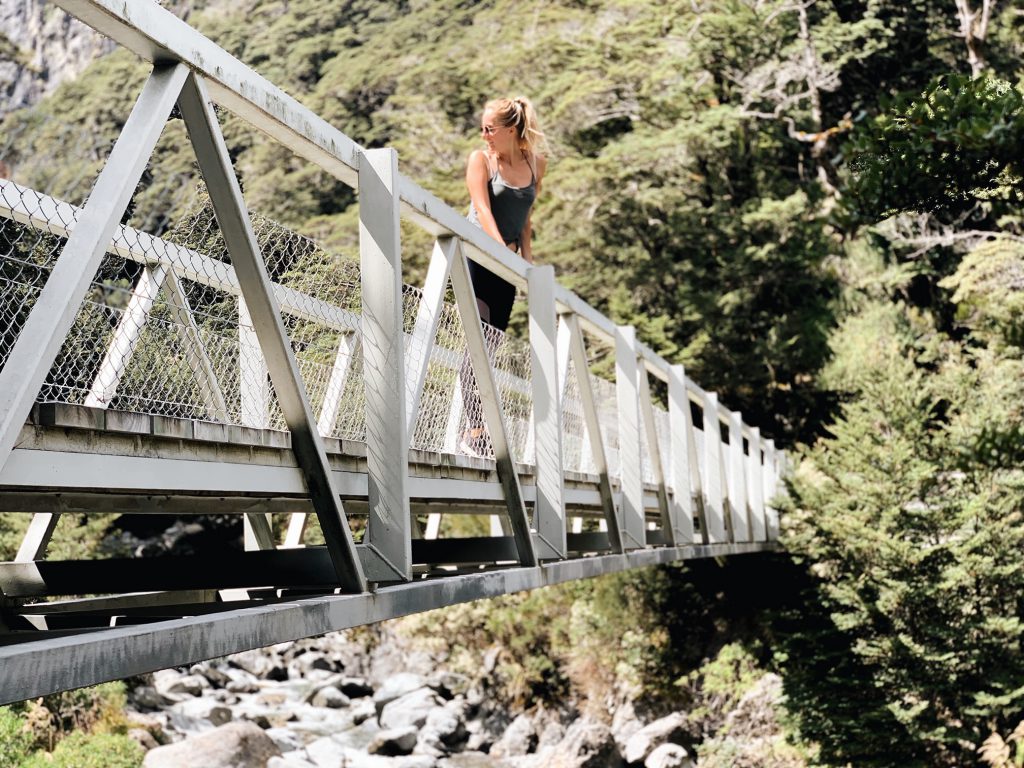 Day 8: Arthur's Pass – Franz Josef
Driving time: 3h 5m
Total driving distance: 235 km (146 miles)
It's time to start the second week of the South Island road trip itinerary, which includes some of the island's top highlights. Hop in the car in the morning and leave Arthur's Pass National Park. Upon arrival in Franz Josef, you can choose to explore the area, hike for a little bit or just take some time to relax.
The 'free' afternoon also provides a great opportunity to book any special activities you want to do in the area. The glaciers offer incredible opportunities to splurge a little if your budget allows it. I took a helicopter flight over both glaciers when my mom was visiting, which was such a cool thing to share with her. Read all about that awesome experience here!
Good to know: the glacier areas are pretty popular with tourists, so if you're planning on doing anything special, you may want to plan it a little ahead of time. (The same goes for accommodation if you're traveling in peak season.)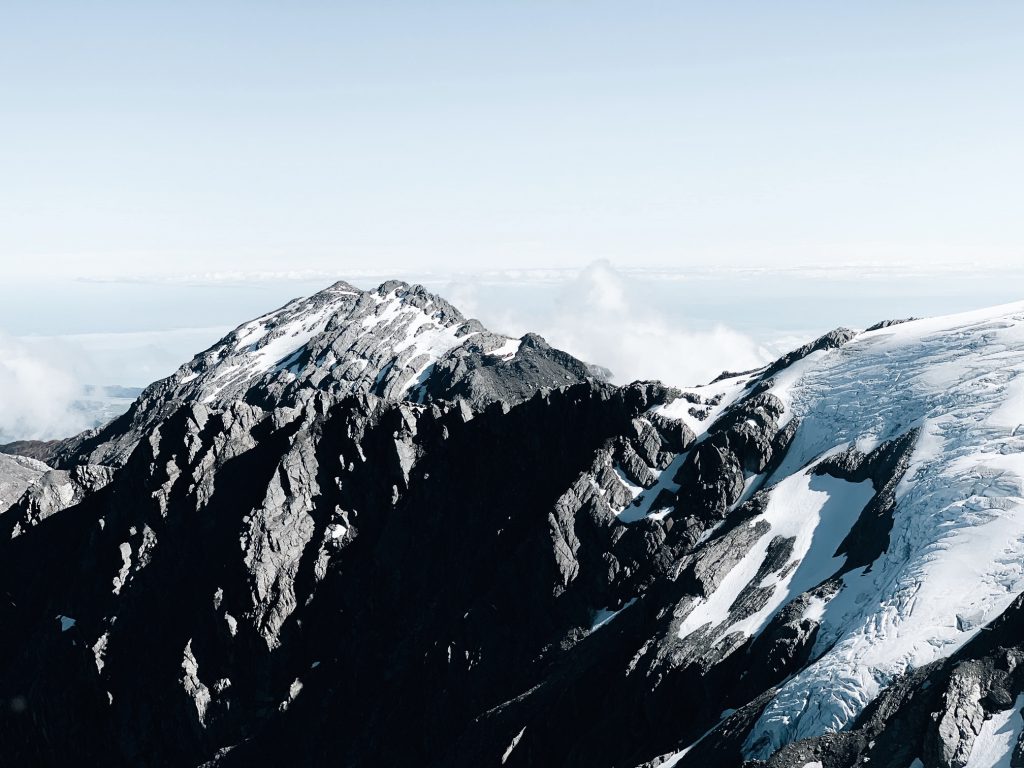 Day 9: Franz Josef & Fox Glaciers
No driving required
Today is all about visiting the incredible glaciers of New Zealand.
I've been fortunate enough to travel around in Europe quite a bit in my younger years, so I've seen more than a few glaciers in my life. However, none of them were like these! What makes the Franz Josef and Fox Glacier so special is that they're located in a tropical setting. For example, along the Franz Josef Glacier Walk will have you stroll through a rainforest one minute and spot the glacier the next. Seriously, I still can't get over how diverse this country is!
There are lots of things to do in the area. For example, if you love to walk, pick a trail near Franz Josef Glacier or Fox Glacier. While you're there, see if you can spot the Kea – the unique New Zealand alpine parrot that's mainly found in the southern part of the South Island. If you want to splurge a bit, go for a helicopter ride or get a guided hiking adventure on the glacier. Absolutely amazing for the daredevils!
After your day full of activities, spend one more night in the same accommodation.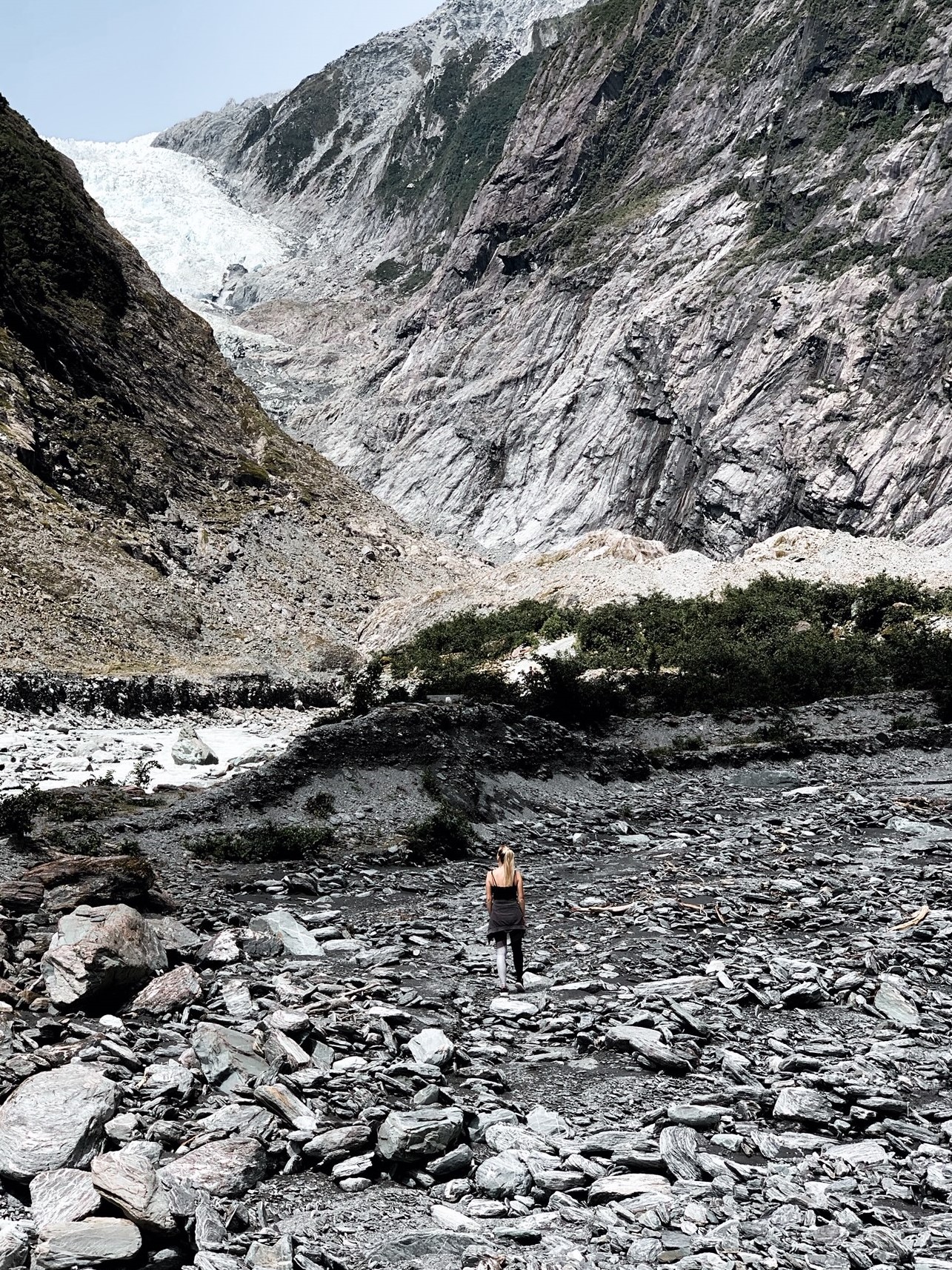 Day 10: Franz Josef – Wanaka
Driving time: 3h 55m
Total distance: 285 km (177 miles)
Start your day with a drive into the southern region of the South Island, toward the lovely town of Wanaka. During my trip, I stayed in Wanaka a bit longer than expected, because I had to arrange some practical stuff for my Working Holiday. And I completely fell in love with the town! It's similar to the famous Queenstown (which you'll visit next) but less touristic.
While you're in Wanaka, there are several things you can do. Visit one of the well-known photography spots in the town, such as the jetty or the world-famous Wanaka Tree. Most of all, though, I'd really, really recommend doing a hike. The Wanaka region is absolutely gorgeous and there are lots of incredible hikes you can do.
My personal favorite is Roys Peak – it's one of New Zealand's most popular hikes and for good reason. Go late in the afternoon to watch a gorgeous sunset – check out my experience and the incredible views here! It's important to make sure to bring a headlamp to find your way back down to your car, to drive back to your accommodation for the night.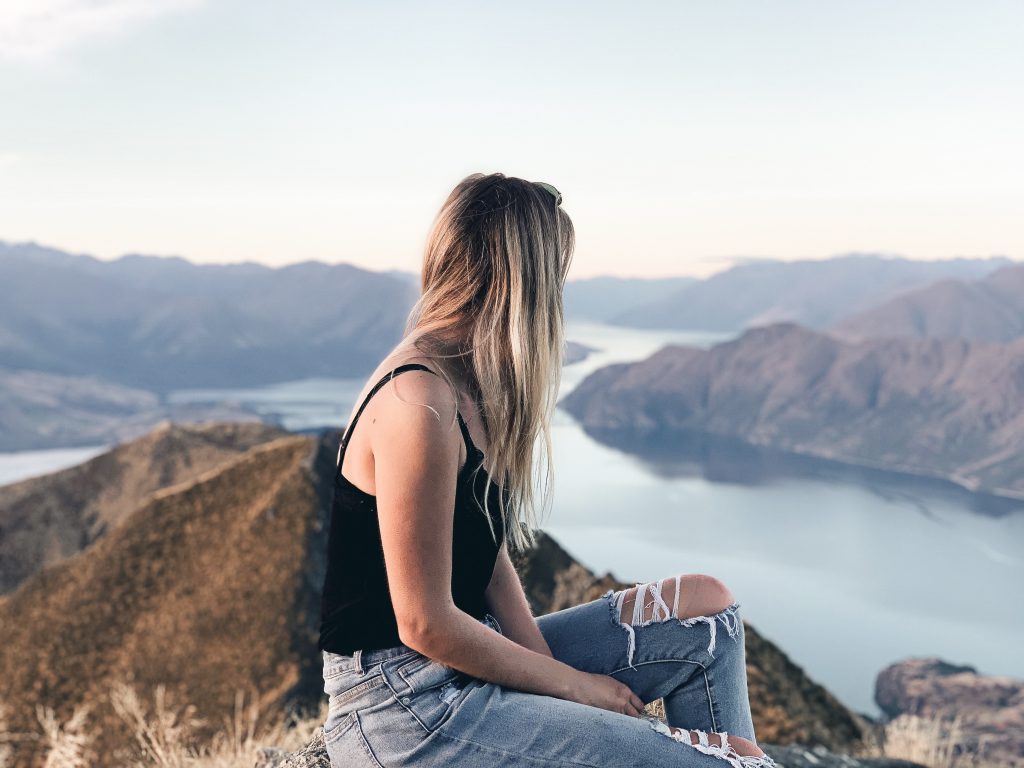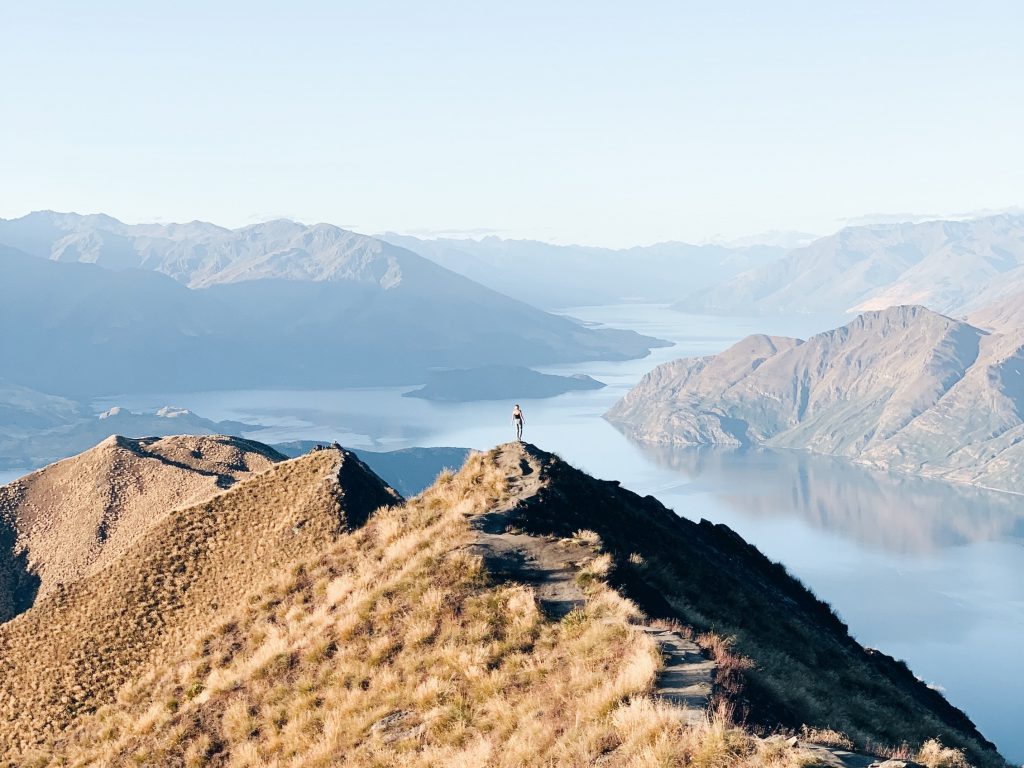 Day 11 & 12: Wanaka – Queenstown
Driving time: 1h 5m on day 11, no driving required on day 12
Total distance: 65 km (40 miles)
In the morning, drive from Wanaka to Queenstown. It's a relatively short but just as beautiful drive through stunning landscapes.
Queenstown is one of the most incredible and beautiful towns on the entire island, so I'd recommend spending two whole days here. You're gonna love the vibe this little town has! There are a lot of different things to do, so there's something for everyone!
Things I love to do when in Christchurch:
Stroll through the local market
Take the gondola up to the Skyline Queenstown complex for incredible views over the town
Grab a coffee or ice cream at one of the lovely cafes
Drive up to Glenorchy (best place for an incredible sunset!)
Chill at the waterfront
Grab a (veggie) burger at the famous Fergburger
Go hiking. I loved the challenging but incredible Ben Lomond hike.
Daredevil? If you want to include a bit more adventure into your South Island road trip itinerary, Queenstown is the place to be! You can do any extreme sport you can possibly imagine, from skydiving and bungee jumping to all kinds of water activities – and much more! I'd recommend booking your activities a little bit ahead, to make sure you can enjoy them on the dates that suit you.
Queenstown is a popular town, so you'll find lots of stores, shops and big supermarkets. There's also plenty of accommodation. I'd book ahead of time, especially during peak season.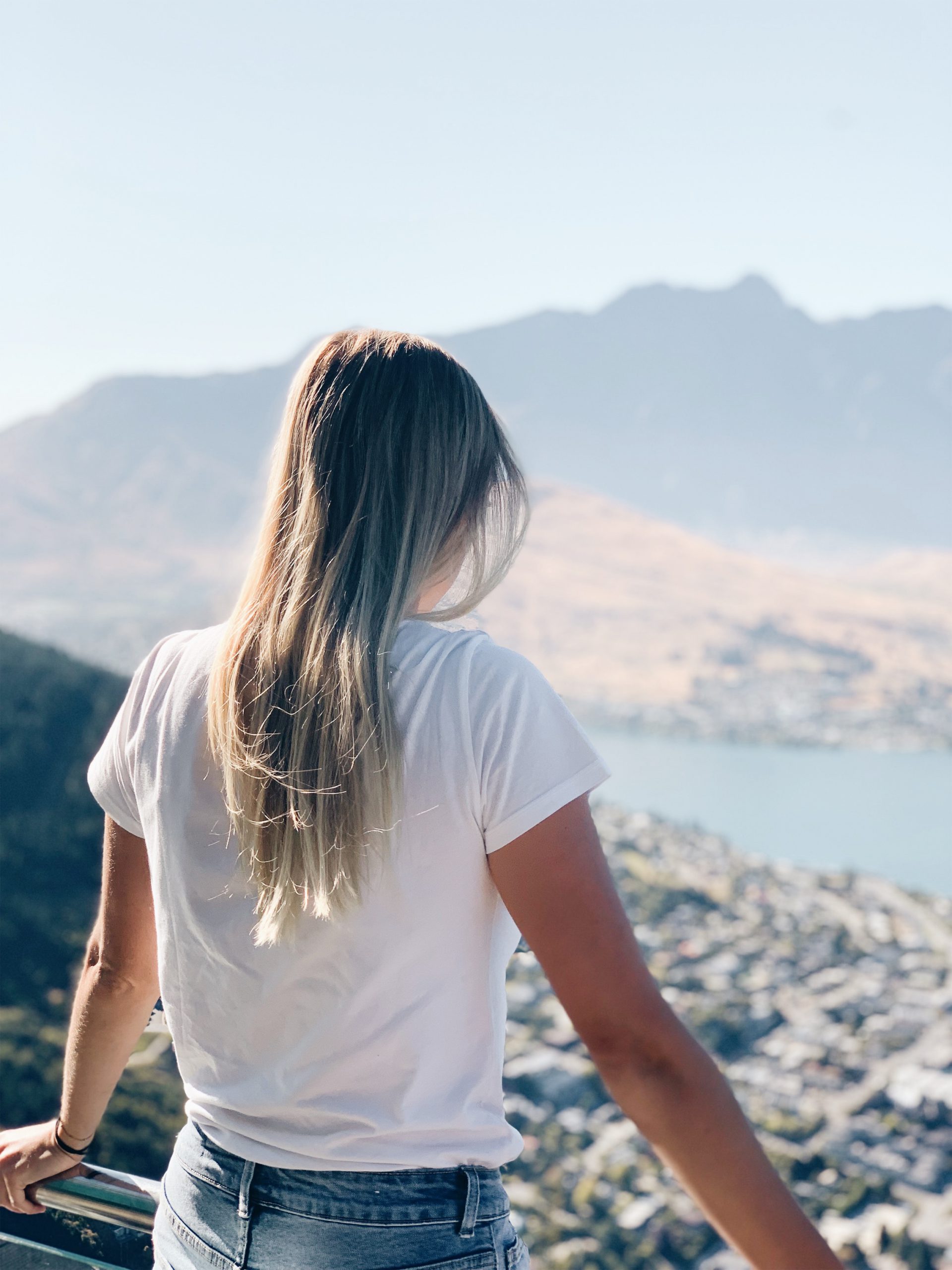 Day 13: Queenstown – Fiordland National Park
Driving time: 3h 45m
Total driving distance: 285 km (177 miles)
Today, you have some more time to enjoy the wonderful vibes of Queenstown. Perhaps you've booked an adventure, or maybe you want to stroll past the shops and drink coffee in one of the many waterfront cafes. It's up to you! When you're all good to go, start driving towards the west coast, passing Te Anau to enter Fiordland National Park.
Plan your trip to Milford Sound
Tomorrow's all about exploring Milford Sound, the most famous fjord of the National Park. For this, I recommend booking a cruise (I always go with JUCY, they have fun tours that are budget-friendly). I prefer to take an early morning one (starting at 9 am), so you can avoid the crowds and enjoy the quiet nature. Spend the night as close to Milford Sound as possible, to avoid long drives in the morning.
Important to know: the area between Te Anau and Milford Sound becomes increasingly remote. There are no supermarkets and no gas stations, so make sure to stock up on things you need in Te Anau. Likewise, there is barely any cell reception. Make sure your accommodation and the Milford Sound cruise is booked ahead of time!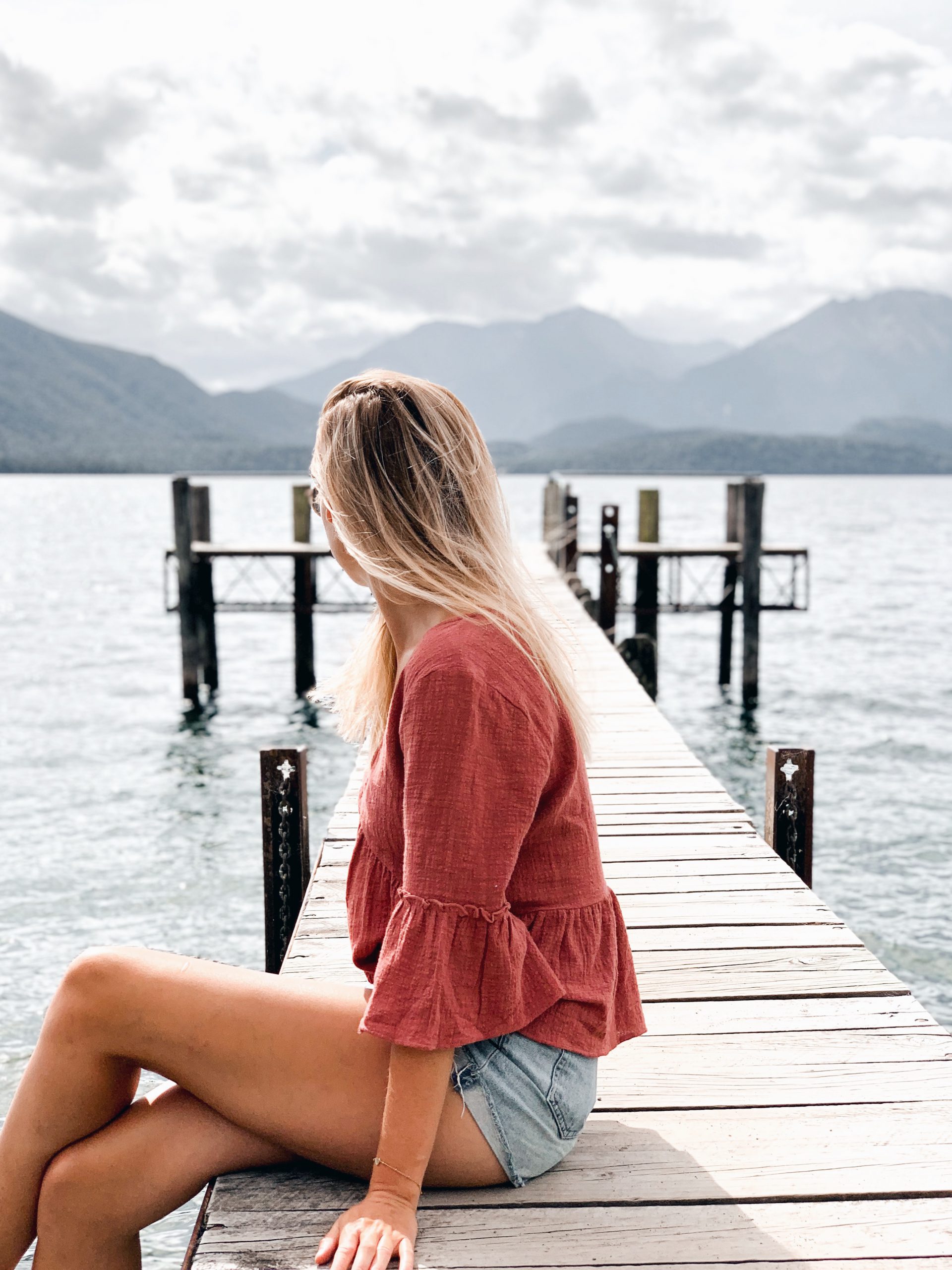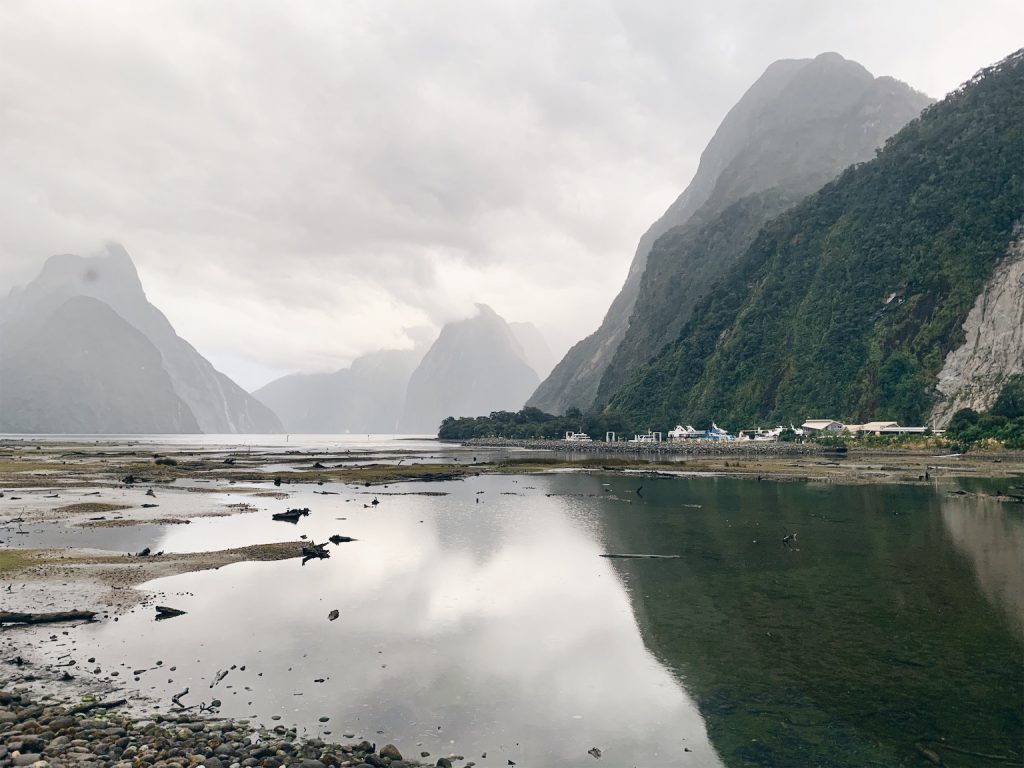 Day 14: Milford Sound – The Catlins
Driving time: 4h 35m
Total driving distance: 355 km (220 miles)
In the morning, drive from your accommodation to the Milford Sound jetty. Make sure you leave on time, especially since the tour operators expect you to be there ahead of time and the roads can get busy. Then, enjoy a beautiful cruise along some of the most beautiful fjords in the world! Depending on the time your cruise finished, explore surroundings a bit more by going for a walk through the area.
Customize your fjord experience: if you absolutely love nature and aren't as much of a town person, I'd recommend spending one less day in Queenstown. Simply start driving towards Fiordland National Park on day 12 and enjoy an additional day in this beautiful world heritage area.
In the early afternoon, drive towards the southeast coast of the island. Upon passing Te Anau, you may want to stock up on food or anything else you need, or grab a coffee or lunch. Then, drive towards The Catlins, a natural area known for its incredible opportunities for wildlife spotting. In the area, you'll find anything from sea birds and penguins to dolphins and seals.
Penguin spotting
For the evening, find accommodation near the southern border of the Catlins. After checking in, visit Curio Bay. This is the perfect place to spot the endangered yellow-eyed penguin in its natural habitat. I visited a lot of places in The Catlins, but this was the place where penguins were more visible and punctual, haha. Read my experience & tips for spotting yellow-eyed penguins here.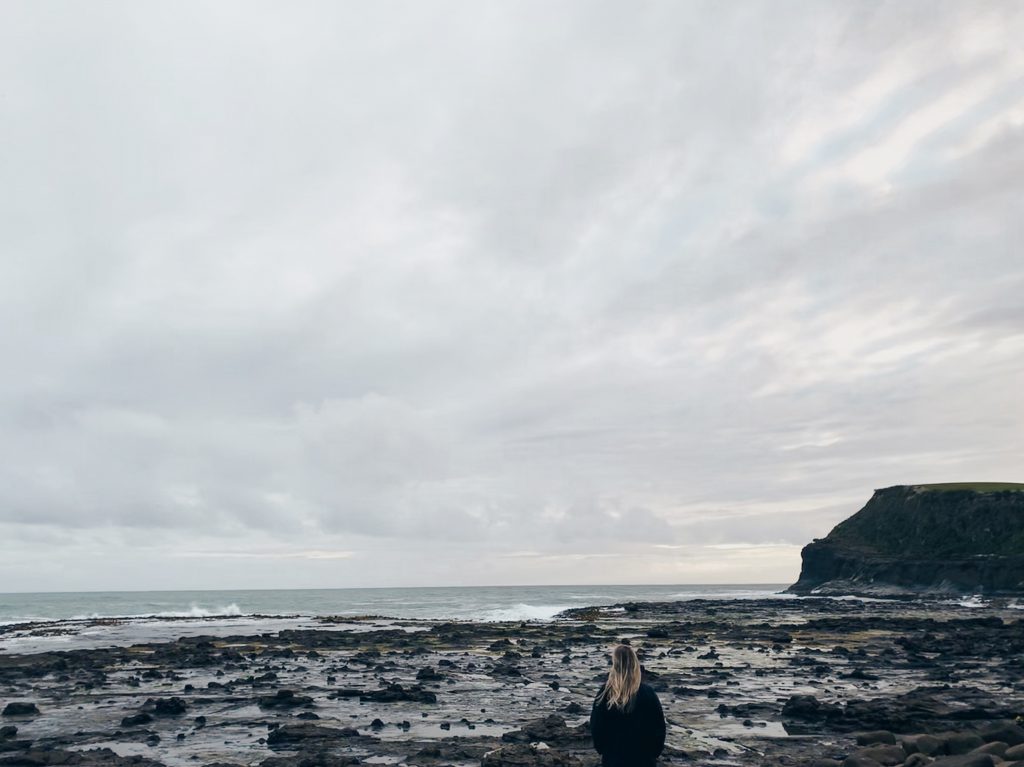 Day 15: The Catlins
Estimated driving time: about 2h, depending on your activities
Estimated total distance: about 115 km (71 miles)
Time + distance depend on the route of your Catlins activities
At the beginning of the third week of this South Island road trip itinerary, you get to explore some more of the beautiful Catlins!
There are lots of i-sites you can visit for information, but you can also ask your accommodation for a map. If you want to plan ahead of time, check out this online map. It shows the best places to spot different kinds of wildlife, so you can map out exactly where you want to go.
There is one spot I particularly recommend you to visit: Nugget Point. It's located near the northern border of The Catlins, so it's the perfect spot to end your Catlins adventure. Stroll from the parking lot to the lighthouse and be in awe by the incredible view. Depending on your time of visit, you can watch an incredible sunset! I'm not sure why, but of all the places I've visited in New Zealand, this spot is one of the things that made the greatest impression on me.
In the evening, head back up north to spend the night near Kaka Point.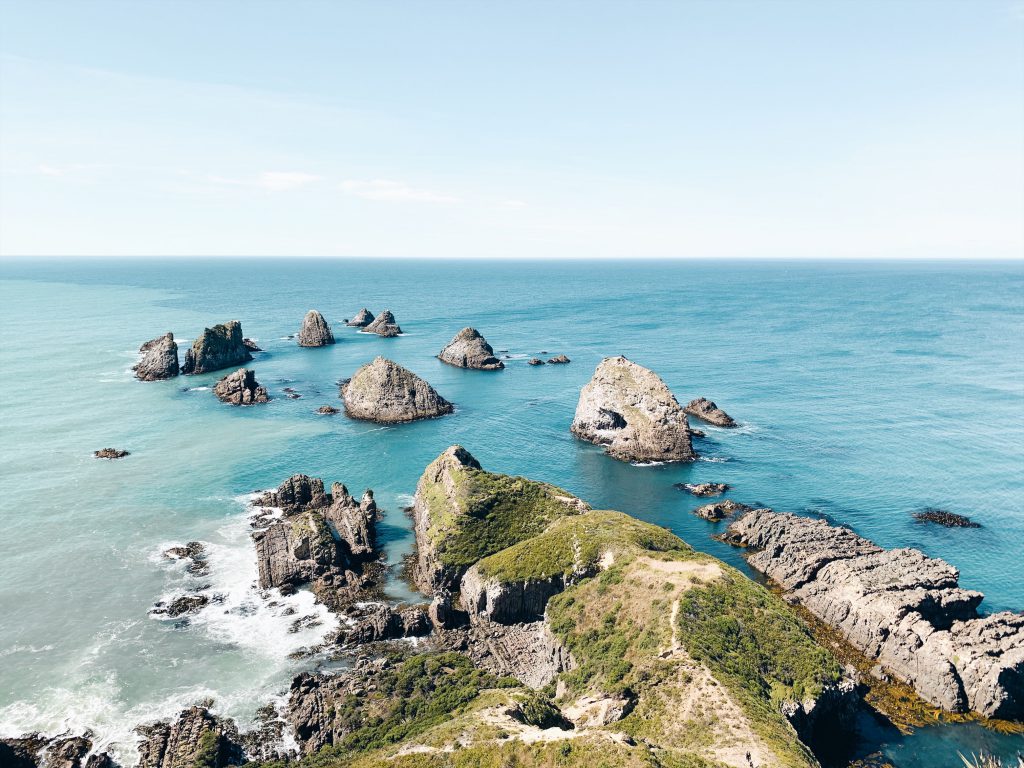 Day 16: The Catlins – Lake Pukaki
Driving time: 4h 10m – 4h 30m (depending on your route)
Total distance: 350-375 km (217-233 miles)
Day 16 of the itinerary is all about making your way up north. You're driving a significant distance, but luckily there are lots of incredible things to see on the way. Drive from The Catlins, past Cromwell and Omarama, to Twizel until you finally reach Lake Pukaki. I absolutely love Twizel. If you want, stop for coffee or lunch in this lovely little town just south of the lake. However, my favorite part has to be the gorgeous Lindis Pass you'll encounter on the way – this place is unreal and almost unearthly!
Customize your trip: you can also choose to drive a little more past the southeast coast. Visit Dunedin and see the world's steepest street. For this, take the following route: Dunedin – Papakaio – Otematata – Omarama – Twizel – Lake Pukaki (4h 30m, 375 km (233 miles).
Tip: stop for groceries somewhere along the way. The shopping opportunities are limited in Twizel and beyond. Upon arrival, you can find accommodation near the town. Or if you prefer in one of the towns along the way, simply drive a little more the next day.
Day 17: Lake Pukaki – Mt. Cook
Driving time: 30m
Total distance: 40 km (25 miles)
On day 17, you get to explore the beautiful Lake Pukaki. Along with Lake Tekapo (day 19), it's my favorite lake on the island. The blue color of the lake is absolutely amazing, unlike anything you've ever seen. Seriously, it's unreal! And the best thing? You can do a lot of fun things in the area!
Some must-do activities along the lake are:
In the late afternoon, head over to Mt. Cook. Drive all the way along Lake Pukaki on what I think is one of the most scenic roads in the entire world. Be in awe by the amazing views as you slowly get closer to Mt. Cook. Watch an incredible sunset and enjoy the rest of the night in accommodation near the mountain.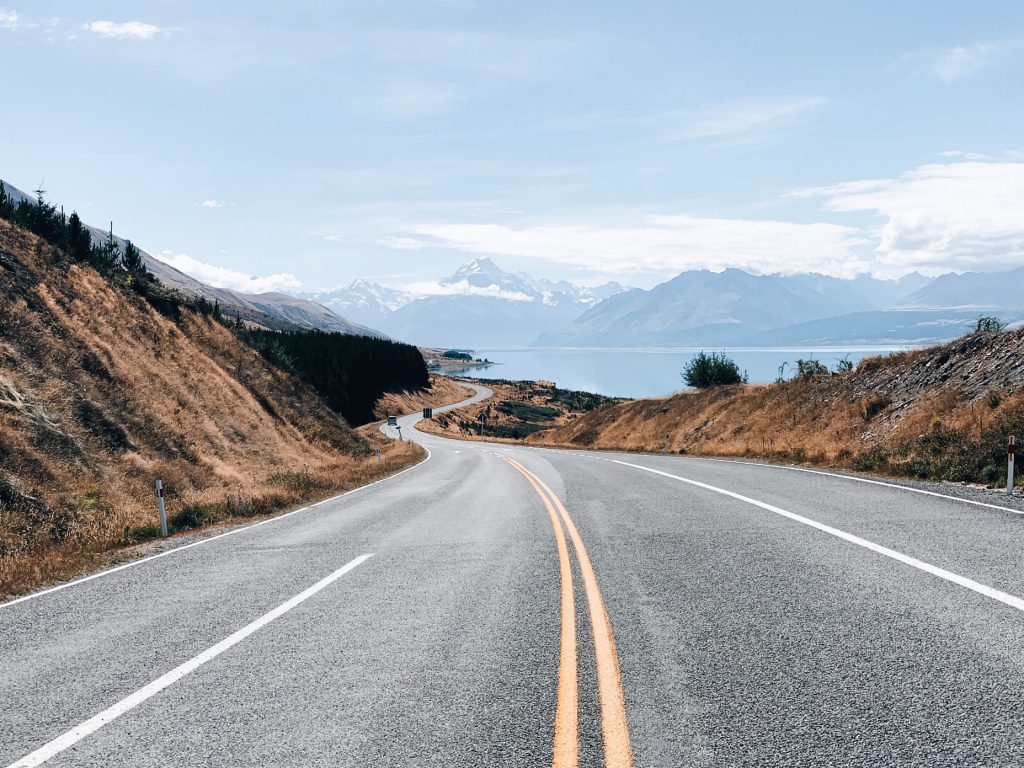 Day 18: Mt. Cook
No driving required
Today you get to explore beautiful Aoraki/Mount Cook National Park. Visiting the mountain is a great way to explore the famous Southern Alps. There are lots of fun things to do in the area. For example, I recommend going for a hike. Yes, again – hiking is just such a fun way to explore the beautiful country! On top of that, New Zealand has lots of well-developed hiking trails, making it accessible for lots of different people.
If you're looking for a trail that is very accessible, doesn't require much fitness yet still takes you from one great view to another, the Hooker Valley track may be right for you. It's absolutely beautiful and brings you quite close to Mt. Cook. Curious? Here, you can read about my experiences and see my pictures. Because it's quite popular, I'd recommend going early in the morning. If you're looking for something more challenging or less busy, check out the DOC website for many more trails in the area.
Stargazing
One thing you absolutely cannot miss while you're in the area, is going out at night for some incredible stargazing. The Lake Pukaki/Mt. Cook area has some of the darkest skies in the world, so it's perfect for not only seeing starts, but also the Milky Way. It absolutely had me in awe! Other good places for star & Milky Way gazing are Wanaka, Queenstown & Glenorchy and Lake Tekapo.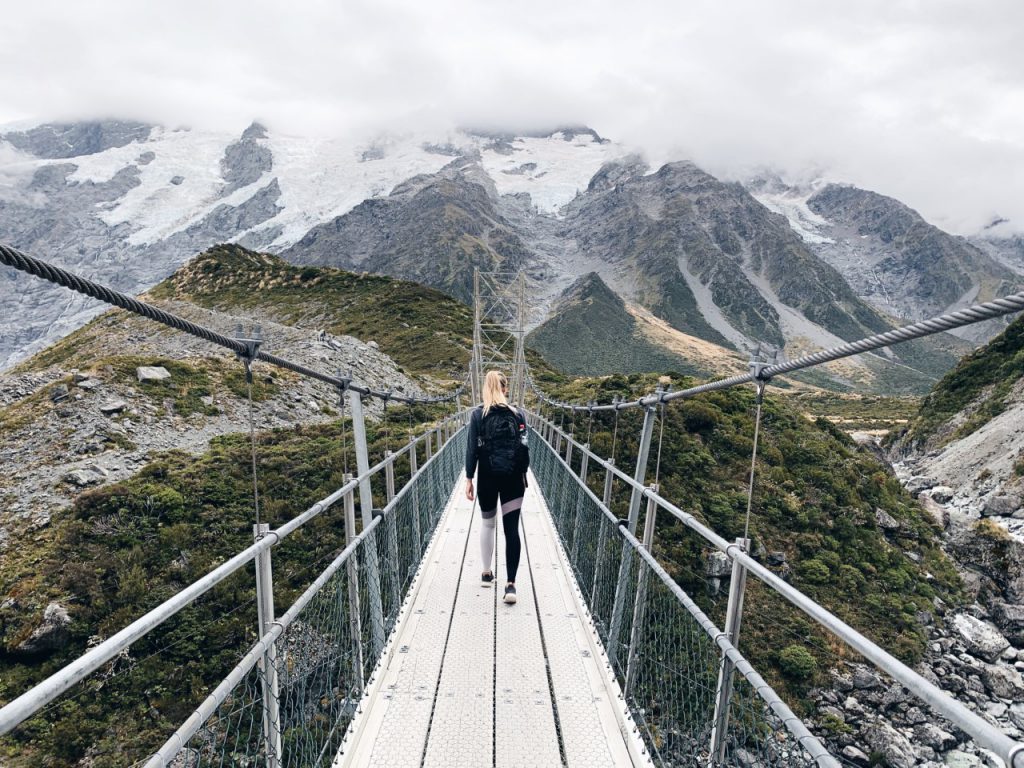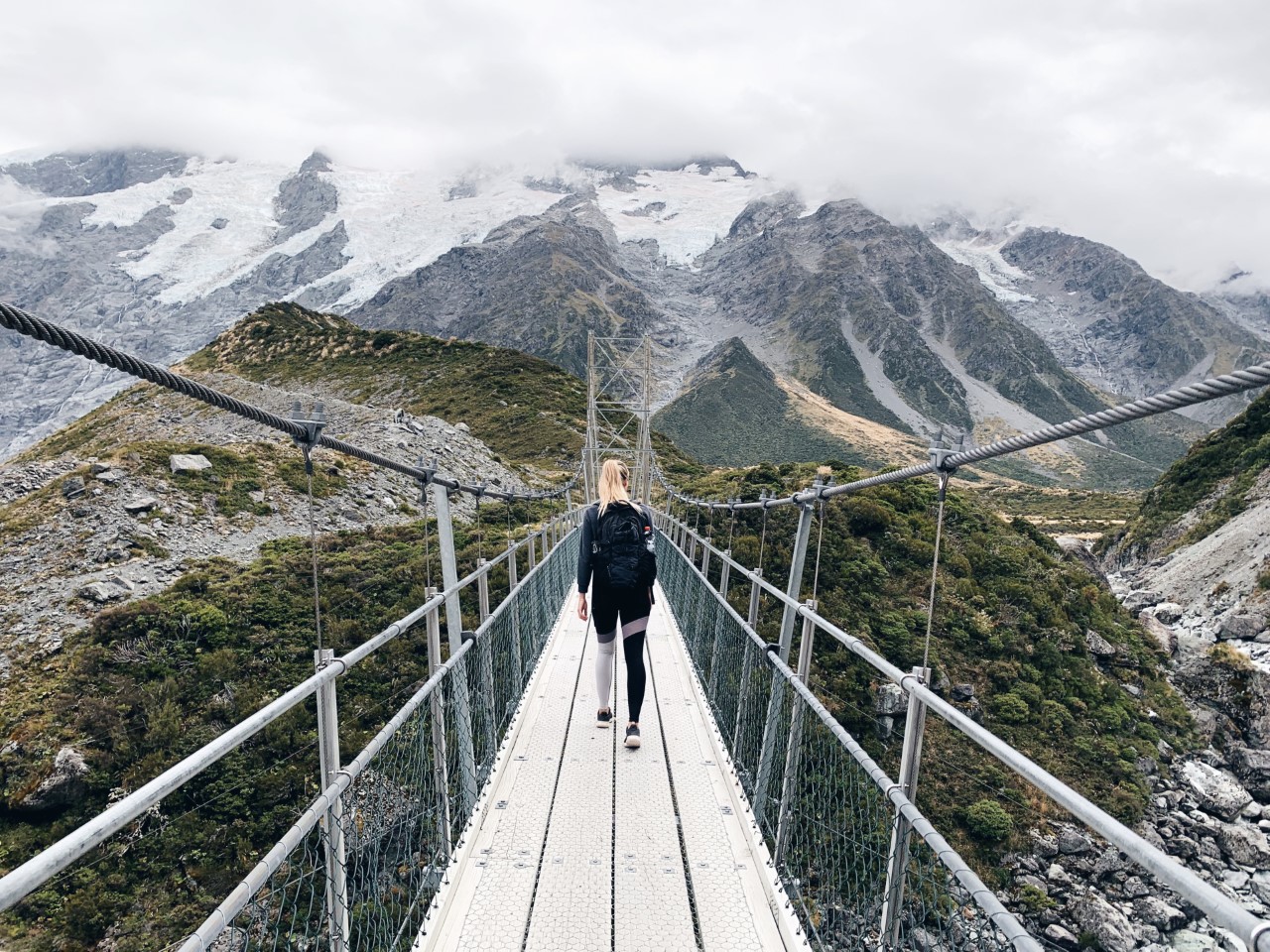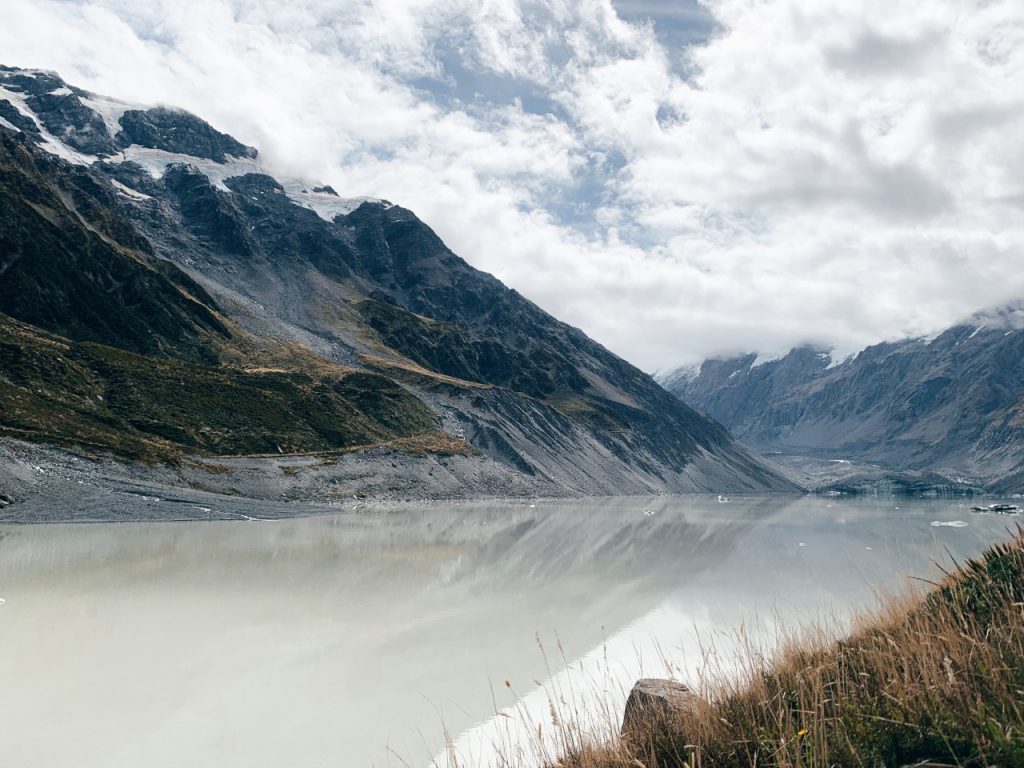 Day 19: Mt. Cook – Lake Tekapo
Driving time: 1h 15m
Total distance: 105 km (65 miles)
In the morning, hop in the car and head from Mt. Cook, past Lake Pukaki, to the next gorgeous lake: Lake Tekapo.
Just as at Lake Pukaki, I'd highly recommend hiking along the lake to take in the beautiful views. If you want, bring some food and drinks: Lake Tekapo is yet another place for a beautiful picnic. If you need to, you can get some groceries in the town.
Another fun thing to do near Lake Tekapo is to head up to the Mt. John observatory. You can drive your car up to the observatory, walk around or have a drink in the cafe. Stop for a minute to take in the amazing views over the area. Oh, and if you're looking for a really unique experience and want to splurge a bit, look into a summit stargazing experience! Spend a final night in the New Zealand nature somewhere close to the lake.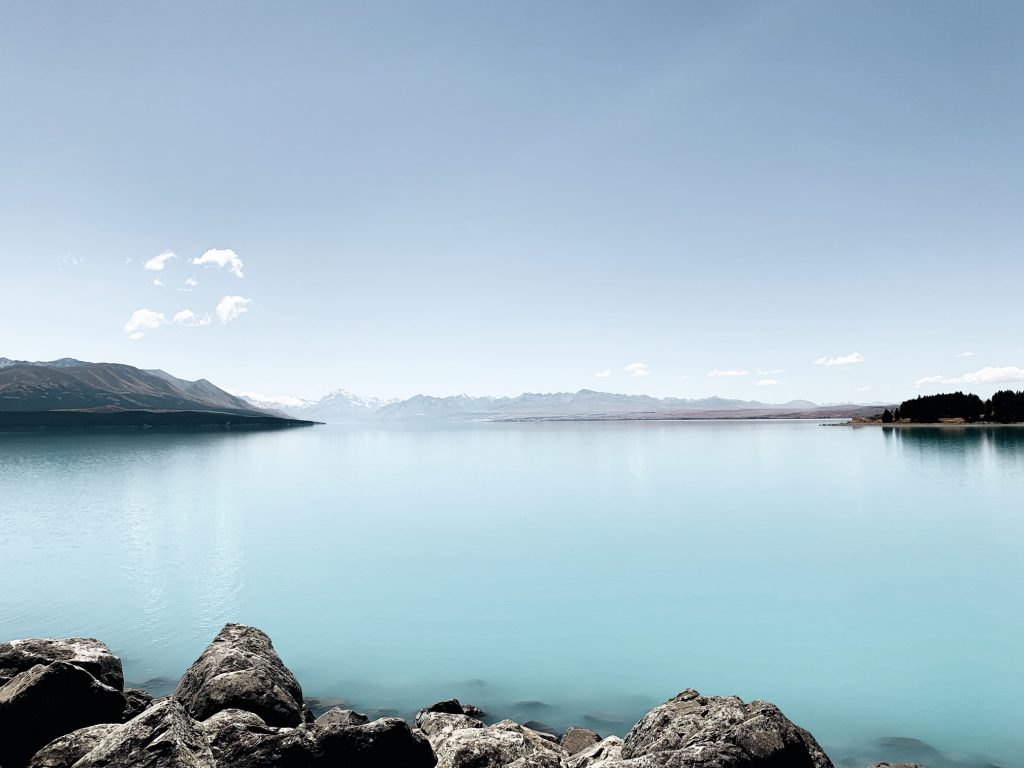 Day 20: Lake Tekapo – Christchurch
Driving time: 2h 50m
Total distance: 225 km (140 miles)
In the morning, spend a little more time enjoying the incredible views of Lake Tekapo. Then, get back into the car for one last road trip. In about 2,5 hours, head to both the final stop and the beginning point of your South Island trip: Christchurch.
Now, you're able to explore the city. Christchurch has quite a complicated history, with the 2011 earthquakes destroying a large part of the city and the 2019 terrorist attack shaking up the country. The country has spent a lot of time and energy rebuilding it. Though it was a bit of a ghost town when I visited back in 2015, I really have come to love this city this time around.
If you want to do something fun in the afternoon, you can hop on the Christchurch Gondola for a great view of the city and its surroundings. In the evening, head over to Little High, a local food court. It's great to mingle with the locals on shared tables, taste every kind of different food you can imagine. Have a few drinks, unwind and look back on your big adventure.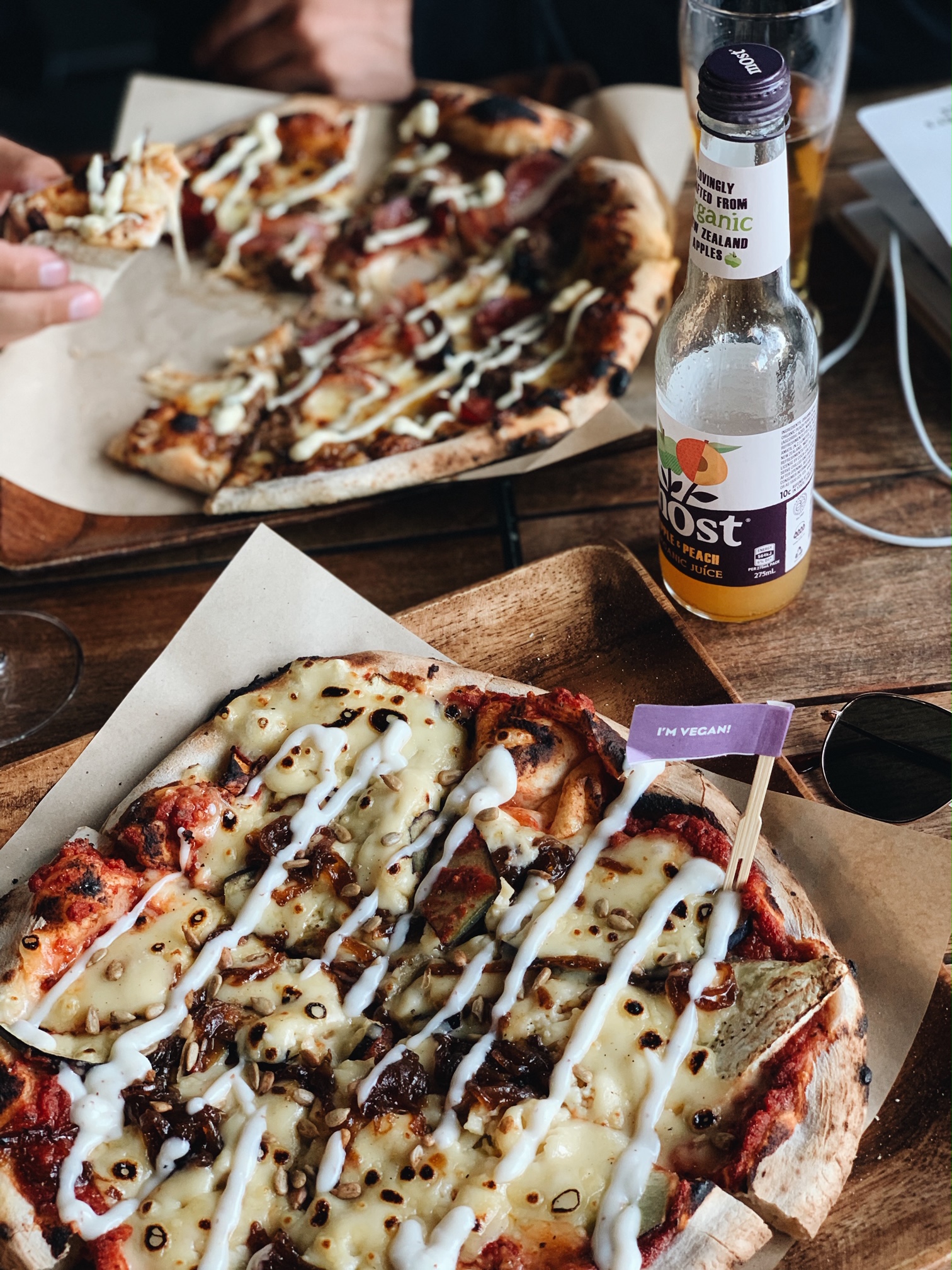 Day 21: Christchurch
No driving required
The final day of the itinerary has come! Today, you have a little more time to explore Christchurch.
In the morning, I recommend visiting Christchurch's Botanical Garden. I come here every time I visit the city, it's wonderful! If you want, pay a visit to the National Earthquake Memorial. It's quite impactful to see and part of what has come to define the country. In the city center, you can still visit the old cathedral that was largely destroyed by the earthquake. Stroll through the city and take in the vibes as tourists mix with locals.
Finally, head back to your accommodation, start packing up your stuff and get ready for your next adventure or trip back home.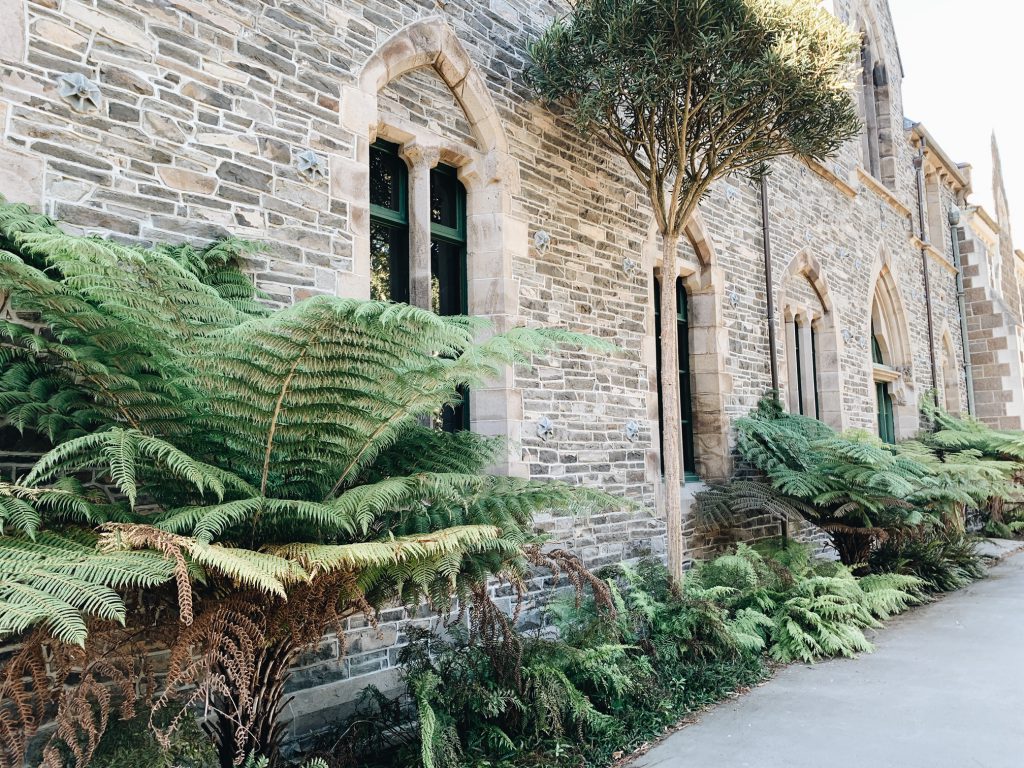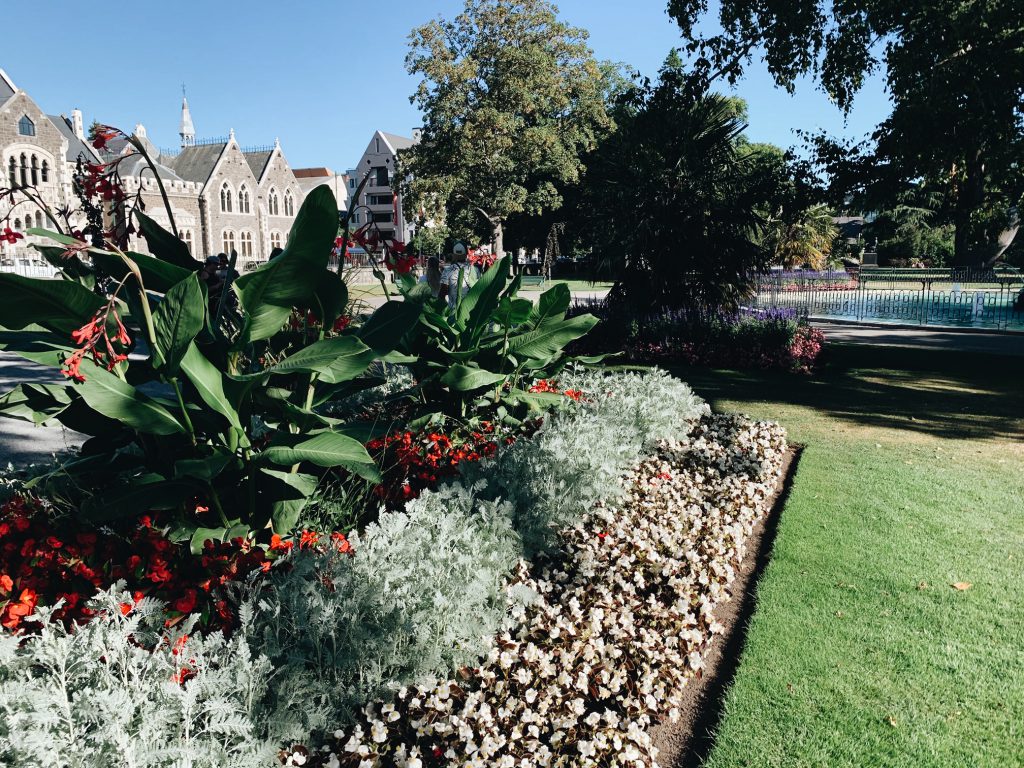 Tips for your South Island road trip itinerary
For the complete overview of all my best tips and recommendations, check out my complete first-timer's travel guide to New Zealand!
Where to stay
As you see, I haven't mentioned much about accommodation in this road trip itinerary for the South Island. That's because there are a lot of different options. I personally love camping (great views and super budget-friendly!), but I know it's not for everyone. So many travelers have so many different experiences in New Zealand. Because of that, you can do exactly what you like best!
Some popular South Island accommodation options & more information on them:
For campsites, you usually don't need to book ahead. Some free ones or those with limited spaces may be full, though there are usually lots of other options nearby. I would recommend booking hostels & hotels in advance, especially during peak season.
Where to eat
Where and what to eat is another matter of personal preferences & budget! As always, New Zealand offers many options, so you can totally customize your trip the way you want to. If you're on a tight budget, try cooking as much of your food yourself and work with seasonal products to save lots of money (check out 20+ more budget tips here!). If your budget allows it, enjoy visiting local cafes and restaurants and try the local specialties.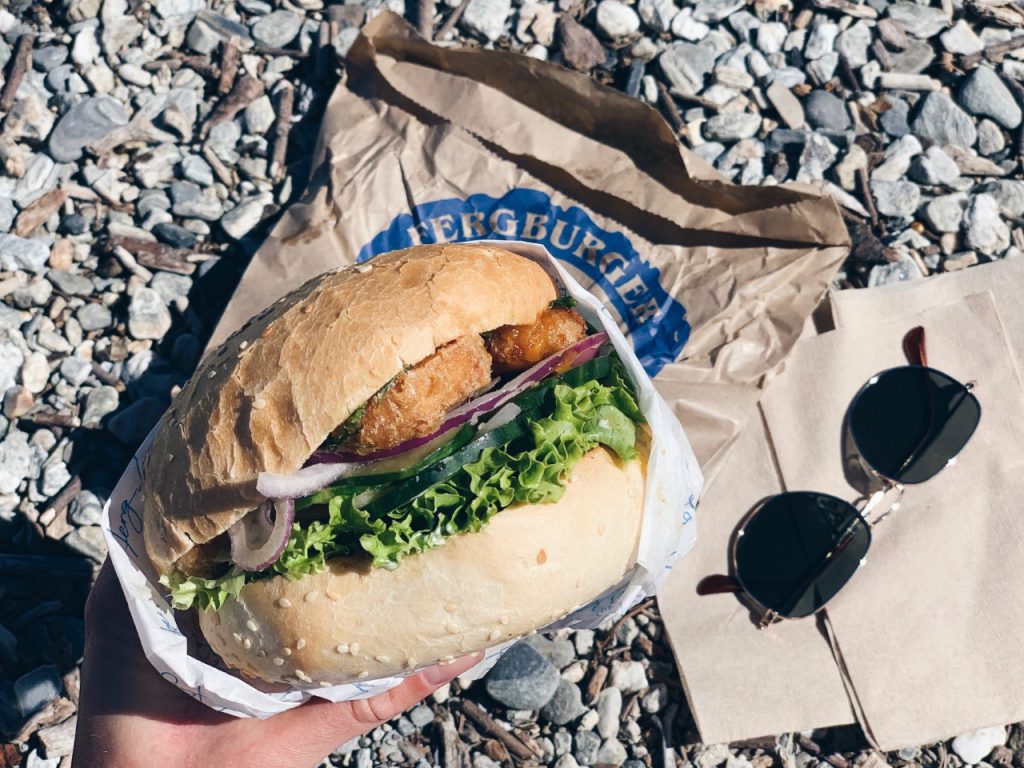 Where to shop
As you may have noticed, in some areas in this South Island road trip itinerary, you need to plan ahead a little bit in terms of shopping – especially when you're going to Milford Sound! Luckily, pretty much all towns in New Zealand will have at least one shop. More often, you'll even find several big supermarkets. Well-known large supermarkets are PAK'nSAVE (my go-to), Countdown and New World. In smaller towns, you'll often find local shops and Four Squares.
For camping gear and other non-food products, check out Kmart and the warehouse. They offer good quality stuff for really good prices and have anything you could possibly need.
Prop tip: always check the weather
It really is worth checking the weather in various places before starting on your road trip. Case in point: when my mom was visiting us back in 2019, we did a quick 2-week trip around the island. We had amazing weather every single day. In the end, we met people who traveled exactly the same route as us, but the other way around. They had had rain every day of their trip. That's awful! With good weather, most sights are just more spectacular and more activities can be done. So, it really is worth checking the weather and adjusting your trip a bit if needed.
Let's go!
This 3 week South Island road trip itinerary should have you all set to go out and explore the beautiful island. Want to know everything else there is to know about the South Island? Continue reading below, check out all my South Island blog posts or follow me on Instagram for inspiration. I hope you have the best time in the country – let me know which part of the island you love the most!
Some links in this post may be affiliate links, meaning I earn a small percentage of any purchase made. They're at no extra cost to you, but allow me to keep creating new content for you guys. Of course, you're free to use any other link!
Liked this post? Save it for later!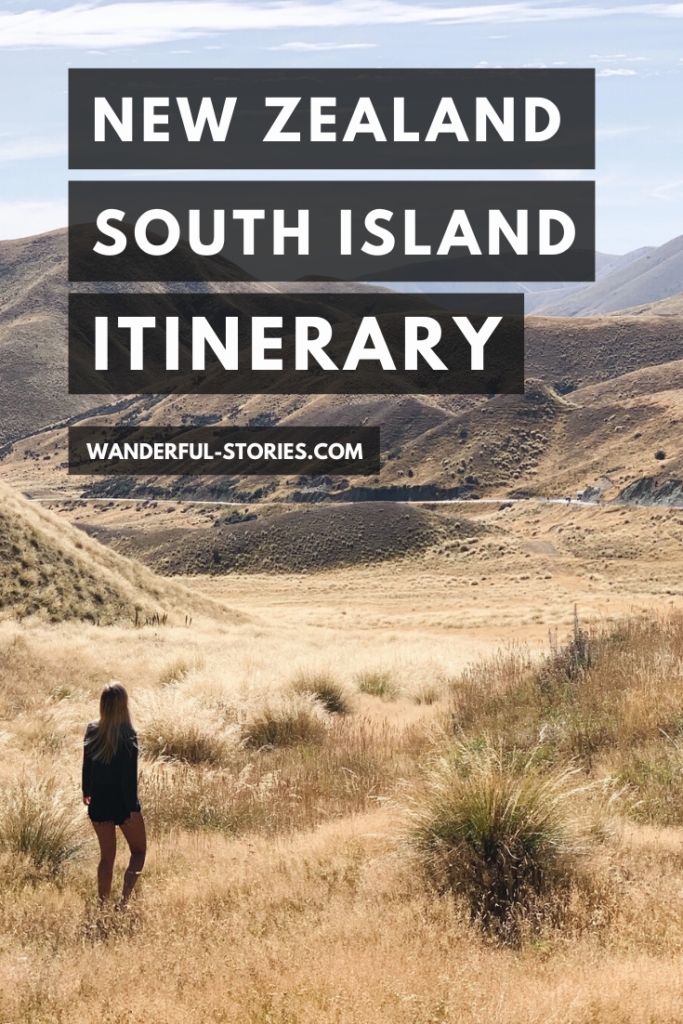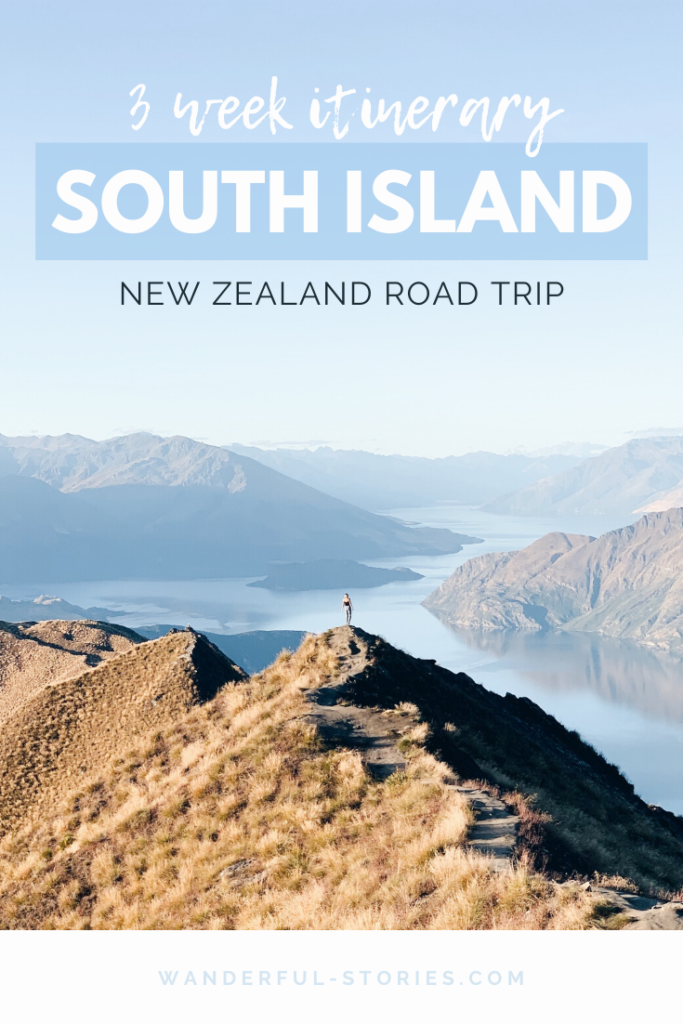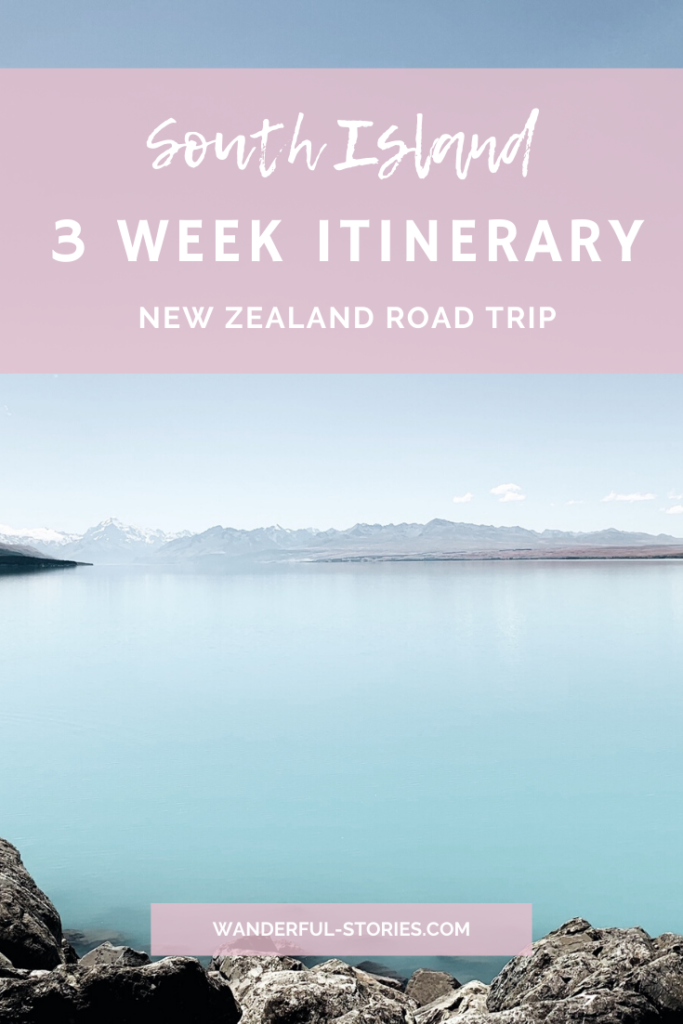 ---
Tips for your South Island road trip