New Zealand is a beautiful country: the mountains, the national parks, the wildlife – I could go on and on! However, it's also kind of a big country that may seem intimidating to make your way around at first. How will you get from one highlight to the next? Don't worry, I've got you covered! In this post, I'm sharing 8 ways to travel around New Zealand. Hopefully, it'll help you plan your trip to this incredible destination.
I've traveled to New Zealand twice now: in 2015 I visited for about 7 weeks and in 2019 I stayed for 6 months. Both times, I traveled around both islands by car. The first time I rented one, the second time I bought one. I absolutely loved these experiences. However, there are many more options, so there's a perfect option for everyone. Let's dive straight in!
Different ways to travel around New Zealand
Here's an overview of the ways to travel around New Zealand you're gonna find in this post. Of course, you can combine several of the options below and design your trip to be completely yours!
1. By car or campervan: complete freedom
The most common way to travel around New Zealand is probably by driving a car or campervan. I've chosen this option during both of my travels in the country. I absolutely loved it and would recommend it to anyone. It gives you all the freedom you could wish for in terms of planning (or not planning) your trip.
Within this type of transport, there are many variations. So, you can fit it exactly to what suits you and your plans best. You can choose anything from a simple car to a fully equipped campervan. Likewise, you can decide if you want to rent one at an agency, or buy (and later sell) your own. Let's look at the options!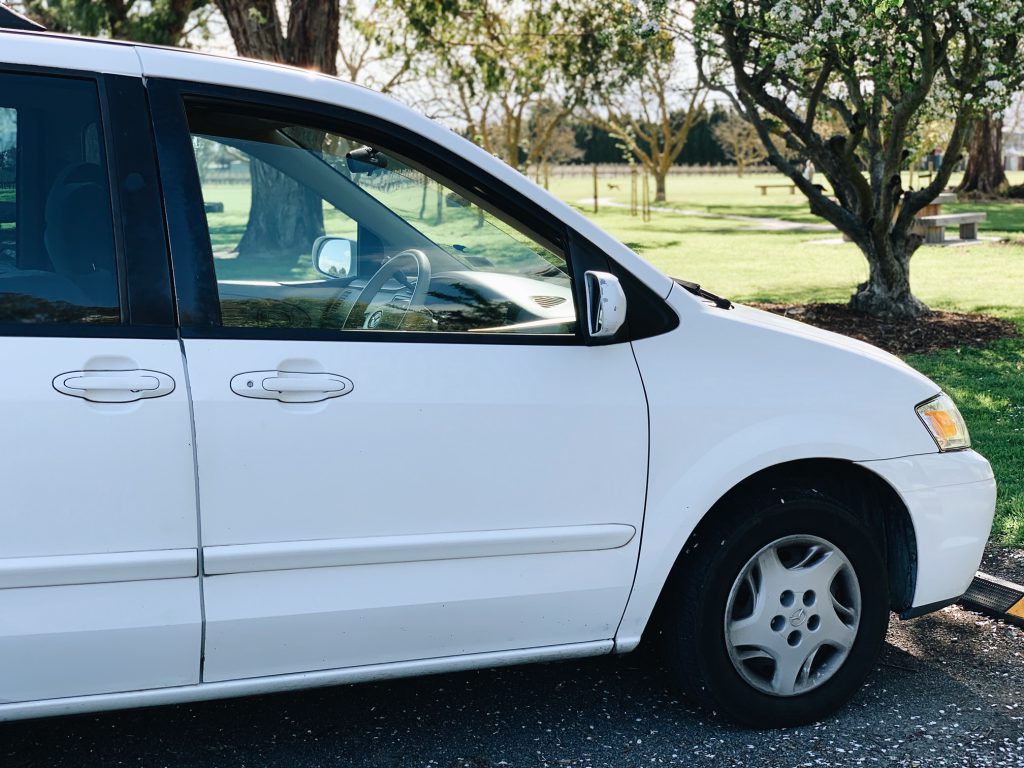 Should you pick a car or campervan?
Whether you should go for a car or a campervan depends on a few things. First of all, what kind of vehicle do you want? Do you prefer a big van or would you rather drive a car? Next, where do you want to sleep? If you want to sleep in your vehicle, go for a campervan or a big backpacker car that's equipped with a bed. However, if you prefer sleeping in a tent or staying in hostels or hotels, a regular car might be a better fit.
Also consider your budget: campervans may often be fully equipped, but they come at a much higher price – both for renting and buying. On the other hand, they're a little spacier and may enable you to stay on more (free) campsites. If you want to know more about these differences, you can read all about them in my complete New Zealand camping guide.
Renting vs. buying
Then, there's the question of whether to rent or buy. I've done both options once, and really enjoyed both experiences. In the end, it really depends on what kind of trip you're planning.
Recently, I wrote a blogpost on buying your own backpacker car in New Zealand. In it, I included a pro/con list of both options. It can help you figure out which option is the best for your travel plans. Oh, and if you do decide to buy a car, it also explains the entire process step-by-step!
Good to know: the legal age for renting a car in New Zealand usually is anywhere between 21 and 25. Depending on the rental agency, you may have to pay additional charges if you're younger than 25 years old.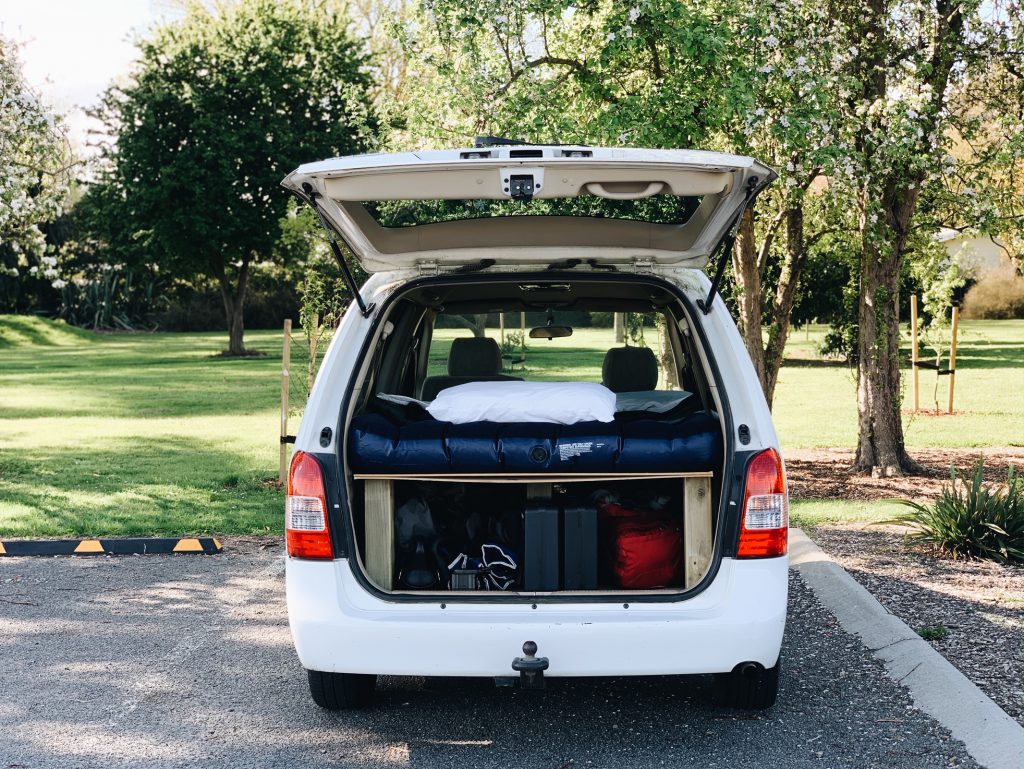 2. By bus: the social experience
If you're traveling alone, don't have a driver's license or driving yourself just isn't your thing, another popular option is taking the bus. There are several types of busses in New Zealand. They all have their own unique features, so you can choose exactly the type of experience that fits you. The 3 most common types are:
Coach – this public transportation network is often the cheapest option. The most well-known operator is InterCity, which can take you pretty much all over New Zealand. Fares start from as low as NZ$1, but you can also buy travel passes and deals.
Hop-on hop-off busses – this well-known way of traveling is especially popular among backpackers. One of its biggest advantages is the social experience it offers, so it's great for solo travelers! Although often a bit more expensive, this type usually offers great extras: they can often hook you up with a good hostel or organize tour deals. A variety of passes is available from different operators, such as Kiwi Experience and Stray.
Organized bus tours – probably the most expensive option of all, organized bus tours offer a third unique experience. They're ideal if you want your trip to be fully organized and taken care of, and if you love to travel in a group. A fun company for young travelers is Sweet As Travel.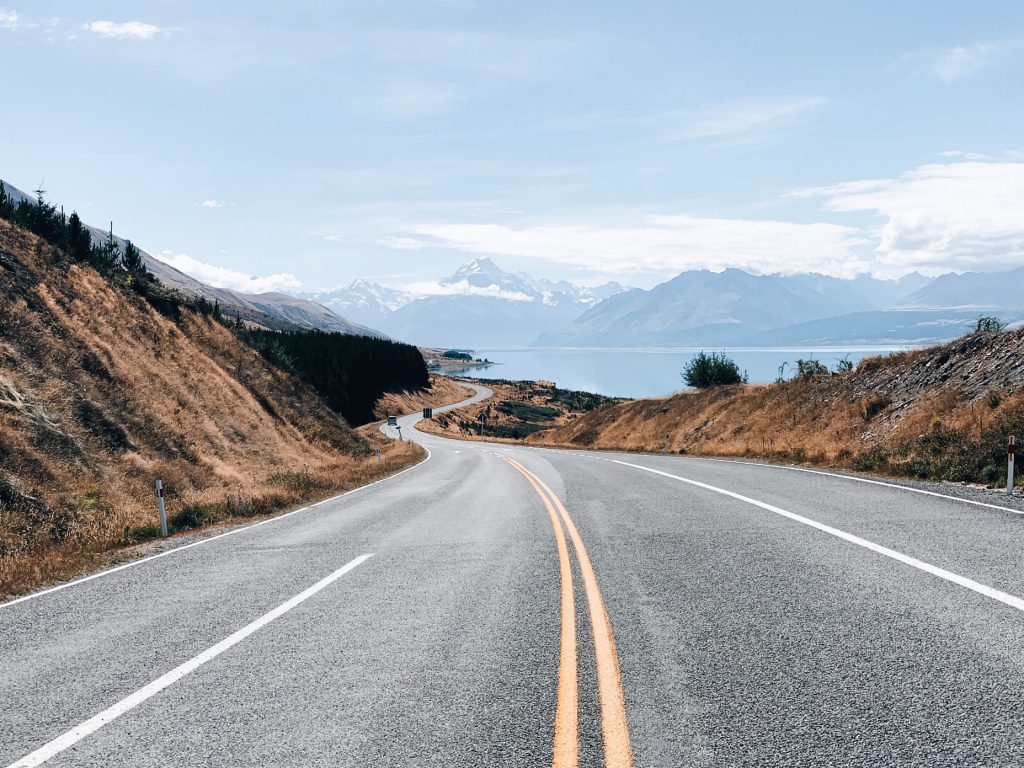 3. By train: scenic routes around the country
Compared to a lot of other countries, trains aren't a common way of getting around New Zealand. The number of tracks is limited, as are the stops. But although trains aren't the most popular form of transportation in New Zealand, the tracks that do exist are supposed to offer really beautiful views! Currently, there are three lines that run through the country for passenger transportation:
Norther Explorer – between Auckland & Wellington, crossing the North Island from north to south
Coastal Pacific – between Picton & Christchurch, exploring the South Island's north-west coast
TranzAlpine – between Christchurch and Greymouth, crossing the South Island's famous Southern Alps.
Unfortunately, these tracks won't take you to every highlight in the country. However, you can easily combine them with some of the other options in this post, such as busses or car rental. You can find more info, departure times and current ticket costs, on the official website.
I personally haven't had the chance to explore New Zealand by train yet, but I really want to try them one! I'd especially love to hop on the TranzAlpine. This 5-hour train journey leaves once a day in either direction and is supposed to be one of the most gorgeous train rides in the world. I can't wait to try it the next time I visit!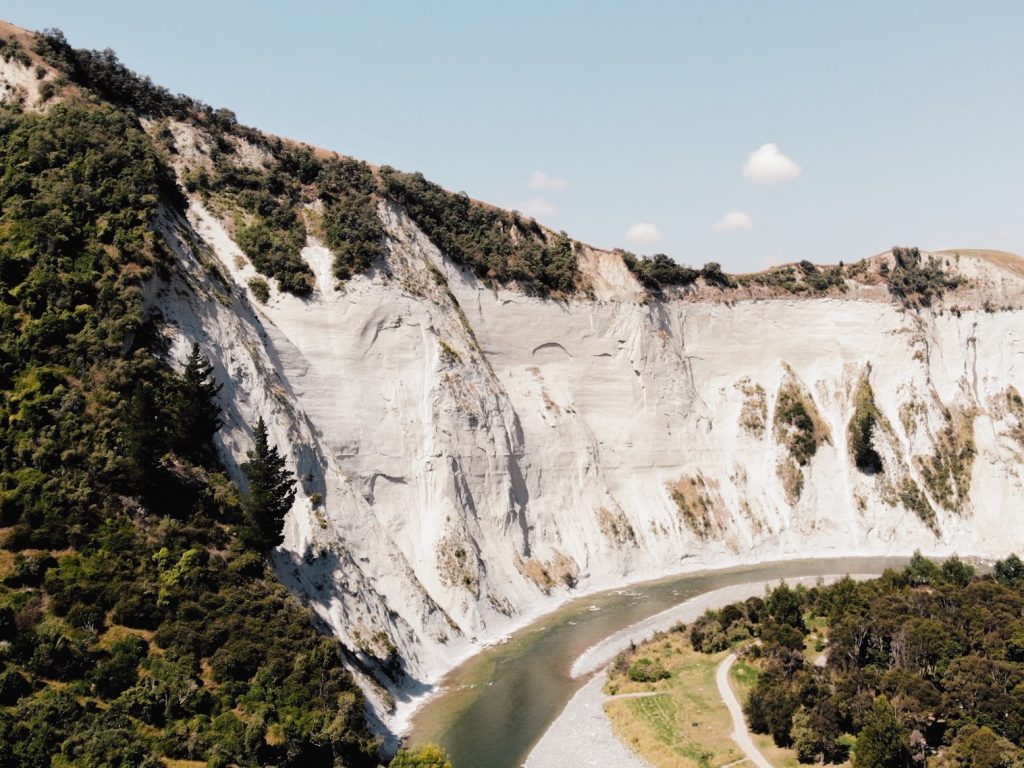 4. By plane: hop from one highlight to the next
New Zealand has quite a few airports, from big international hubs like Auckland Airport to tiny ones spread all across the country. So, by taking a plane you can hit quite a few of the country's major highlights. This option is especially worth considering if you have very limited time to spend in the country.
There are, however, also a few disadvantages. First of all, it's not the most environmentally-friendly option. It can also be quite expensive, with flights easily costing NZ$100 – 200. On top of that, take into account that you'll need local transport to actually reach the specific attractions or city centre from the airports. For this, you can simply grab an Uber or take a local taxi or bus.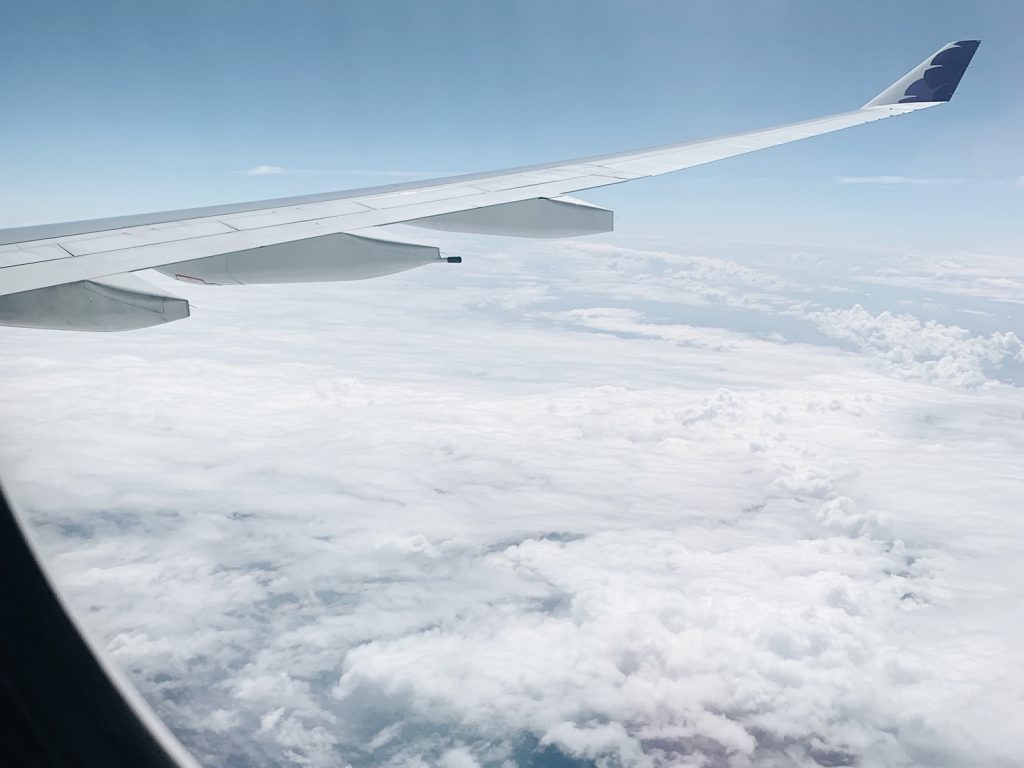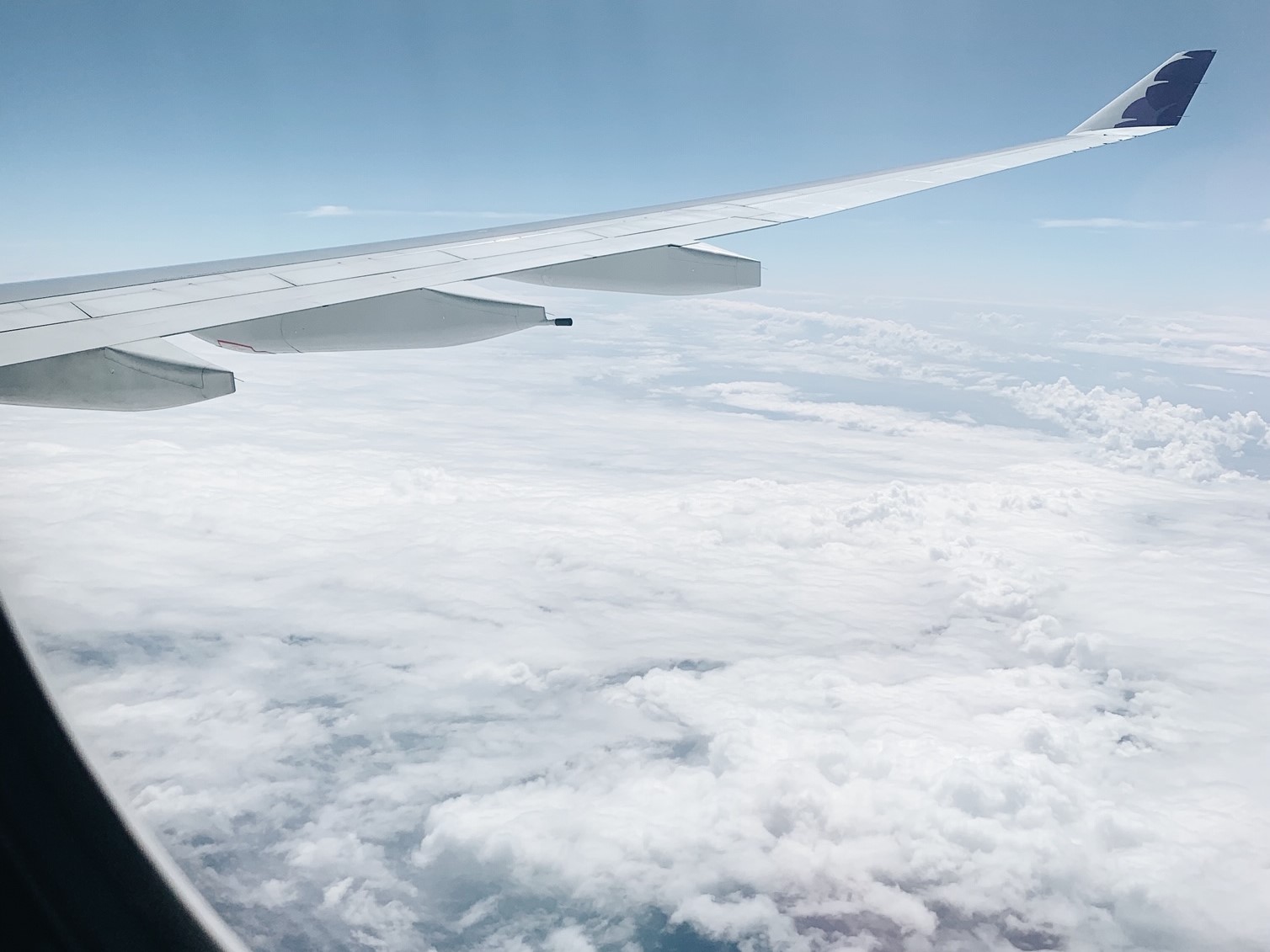 5. Hitchhiking: the ultimate budget option
Hitchhiking is the ultimate budget option to travel around New Zealand. It's a pretty convenient way to save costs in a country that's expensive enough as it is! Personally, I hitchhiked only once in New Zealand. We wanted to catch a ride to the airport to pick up our rental car. Overall, it was a fun and social experience, and it didn't cost us nearly as much time to get a ride as we expected.
So although I personally don't have a lot of experience, I do know that hitchhikers are very common in New Zealand. In general, it is regarded as a pretty safe way to travel around the country. Of course, always do pay attention to whom you're getting in the car with and trust your intuition.
Keep in mind that this budget option does take away some of your freedom. It may cost a lot of time to catch a ride, or you may not get dropped off at exactly the right spot.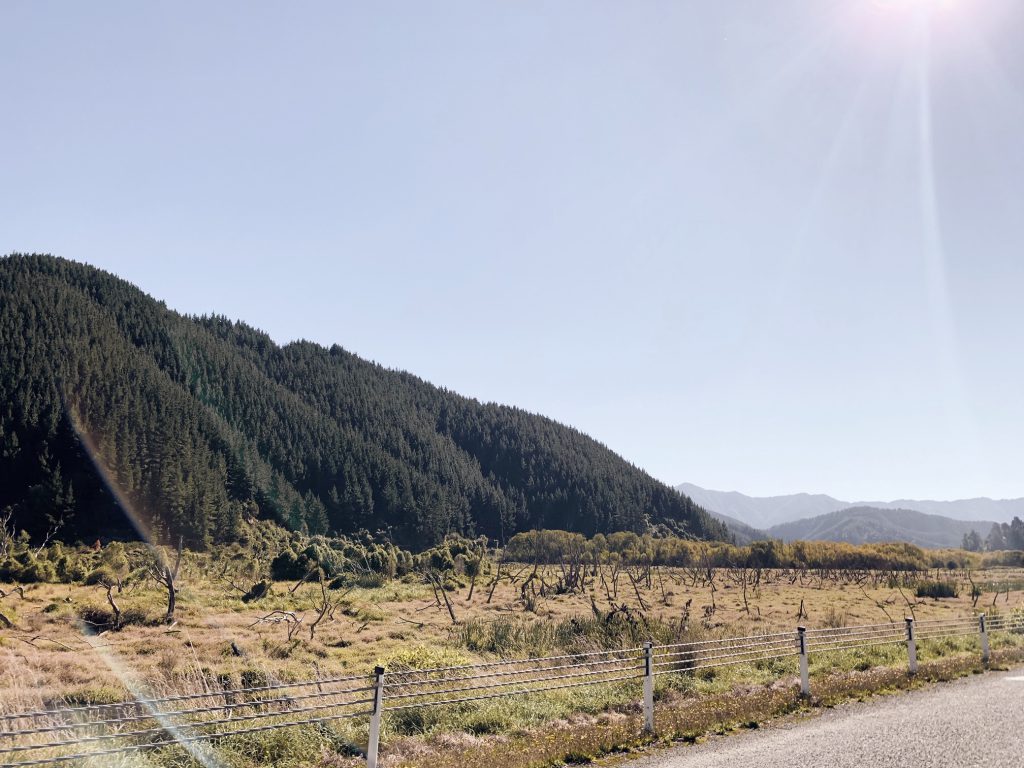 6. By bike: conquer hills and valleys
If you love being active and exploring places by bike, this might be just the option for you! Although it's not something I ever would've imagined myself, I actually saw quite a few bikers making their way along the hills of New Zealand. I've met people traveling around the islands by bike and they seemed to love it! They also had a car and would take turns driving. It transported their bags and tent, which they would set up on campsites during nights.
All in all it seems like a pretty cool way to travel around New Zealand! Although I haven't tried it, I can say with certainty that you have to be really fit and an experienced biker to be able to make your way across the country. Those New Zealand hills aren't easy for cars to defy, so just imagine what it must be like by bike! I always had so much respect for the people struggling to make their way uphill while we were driving past.
If you are considering this option, please do keep your safety in mind. The NZ roads are long and winding and can be dangerous. You won't find separate bike lanes outside the (bigger) cities, so the road is shared with cars and trucks.
By the way – if you have a motorbike and license, this is also an incredible way to explore the country! Strap your bag on the back and take the same cool road trip, but with a little less pain getting up those hills, haha.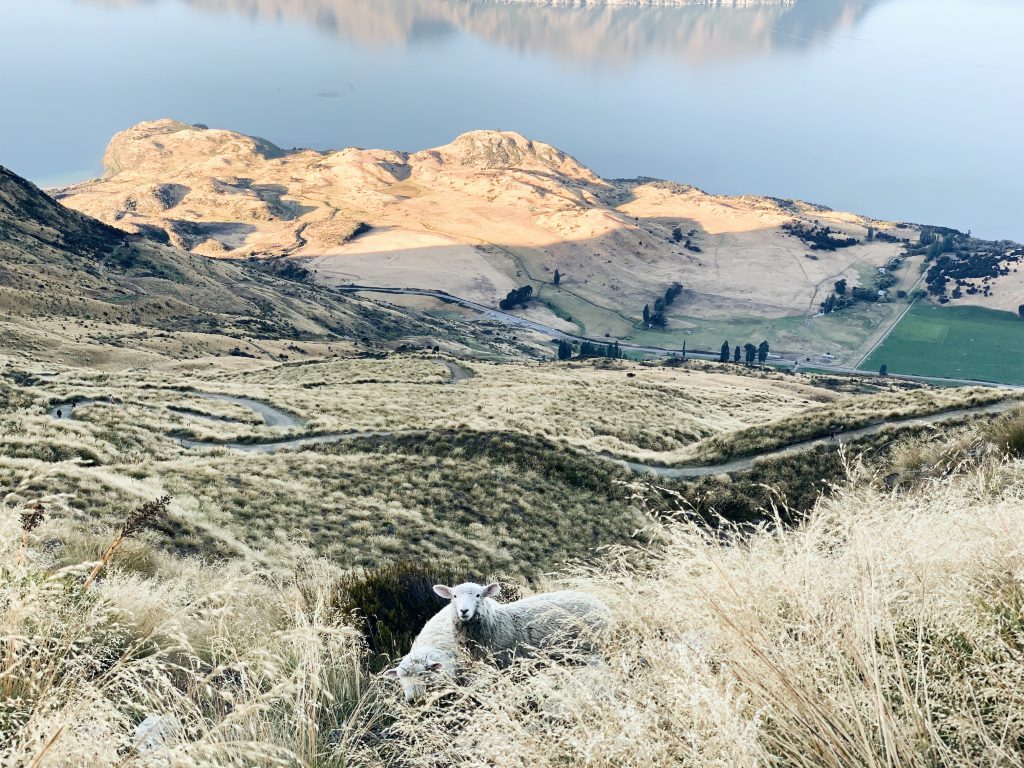 7. On foot: hike your way to your next destination
Can you really around New Zealand on foot? Well, yes! I've met people who've walked from one destination to the next. Now, for the average person it may seem a bit unlikely to only use their own two feet to travel around the entire country. Not to mention the amount of time it would take! Luckily, you can easily combine this with any other type of transport from this list. New Zealand offers so many possibilities, just find the combination that's perfect for you!
You can find walking tracks all across New Zealand. Perhaps the most incredible one is the 3000 km long Te Araroa Trail. This track runs all the way from the very top of the North Island to the South Island's southernmost port town Bluff. What an incredible experience that must be!
Some of the tracks may be suitable only for the more experienced hiker and trampers, though. If it seems a bit daunting to you, try starting with some "regular" hiking. Some of my favorites include the Ben Lomond hike and the track up to Roys Peak. Incredible views guaranteed! For all New Zealand hiking tracks and info on specific routes, check out the Department of Conservation's website.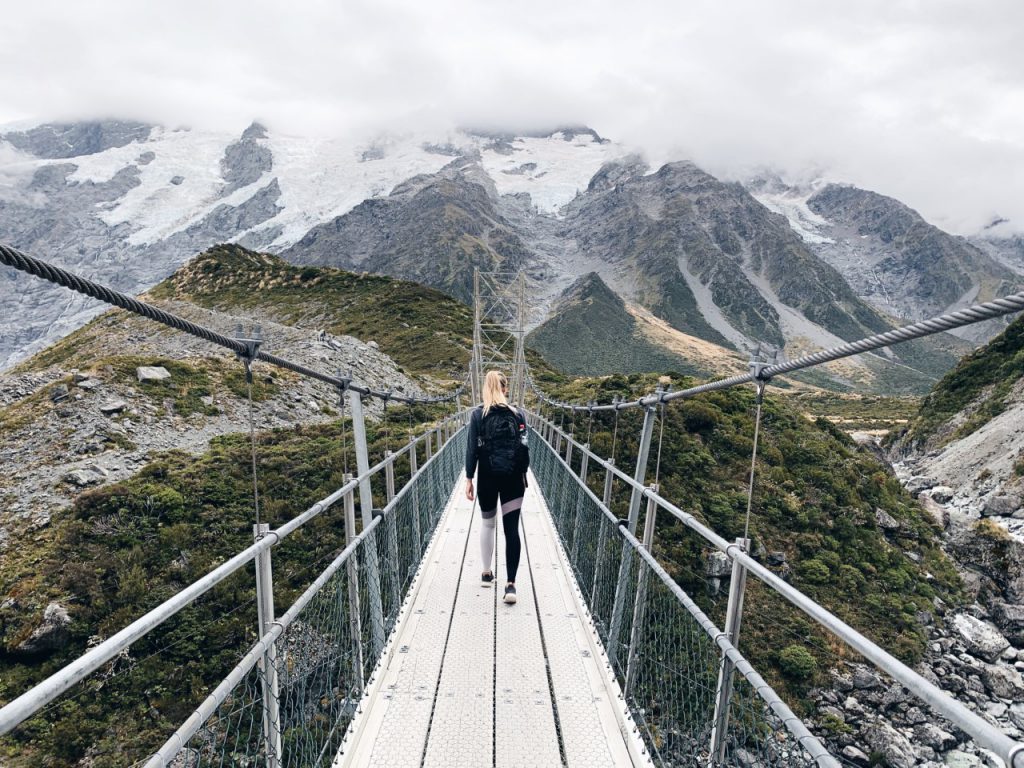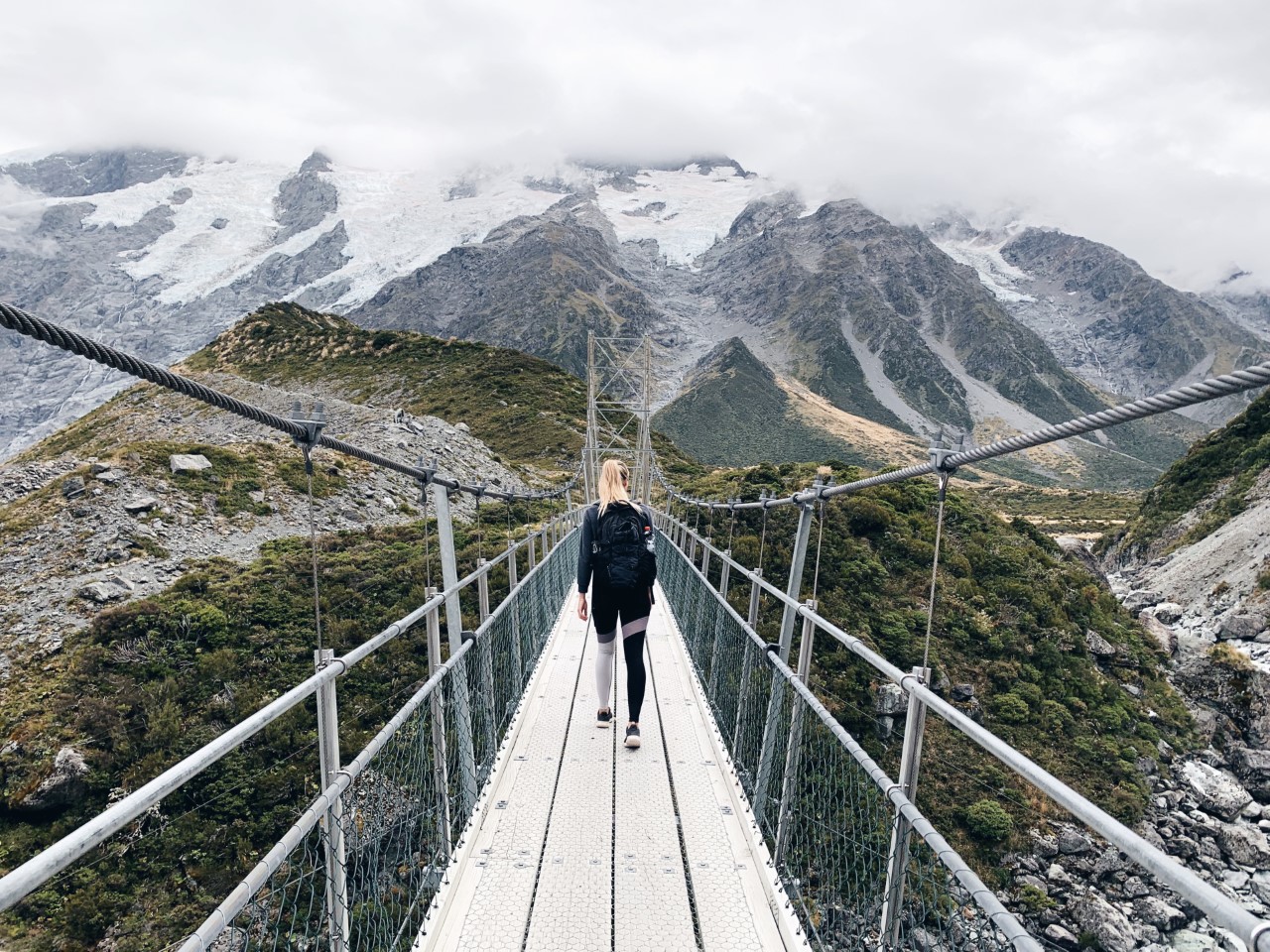 8. Take the ferry
Taking the ferry between the North and South Island was one of my favorite ways to travel in New Zealand. If you're in the country, I recommend you do it at least once. I've taken the ferry about 7 times – mostly because of practical reasons – and each time I'm still amazed at the gorgeous views. My favorite part is the Marlborough Sounds, which are sunken river valleys on the top of the South Island.
There are multiple ferries that sail between Wellington (North Island) to Picton (South Island). I've always gone with the Interislander Ferry and really enjoyed the experiences. If possible, book your trip on a sunny day. Grab your camera and go out on the deck for views you'll never forget. You can also have a coffee or something to eat and enjoy the view from a window in one of the restaurant areas.
Rates for the Interislander start at around NZ$50 for a single person, but depend on the date and time of departure and the type of booking. It is also possible to take your car or campervan for an additional fee. Though the journey isn't super cheap, there will often be promo codes available. For more info, current prices and promotions, check out the Interislander's website.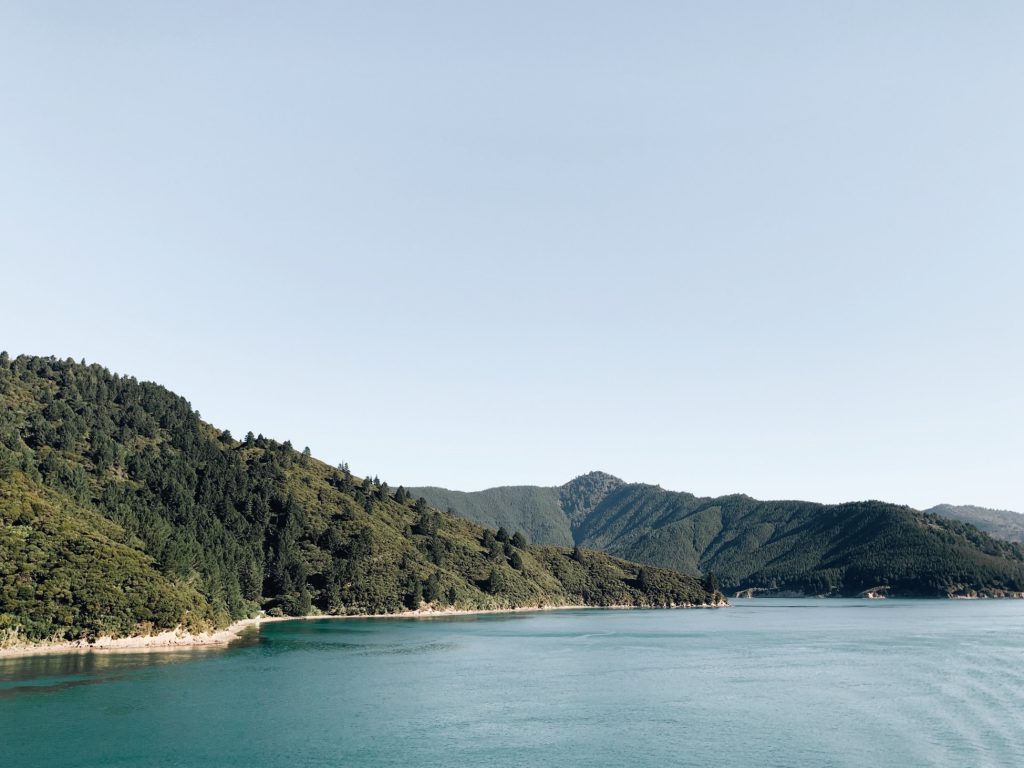 Those are the 8 ways to travel around New Zealand. I still can't believe how diverse this country is and how many options there are. Really, writing this I just want to go back and try them all! You can customize your experience and get exactly what you want out of your travels. I hope this little guide to New Zealand transportation was helpful in planning trip. Let me know in the comments if you have any questions. What is your favorite way to explore the islands?
Liked this post? Save it for later!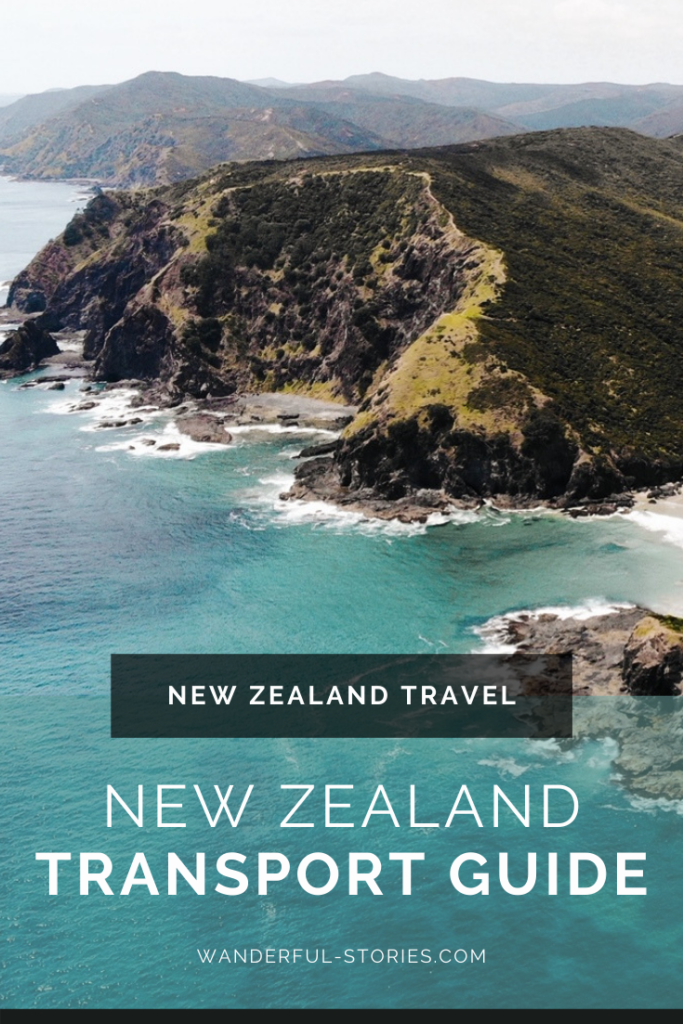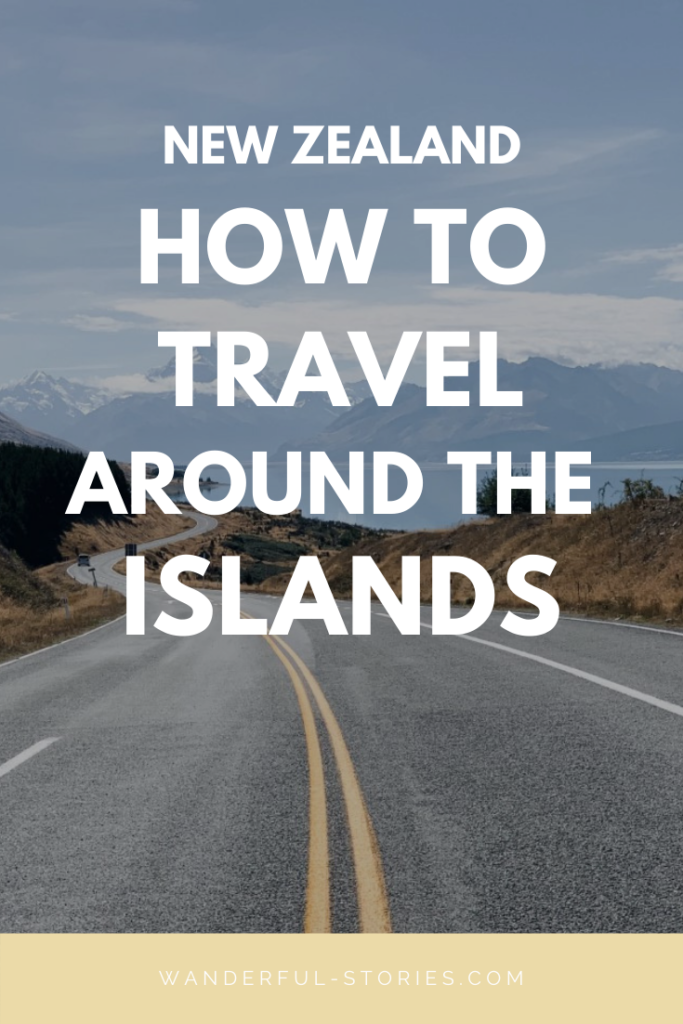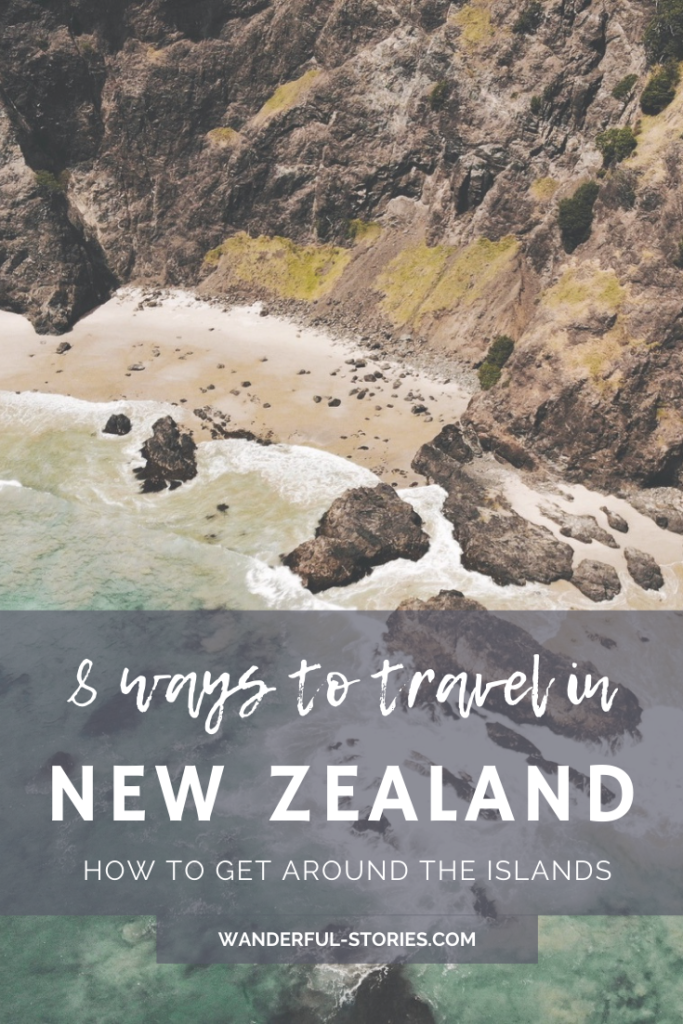 ---
You may also like…