If you ask me, the South Island of New Zealand is one of the most beautiful places in the world. It's absolutely stunning and I have yet to come across another area or country that can match its vast, diverse, natural beauty. I consider myself so lucky for having seen most of this beautiful place two or even three times. Today, I'm sharing my five ultimate South Island highlights!
Spotting baby seals at Wharariki Beach
Wharariki beach is located in the Golden Bay area and one of the northernmost points of New Zealand's South Island. Visiting this place is one of my absolute South Island highlights for two reasons. First of all, the surroundings are just beautiful. The beach itself is enormous. Gorgeous sand dunes and caves surround it and there is a beautiful short walk that leads you there. Secondly – and perhaps most importantly – it is a really great place to spot baby seals, playing in their natural environment. This was such a fun and unique experience!
Of course, this experience is going to be dependent on the period in which you visit. However, if you visit the beach in New Zealand's summer months, there is a pretty good chance of seeing the pups playing in the water. I've visited twice, once in early February and once in early March, and I've seen several of them both times. We've had to wait for them for a bit, as they usually play in little puddles of water that are created on the beach in low tide. So, we enjoyed the beach and had lunch in a shadow created by one of the caves. As the water retracts, look for little puddles of water that remain. Or better yet, spot a crowd of tourists, which is usually a pretty good indication. 😉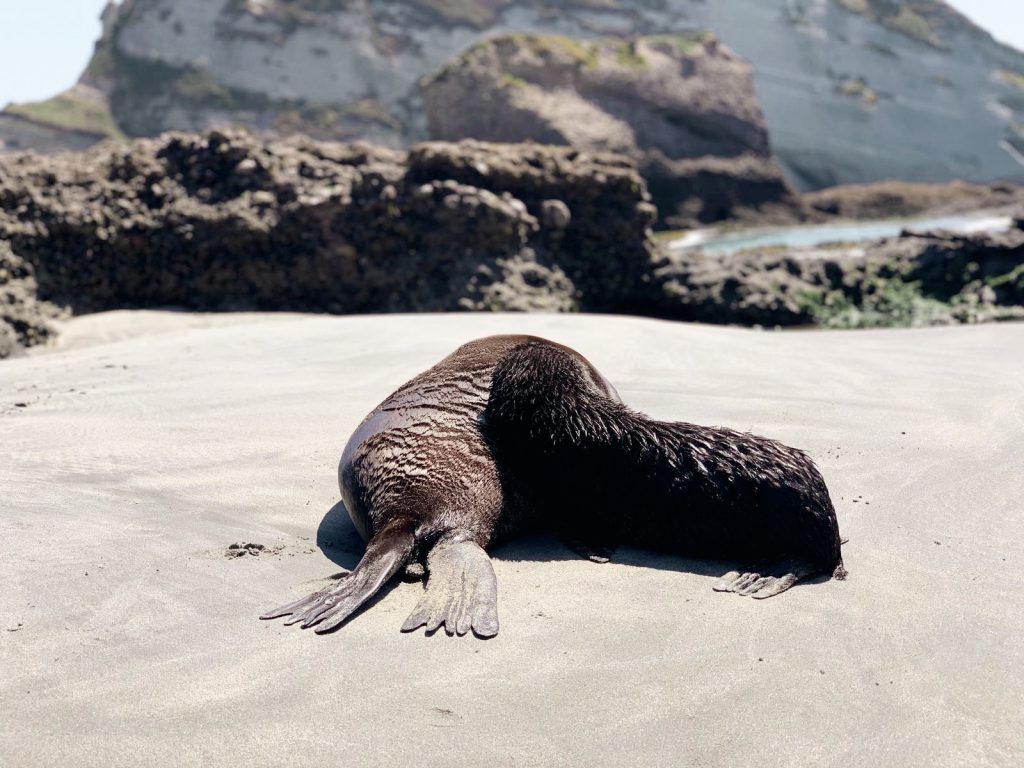 Cruising Milford Sound
Located in Fjordland National Park, Milford Sound is such a unique part of New Zealand. It's an absolute must-see if you're visiting! The fjord stretches 16 km inward from the open sea, which makes for a great cruising experience. There are multiple companies operating in the area, so you can pick the one that fits best for you. Taking a cruise doesn't have to be expensive, by the way. I've sailed with JUICY Cruise, whose prices start at 45 NZD (about 27 EUR or 30 USD) for 2 hours. I'd recommend taking the earliest one, which starts at around 9 am (depending on the tour operator). That way you can avoid the biggest crowds.
Fjordland National Park is an extremely wet place, in the sense that it rains a lot – really, a lot. So, don't despair if the weather forecast isn't that great on the day of your trip. I've cruised Milford Sound twice, once with a clear blue sky and sunshine, and once with stormy, rainy weather. Sure, being on the boat definitely was a lot more enjoyable the first time. However, the natural beauty was even more pronounced in the rain. The waterfalls are so much more powerful in that case! Just make sure to bring a good rain & wind-proof jacket, so you can stand out on the deck, regardless of the weather.
Besides a beautiful tour experience, the trip up there alone makes it worth your while. Be prepared while driving there though. It's a remote area and some things can be scarce, such as mobile reception and gas stations.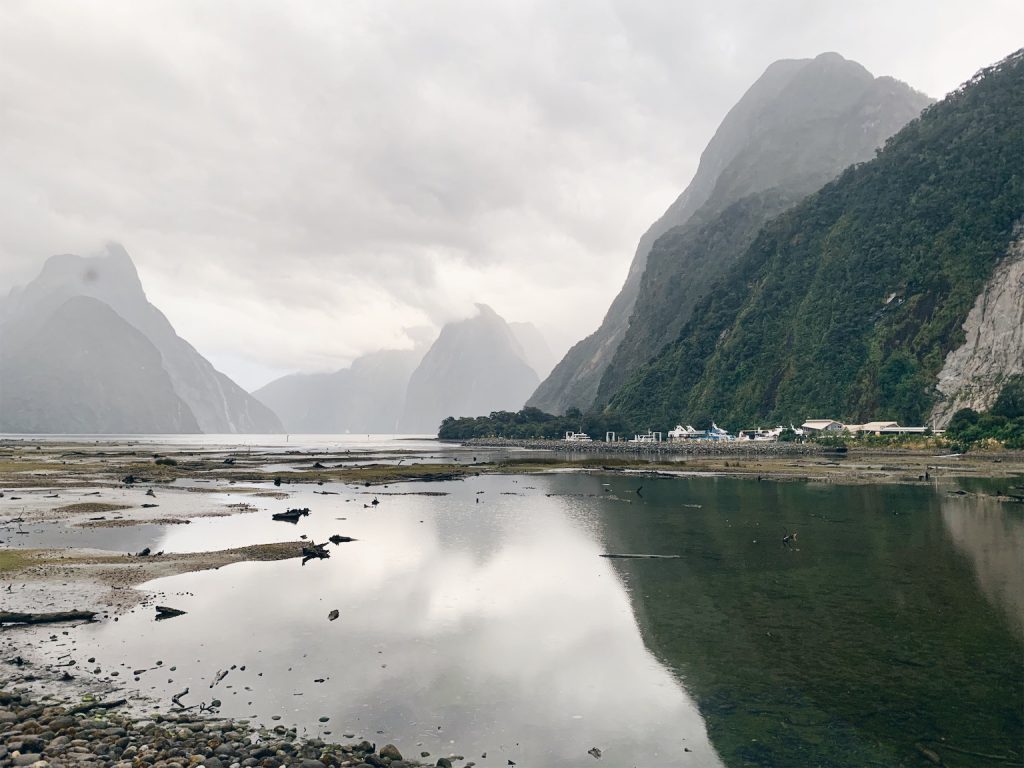 Hiking Roys Peak
I've done several hikes in the South Island, all of which had their own highlights and unique features. However, if I'd had to pick my favorite, it'd probably be Roys Peak. This hike is all over Instagram, so I was worried it'd be extremely overrated and super crowded. But oh my, it was so beautiful! It's a pretty steep hike upwards that definitely does take some time, but the views are just incredible. And, in the end, we managed to avoid the crowds and get the peak all for ourselves for a little while. If you are in Wanaka, definitely pay this peak a visit.
Want to know all about what the hike is like and how to avoid those crowd? Here you can read all about my experience hiking Roys Peak!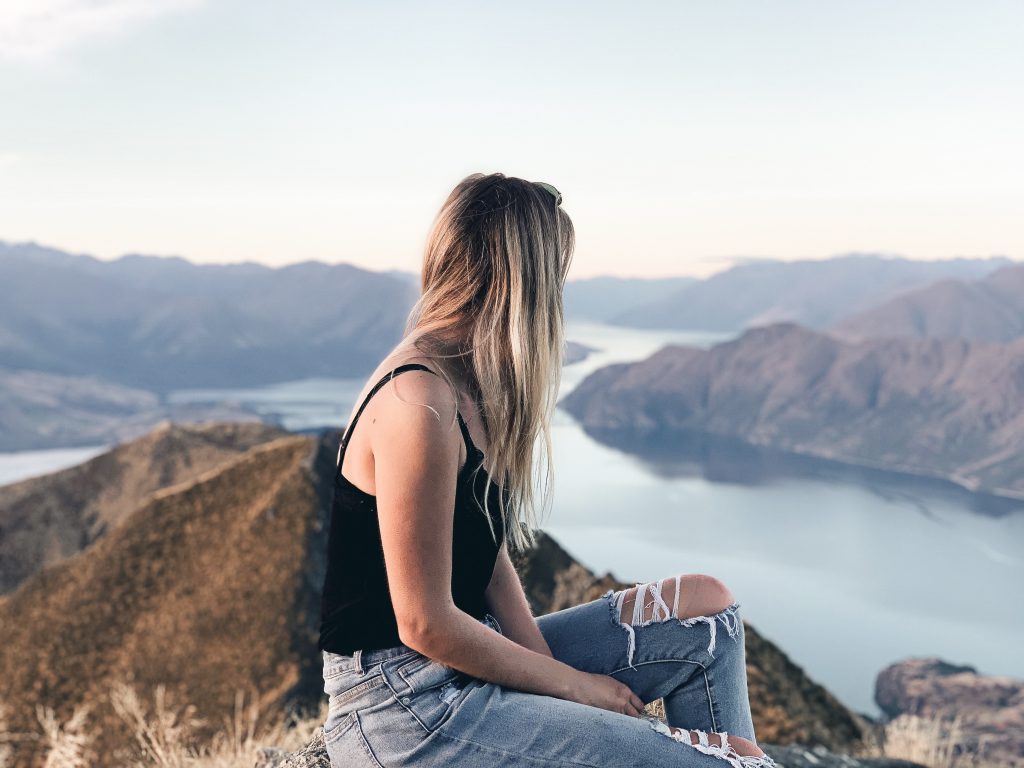 Swimming with dolphins in Kaikoura
This was such a huge bucket list experience! And I can tell you, it was just as amazing as you'd imagine. Even though we had some rough sea conditions, swimming in the open ocean with dusky dolphins circling around you and swimming beneath and before you at just an arm's length distance, was absolutely unbelievable. Unfortunately, you can't really do it by yourself, because the dolphins live mostly in the open ocean (even though you can spot them from the shoreline).
We booked our tour with Encounter Kaikoura and had the best time. At 180 NZD (around 108 EUR or 120 USD) the tour isn't super cheap. However, if you have the budget for it, it's definitely worth it for this once-in-a-lifetime experience. If you do book it, it is recommended to do the either the 5:30 am or 8:30 am one. At these times you can generally swim with the most dolphins. If you are not comfortable swimming in the open ocean or would rather stay on the boat, they also offer spectator seats for a little over half the price.
I've written a full post on this experience! You can read everything about it here.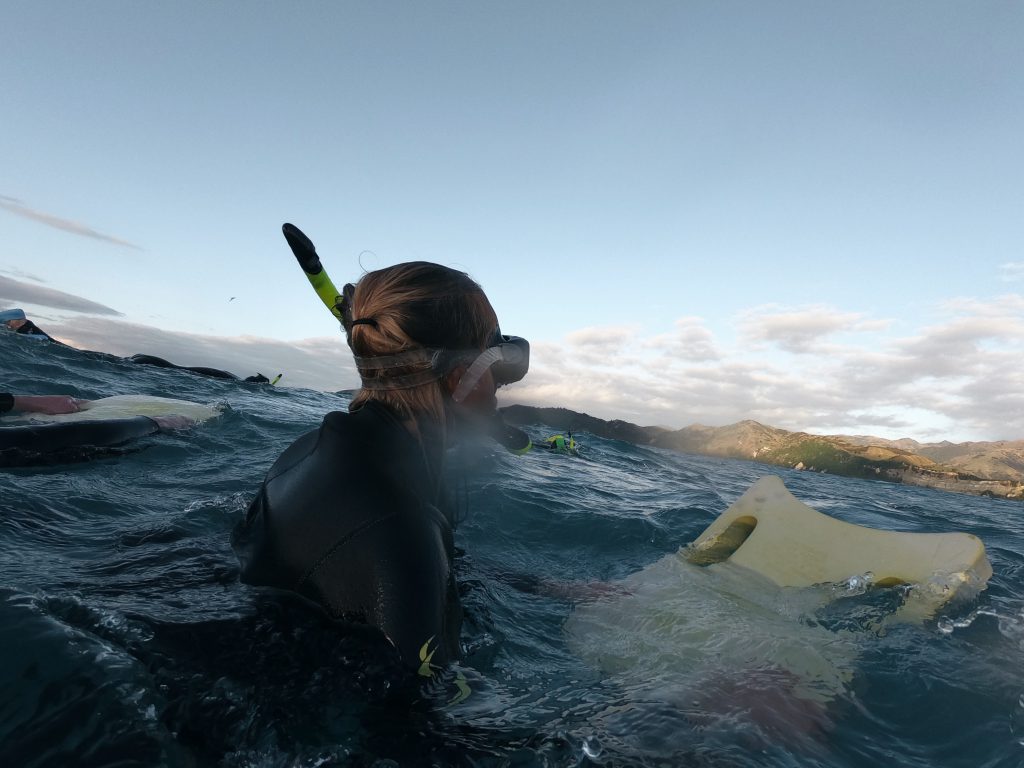 Glacier helicopter flight
Now, this is something that I'd never thought I'd to, but it was incredible! When my mom was visiting us in New Zealand, she wanted to do something incredible to make her stay unforgettable – even though New Zealand in general definitely does that trick 😉 – and treated us to a helicopter flight above the Franz Josef & Fox glaciers. It was so amazing to see the gorgeous landscapes of this place from above! We flew across the mountains and over the snow-covered tops. On top of that, I was lucky enough to be seated in the front of the helicopter, next to the pilot (which is all about weight balancing, to be honest) and had the most incredible view.
We booked our flight with HeliServices NZ and opted for the 30-minute twin Glacier tour. This tour takes you to the Frans Jozef and Fox glaciers and makes a snow landing on one of them. It was incredible to stand atop such a high mountain in the snow! The tours are definitely not cheap, starting at 270 NZD (ours was 350 NZD, around 209 EUR or 233 USD). But it really is one of the ultimate highlights of the South Island, so if it fits your budget I'd definitely recommend it.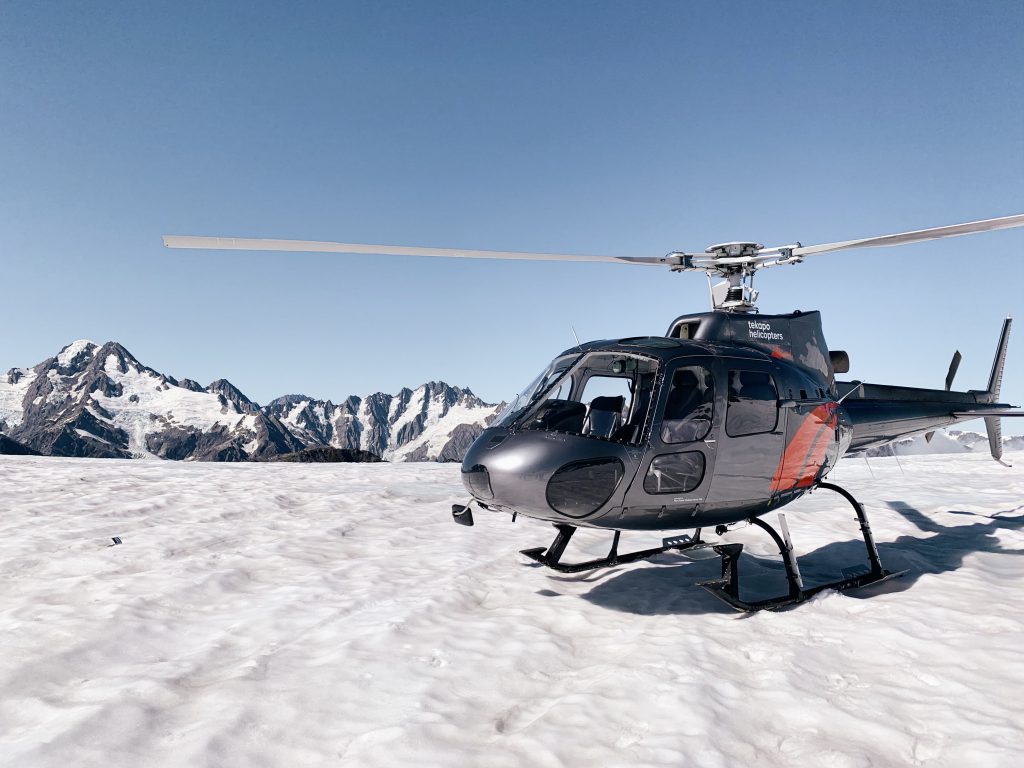 And there you have it, my five ultimate South Island highlights. Some of these are not cheap, but don't despair if they don't fit your budget! Luckily, New Zealand has many incredible things to do and see that won't cost you anything. Here you can read all about my 15 favorite free things you cannot miss on the South Island!
Liked this post? Save it for later!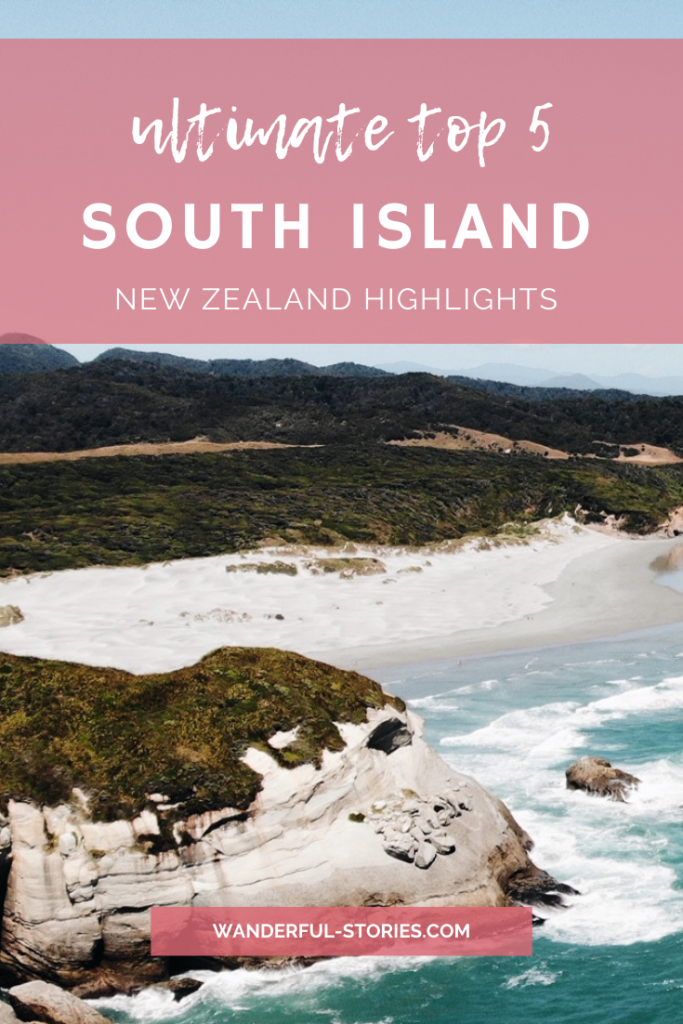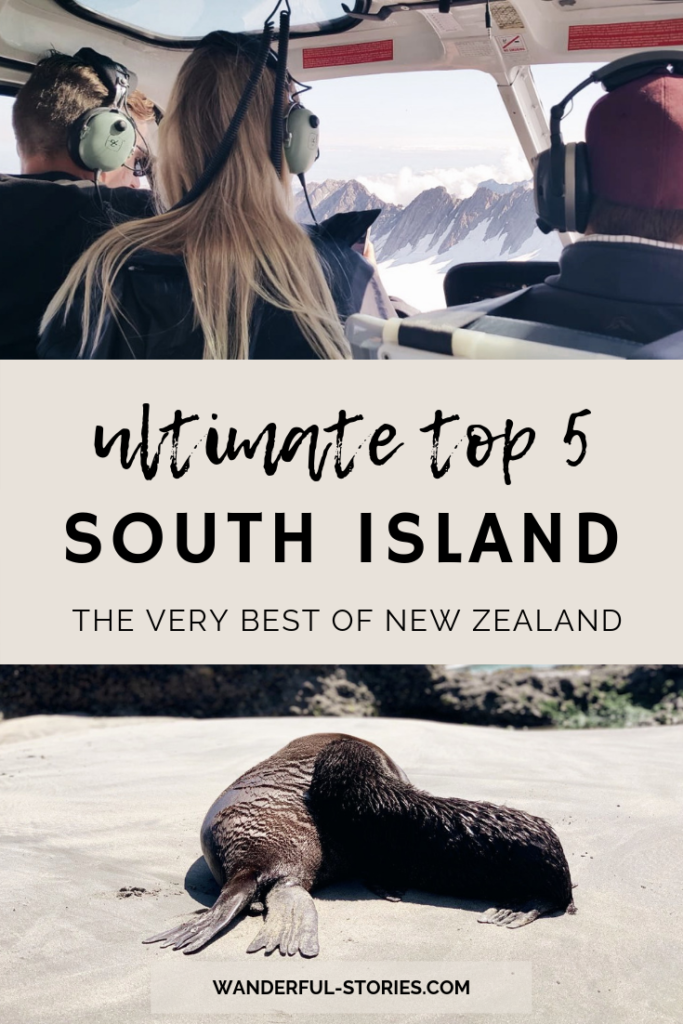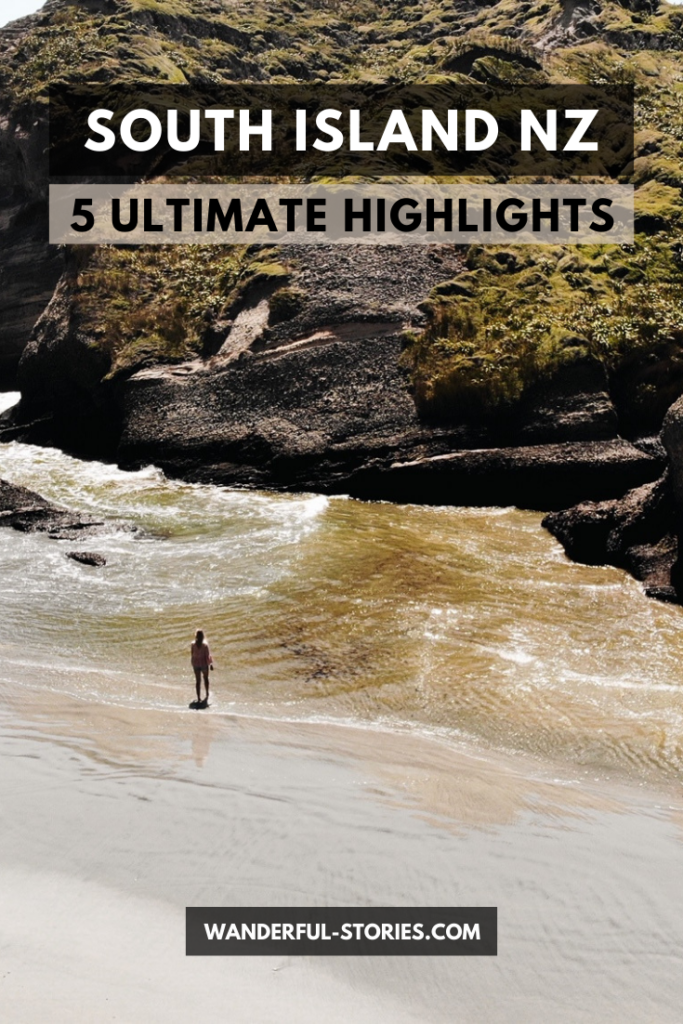 ---
You may also like…