By far my favorite way of traveling in New Zealand is simple: roaming the islands by car and camping out in the most gorgeous places each night. You get to experience the beautiful country up close, plus it's a great way to save money! I've spent so many nights in the back of my car or in a tent, that it almost became second nature to me. However, if it's your first trip to New Zealand or if you've never camped before, you might be lost on what to do. Because of that, I'm sharing everything you need to know about camping in beautiful New Zealand.
What vehicle do you travel in?
The first thing you need to know about camping in New Zealand concerns the type of vehicle you use to travel around the country with. Whether you've just bought your own backpacker car or are renting a big campervan, there is an important distinction that is made between two types, which affects the campgrounds you can visit:
Self-containment requirements
self-contained vehicle – a car or campervan that is built with everything included to 'survive' for three days without needing any facilities. This includes a toilet, fresh & wastewater storage and a rubbish bin. With self-contained vehicles, you can camp in a greater range of natural areas that don't have any facilities.
non-self-contained vehicles – a car without such features. There are still lots of (nature) camping spots for these types of cars, though a little less widespread than the ones above. We had a car like this, but still had plenty of camping spots!
In my experience, authorities were getting stricter and stricter enforcing self-containment standards. This mostly meant that there were more checks on campsites. We even witnessed a news segment being made on one of the campsites we stayed on, where rangers thoroughly checked cars to see if they really deserved their self-contained label.
Unfortunately, having a bed in your backpacker van doesn't make it self-contained – I wished! Neither does having a chemical toilet stored away in the last free corner of your car. If you want to make sure your car meets the criteria, check out the government website.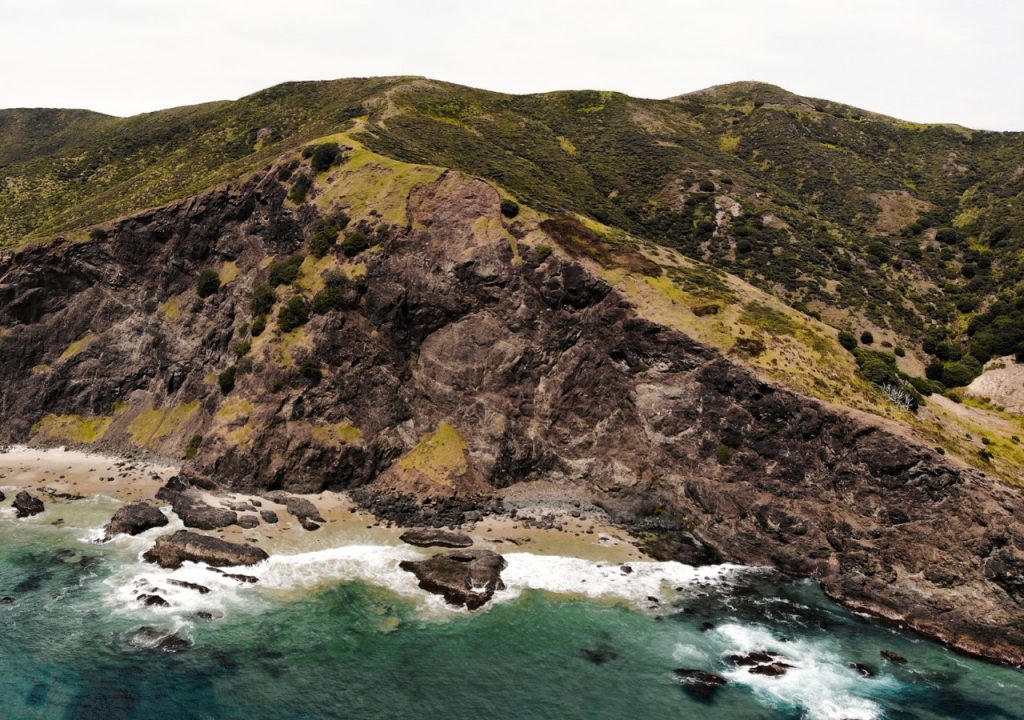 Don't have your own transport?
Although it's a bit less common, it's also possible to not have your own transport, of course. Whether you're taking a bus or hitchhike your way around the islands, on most campsites you'll also be able to get a spot without a car. This depends on the kind of gear you bring with you. Most likely, you'll be putting up a tent on a camping spot for a non-self-contained vehicle. But some campsites even have dorms and private rooms to rent.
Types of campsites & costs
Now that you know what type of vehicle you're bringing to the campground, it's time to look at the different types of campsites across New Zealand. For all of these campsites, the type of your car/campervan will determine whether or not you can stay there and what type of spot you can take. Although the three types give you a very different experience, I've stayed on each of them lots of times and honestly loved them all!
Prices are per person and in NZD.
Fully serviced campsites & holiday parks ($15 and up)
The most expensive campgrounds around are the ones with complete facilities. Think a kitchen, bathrooms with showers, laundry facilities and sometimes even swimming pools and spas. There are big differences within this category though. Parks range from simple motorhome parks to fancy holiday parks. Prices start at around $15, but easily go up to $25 a night for an unpowered campsite.
An example of these campsites are the TOP 10 Holiday Parks. You'll find about 20-25 of them on each island. Besides TOP 10 there are lots of Kiwi Holiday Parks, as well as individually owned and operated campgrounds.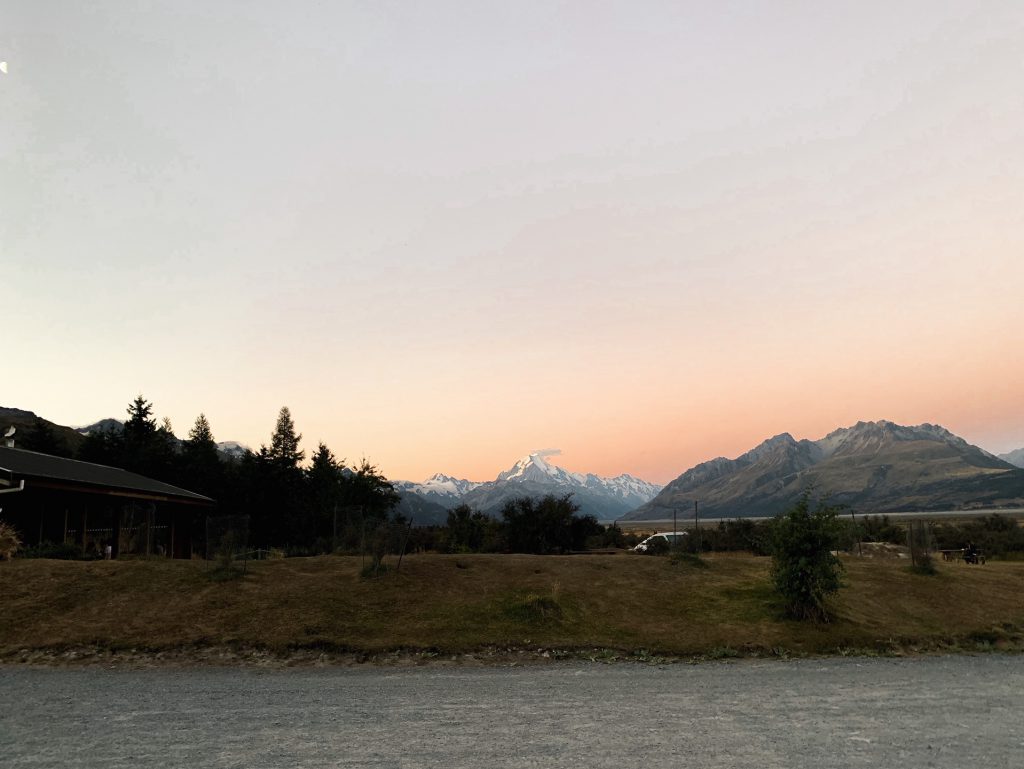 Mid-range scenic & standard campsites ($8-$15)
The mid-range campgrounds combine a bit of the other two categories. On the one hand, they provide the basic, non-luxury vibe of camping in the middle of nature without many facilities. On the other hand, you do get some basic features, such as a flush toilet and a sink to do dishes and brush your teeth.
The prices vary according to the facilities available. Some will only have a toilet, while others will also have a (cold water) shower available. You'll find these campgrounds spread across the country, often in National Parks, with the most amazing views. They offer lots of space for both self-contained and non-self-contained vehicles.
Looking for the best campsites? You may also like my 10 favorite campsites on the South Island of New Zealand.
Basic campsites (free)
These campsites are really, really basic. You'll often find them in nature, some in areas more secluded than others. However, there are also plenty that are based in parking lots, a few even with public facilities. Don't expect too much of the facilities, though. Most times, there is nothing at all or just a toilet; unfortunately, it will be a long drop usually. If you're really lucky, there will be a flush toilet and sink available, though.
Despite the clear lack of facilities, I always loved staying at these basic campgrounds. For me, they're the ultimate New Zealand camping experience – getting by with as little as you can while enjoying the most gorgeous surroundings!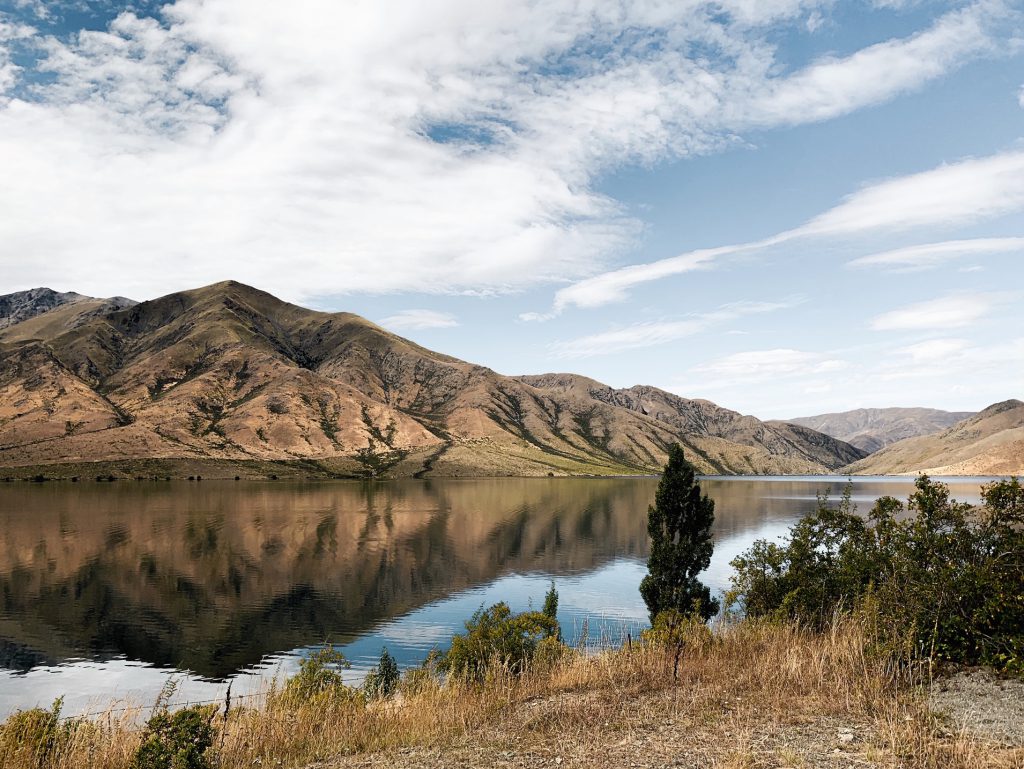 New Zealand camping regulations
Overall, New Zealand and its locals are pretty lenient when it comes to camping and what is allowed. However, there are basic regulations you should respect when camping in New Zealand. Most importantly:
don't camp on spots or in areas that are not designated as campsites
don't camp in campgrounds that are not fit for your vehicle
in some cases: don't camp in places for more than the allowed number of days a month.
These basic things are enforced quite a bit. You'll often see rangers checking the campgrounds and sometimes even writing down number plates. When you do violate the rules, you receive a $200 fine – which they're pretty happy to give out. Trust me, I know, unfortunately. I mean, for $200 a night you might as well stay in a nice hotel, right? 😉
Tips for camping in New Zealand
Responsible (freedom) camping
Naturally, New Zealand is big on protecting its beautiful nature and ecosystems. Because of that, they've got a 'no trace' camping care code they ask campers to comply with. Luckily, not leaving a trace is pretty easy! Most items are common sense. To give a few examples:
only camp in designated areas
don't leave any rubbish
don't pollute rivers and lakes with detergents and soaps
be careful with fire (when and where allowed)
Besides that, it's also important to always pay the campground fees, even if doing so is based on an honesty box. On the Department of Conversation website, you can read all the items of the 'no trace' camping care code.
Safety
Generally, New Zealand is a pretty safe country and I haven't felt unsafe much when traveling around the islands. That being said, always use common sense and trust your gut, of course. Don't go to areas that are too secluded, especially if there aren't any other campers around. There've been a few times when we just turned around upon reaching a campsite, because no-one was around and we didn't feel too safe.
The same goes for natural disasters; although there generally isn't a great risk, always keep an eye out for warning signs and use your common sense – and you'll be fine!
Finally, car burglary isn't uncommon in New Zealand, unfortunately. The many tourists roaming around the country in cars are sometimes easy targets for criminals. It even happened to me once! Make sure to not leave too much stuff in the car in clear sight. Even more importantly, always carry your valuables on you.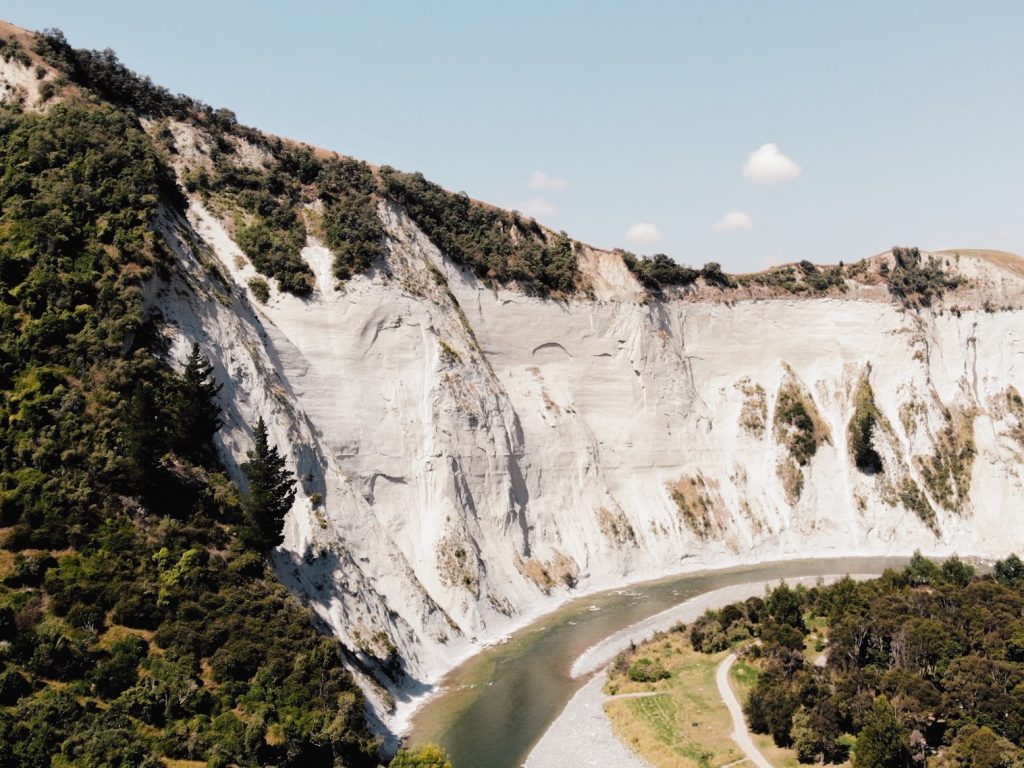 Where to get your camping gear
With great numbers of campers around the country, camping gear is widely accessible in New Zealand. Whether you're renting a car and need a full camping hook-up or just need those few extra items to complete your journey, you can easily get it across the country!
My personal favorite stores are the warehouse and Kmart. Both are widely available and sell great quality stuff for super accessible prices. For example, you can get decent tents at prices starting as low as $40-50. The stores also sell all the other stuff imaginable, like sleeping bags, gas stoves, plates and cutlery and even car chargers. Everything you need to make your road trip a success!
If you rather prepare a bit in advance, order your gear online and bring it with you on the plane. Here are some of my favorite items I'd recommend bringing with you or buying locally if you can:
Sleeping essentials:
Tent (when not sleeping in a van)
Extra blankets (for colder nights)
Pillows (get a travel pillow if you want to use it on the plane, too!)
A sleeping mask, because you might just be parked in a well-lit spot
Earplugs, in case a campground is noisy
Cooking essentials:
light-weight plates, bowls and cups (I especially like these ones, 'cause they're BPA free, unbreakable and safe to use in the microwave and dishwasher – aka perfect for travel)
camping cutlery – I prefer these ones as they're very travel-proof but still good quality (so you don't feel like your string to cut your food with a piece of plastic 😉 )
plastic containers for leftover food
a simple box to store dry food products
Besides these, you can find all my other New Zealand road trip must-haves in this blog post.
Useful resources
My all-time favorite travel app for New Zealand is CamperMate (free for iOS and Android), which is really the only thing you need to find campgrounds easily. You can search based on specific filters, such as the type of vehicle you drive. That way, if you drive a non-self-contained car, you won't accidentally end up on the wrong campground and face a big fine.
If you want to read more, check out the Department of Conversation (DOC) website for all the info you need on camping and DOC campgrounds. Or read up on the government's freedom camping regulations.
That's everything you need to know to make your next camping trip to New Zealand a big success! If you have any further questions, drop them in the comments below and I'll try my best to answer them all. I hope you have a great time on the beautiful islands!
Some links in this post may be affiliate links, meaning I earn a small percentage of any purchase made. They're at no extra cost to you, but allow me to keep creating new content for you guys. Of course, you're free to use any other link!
Liked this post? Save it for later!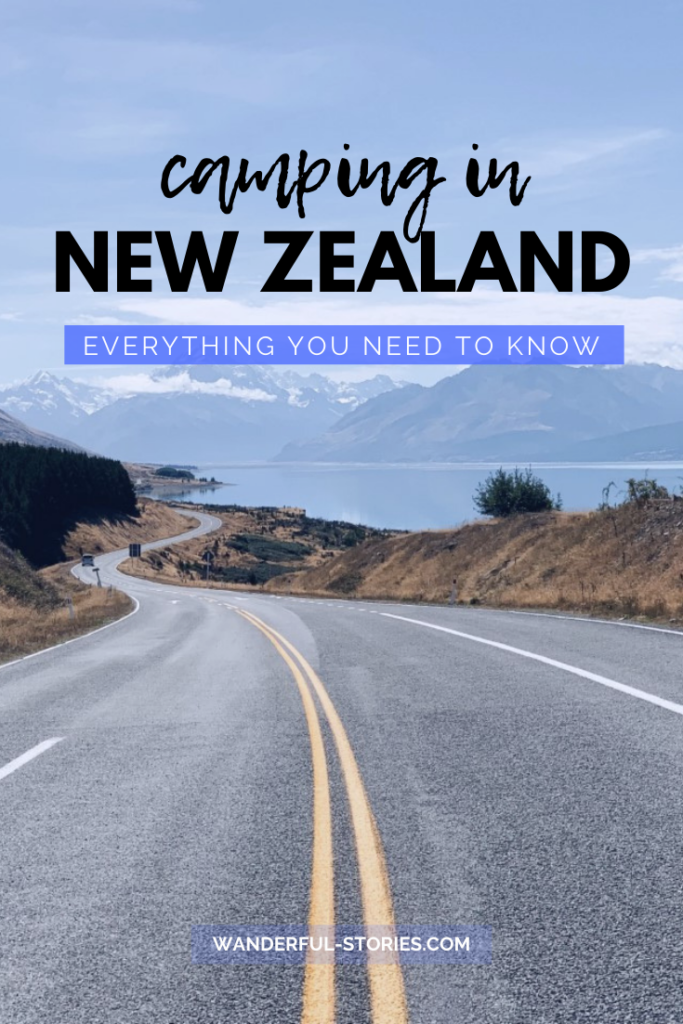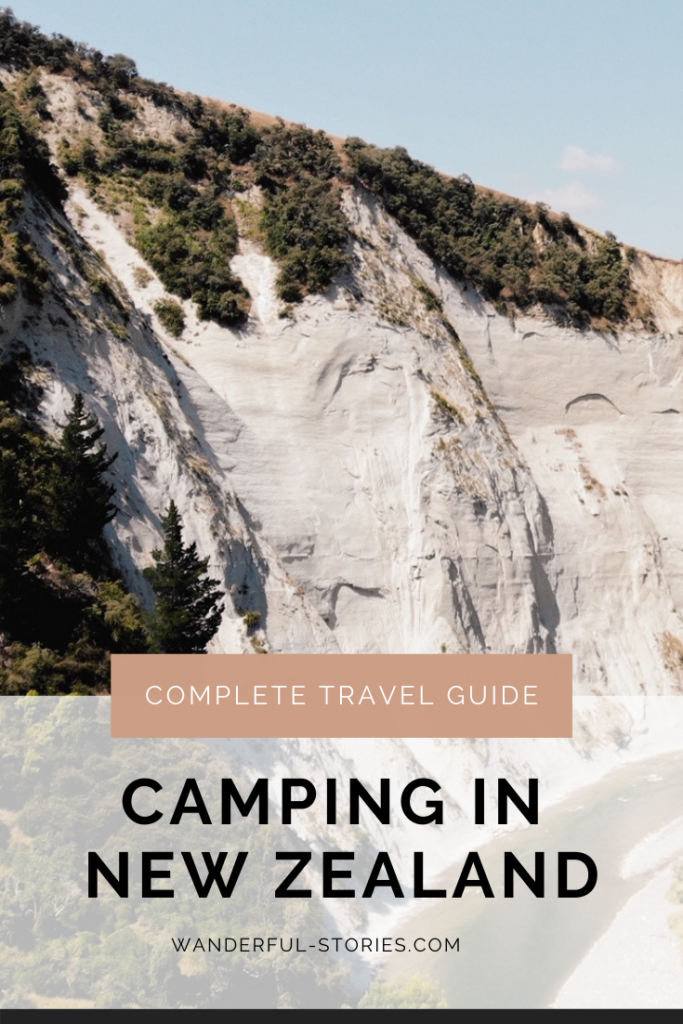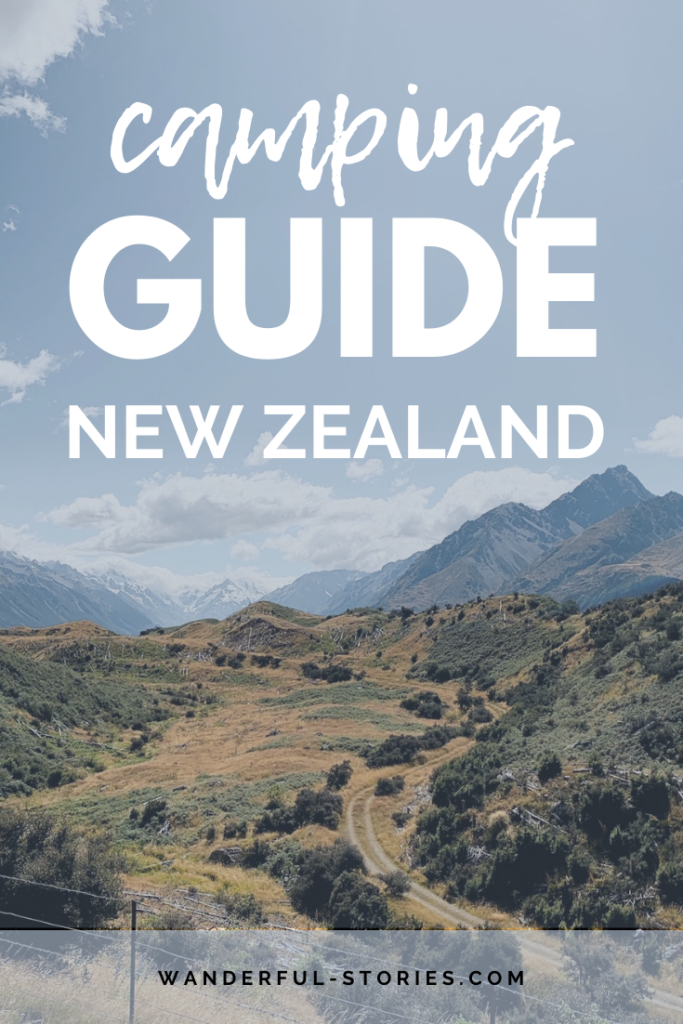 ---
You may also like…