I love exploring a country by car. For me, nothing beats the experience and flexibility it gives you. New Zealand is the perfect place for this, with lots of (freedom) campings around the country where you can sleep in your car or in a tent. Because of that, it's common for backpackers to buy and sell their own cars in New Zealand. If you are considering doing the same, this post is for you! I'm sharing my complete guide to buying a backpacker car in New Zealand. Read along for my experiences and the 8 ultimate tips for buying a car in a simple, safe way.
Should you buy your own car during your New Zealand trip?
First, let's start with whether or not buying your own car is the right option for you. There are pros and cons to buying your own, compared to renting one.
Pros of buying a car
You have something that is completely yours, which gives a sense of freedom
You can buy and design a car that is just what you want
If you can sell it for a decent amount of money, you might end up not spending much on transportation (excl. gas costs, of course)
Rental options can be really expensive, especially for long periods
Cons of buying a car
It requires some effort during the buying process, and again when selling
You have to consider a few practical things, such as warrants, service checks and registrations
There are (financial) risks involved: the cars are often old and can have issues, or you can have trouble selling it once you leave
I would say that generally, the pros outweigh the cons if you plan on traveling for two months or more. Personally, I'm super happy we ended up buying our car, but we did give it a lot of thought before deciding to do so.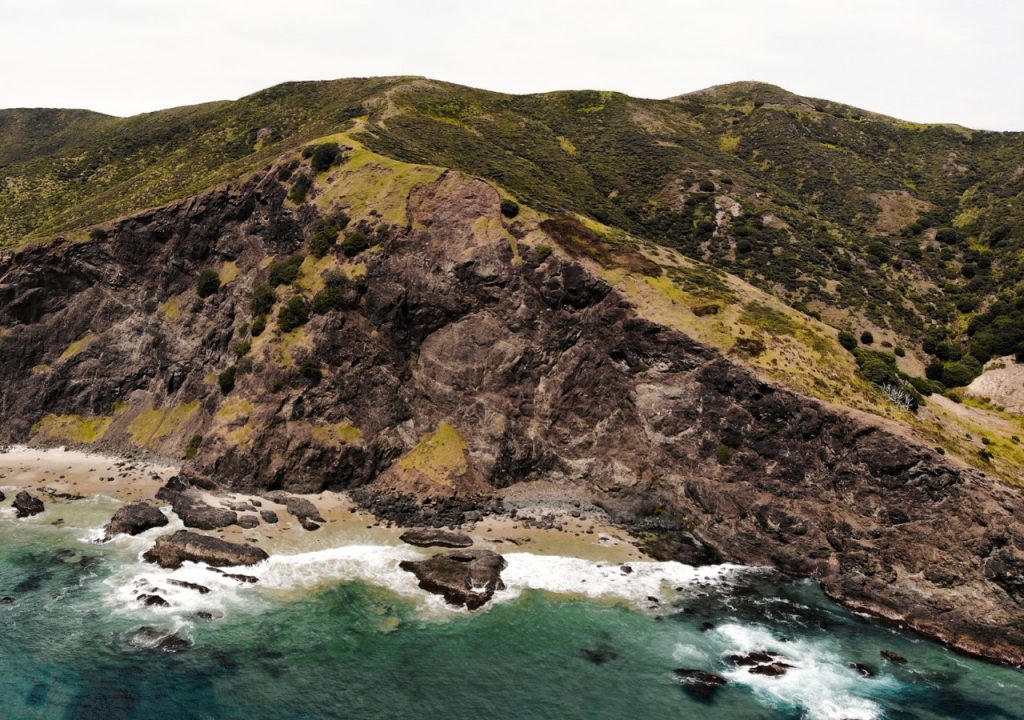 8 steps to buying a backpacker car in New Zealand
At first, the process seemed very complex and intimidating. After all, there are so many different things to consider besides merely the purchase of the car. We wanted to avoid buying a bad one at all costs (and I'm happy to say we did!). However, we did our research and ultimately bought a car with much less effort than anticipated. I hope that by sharing my best tips and experiences for buying a backpacker car in New Zealand, I can save you a lot of time and worries!
So without further ado, here is the 8-step plan we followed when buying our car:
1. Figure out what you want
The first thing I think you should be clear on is whether you want to buy a self-contained or non-self-contained vehicle. A self-contained vehicle (with a toilet, fresh & wastewater storage and a bin) is allowed in more freedom camping spots throughout the country. That's not to say that you cannot stay on free campsites when traveling in a regular car, though. Self-contained cars and vans are usually a bit more expensive, so it really depends on what you want.
Besides the self-contained/non-self-contained aspect, we considered several more features:
the build year of the vehicle
the odometer (number of kilometers the car has driven)
the number of seats in it
the possibility of sleeping in it (for those colder winter months)
the expiry date of the WoF (Warrant of Fitness) and rego (vehicle registration)
If you have any specific wishes for your car, just add them to the list!
Lastly, figure out a budget, but be prepared to adjust it (or your wishes) a little bit, if needed. You likely won't find that perfect Instagram-worthy, fully self-contained van for $2.000,- (and if you do, it's definitely too good to be true 😉 ).
If you want to know more about freedom camping, rules and the types of vehicles, check out the helpful government website.
2. Search, search, search
There is a lot of demand and supply in backpacker cars in New Zealand. Mostly in Auckland, but also in other big cities such as Christchurch. My main suggestion would be looking for cars online; especially in Facebook groups, there are lots of people selling theirs. Other websites that can be useful, are trademe and backpackerboard. I've heard that there are also special dealerships that sell cars with a buy-back guarantee, although I have no experience with those. Personally, I find that Facebook groups are the #1 spot for buying a car. When scrolling through ads, look closely at what the seller is offering you, and whether it matches your wishes.
Many cars will come included with varying degrees of camping gear. Keep in mind that most equipment, such as plates, cutlery or even camping chairs, really is not expensive at all to get yourself. All it takes is a quick trip to the Kmart or the warehouse, which sell most of these things for prices starting at a few bucks. Sure, it's convenient to get it included with the car and sometimes you really do get a lot of valuable stuff. However, I've seen a lot of sellers using it to massively overprice their car. So, definitely keep an eye out for that!
3. Meet with sellers
Schedule meetings with different sellers that match your wishes. Don't put all your eggs in one basket, though. Although we were lucky to quickly find a car, I've heard that (verbal) agreements can be quite unreliable and that you should make a decision on a car as soon as possible. Otherwise, someone else might sweep in and drive off with it.
We quickly found our ideal car in a 2001 Mazda MPV. It still had all its original seats, but you could also quickly turn the back into a comfortable bed for camping trips. It seemed to be in good condition and had a powerful V6 engine, to get us up on those New Zealand hills.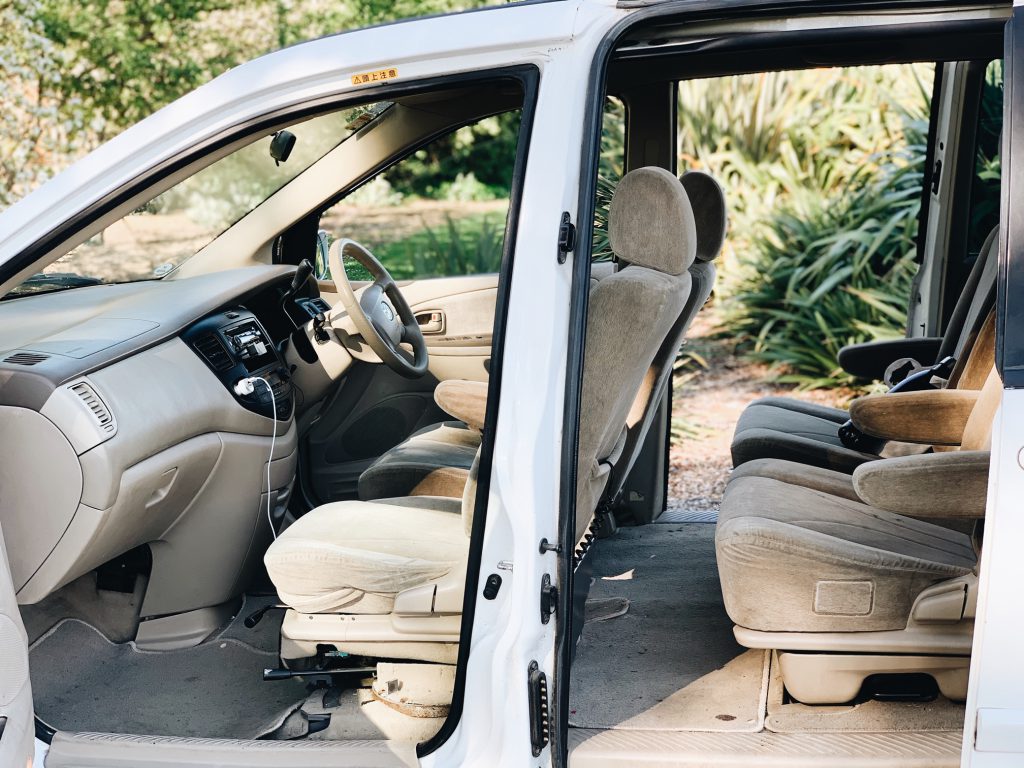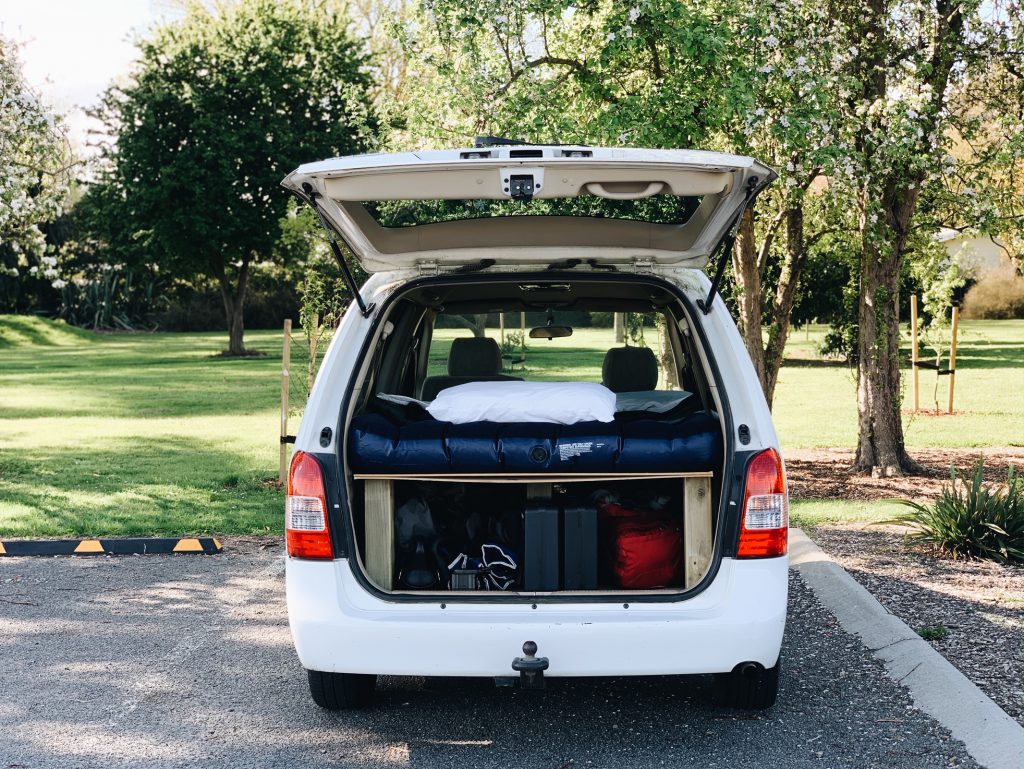 4. Go for a pre-purchase inspection
I think this is the most important thing you need to do before buying a backpacker car in New Zealand. In a pre-purchase inspection, a mechanic assesses the condition of the car, so you won't be surprised by sudden and expensive repairs that need to be made, once you've purchased the car. It's especially important as backpacker cars are usually 15-20 years old and have driven quite some kilometers already.
Personally, we had our car checked at VTNZ. We needed an appointment pretty last-minute and they were one of the only ones able to fit us in, but I was positively surprised by their service! The mechanic was really thorough and took his time discussing the results. Moreover, when he did so, he insisted on speaking to us privately (without the car's sellers). That way, he was able to discuss the results honestly and openly. Our car was in pretty good overall condition, especially for its age. It had only a number of issues that might be needed to be repaired in the future, but nothing serious. Since then, we've had some of those issues fixed, while others haven't given any problems.
5. Get a Vehicle Information Report
A Vehicle Information Report (VIR) gives you insight into the vehicle's history and has a few main purposes. Firstly, it provides you with knowledge of the previous changes in ownership and shows whether the car has been reported stolen or is currently money-owing. Besides that, it gives a new owner the correct odometer (number of kilometers the car has driven), as well as information on the current registration and Warrant of Fitness of the car. In such ways, it helps the buyer to get correct information on the car and prevent some nasty surprises in the case of a dishonest seller. And all of this comes relatively cheap, for barely 30 NZD.
6. Change the ownership & seal the deal
Finally, you've found your car and you're ready to buy. Great! Now it's time to get some practical things out of the way, most importantly of which is the change of ownership. For this, you can go to an NZ Post office and fill out a few simple forms. You'll pay a small fee (around 7 dollars) and can get a proof of ownership on the spot. Now the car is officially yours, congrats!
While you're sorting out those practical things with the seller, make sure you use a trustworthy way of transferring the money. It's great if you're both from the same country, which usually means you can transfer money from your bank to theirs with them receiving it on the spot. If you're not though, find a way that works for you, whether it's all cash or via a service such as TransferWise or PayPal.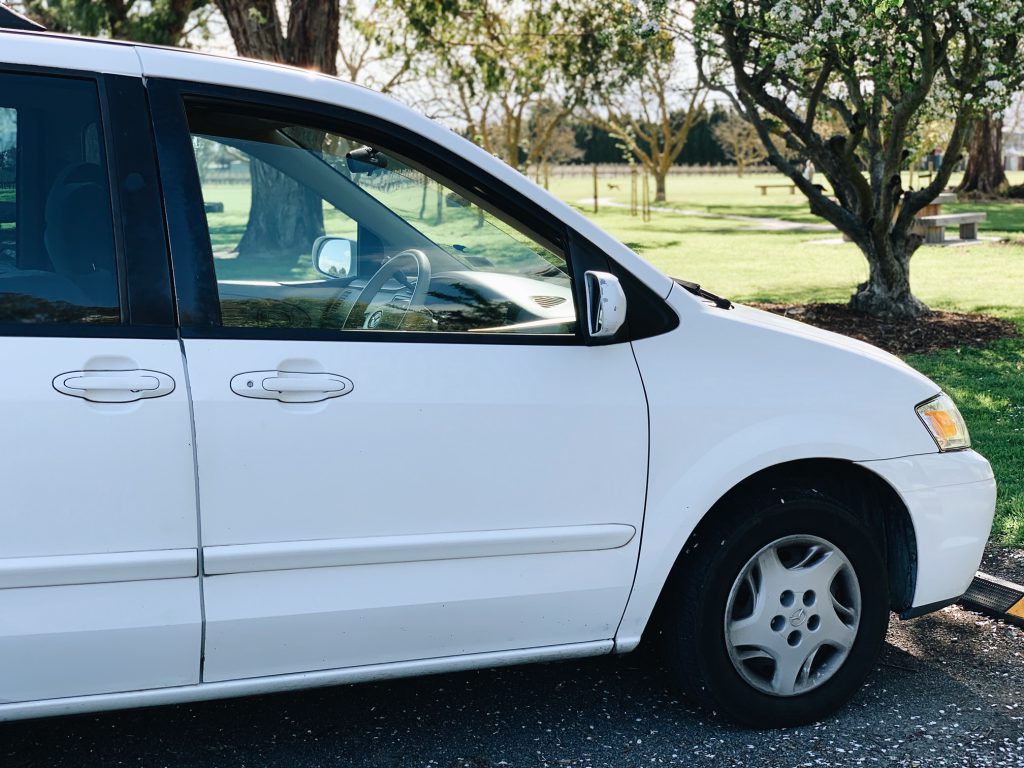 7. Get insurance
Get insurance for your car! There are several types of insurance you can get, based on what you want. There's third-party insurance, fire and/or theft insurance, comprehensive insurance, and so on. We got the third-party with fire & theft protection at AA, which we're happy with! The price is pretty okay, too, around 20-25 dollars a month.
8. Get to know your car
Yay! You've bought a car and sorted all the practical things. Now you're ready to explore beautiful New Zealand. That's awesome! While enjoying your travels, I would suggest getting to know your car and keeping an eye out for anything that seems strange. Although it may have fully passed the pre-purchase inspection, backpacker cars are usually old and may require (minor) repairs throughout your time using it. We've had a few of those occasions as well. The sooner you notice issues, the easier and cheaper it often is to fix them, and the longer you can enjoy your car.
Other things you should keep track of while using your car:
your car's registration (rego) – the fee for using New Zealand's public roads. You can easily renew your rego at a post office. The costs will depend on you vehicle.
your car's warrant of fitness (WoF) – the proof of your vehicle's safety and suitability for driving on the roads. Loads of repair shops and garages offer WoFs, such as VTNZ and AA. For cars sold before 1 Jan 2000, a new WoF is valid for 6 months; for cars first registered after 1 Jan 2000, you can get a new WoF for an entire year (which is why the car's age matters!)
the occasional service check – the AA (New Zealand's Automobile Association) recommends getting your car checked every 10.000 km or six months. During such a check, they'll change your oil & oil filter, check your car's other fluids and perform a brake test, among other things.
And there you go, these are my best tips and experiences for buying a backpacker car in New Zealand! With this guide, you are more than ready to go out and buy your own car. If you have any questions, leave them down below!
Liked this post? Save it for later!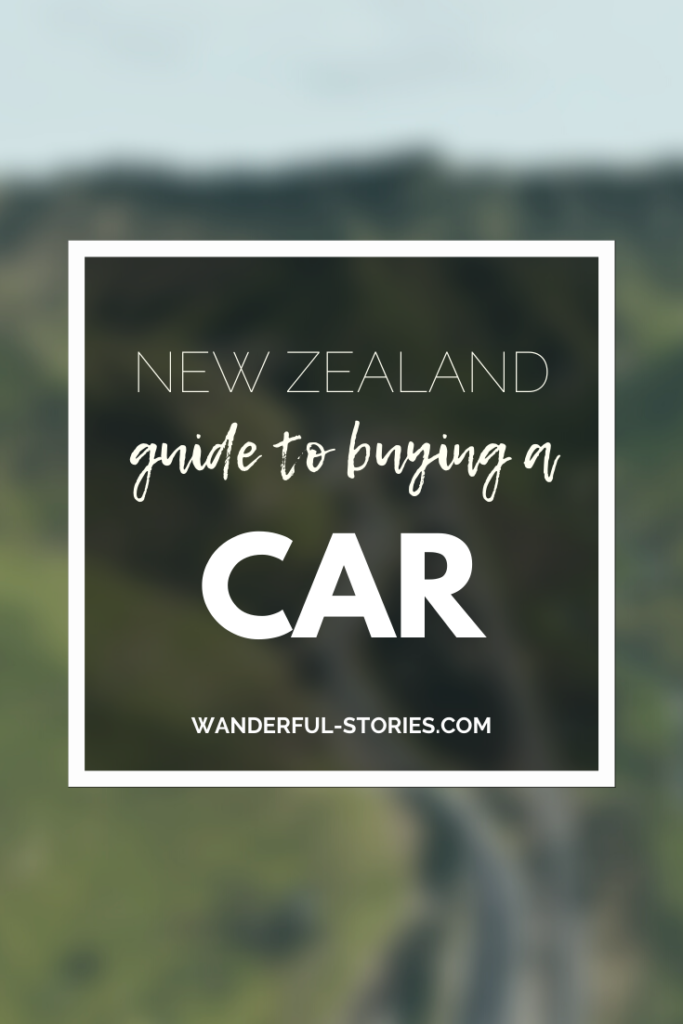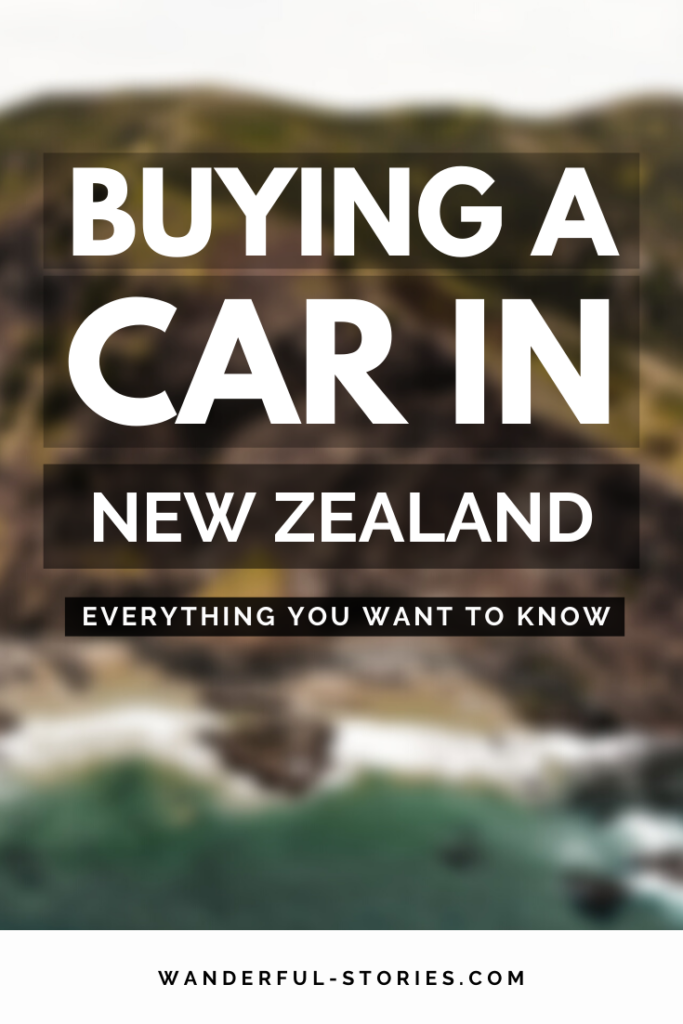 ---
You may also like…