One of the reasons I love camping in New Zealand as much as I do, is because of the beautiful campsites spread across the country. Mountains, forests and incredible lakes are just some of the things you'll see daily. It seems you almost can't go wrong! That said, there are a few campsites that the other campsites just can't compare with. Incredible facilities, friendly staff, the best stargazing or hidden wildlife populations – these are the spots you can't miss during your road trip! Today I'm sharing 10 of my favorite campsites on the South Island of New Zealand.
I'm sharing campsites for all different budgets. That way, you can find exactly the type of campsite that fits your way of traveling! Generally, campsites in New Zealand (North & South Island) are divided into three pricing categories:
Free – very basic campsites. Often in nature, though sometimes found in parking lots of public properties. If you find a flush toilet here, you're lucky!
Low budget ($8-$15) – the mid-range, standard campsites. Often with a few basic facilities. Some – the scenic Department of Conservation toilets – have no facilities (you pay the fee for basic maintenance and conservation).
Big budget ($15 and up) – fully serviced campsites and holiday parks with all the facilities, including a reception, kitchen and bathrooms. There's still a lot of difference in the costs and what's offered, though. Some even have swimming pools & spas.
Estimated costs, per person per night.
Planning your South Island road trip? Map out your route with my 3 week ultimate highlights itinerary!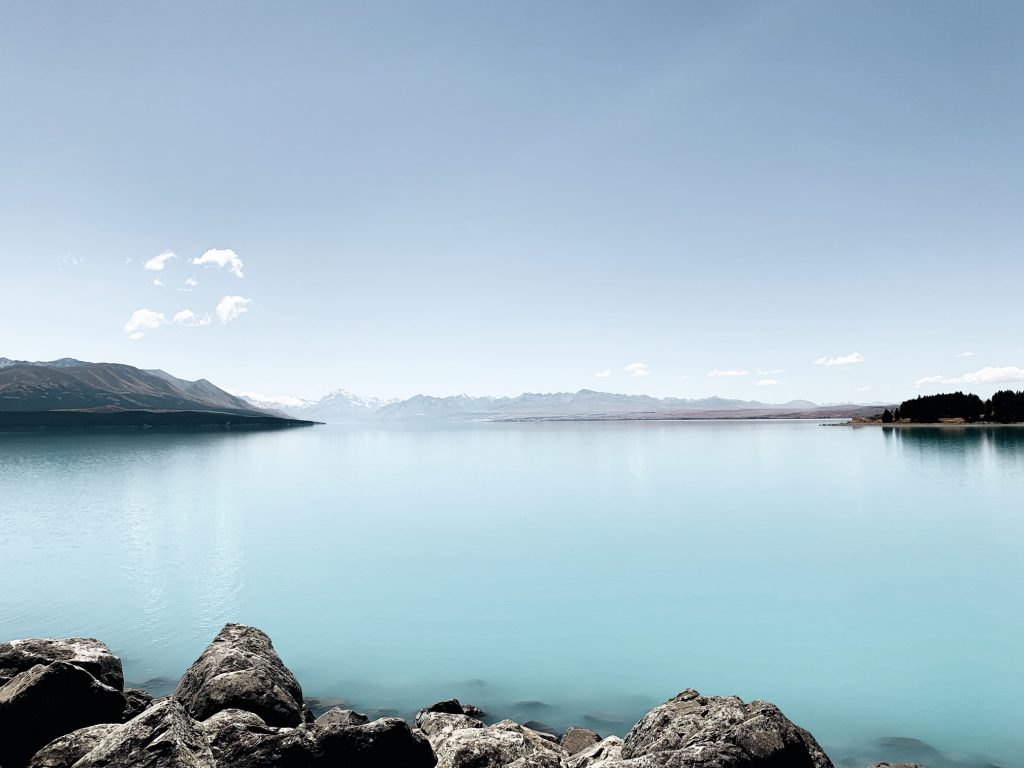 Top 10 best campsites on the South Island of New Zealand
Note: I've added the current (April 2020) pricing of the different campsites below, so you can get an idea of the costs. All prices are in New Zealand dollars and per night.
Fully serviced campsites & holiday parks
1. Queenstown Lakeview Holiday Park, Queenstown
$50 (non-powered) or $55 (powered) per site
If you want to find a campsite in the heart of the vibrant Queenstown, look no further. You find this campsite right in the town center, at walking distance from the best places to be. The staff is helpful and you can book lots of activities right at the reception.
The downside? The crowdedness. Queenstown is packed with tourists, so the campground is busy and the tent/van sites are small. However, this is well worth it for the amazing location and friendly staff.
2. Punakaiki Beach Camp, Punakaiki
$18 (non-powered) or $22 (powered) per adult
Punakaiki Beach Camp is found in the most stunning surroundings in Punakaiki, on the west coast of the island. The campsite is set amidst dramatic cliffs and along the beautiful beach. Besides powered and unpowered sites, the campsite offers different options for travelers, like cabins.
The different sites are pretty spacious and the facilities are good. There are laundry options available, in case your items need a little refresher from the road trip.
3. Amber Kiwi Holiday Park & Motels, Christchurch
Starting at $36 per tent site
Camping in Christchurch? Yes, it's possible! Out of all the campsites in this post, I've probably stayed here the most times. It's a great place to stay if you're visiting the city and don't want to book a hotel or hostel. The park offers both powered and unpowered sites, but also motel options. The facilities include a good kitchen, bathrooms, laundry room, and TV room. Though the sites aren't big, they were large enough. But most of all, the location is great and the staff is the friendliest ever.
4. Lake Tekapo Motels & Holiday Park, Tekapo
$25 (non-powered) or $27 (powered) per adult
I loved this campground! The views are incredible, the facilities are plenty and in good condition and the staff is friendly. The sites are spacious enough and the park itself is beautiful. It's also a great place for animal lovers, as park cats and duck families wander around the grounds. Besides (un)powered sites, the park also offers several other accommodation types.
5. Glentanner Holiday Park Mount Cook, Mt. Cook
$20 (non-powered) or $22 (powered) per adult
A definite recommendation if you're visiting the Mt. Cook area and are looking for a bit of comfort. The holiday park offers a spacious kitchen and dining room, as well as good bathrooms. What I loved most, though, were the spacious tent sites you could pick from. You've got lots of quiet and private space at this campsite!
At sunset, there's a great view over Mt. Cook and at night the spot is the place to be for stargazing. Grab a good camera and be amazed by the incredible views!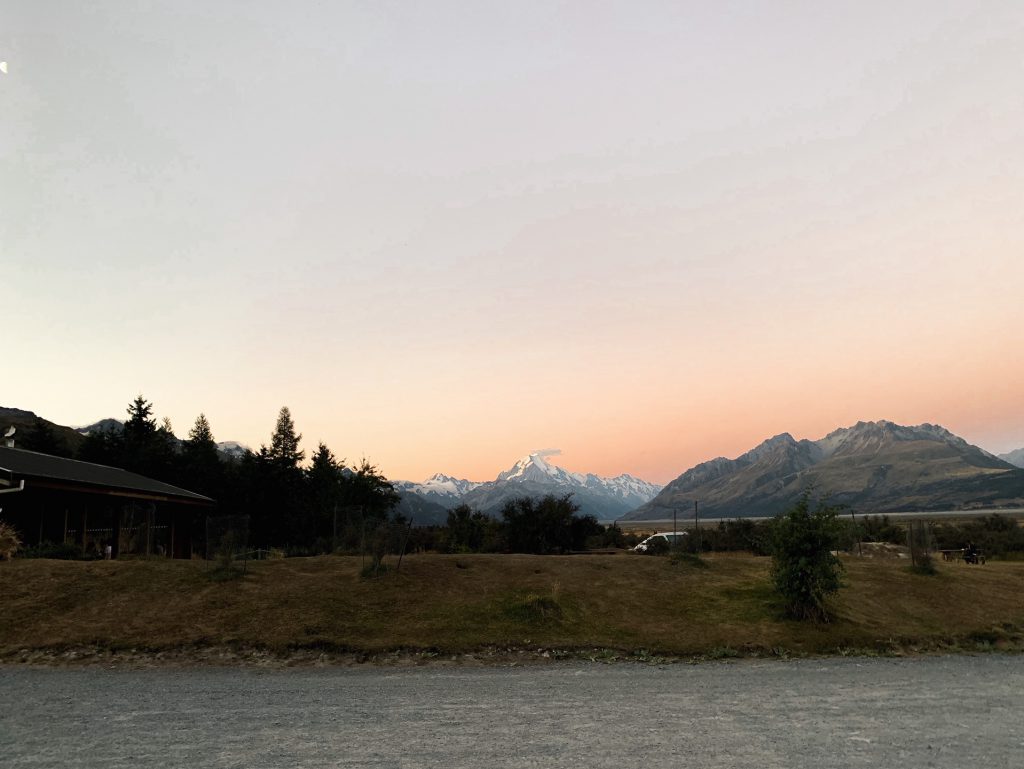 Low budget & DOC campsites
6. Twelve Mile Delta Campsite, Glenorchy
$15 per adult
There's one main reason I love this campsite: the stargazing at night. New Zealand is home to some of the darkest skies and Glenorchy is one of the places to be! On a clear night, you'll be amazed by the incredibly clear image of the Milky Way stretched out above you.
The campground itself is spacious, with large tent and van sites. Expect the facilities to be very basic, though. At the time of my visit, there was a small sink and two dump toilets. However, the view at night makes up for all of it!
7. Cascade Creek Campsite, Fiordland National Park
$15 per adult
This campsite is the perfect place to stay the night if you're planning on visiting Milford Sound the next morning. It's the last mid-range campground available before arriving in the Sounds, which will take you about 40 minutes by car. The facilities are pretty decent for a DOC campsite and the views are one of a kind!
8. Whatamango Bay Campsite, Picton
$8 per adult
This budget-friendly campsite is the perfect spot to stay if you're taking the ferry to the North Island, or if you've just arrived on the South Island from Wellington. It's only about a 20-minute drive from the ferry terminal to the campsite, making it the best budget option. Though this DOC campsite is basic, the surroundings are incredible (the Marlborough Sounds are one of my favorite South Island places!) and you'll find basic facilities, too. What more could we want, right?!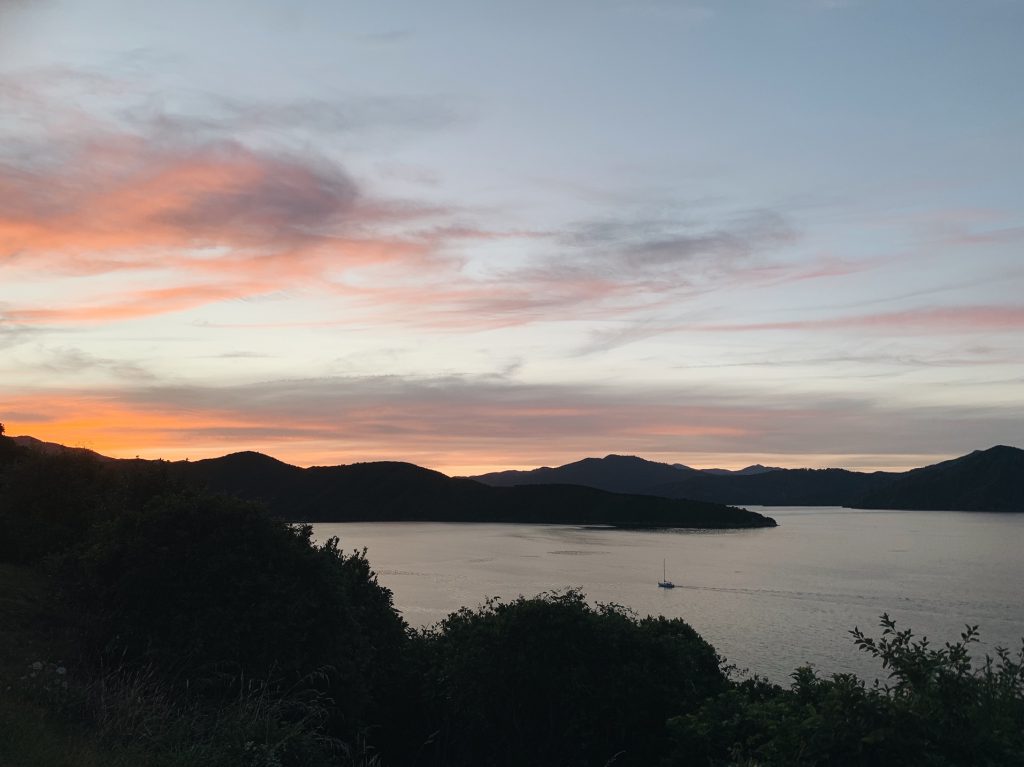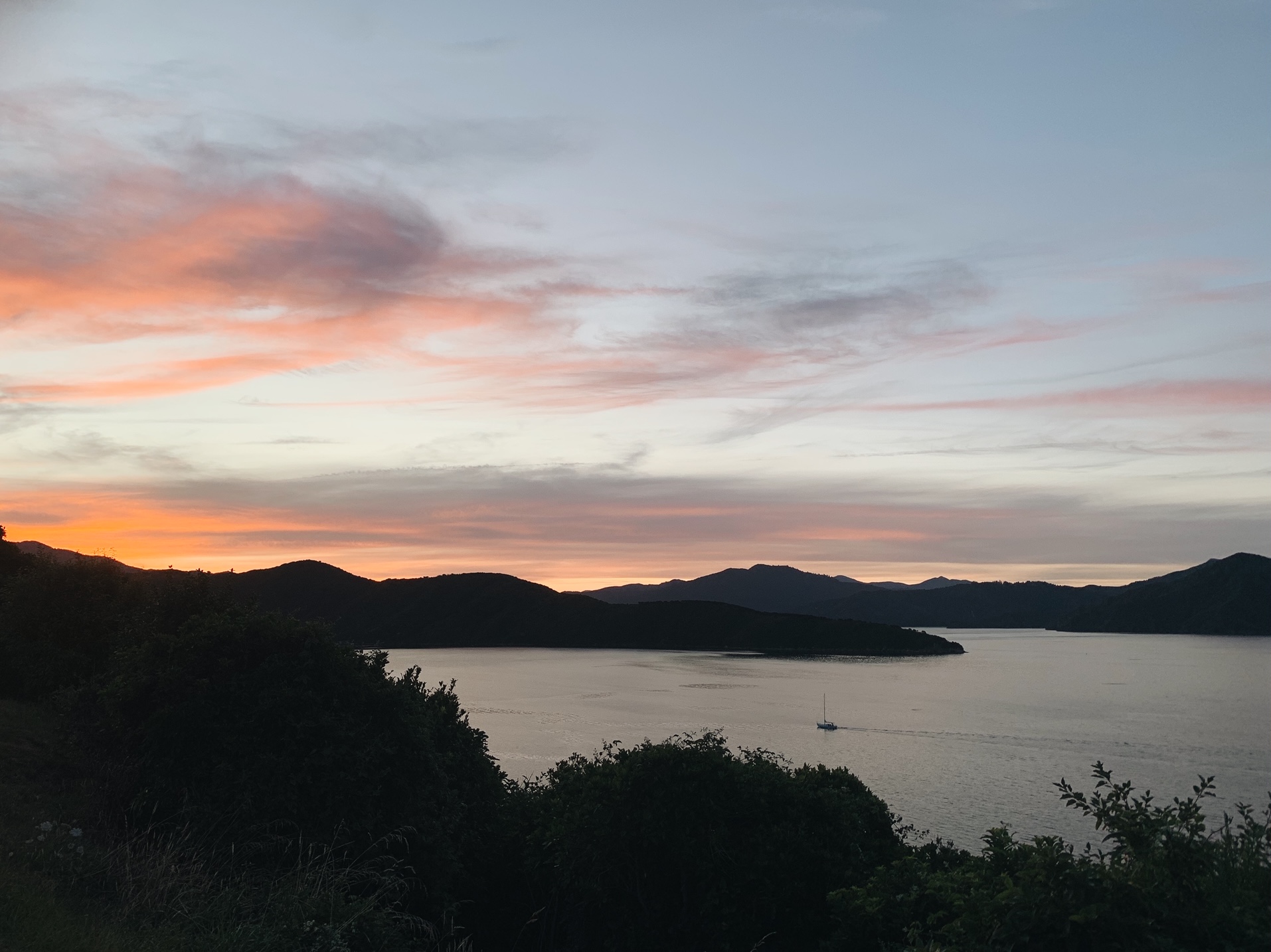 Free campsites
9. Weir Beach Reserve, Catlins
Free
This free campsite is a great starting point for your Catlins adventures. (If you're there, I especially recommend visiting the nearby Curio Bay to spot wild endangered penguins!) The campsite has a toilet and sink, and with its good location and stunning surroundings is a great spot to spend a free night. Because of this, it can get a bit busy with fellow travelers, though.
10. Bendigo Picnic Area, Bendigo
Free
A simple but spacious campsite with a gorgeous view over Lake Dunstan (incredible sunsets!), toilets and picnic tables. I particularly love the location of this campground: it's located near Highway 8, in the middle of the southern part of the island. So, it's a convenient place for travel to the Queenstown/Wanaka area, Lake Pukaki and Mt. Cook, or the southeast coast and The Catlins. Though it's popular, it's not crazy crowded and there's enough space for everyone.
Fun fact: when I was staying here, one of the national TV crews filmed a news segment on freedom camping right on our spot for the night!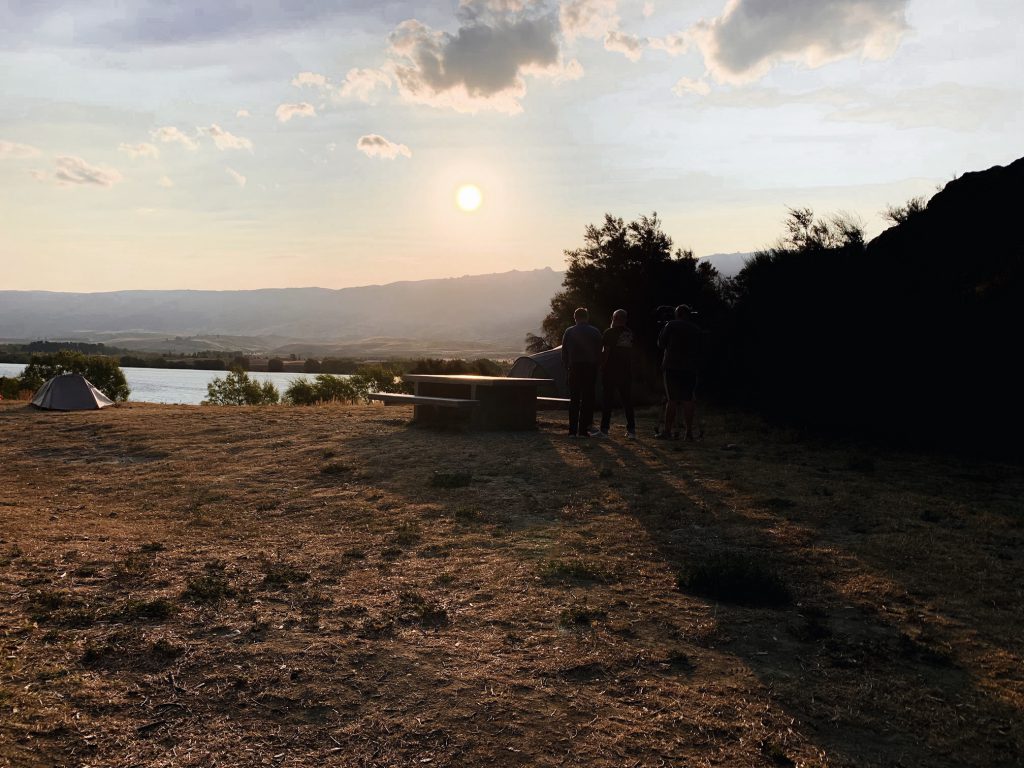 Tips for camping in New Zealand
Want to know more about camping on the South Island? Check out these recourses:
I've made a complete NZ camping guide to help you out with all your questions and share my best tips & experiences
Download to CamperMate app for the best overview of all campsites and where to find them. You can find more about why I love this app here
You can read more about freedom camping and the regulations on the DOC website.
The campsites in this post are at the time of writing suitable for self-contained and non-self-contained vehicles, but rules can change. Always check the local signs, because fines are expensive! 😉
And there you go, my personal top 10 of the best campsites on the South Island of New Zealand and my tips for your camping trip. I hope these help you plan your adventure and have an amazing time on this beautiful island. I'd love to hear about your favorite campsites!
Liked this post? Save it for later!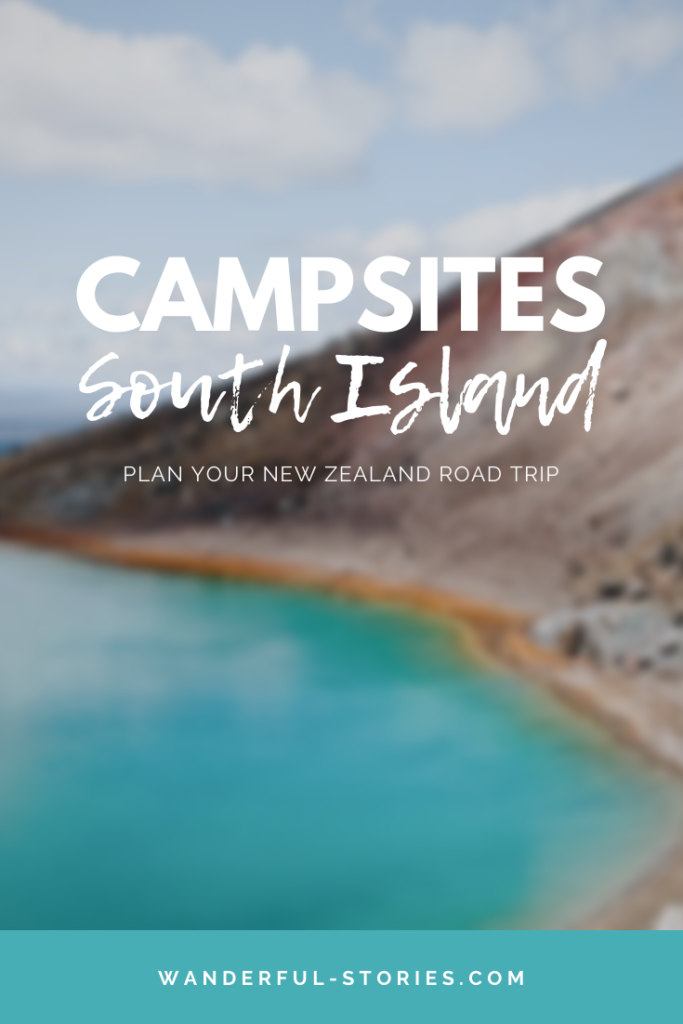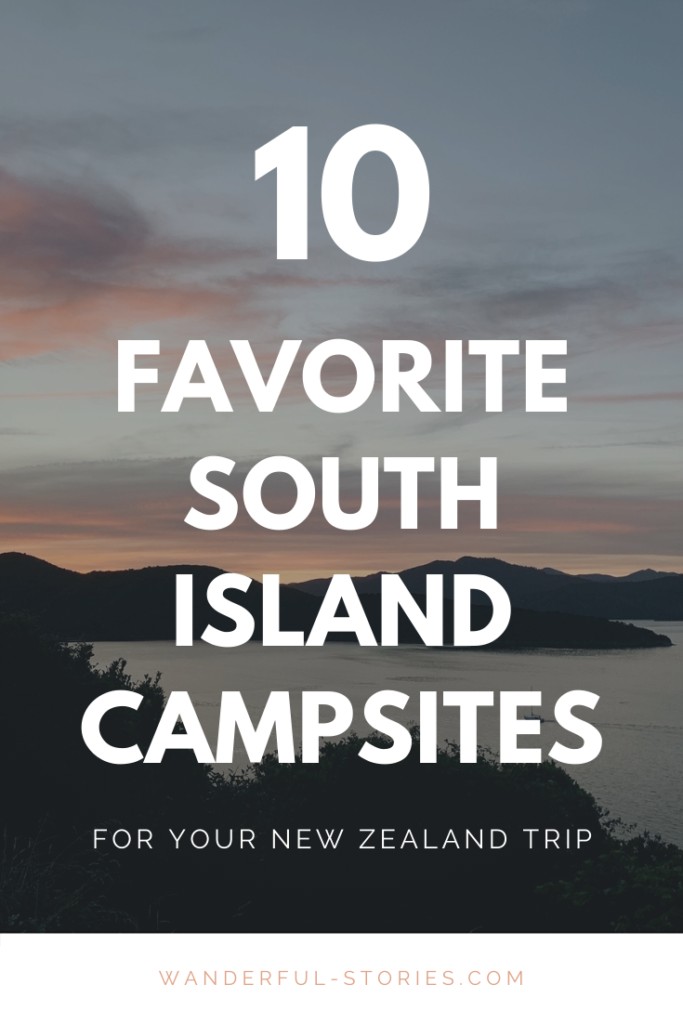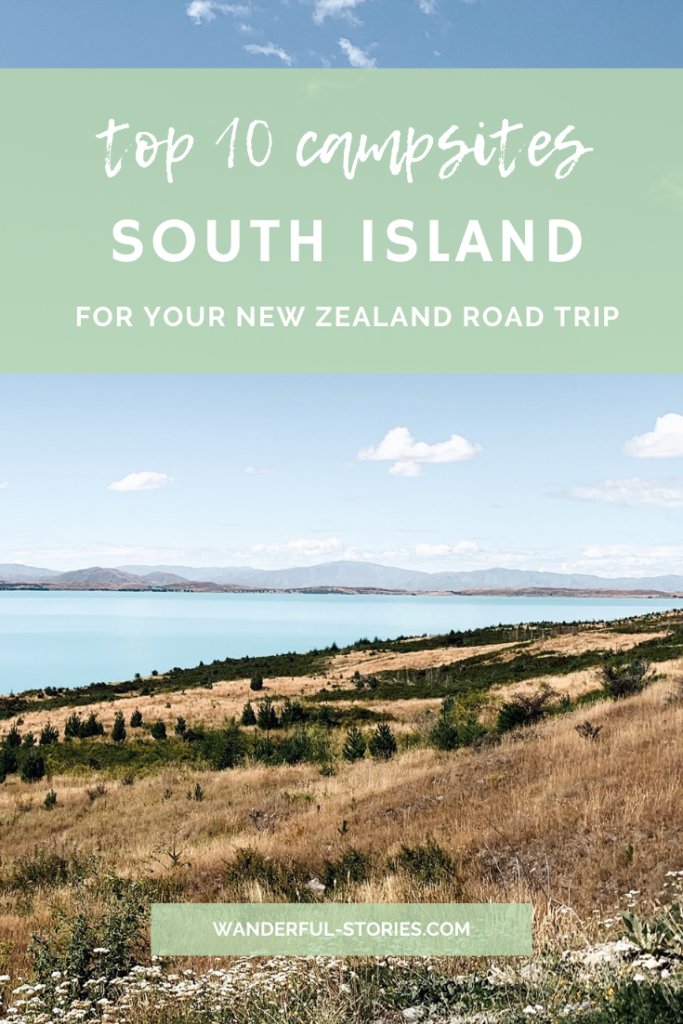 ---
You may also like…