As much as I love New Zealand, I'm not gonna lie – it's pretty expensive to travel: the transport, the most of the accommodation, even the food. Luckily, seeing all of the country's highlights doesn't have to be expensive at all! Here are my top 15 free things to do and see in the beautiful South Island. This list takes you all around the island. Except for your form of transportation (and perhaps very occasionally parking costs), these things are totally free of charge!
1. Wander around Christchurch
Christchurch is the biggest city in the South Island and the second-biggest city in the whole of New Zealand, after Auckland. In 2011, an earthquake left a big mark on the city, a great part of which had to be rebuilt afterwards. I visited the city for the first time in 2015 and didn't like it very much. It was a ghost town, abandoned and without much life in it. When visiting it during my current trip, however, I couldn't believe the change it had gone through. Christchurch is now a vibrant city and it's great to walk through it. I'd highly recommend going to the earthquake memorial and visiting the botanical gardens, which are both free to do.
2. Be in awe by the Milky Way
Oh my, this is probably the one thing that has stuck with me the most. It was just incredible. Before, I always figured I'd have to travel to some super remote destination, camp out in a sleeping bag and pay a huge amount of money, just to be able to spot the Milky Way. But no – late one night, we went outside (probably to go to the toilet), and it was just there. Crystal clear and in all its glory.
Now OK, New Zealand is pretty remote for most of us, and yes, I did camp that night. But it was not in some random desert and it was totally free. And it was incredible. Actually, there are a lot of places in New Zealand where you can spot the Milky Way. I'd recommend the area between Queenstown/Glenorchy and Lake Tekapo, you can find some of the world's darkest skies over there. Wait for a clear sky and gaze away.
3. Spot baby seals at Wharariki Beach
Baby seals? Gorgeous white sand dunes? A never-ending beach? Yes, please! Wharariki Beach has it all. Visiting this beach is absolutely one of the best free things to do in the South Island. I loved exploring this beach, having a picnic and waiting for the seals to come out in low-tide. As the water retracts, they play in the little puddles of water that remain on the shore.
In fact, I like this place so much that I included it in my top 5 ultimate South Island experiences. Keep in mind though, that the seal population may be different at different times of the year. Nevertheless, it makes for a great day anyhow. The surroundings leading up to the beach are equally beautiful and allow for lovely hiking.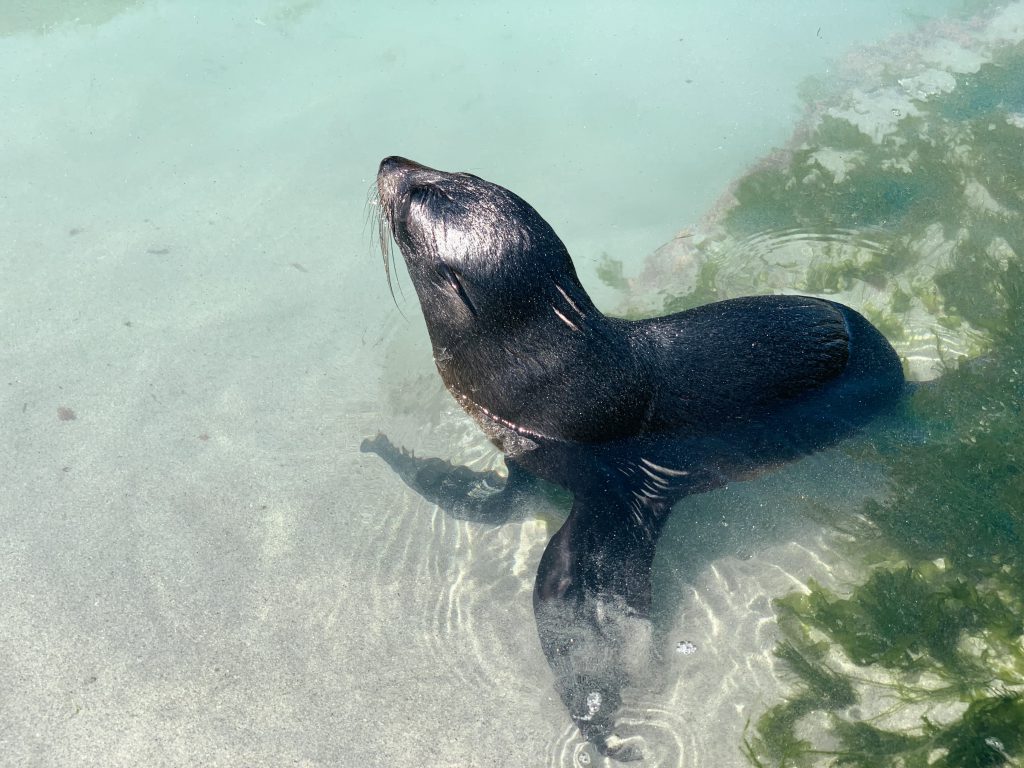 4. Explore Queenstown (and also Glenorchy & Wanaka)
Queenstown is a city of which there aren't very many, I think. It's a combination of incredible scenic views, great thrills for the adventurous, good food & coffee and shopping, with an incredible atmosphere, all packed in a relatively small town (though big for the local standards). It is bursting with energy – and tourists ;). Yes, it's busy, but you can't miss it. Although most things won't be free in Queenstown, you're always free to wander around the cozy markets or take in the views. And if you do want to spend a little bit, you can't miss the Fergburger, New Zealand's most famous burger (and for good reason).
While you're at it, I'd recommend driving half an hour extra from Queenstown to Glenorchy, a neighboring town. The view is incredible, especially during sunset. Over there, I have witnessed what to this day remains my favorite, most epic sunset ever. Is Queenstown a little too busy for you? Definitely check out Wanaka, a city just to the north with an energy that's just as vibrant.
5. Enjoy Twizel & Lake Pukaki
Twizel is one of those little towns of which so many can be found on the island. You know, the kind where it only takes you two minutes to drive through it. However, I found there are only a few that have the kind of atmosphere that can be found in Twizel. I loved strolling around the streets and wandering in and out of the little shops, chatting with the friendly locals. Furthermore, it is a great base for exploring Lake Pukaki, leading up to Mt. Cook. Take your time to fill up on gas or get some groceries in Twizel, before heading out to Lake Pukaki to enjoy lunch with an incredible view.
6. Enjoy the view at Nugget Point Lighthouse
For me, this is one of the most special places in New Zealand. Don't get me wrong, I love crazy adventures such as helicopter flights and swimming with dolphins, but this is incredible on a whole other level. You can find Nugget Point in the Catlins, in the south of the island, where a small walk takes you to the lighthouse and observation platform.
The only thing you see, standing on the platform, are little nuggets. (Hence the name, for they resemble nuggets of gold). Beyond that, it's just a vast ocean that never seems to end. It's incredibly impressive and I highly recommend going there. And you're totally free to do so, as there's no entrance fee to this gorgeous spot in the South Island.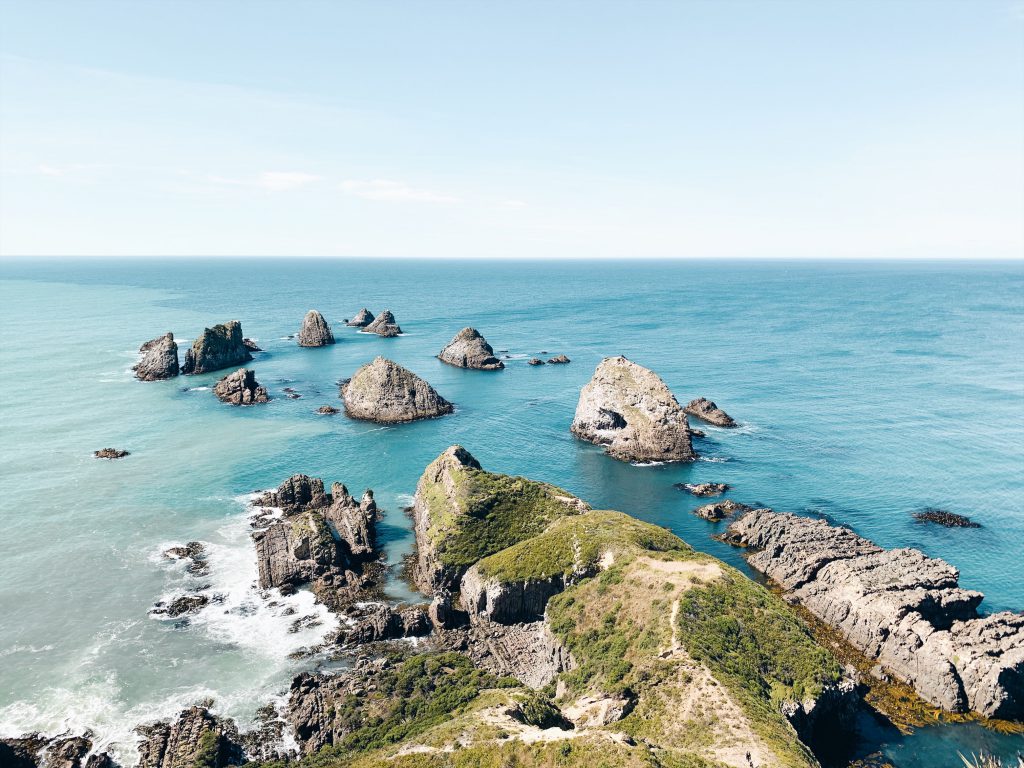 7. Spot penguins at Curio Bay
Penguins in summer, on a beach, how crazy is that? Well, it was to me at least – I thought they were mostly found in Antarctica anyway, haha. Well, there are actually quite a few places in New Zealand's South Island where you can spot them, of which Curio Bay is a really good one.
We lucked out in other places because we didn't come at the right time, which is usually before sunrise and after sunset, as the penguins return from the sea to their nests. At Curio Bay, you can almost put a clock on the arrival times of the few penguins that show up there. Usually, it's somewhere between 8 and 9 in the summertime. Keep in mind, though, that the daily activities and rhythms of penguins vary in different seasons and months, so I'd recommend doing some research before you go.
Wanna see some yourself? Click here to read my blogpost about spotting penguins at Curio Bay!
8. View incredible waterfalls at Arthur's Pass
Now this one, I think, is a spot in New Zealand that's a little less popular than some other ones in this list. However, this part of the island really has its own, magical beauty. Even driving up there provides you with absolutely stunning views of nature and the town itself is great for a day trip, too. There is not much to do but hike, which is exactly why I paid the place a visit. There are several hikes in the area, but I'd highly recommend the track that leads you to the Devil's Punchbowl Waterfall. The hike itself is neither difficult nor very long, but the view of the waterfall is downright amazing. It is gigantic and the water seems almost weightless as it is softly blown away by the wind while pouring down. Definitely worth a visit!
9. Go for a hike
This tip is a little more general than the rest, but not less important: go hiking! I really enjoy it, especially in New Zealand. Personally, I think hiking is one of the best free things to do in the South Island. It is a great way to explore a particular area and be active. Because let's be honest, that's not easy while traveling. On top of that, you get to see the most amazing scenic views. Do we need any more reasons? Two of my favorite hikes in the South Island are the Ben Lomond track in Queenstown and Roys Peak in Wanaka.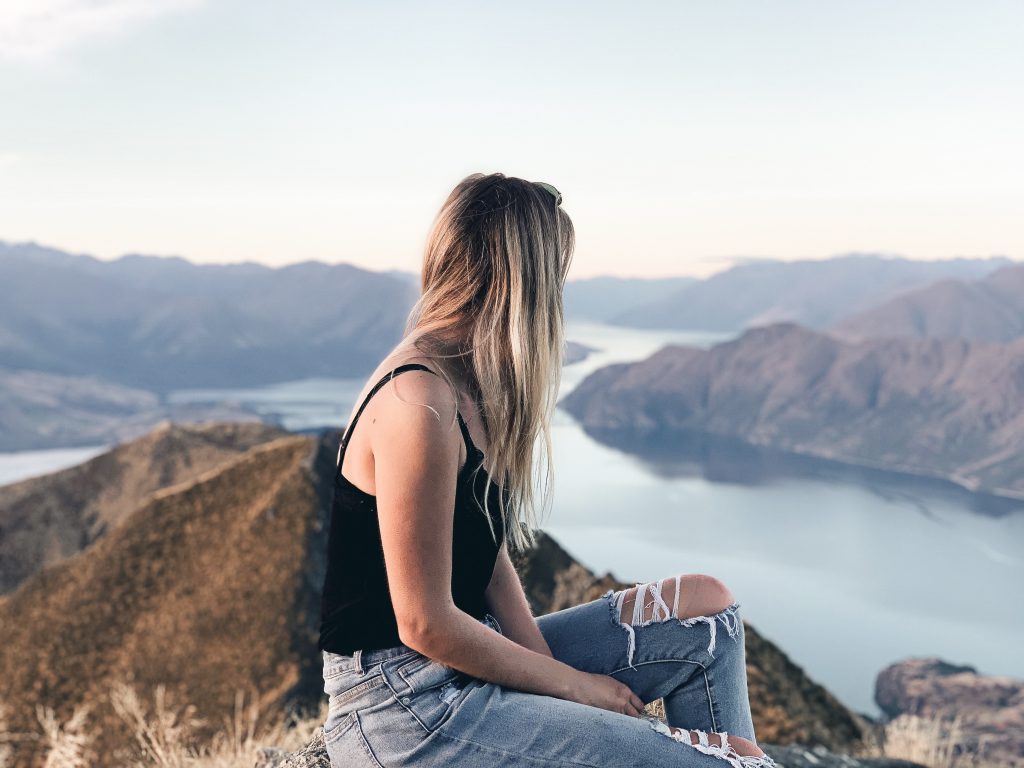 10. Spot dolphins off the coast of Kaikoura
Kaikoura is famous for being the home of many dolphins. I'd always been hesitant about that, not getting my hopes up. However, when driving past the east coast, I immediately knew I had greatly underestimated the number of dolphins in the area. There are so many! We actually didn't stop in the village itself, but just below it, around Peketa.
It's incredible how well you can see them over there, and how active they are. Not only can you watch them swim, but they're twisting and turning and making summersaults. You know the tricks you see dolphins doing in sea life parks and such? In the Kaikoura region, it's just like that, only this time in their natural environment. It was magical, definitely something you shouldn't skip while in the area! If you do want to spend some money and take your dolphin adventure one step further, you can read all about my experience swimming with them here!
11. Explore Mt. Cook
Mt. Cook is part of the Southern Alps and the highest mountain in New Zealand. Going there is a definite must if you're on the South Island. Sure, there are certain things you can do there that are pretty expensive (think helicopter flights and such). However, there are also plenty of great things to do that are totally free. The drive up there from Twizel and along Lake Pukaki is beautiful in itself. You drive on a winding road with Mt. Cook in the backdrop, getting closer and closer. When there, I'd recommend doing the Hooker Valley Track. The hike is easy and can be done by people with different fitness levels. The fun track leads you over swing bridges, through the valley and ultimately to Hooker Lake, with a stunning view of Mt. Cook. Want to know more about the hike? Check out my blogpost on the track!
12. Hike Abel Tasman National Park
Named after the Dutch explorer who first reached New Zealand, this national park can be found in the north of the island. The park sports beautiful beaches and mountains and a great diversity in flora can be found. There are many different options when visiting the park, such as kayaking or taking a water taxi. However, it is also perfectly suitable for hiking, which is totally free! The track running through the park is long, taking a few days to complete. Yet it is very possible to do only a small part of it, depending on your location (as the park is quite large). I've done two different hikes of around 10-15 km, on in the northern part and one at the southern end, and both were beautiful. Make sure to pack enough food, water, sunscreen, a hat and a bathing suit, because it gets hot!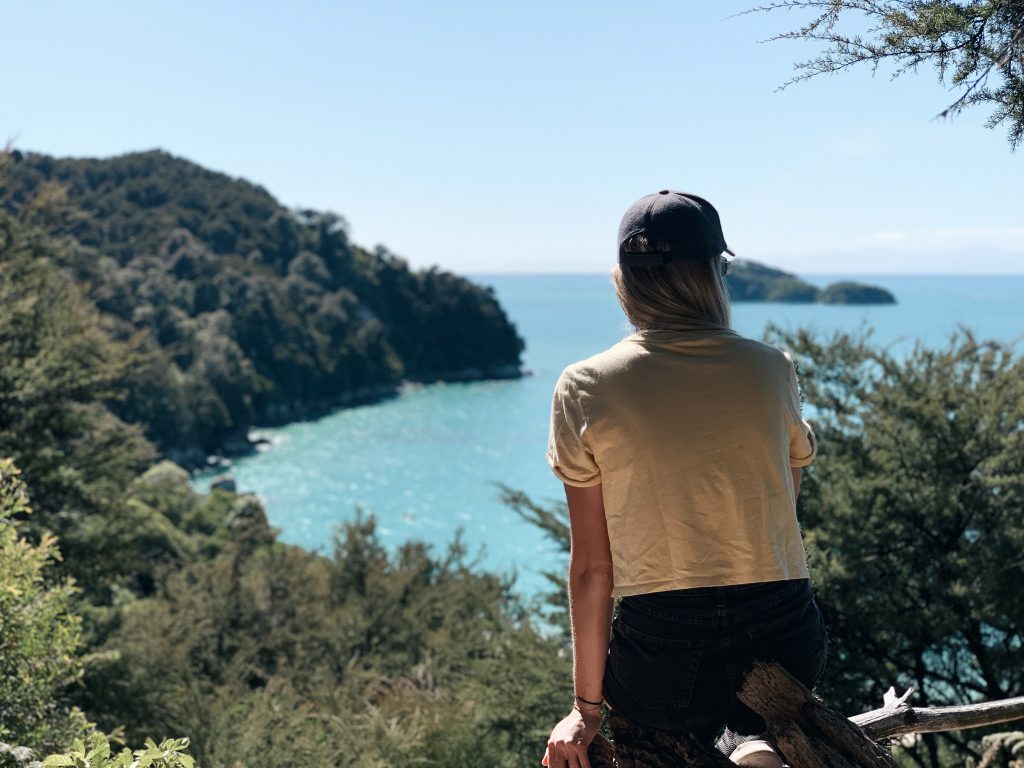 13. Visit Lake Tekapo
This is one of those spots you really can't miss when on the South Island, and which you don't have to, because it's totally free of charge! Lake Tekapo is a real must-see because of its incredible blue color. You can explore the area by doing one of several hikes (check them out here!), or just find a quiet place to sit and take in the view.
14. Visit the Franz Josef & Fox glaciers
New Zealand has two main glaciers, the Franz Josef glacier and Fox glacier. The two are pretty close to each other, with only a half-hour drive between them. A fun thing to do at the glaciers is to hike to them. I've done this a few times and think the glaciers are truly awesome. At one moment, you are walking among palm trees, the next you come out onto a deserted field, with a large glacier in the backdrop. It really shows the great diversity in the landscapes of New Zealand. I've visited quite a few glaciers in my life, yet there is something about this contrast that makes them so special. The walks themselves are relatively accessible, so I'd highly recommend visiting them to experience both glaciers!
15. Climb the steepest street in the world
The steepest street in the world can be found in Dunedin, New Zealand. How cool is that? Baldwin Street is 350 meters long and has a maximum incline of 35%. Apparently, the city of Dunedin was designed without taking into account the actual features of the terrain, which now makes for an incredibly tough walk or drive, haha. Oh, and there are actual houses with people living there. Crazy, right? Although I'm definitely glad I don't have to climb up that street every single day, it's worth paying a visit.
From spotting wildlife to exploring towns and cities, there's got to be something for everyone among these 15 best free things to do in the South Island. Preparing for your trip? Perhaps you'll also like my ultimate South Island top 5, featuring my all-time favorite experiences (both paid & free). And don't forget to let me know all about your favorite free things to do on the South Island!
Liked this post? Save it for later!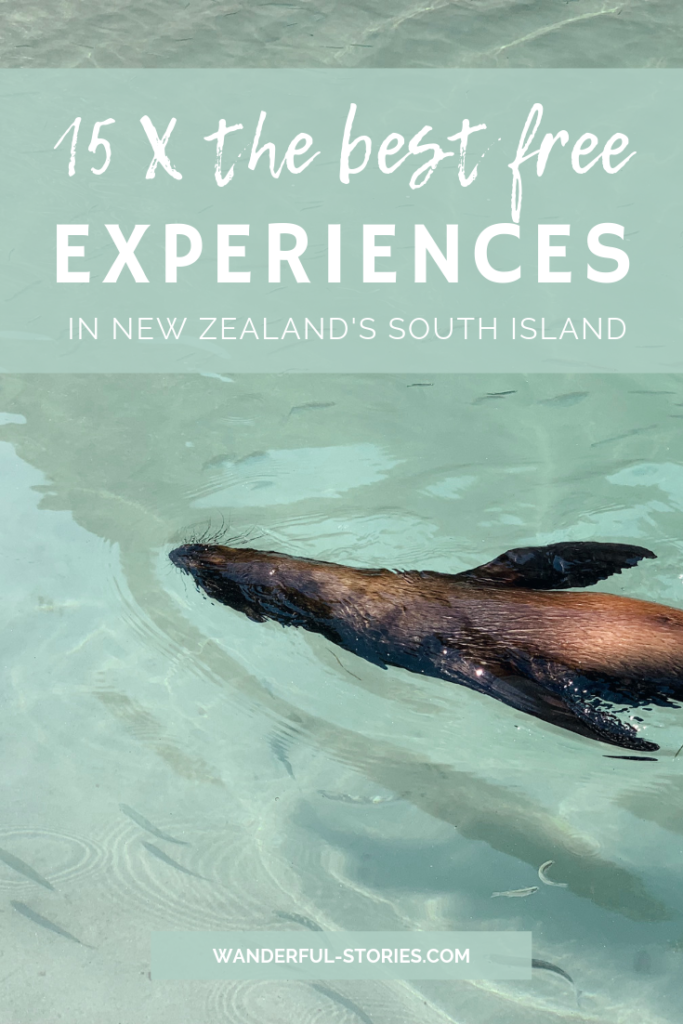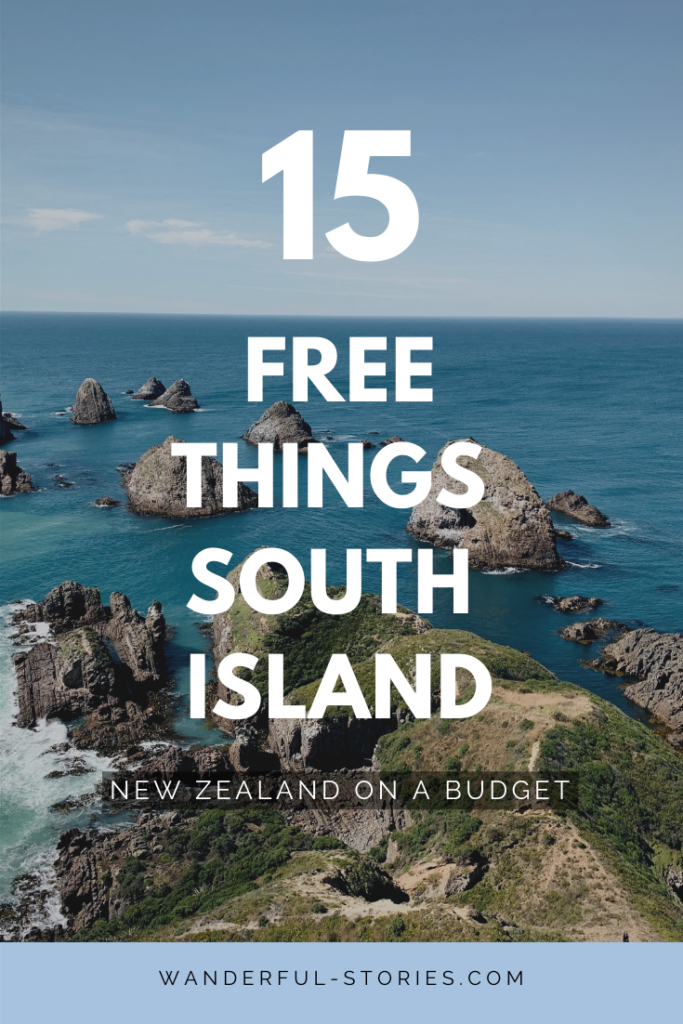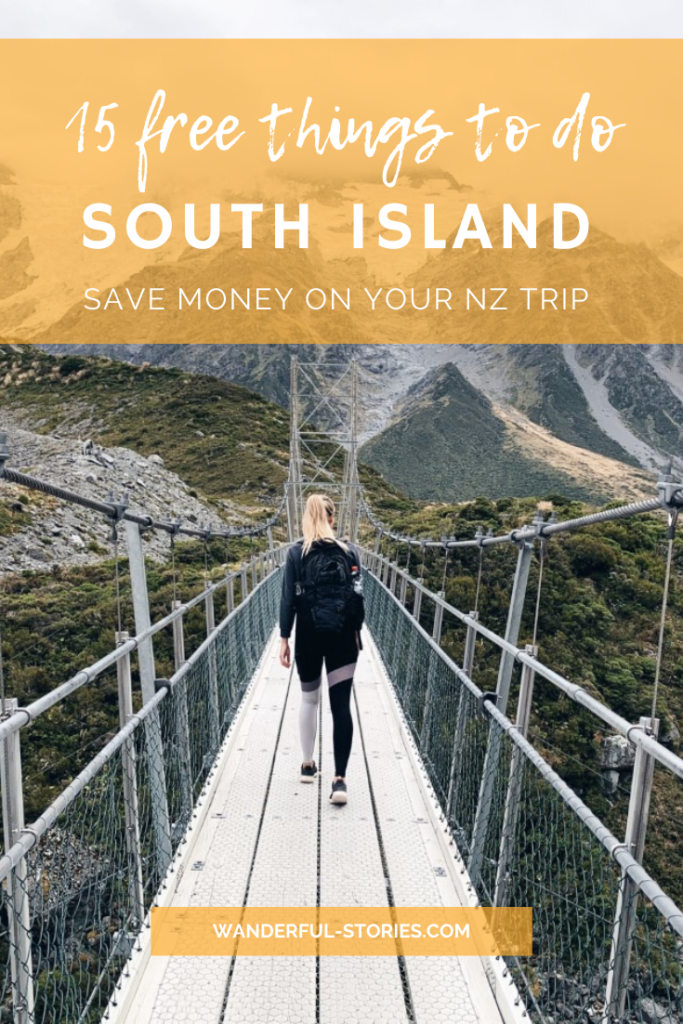 ---
You may also like…