After having seen most of New Zealand's South Island, Frank and I still really wanted to do one thing: swimming with wild dolphins in the open ocean in Kaikoura. Kaikoura is located on the east coast of the island. The town is well-known as a great place to spot both dolphins and whales. We had briefly passed Kaikoura on our way north from Christchurch a few weeks before. Even from our car window, we had been able to spot a great number of dolphins swimming and jumping up in the air, just off the shore.
Trip to Kaikoura
And so, in early April, while having settled in Blenheim to work for a little bit, we decided it was time to tick this last item off our South Island bucket list. We had been looking for the perfect day to book our trip when we suddenly got the next two days off. We quickly checked the weather and the open time slots for the next day and reserved our spots. The rest of the afternoon we prepared our car for an overnight camping trip. At 5 pm, we quickly ate a pizza and drove off to Kaikoura, around two hours south of Blenheim. Only an hour later, the sky had turned pitch black. By the time we arrived at our free campsite, we did little more than brush our teeth before going to sleep.
The next morning, the alarm went off way too early, even for our new standards. We had to get up at 4:45 am, as the tour began at 5:30. Believe me, I didn't think I'd ever book a trip this early. However, it is the best starting time to see a good number of dolphins. (And honestly, it was the only one available due to our last-minute booking, haha).
The tour
We had booked our tour with Encounter Kaikoura, a company that aims to be as unintrusive as possible. For example, they don't feed the dolphins to get their attention and don't create a forced swimming environment when the dolphins show no interest. Upon arrival, the company warned us that the sea conditions were rough (both in terms of seasickness and swimming difficulty); we could still opt-out and get a full refund. However, we didn't have unlimited days in Kaikoura, had already driven the distance and – most importantly – had woken up super early on our free day. So, we bought some anti-seasickness pills and tried on our snorkeling gear. We received a wetsuit that covered everything from our ankles to our head, flippers and a snorkel mask.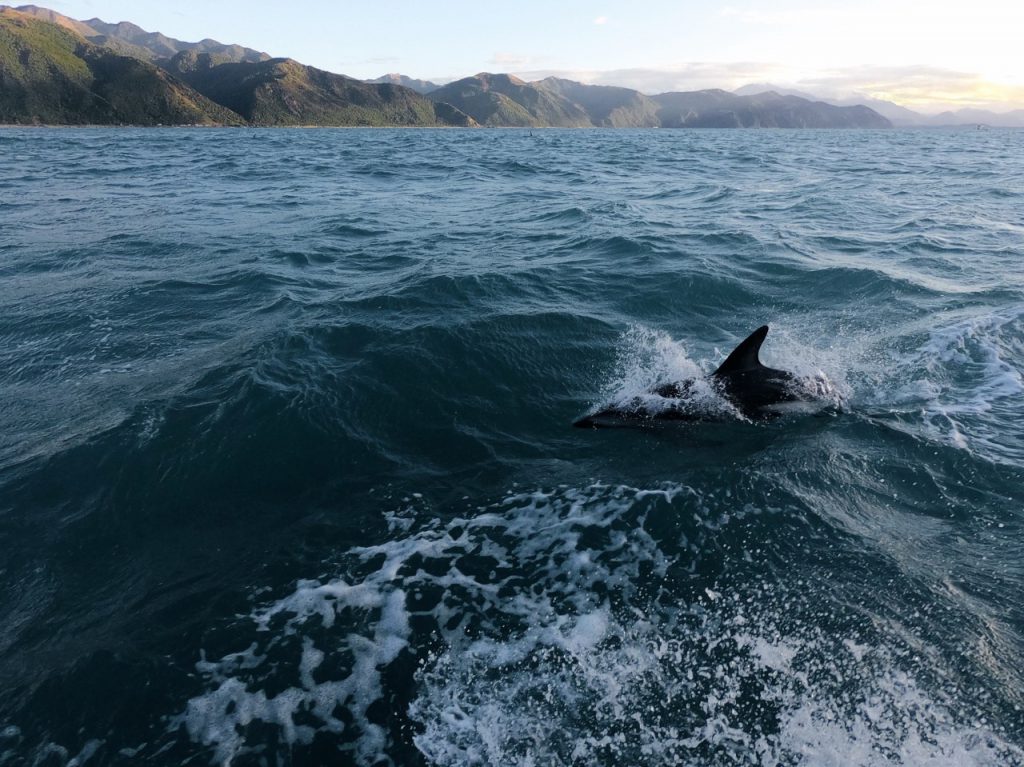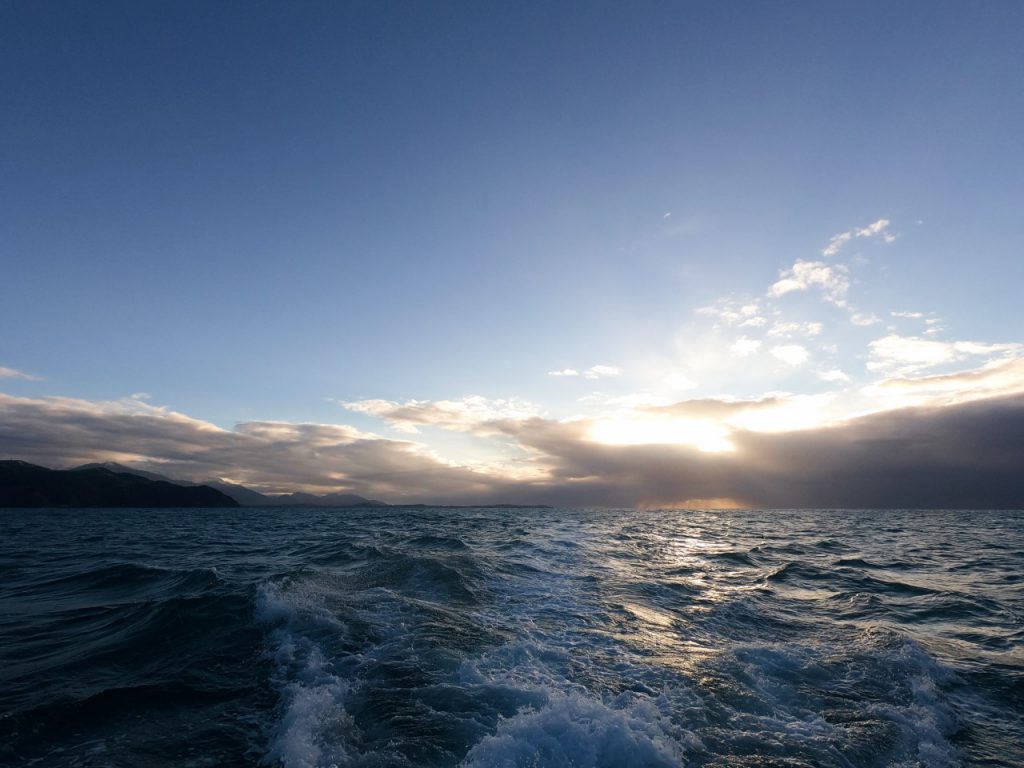 Into the water
As the boat left, we realized that the sea condition had not been understated – it was rough. I had taken one of the pills and was doing OK. Well, until someone started throwing up close to me. I'll spare you the details, but it only got worse from there, haha. Yes, I can laugh about it now, but I truly felt horrible during the rest of the trip. On a more positive note, we witnessed a beautiful sunrise and even spotted some albatrosses chilling on the water.
All in all, I was glad when the tour guides spotted some dolphins and we could finally get into the water! We assembled our gear and went over the distress signals one more time. Sitting on the rear of the boat with our feet in the water, we waited for the right time to go in.
Rough sea and difficult swimming
Now I've got to be honest – this did not go as well as I'd expected. My flippers seemed waaay too large and clumsy and I was unable to swim anywhere. On top of that, I lost Frank in the group of swimmers (everyone looked so alike in those top-to-toe wetsuits!). I controlled my breathing and tried to let my body get used to the cold water, but it did not help at all. The sea was rough and I could not keep my body straight to use the flippers and move forward. Needless to say, I definitely had a small panic attack when the group headed back for the boat. I felt I still couldn't move forward, no matter how hard I tried.
Being one of only two left in the water, I used the distress signal and the boat picked me up. Once safely onboard, I quickly realized I was too tall for the wetsuit and it prevented me from fully straightening my body, and the awful headpiece didn't help. So, I threw it off and fixed myself a small floating board. Luckily, this helped massively with the swimming and I was able to enjoy the other swimming opportunities much more. But I definitely asked Frank to stick around me.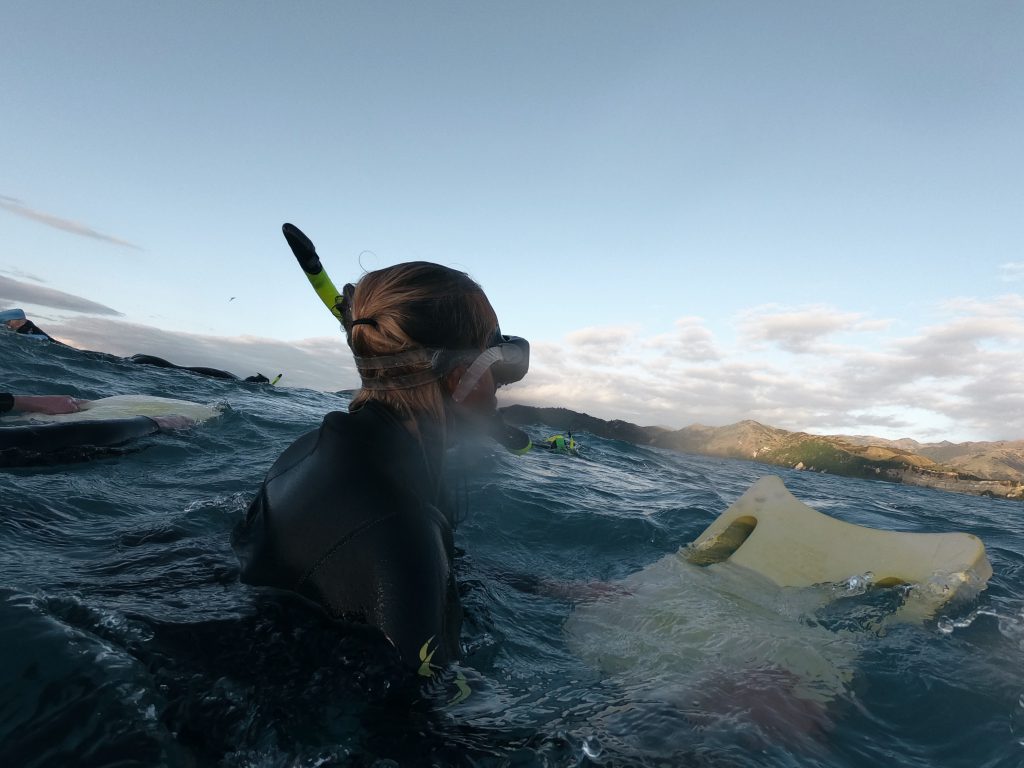 Swimming with dusky dolphins
When I was able to relax a bit, I could finally put my head underwater to try and see some dolphins and enjoy the experience. Our guides told us to make as much noise as possible to attract the dolphins. The result was a range of weird sounds people were making through their snorkels. The whole scene must have looked hilarious for the spectators on the boat. 🙂 But it worked and soon many dusky dolphins surrounded us. It was such an amazing experience! The dolphins swam beside me and dove underneath me, at only an arm's length distance. They were playful and loved the company. Really, for swimming with wild dolphins, there aren't many spots in New Zealand better than Kaikoura!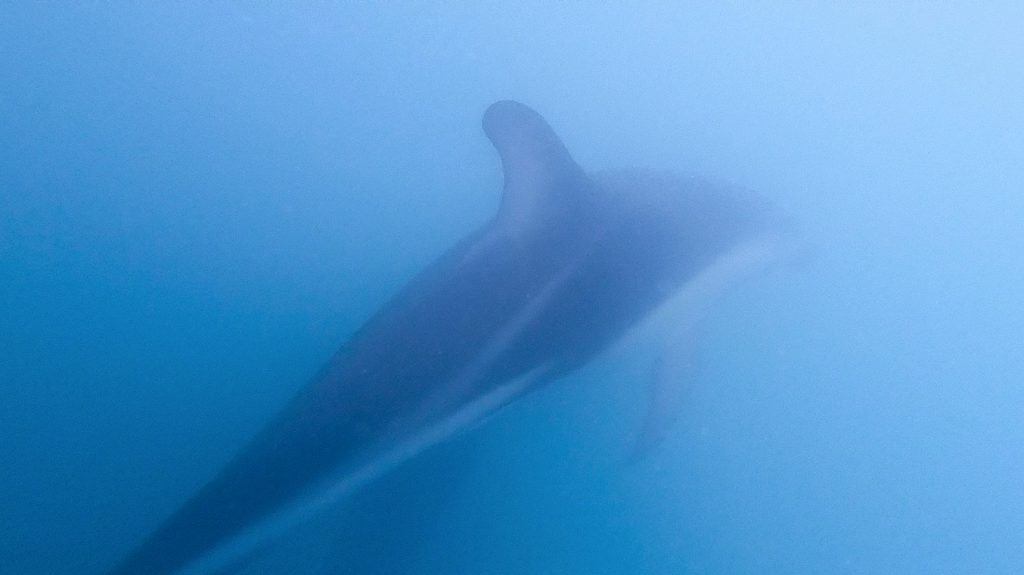 In total, I think we had four swimming opportunities. Combined, they probably gave us about half an hour of total swimming time with the dolphins. Afterwards, we changed out of our wetsuits and tried to change into warm clothes again. The wind was absolutely freezing! We had some more time to spot dolphins and take photos. However, I felt horrible as soon as the boat moved again and wished we would head back to shore. I tried to enjoy the beautiful nature on the way back but was glad when we – after what seemed like forever – finally set foot on Kaikoura's shore again.
Yet despite the seasickness, the rough sea and the cold, I absolutely loved swimming with wild dolphins in Kaikoura! We were lucky to be able to spot so many dolphins. It was incredible to join them in their natural environment. All in all, it definitely was a day I'll never forget.
Liked this post? Save it for later!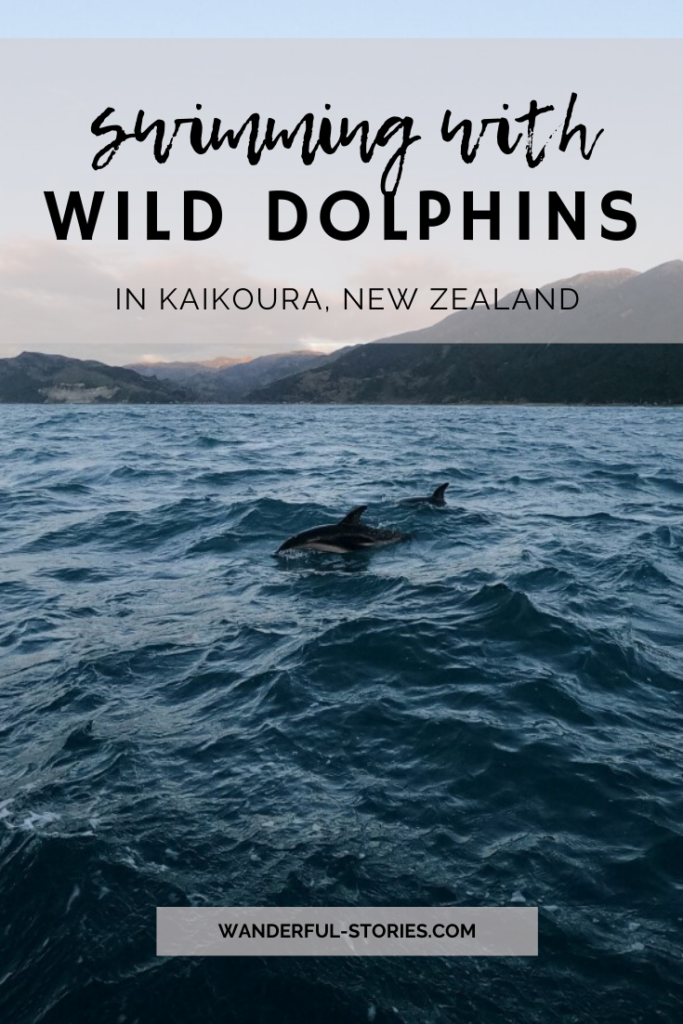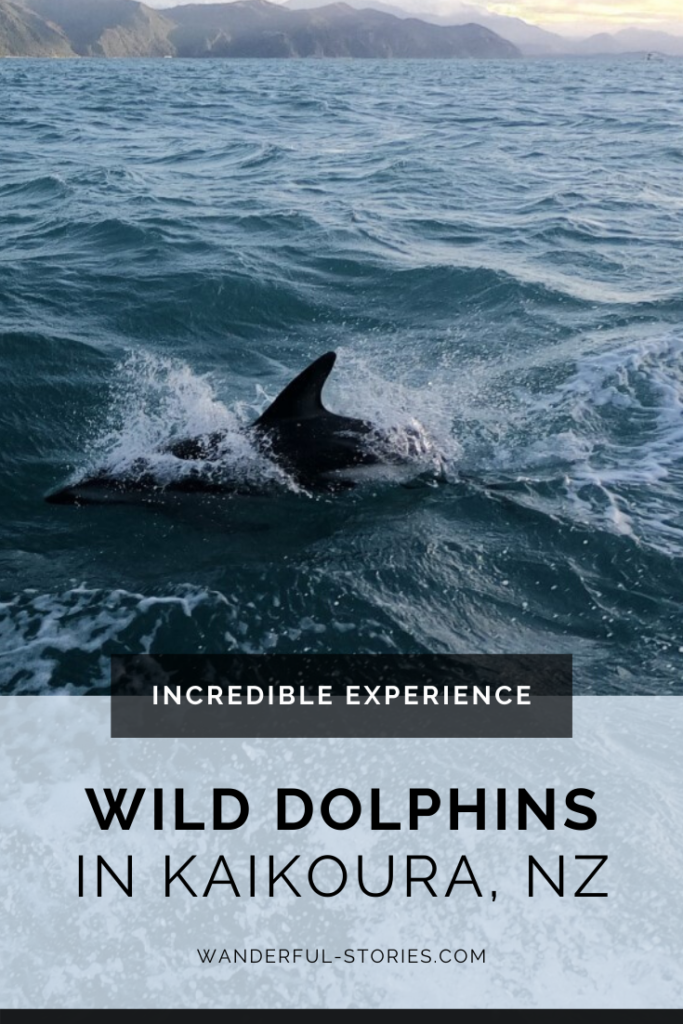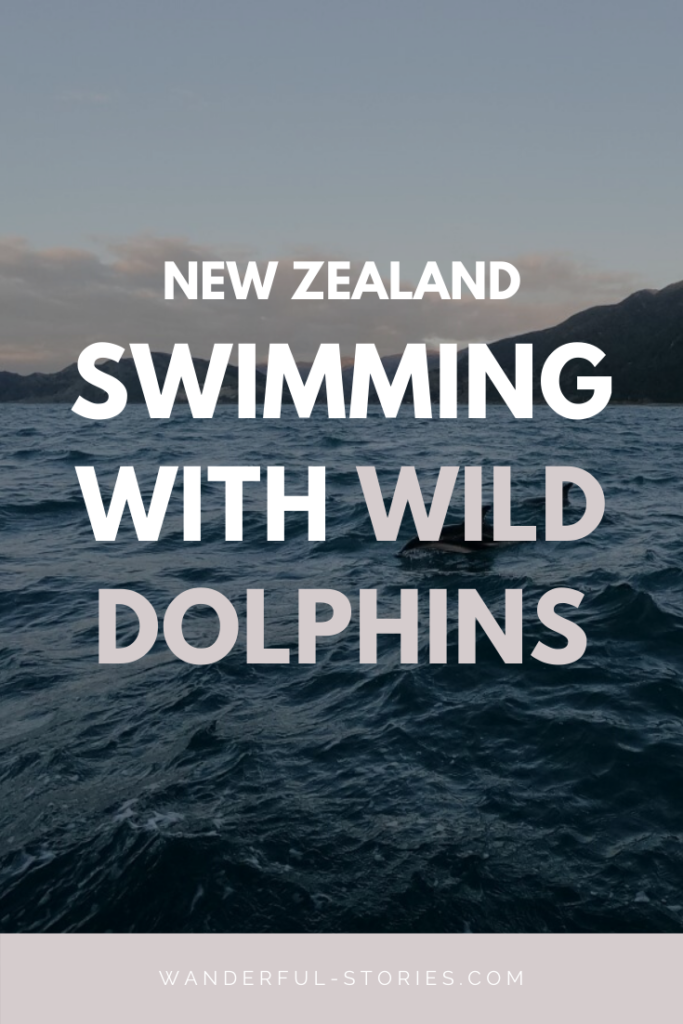 ---
You may also like…