Visiting the beautiful places along the Road to Hana was one of my favorite activities in my entire Hawaii trip. It's a definite must-do when in Maui! Recently, I shared my favorite stops along the road. Here, I am telling you all about my best tips for driving the road to Hana. That way, you can make the most of your trip to this beautiful part of the island.
1. Plan your route. I know there are many different blogs on the best spots to visit along the road, as well as thousands and thousands of Instagram pictures to show you the most beautiful views. I used them all to find inspiration and had a general idea of where to go, but didn't take into account that the cell reception would be bad along the road. If I'd do it now, I'd save some locations on Google Maps and download the map to use it offline. Doing so will save you a lot of time and headaches along the way.
2. Check the weather, but bring a raincoat just in case. As I wrote before, the weather turned out worse than we'd anticipated. After all, it's Hawaii and the sky changes constantly. Bad weather on the road changes your experiences, because 1) sceneries are usually more beautiful with good weather (there are exceptions, though!) and 2) because some of the places won't be as easy to visit or even closed to the public in case of heavy rainfall. Still, don't be discouraged if the weather turns out bad. Just find spots that are better or more easily accessible, just like I did!
3. Start early. You'll wanna make the most out of your day and there are a lot of beautiful spots along the road. So, it's a shame if you can't take your time or have to miss a few places. If you're not an early bird, taking two days to visit all the spots might be a good solution.
4. Be prepared to share the experience with a lot of other people. Yes, the Road to Hana gets pretty busy and even though there are many spots, all of the visitors usually visit them in the same order. If crowds of other tourists are not really your thing (I feel you), try and find hidden spots to enjoy the beautiful surroundings more peacefully.
5. Plan your toilet breaks. Since the Road to Hana is still mostly untouched nature (apart from some visitor information signs), you won't find toilets at every stop. In fact, I believe the first toilet we encountered was about halfway along the road. So, just a heads-up: you might wanna go when you see one. 🙂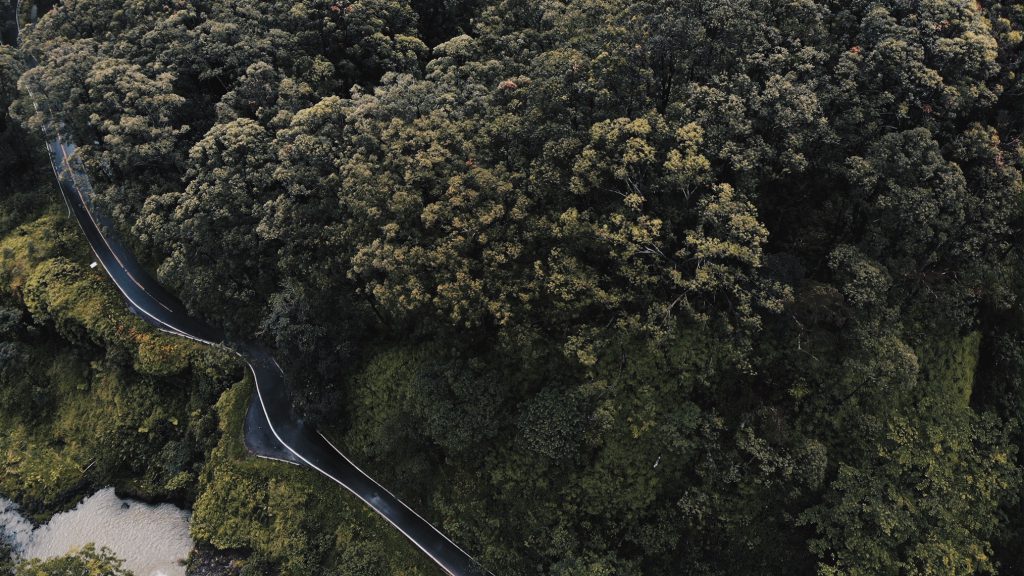 6. Wear good shoes. You'll find multiple hikes along the Road to Hana and the roads can get slippery when it is raining or has just rained, so not wearing appropriate shoes can limit you – or at least take some fun out of the experience. Trust me on this one. I was halfway along a muddy hike in flip flops when I decided it wasn't working for me, haha.
7. Fill up on gas. Just like the toilets are limited, you won't find many gas stations, either. And since the road is quite long (about 65 miles or 104 km), I'd recommend filling up on gas before you start. This might just be the most important one of my tips for driving the Road to Hana. A sufficient amount of gas is kind of a prerequisite for driving, haha.
8. Try the local food. You'll find quite a few food trucks along the Road to Hana, and it's definitely worth trying them! For one, they sell a lot of banana bread that I personally would've loved to try if it wasn't for my intolerance to bananas (I know, sad). Instead, I tried a burrito bowl at a Mexican food truck, which was amazing!
9. Charge your phone & camera and bring a power bank/extra battery if you have one. You shouldn't underestimate the number of spots along the road and beautiful pictures you're gonna wanna take. It's a shame if your batteries die halfway through the day. We were probably on the road for about ten hours that day, which was much longer than expected. Luckily, I always carry around power banks with me, so I could continue taking pictures.
Curious about my favorite pictures of our day trip driving the road? You can find them all on Instagram!
10. Enjoy the road. Last but definitely not least: don't just focus on visiting all of the beautiful spots along the way, but appreciate the beauty of the road itself, too. Driving the Road to Hana will take you through the most beautiful worlds of rainforests and waterfalls. Really, they are just as magical as the destinations themselves. Don't let this distract you from driving though; the road is long and winding and you'll need to keep your focus. 🙂
And there you go! With these tips for driving the Road to Hana, you'll be as prepared as ever to go out and have an amazing day visiting all of the beautiful spots. Let me know if there is anything I've missed, as well as what your favorite spots along the road are!
Liked this post? Save it for later!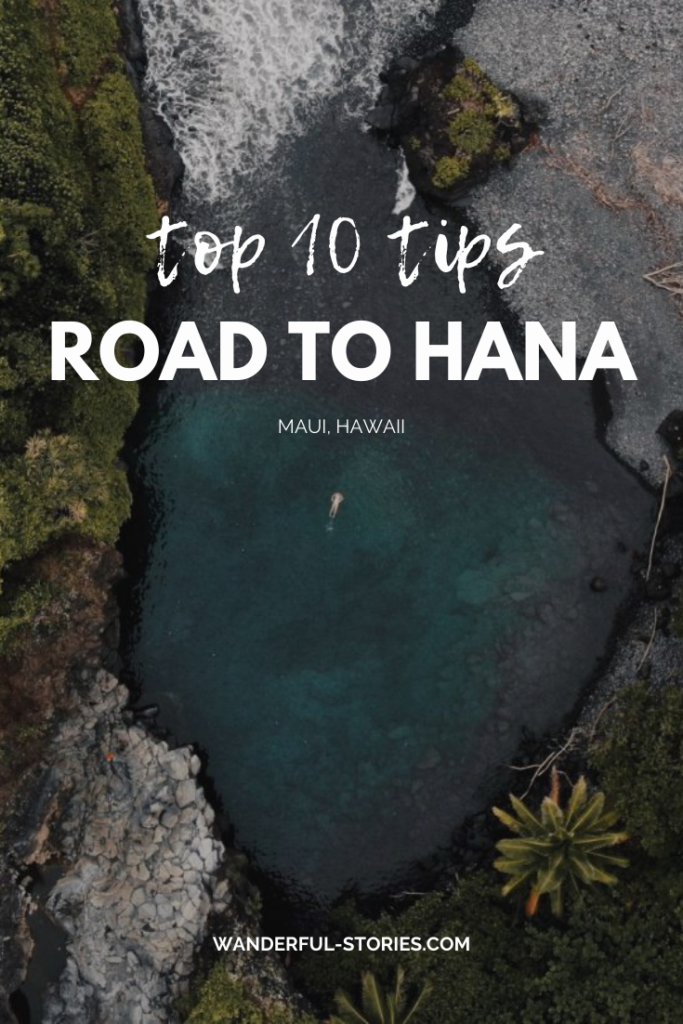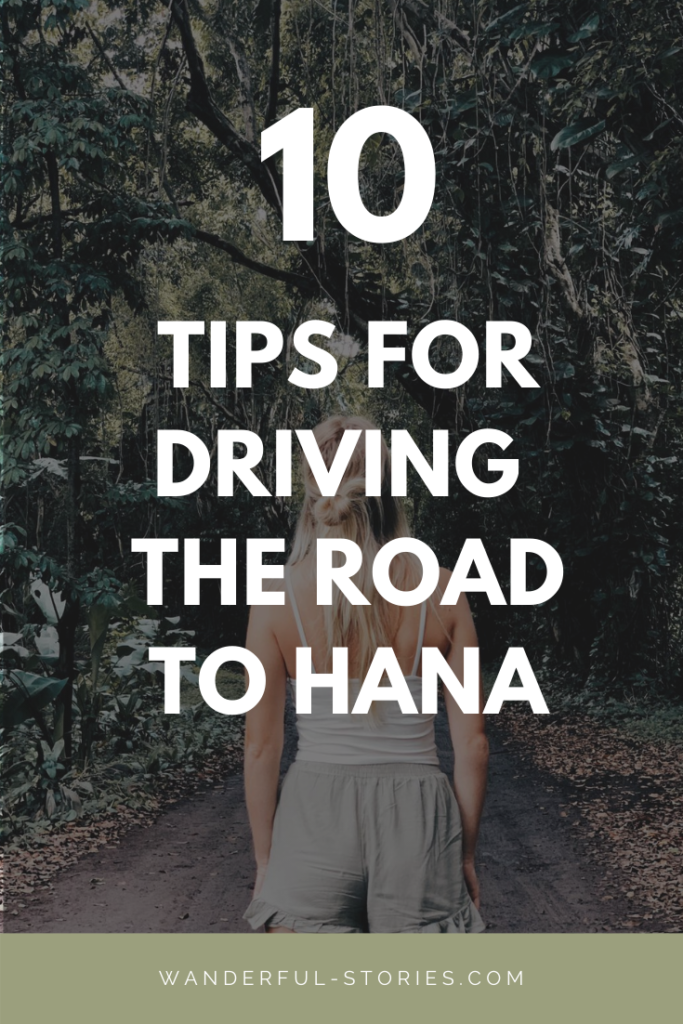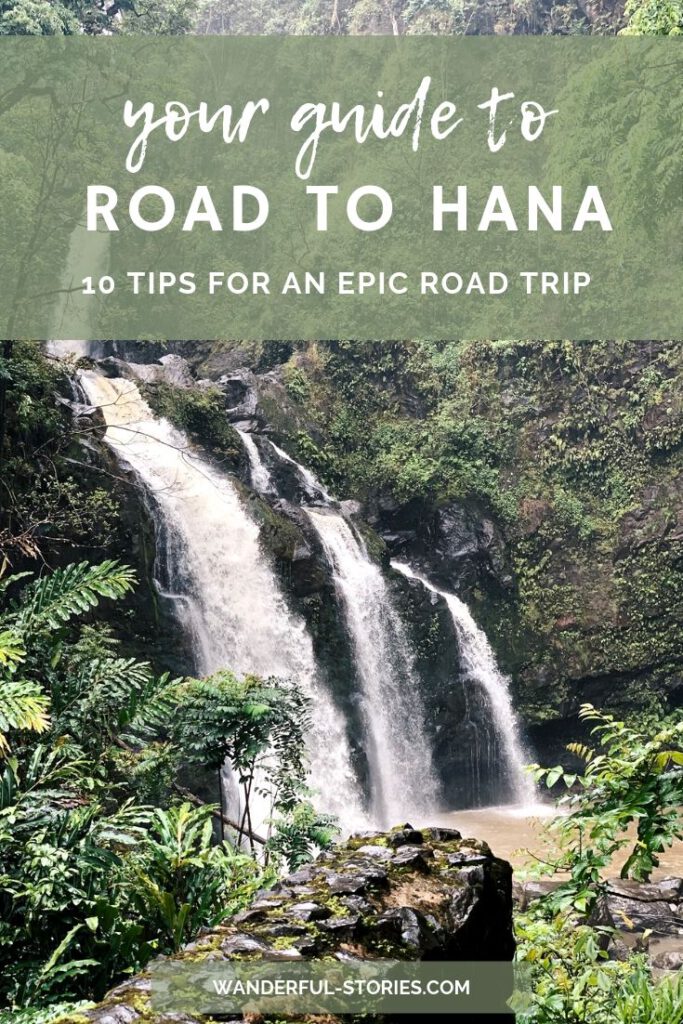 ---
You may also like…