If you ask me, there's something special about camping during your travels. Finding a good spot for the night, cooking dinner on a simple gas stove and sitting in your camping chairs as the sun goes down. My camping trip in Hawaii didn't go exactly as planned, however. Because of those experiences, today I'm sharing everything you need to know before camping in Hawaii.
Unfortunately, we stayed in our tent for just a single night, instead of the 18 we were going to. The reason for this? Someone had stolen our tent and all the stuff in it. Now, I'm definitely not saying that it is generally a bad idea to go camping in Hawaii. It can save you a lot of money and can be a real adventure. However, there are some things I wish someone had shared with me beforehand.
To be completely honest, I wasn't sure at first if I should share this kind of story. However, I am all for honesty and do not want to pretend like traveling the world is fun 100% of the time (only about 95% 🙂 ). And besides, I want to share my stories with others to whom it may be relevant. That way, at least someone can avoid having the same bad experiences. So, here it goes!
Let's rewind
First, let me back up a little bit. Both Frank and I have camped quite a bit in New Zealand and Australia. In fact, we've already spent at least two full months in 2019 camping. We only slept in a house during the time we were working. So, it's safe to say we're pretty used to everything, from safety practices to our ability to brush our teeth in the dark. Some skills, right? However, I don't think we fully realized how different an experience camping in Hawaii would be.
Camping permits & preparations
The first thing we ran into when planning our trip, were the regulations surrounding camping. We had no idea about the permits that would have to be acquired before even flying to the island. However, after a few long hours behind my laptop, I figured out how to obtain permits for the islands we were going to visit. And so, we booked and paid for our first one, on Oahu.
We then were very, very proud of ourselves for being able to stuff not only a five-person tent but also two sleeping bags, two inflatable mats and even two big pillows in our flight bags. Seriously, you should have seen (or rather: carried) those bags. Anyway, we thought we were all set for a relatively cheap trip to Hawaii and jumped on the plane. Upon arrival, we picked up our rental car and drove off to the campground. Still going strong, so far.
The incident
When we arrived we were kind of surprised by the masses and masses of people on our campsite. Seriously, it was so busy. When booking our permit, I noticed that each campsite could hold several tents and a dozen people or so. I thought, "sure, whatever", but realized upon arrival that those sites were indeed completely full. It was Easter weekend, so families were having big get-togethers and parties. Although it was busier than expected, we didn't mind at all and slept well that night.
At 6 am the next morning, our alarm rang. We quickly got ready, put our day packs in the car and drove off to the other side of the island. We planned for a day of hiking and visiting beaches. When we came back at 8 pm, however, our tent was gone and our assigned campsite was completely empty. At first, we asked some locals, who said they hadn't seen anybody and recommended us to call the police. An hour later, we were on our way to a hotel we'd had to book last-minute and the next morning, we found ourselves at the police station to draw up a report.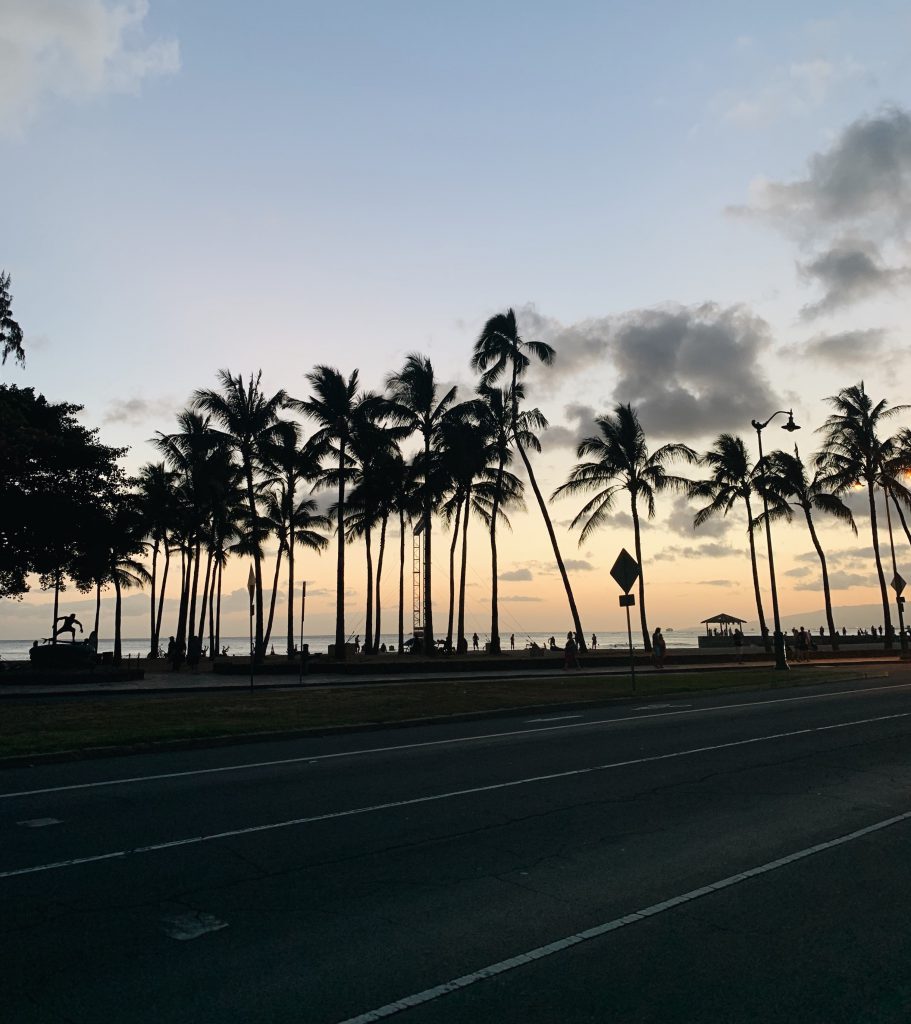 So, our camping trip did not go to plan at all. Luckily, we kept our big backpacks in the car that day. All in all, no truly valuable stuff was stolen. But still, we personally didn't feel comfortable buying new stuff and immediately continuing our camping trip on the islands. So, we stayed in hostels and hotels for the rest of the trip. Not as cheap as we'd hoped after all.
To make sure your future camping trip on Hawaii goes a lot smoother, here are my tips for anyone who's considering the same option. Taken together, these tips should give you a good idea of what you need to know before going camping in Hawaii.
My tips for camping in Hawaii
Do some research on which part of the island you want to stay. If possible, ask around. I know this might not be possible for everyone, it sure wasn't for us. But if you can, asks friends or acquaintances – anyone who's ever been on a Hawaiian island. They can give you advice on the areas to stay in. We were told by so many people afterwards that the western part of Oahu was not a great place to go camping as a tourist. Even though there was no way we could have known this, you might be able to save yourself some issues.
Obtain the right permit. For most campgrounds and on most islands (there are exceptions), you need a camping permit. And in my experiences, you'd better get one. I once had to pay a $200 fine in New Zealand for camping in an illegal place. For that price, you might as well have stayed in a hotel! The way to acquire a permit differs per island in Hawaii. On Oahu, you can easily get one through the online booking system of the Parks & Recreation Department. But on Maui, I believe it is necessary to collect one in person at an office, for example. I'd recommend going to the P&R website for each island to find the most up-to-date details per area. And don't forget to do your research ahead of time. You'll want to be able to score a permit in time, especially for camping during public holiday weekends.
Make sure you have the right equipment. Although it might differ per country, I believe sleeping in a car is not legal in (parts of) Hawaii, like it is in some other countries. You may get away with it, but getting a fine for something like that quickly turns your very cheap accommodation into a pretty expensive one.
Leave nothing behind if you go out for the day. It seems common sense, but we had no idea it wasn't safe to leave our tent during the day. Mind you, this was a campground we'd paid for and which was occupied by dozens of other tents. Plus, we locked our tent with a combination lock and put it firmly in the ground with pegs. But, as several people and the police told us afterwards, there are plenty of people who'll grab any opportunity they get. Unfortunately, this was probably one of those cases. This has to be my #1 tip to know before going camping in Hawaii!
Keep your stuff close. Finally, this is a more general tip, which actually just holds true for traveling in general. Wherever you are and whatever you are doing. Tourists are easy prey for those who mean harm. Criminals often operate quickly and in ways you don't see coming. Believe me, I've learned from that. 😉
So, there you go! These are the things I think everybody should know before going camping in Hawaii. By writing these down I do not at all mean to discourage you from going camping. It's merely my way of sharing what I have learned with someone else who might benefit so that something good still results from our situation. I hope this helps you out and that you have a great experience on the beautiful islands!
Planning your trip to Hawaii? Don't forget to check out all of my Hawaiian blog posts with stories and tips for traveling to Oahu, Maui and the Big Island.
Liked this post? Save it for later!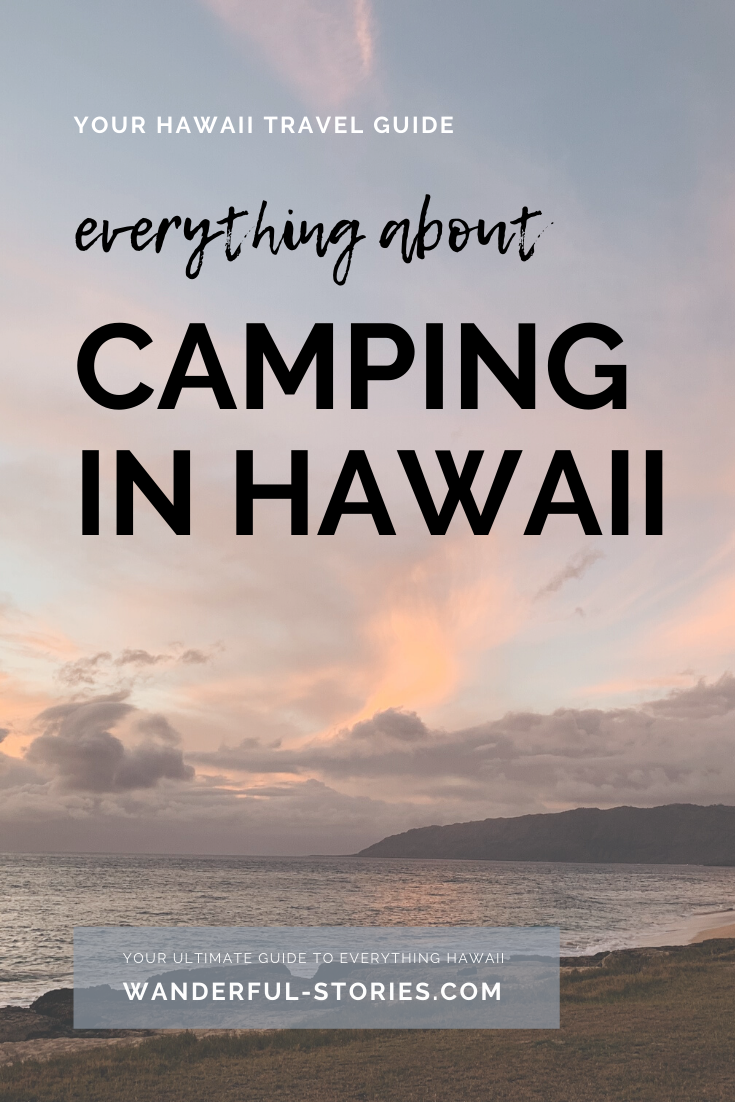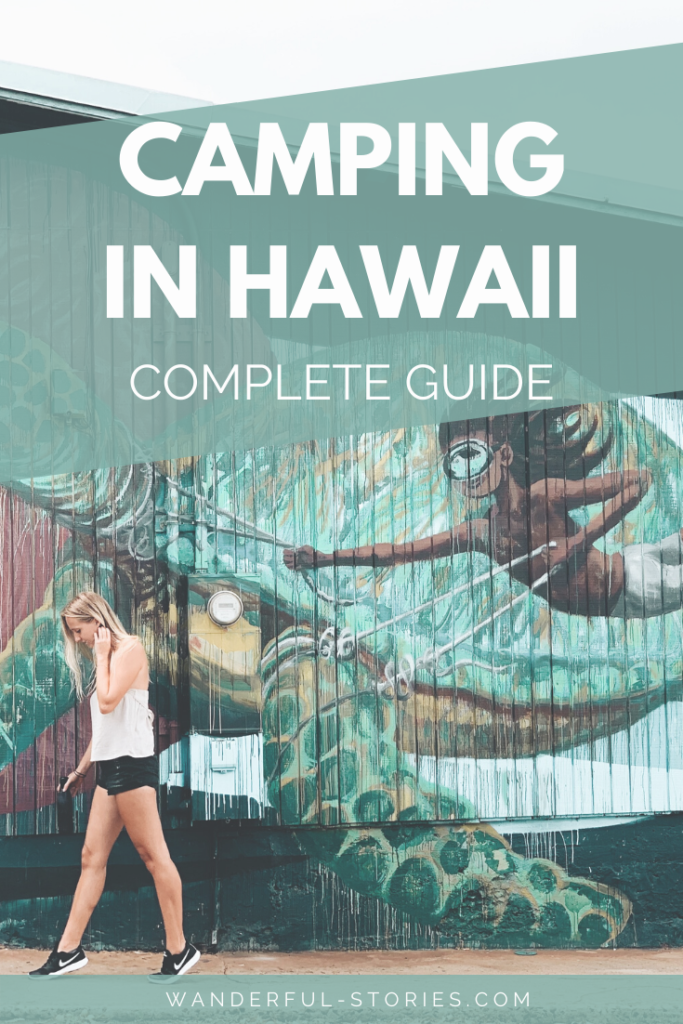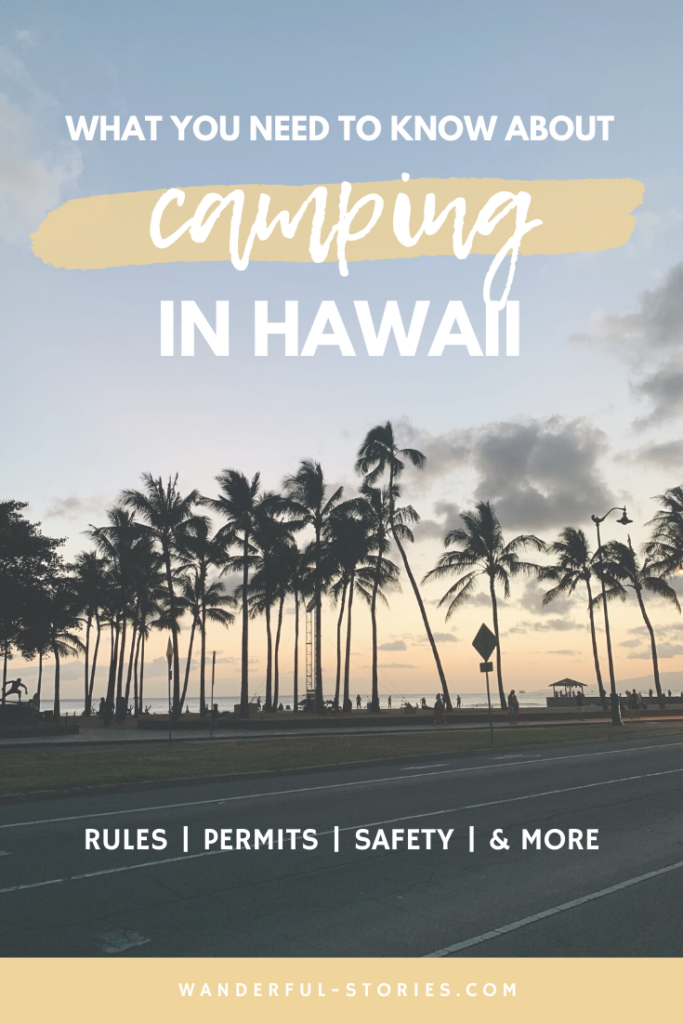 ---
You may also like…