One of the things I was most excited about when going to Hawaii was visiting some beautiful beaches. No, scratch that – a lot of beautiful beaches. Of course, I was really excited to see all of the beautiful nature the state has to offer, too. However, I'd been craving some tropical ocean days pretty much since I left in November and hadn't really found them so far. So, the first thing I did when arriving in Honolulu, was finding out about the ultimate spots of paradise on the island. Today I am sharing my favorite beaches in Oahu with you!
Of course, there are many, many more beautiful spots on the island. Unfortunately, we couldn't visit all of them, since we only spent three days on Oahu. However, I think this list of my five favorite beaches gives lots of variation and a good idea of what Oahu has to offer.
Laniakea Beach
Laniakea Beach, located on the north shore of Oahu, has got to be my favorite beach out of all the beaches in Oahu. I loved this beach. Don't get me wrong, there are many amazing, gorgeous beaches on the island. To be completely honest, Laniakea beach itself is probably the least beautiful out of the beaches in this post (even though it's still really, really nice). For me, the magic of this beach is found mostly in its inhabitants. Sea turtles, and lots of them!
I went to the beach with little to no expectations. At first, I was happy when I thought I spotted one, and then two turtles coming up for air in the ocean. Next, we walked on the beach to a place where a few tourists were gathered (yep, this can be helpful sometimes 😉 ). I couldn't believe my eyes: two big turtles were lying on the beach, soaking up the sun rays. It was amazing!
But it got even better still, as we got into the ocean for a swim and were surrounded by turtles. It was sometimes hard to keep the recommended distance of 3 meters (10 feet). They sometimes would literally pop up next to you, out of nowhere. Really, if you want to see some turtles, look no further.
Wanna know more about my turtle spotting adventures on Laniakea Beach? You can read all about them in my next post!
Waimanalo Beach
Waimanalo Beach is a pretty big beach in the south-east of Oahu, with stunning blue water and white-ish sand. It is located in an incredible place, with huge green mountains in the backdrop. On the day of our visit, there happened to be a big beach clean-up.
At first, we weren't sure why there were masses of people hanging out on only a small section on the beach, nor what they were doing. But then we noticed that they all had sieves; some small, like the ones found in your kitchen, and some really big ones that seemed to be DIY'd. Turns out they were filtering small plastic waste out of the sand. Such a good initiative and incredible to see so many people supporting it. All in all, this place is stunning and definitely worth a visit!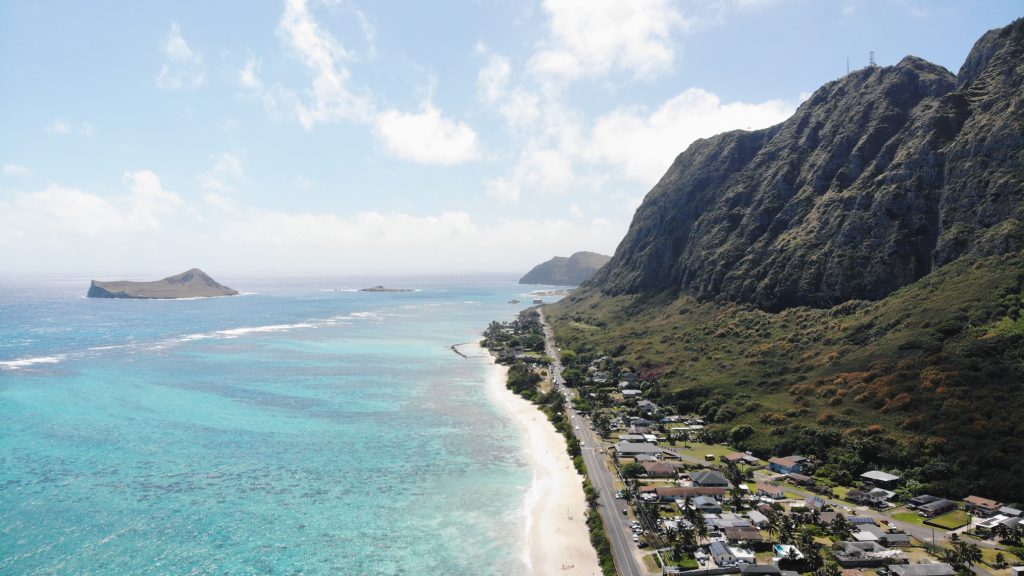 Waikiki Beach
Have you really been to Oahu if you didn't go to Waikiki Beach? 😉 This famous beach is located in Waikiki, Honolulu and is one of the most famous beaches and tourist attractions. Although I personally love deserted beaches located in the green wilderness, I must admit the skyline of high-rises makes for an incredible backdrop, too. On the other hand the beach, unfortunately, also shows the inequalities on the island. It's surrounded by both a great number of luxury stores and homeless people.
If you go to Waikiki Beach, don't forget to bring your snorkeling gear. You can spot lots of fish and even sea turtles in the shoreline. I couldn't believe that turtles would come that close to such big crowds of swimmers and surfers, but it's true! It took me some time to spot them though, as I could see only a few meters ahead.
Frank, who was watching from the shore and pointing in the directions he'd spotted turtles, later said I must've been circling one for at least 10 minutes, but I just couldn't see far enough. Finally, though, it appeared all of a sudden and nearly scared me to death, haha! All in all, Waikiki is a really fun place to combine snorkeling, tanning, good food, shopping and watching a beautiful sunset.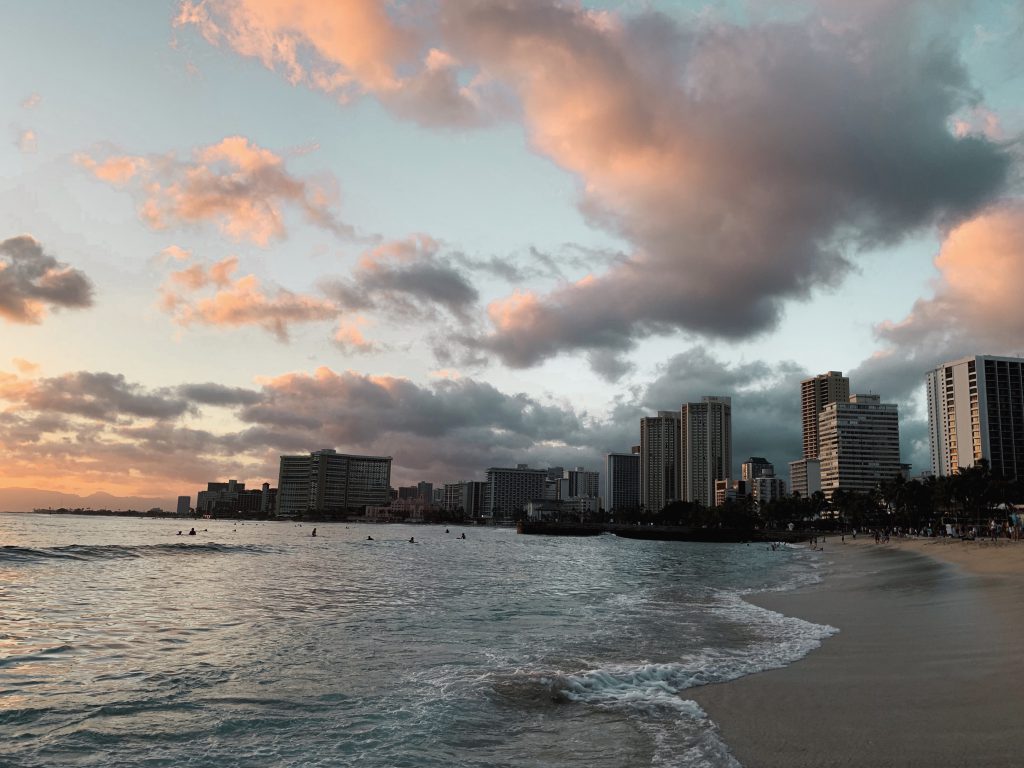 Planning your trip to Oahu? Check out my 3-day Oahu itinerary to make the most of your (short) stay on the island. It has all the highlights, including a full day exploring Honolulu and Waikiki Beach!
Lanikai Beach
I love this beach for several reasons. First of all, I just think the beach has a cool, relaxed vibe to it. It isn't super crowded like some others, but you can see lots of locals chilling or taking their dog out for a walk. Spread across the beach are little boats and canoes, giving it a true holiday feel. Its surroundings are stunning, too, with palm trees and mountains in the background.
The water is incredibly clear and a tropical blue hue. Need I say more? Oh yes, because on top of that the beach is located in a really nice neighborhood with the most gorgeous houses. Anyone else who wouldn't mind living there? 🙂 Anyway, enough reasons to visit this little paradise, which can be found on the south-east coast of the island.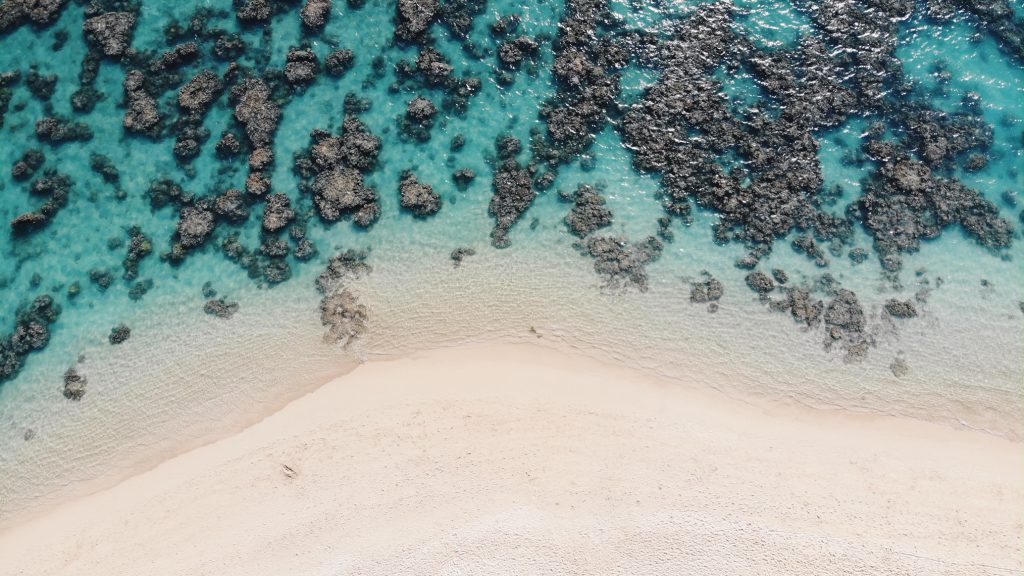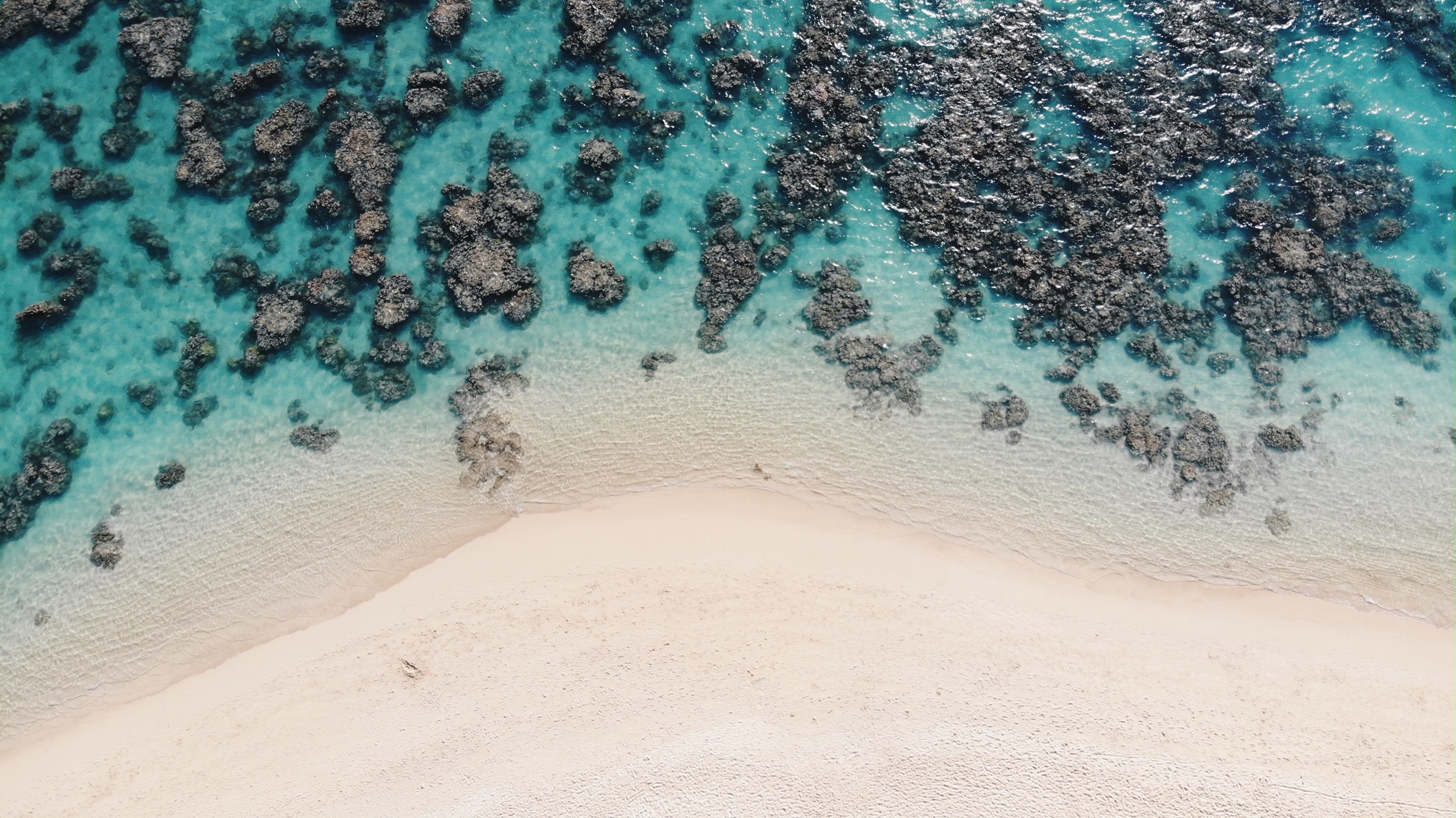 Hanauma Bay
Hanauma Bay is one of my favorite beaches in Oahu due to its incredible stunning environment. Big, soft, green mountains and palm trees surround Hanauma Bay, in the south-east of the island. Mind you, this beach is busy. Yet, the crowdedness of this beach didn't bother me as much as it normally might have. The place is still so breathtakingly beautiful, that I could personally see past the masses of tourists. It is also supposed to be an amazing place for snorkeling, with many species of fish and coral found underwater. Unfortunately, we arrived too late to really be able to do so. They were about to "close" the beach for swimming just as we walked onto it.
Before you go, you should know that this beach is a little different from most other ones. First of all, everyone has to be out of the water by around 4.30/4.45 pm. Besides that, this is one of the few (if not the only one) that is not free to enter. You have to pay $1 to park your car and I believe there is an entrance fee to the beach of $7.50. (Even though we didn't have to pay, perhaps because we arrived near closing time).
Another fun fact: before entering this beach, you'll need to attend a short safety briefing focused on the reef and sea animals living in the bay. At first, this surprised me a bit, but it was actually quite interesting! All of this is done to preserve the underwater life that can be found in the bay. Finally, the bay has a lot of facilities, including food stands and a place to rent snorkeling equipment. This comes in handy if you don't have your own but still want to explore the underwater world.
Interested in the preservation efforts in Hanauma Bay? You can read more about it on their website.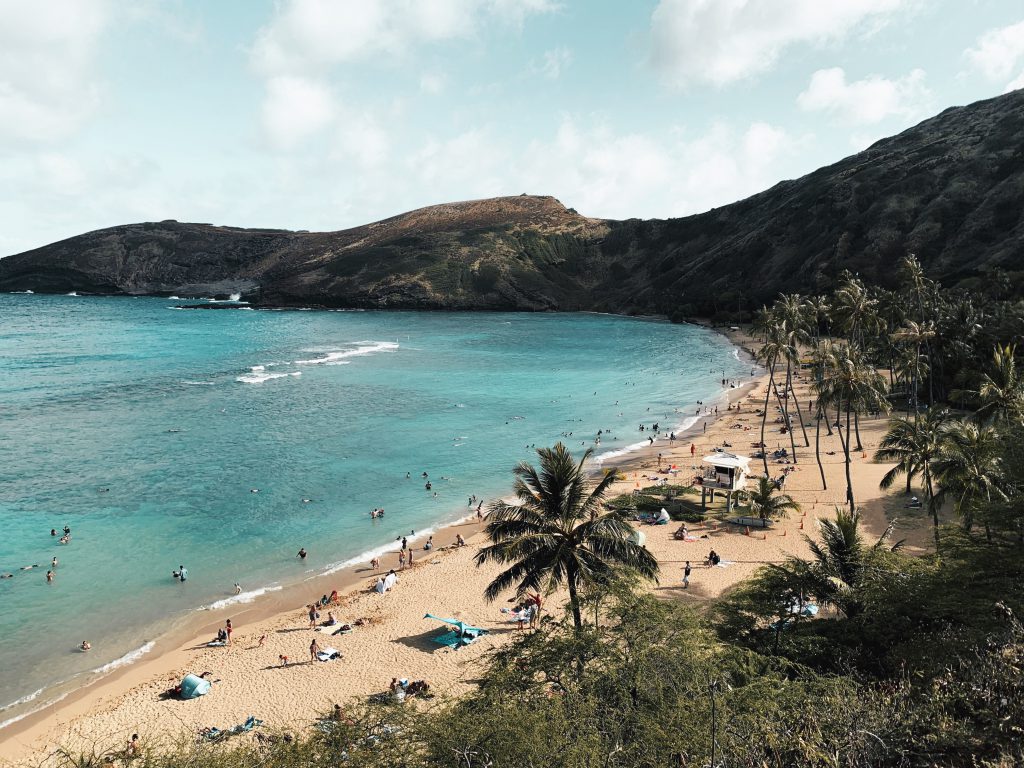 There go you, these are my 5 favorite beaches in Oahu. Will you be visiting the island? Let me know which beaches you're most excited to go to! Don't forget to check out the rest of my Oahu blog posts for more inspiration and my Oahu itinerary for tips on planning your adventure.
Some links in this post may be affiliate links, meaning I earn a small percentage of any purchase made. They're at no extra cost to you, but allow me to keep creating new content for you guys. Of course, you're free to use any other link!
Liked this post? Save it for later!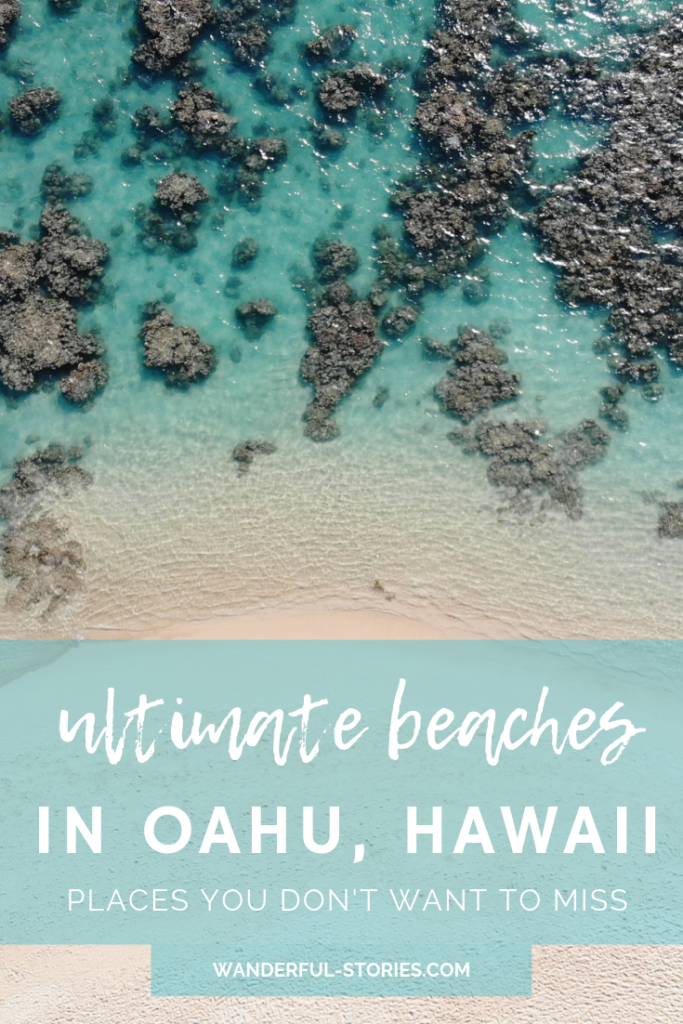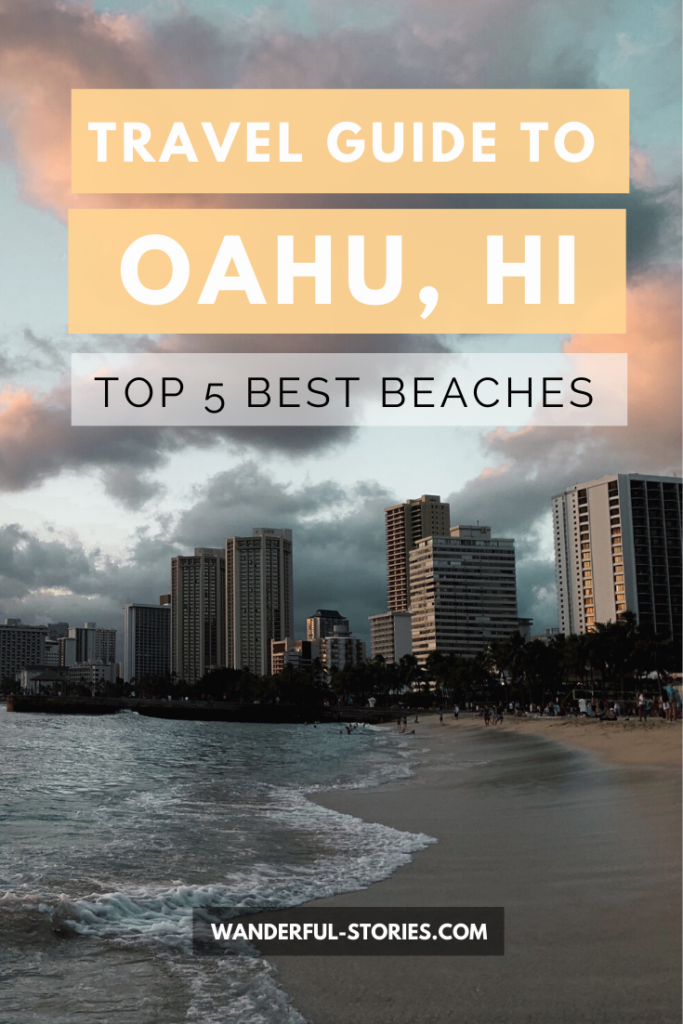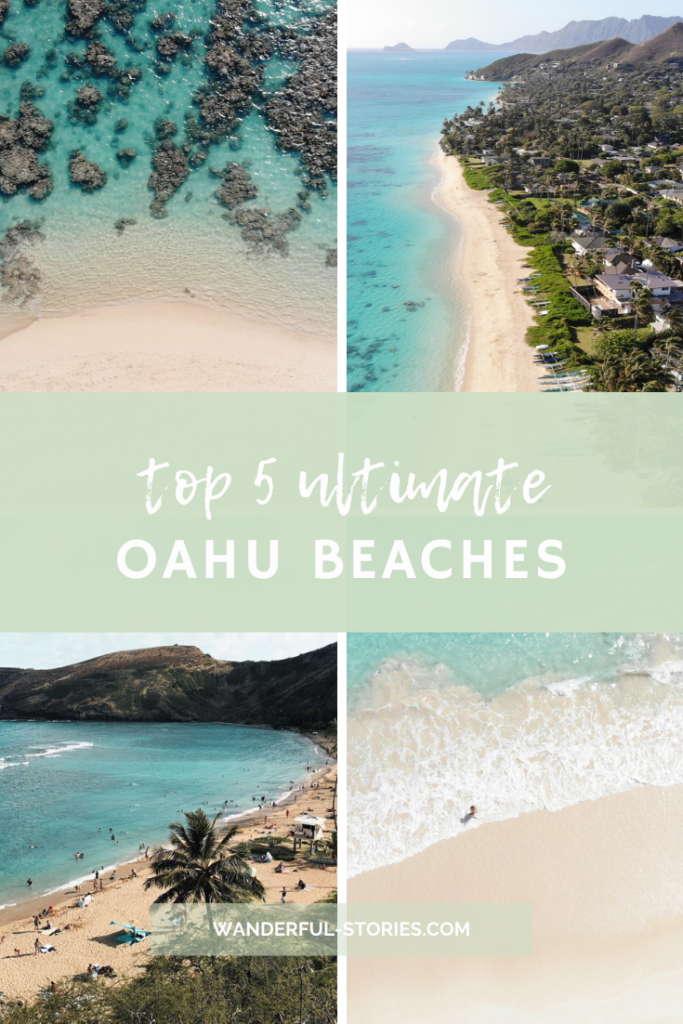 ---
You may also like…