Black sand beaches are one of Iceland's most beautiful natural attractions. In fact, out of the 10 ultimate Iceland highlights I recently shared, 4 are black sand beaches! In this post, I'm sharing the five best black sand beaches in Iceland, as well as the origins of these beautiful natural landscapes. You'll get detailed info on where to find them and how to visit them. Ready? Let's get straight into it!
Why is the sand black on beaches in Iceland?
Ever wondered how black sand beaches are created? As you may know, all sand is formed by the breaking down of rocks and stone. This process can take thousands of years, finally turning into fine grains of said as they come into contact with (ocean) water. Normally, this results in the kind of tan-ish color that beaches often look like.
In the case of black sand beaches, the origin lies in the volcanic matter. Yes, Iceland is home to many volcanoes! The black sand is created as lava and basalt meet the sea. So, instead of tan/brown sand, it's dark. Super cool.
Although they're often not the best choice for laying out in the sun (except for those in Hawaii, maybe), black sand beaches are just as special to visit. In fact, did you know that #1 on this list was chosen as one of the most special beaches in the world by National Geographic.
So, black sand beaches are a must-visit on your trip to Iceland. Now, let's get straight into my 5 favorites!
Map of the best Black Sand Beaches in Iceland
Here is a map of all the black sand beaches in this post. You can save it for your trip to Iceland, to make visiting these beaches extra easy!
#1 Reynisfjara Black Sand Beach
Let's start with the black sand beach that is perhaps the most popular beach to visit in Iceland: Reynisfjara. Well, it's popular for good reason, 'cause it's gorgeous! There are enormous basalt columns bordering the beach on one side, with rough waves forming on the other. The stark contrast between the white ocean waves and the dark black sand is really special. And if that isn't enough, you can also admire giant rocks emerging from the waves in the distance.
All in all, it's really just an amazing place and a must-visit on your trip to Iceland. It's also relatively close to Reykjavik, located on the south coast of the island. So, there really is no reason not to visit it if you can.
Did you know that this beach was even used in a few Game of Thrones episodes? If that doesn't say that it's an EPIC natural location, I'm not sure what will! However, Reynisfjara is not the only amazing black sand beach in Iceland, so don't miss out on these next beaches on your trip. 🙂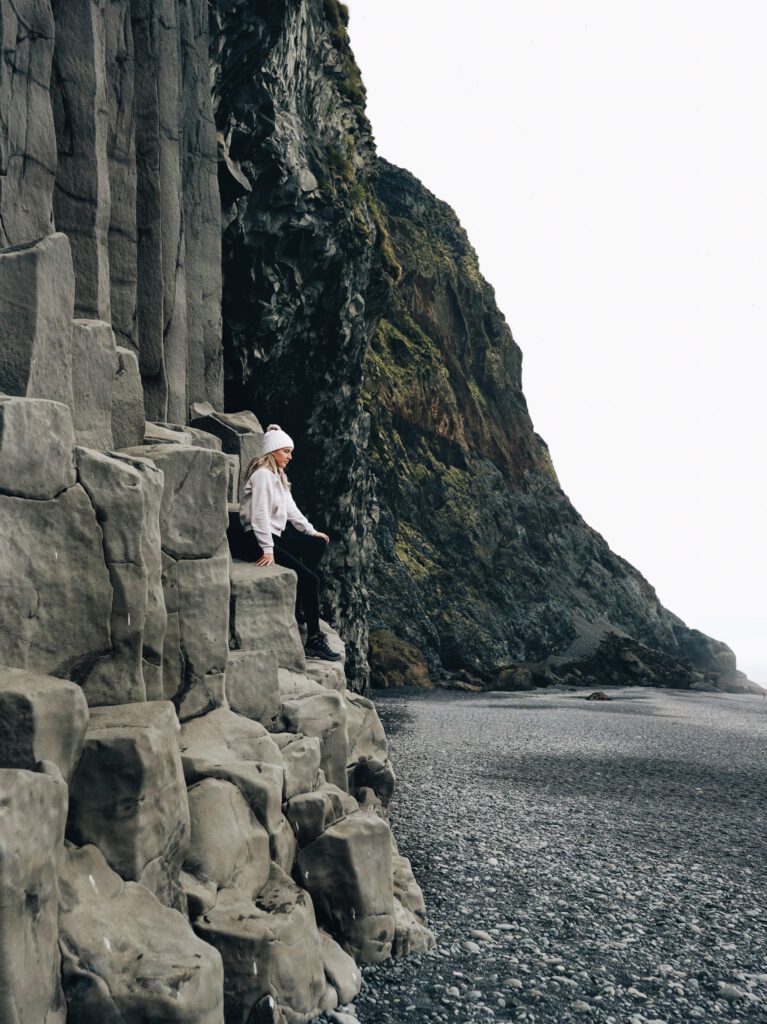 #2 Dyrholaey Beach
The second amazing Iceland black sand beach on the list is Dyrholaey Beach, found in the south of Iceland.
What makes this place so special? Well, first of all, the view is absolutely incredible. Standing on top of the cliffs, you look down on the most beautiful landscape. On your one hand, you see a far-stretching black shoreline surrounded by steep cliffs and rough waves. On the other, there is a vast deserted area, with a single rock in the middle. It's absolutely incredible!
But even better – Dyrholaey is home to puffins. If you aren't familiar with the animals, Google them right now. Seriously, you can't not love them. These birds are an Iceland must-see, with their orange beaks and feet. Dyrholaey is one of the easiest locations to spot them, without having to book a trip. So, definitely worth a visit when you're in Iceland!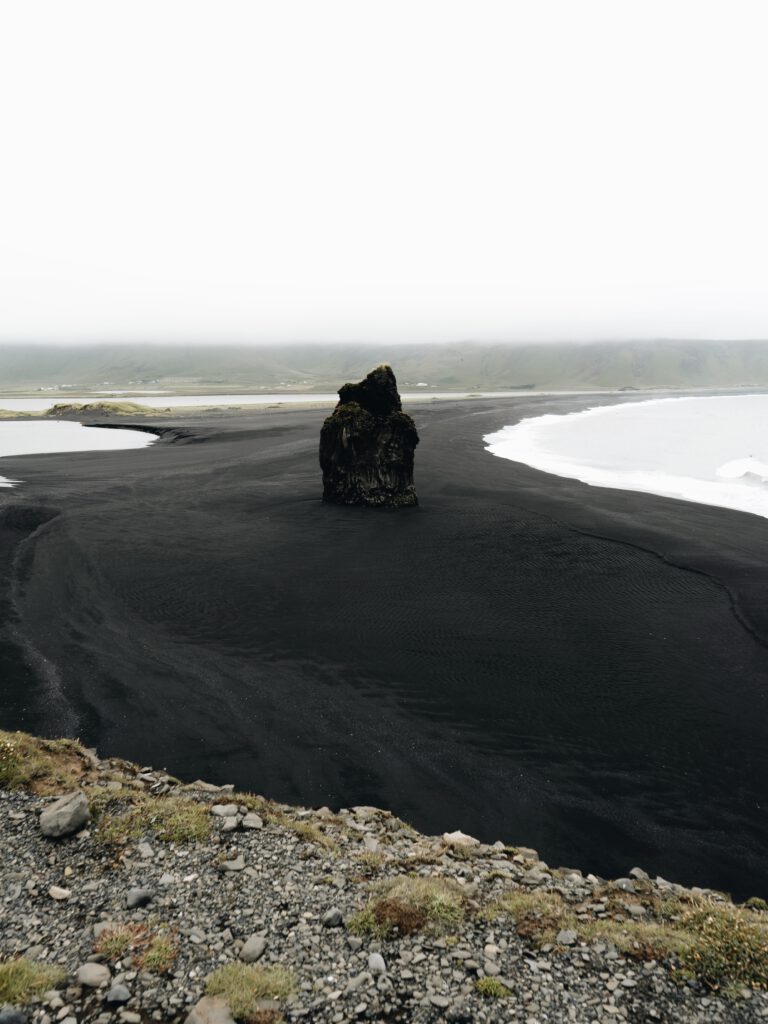 #3 Stokksnes Beach
Stokksnes is a peninsula in the southeast of Iceland and home to a few amazing attractions: the beautiful mountain Vestrahorn, a Viking village movie set and – you guessed it – an incredibly beautiful black sand beach. The beach is far-stretching and has multiple great walking tracks for those who love to be active. Even if you don't, just driving your rental car to the beach and enjoying the view is worth your time. The combination of the beach, ocean water and the backdrop of the Vestrahorn is simply amazing.
I loved visiting the beach, because you can see multiple of Iceland's highlights at once. With a single entree ticket, you get access to both the beach and the Viking village movie set. It's a great way to spend a morning or afternoon – or perhaps even an entire day.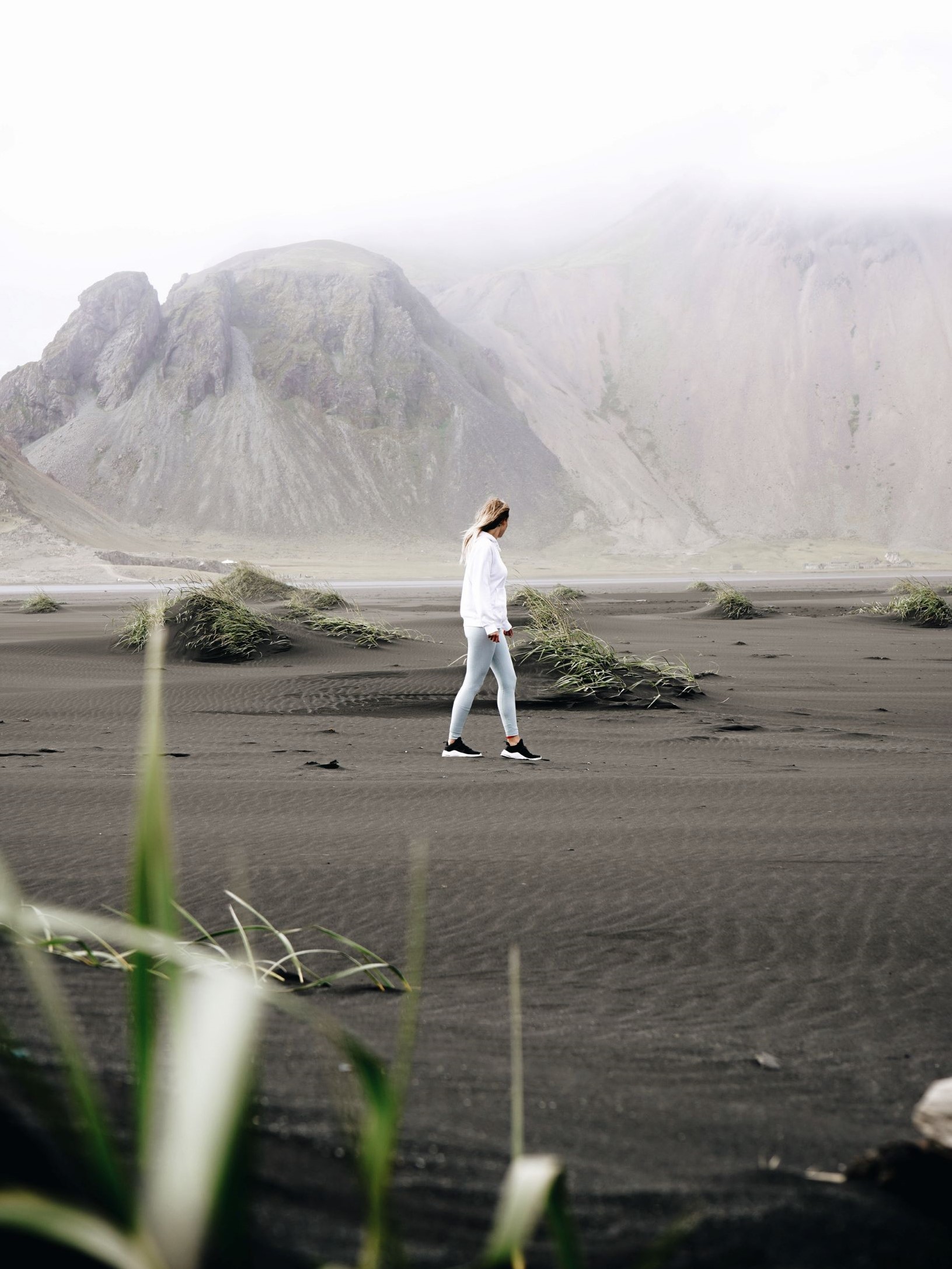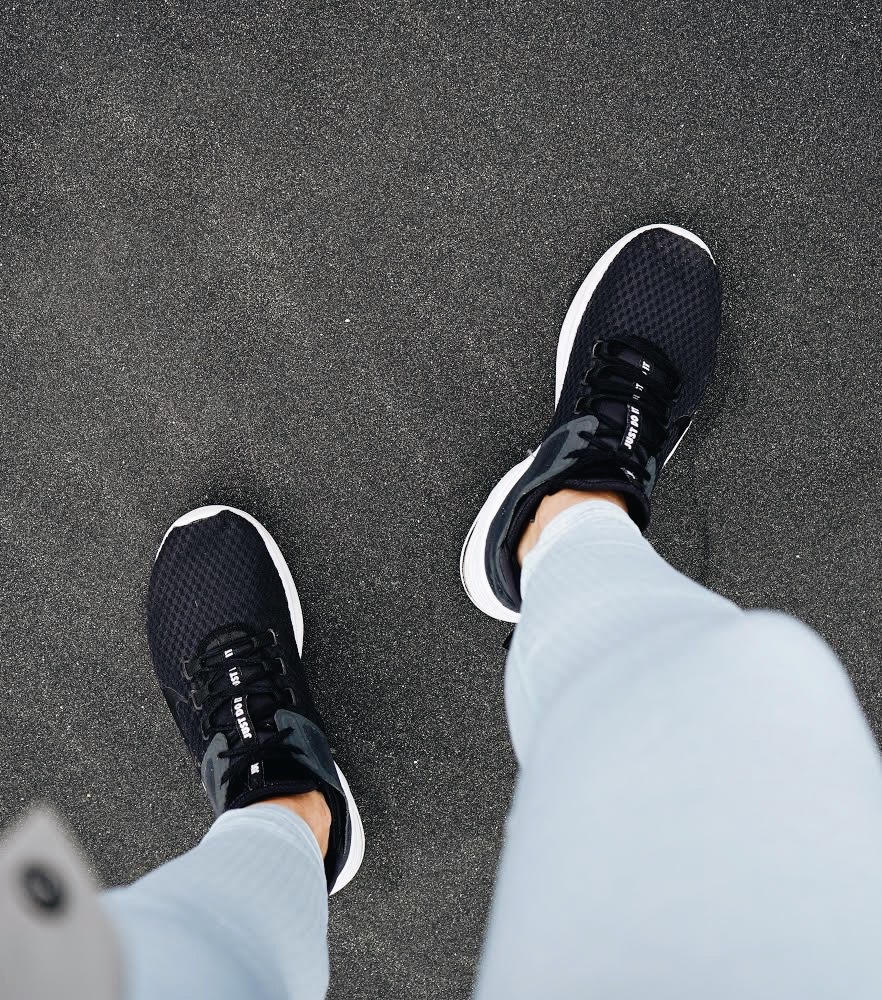 #4 Solheimasandur Beach
Solheimasandur Black Sand Beach is special in its own way, 'cause this beach is home to… a plane wreck! Yep, you read that right. You can find a real-life, full-size, true and authentic plane on this beach. In fact, the reason the plane can be found on the beach, is 'cause it crashed there in the '70s. Luckily, everyone survived the crash. The plane wreck was left there since and has become a popular tourist attraction in recent years.
You can reach the plane wreck by walking to it, which takes about 45 mins (4 km/2.5 miles) one-way. It's such an unusual yet beautiful sight, I'd highly recommend it if you can visit it during your trip.
Want to read the full story about the plane on this amazing beach? Check out my Iceland highlight guide: the iconic Solheimasandur Plane Wreck.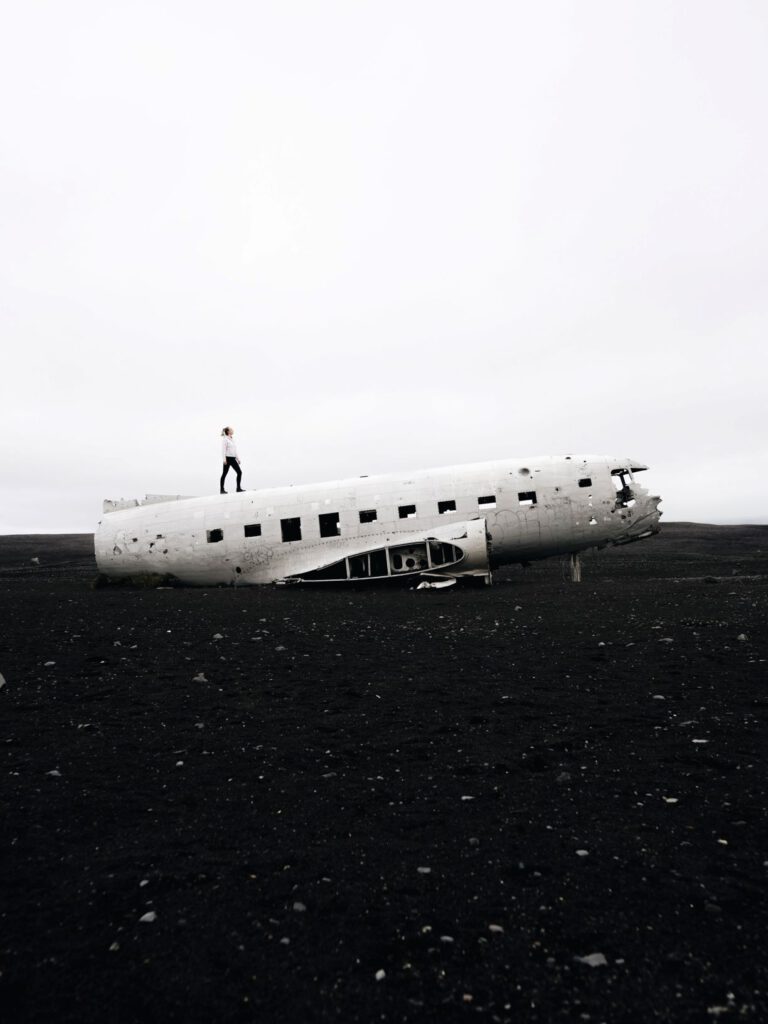 #5 Diamond Beach
Last but defnitely not least is Diamond Beach, a beautiful black sand beach located in the southeast of Iceland. The beach is part of the greater Breiðamerkursandur glacier plains and gets its nickname from the 'ice diamonds' scattered across it.
The amount of ice you'll find on this gorgeous beach, depends on the weather and season. You'll find the most amazing icy landscapes in winter, as temperatures reach their lows. However, even in summer, there is no complete shortage of ice on the beach. In fact, the picture below was taken in August. As you can see, there still lots of ice to enjoy while strolling around the beach.
Where to stay nearby: Skyrhúsid Guest House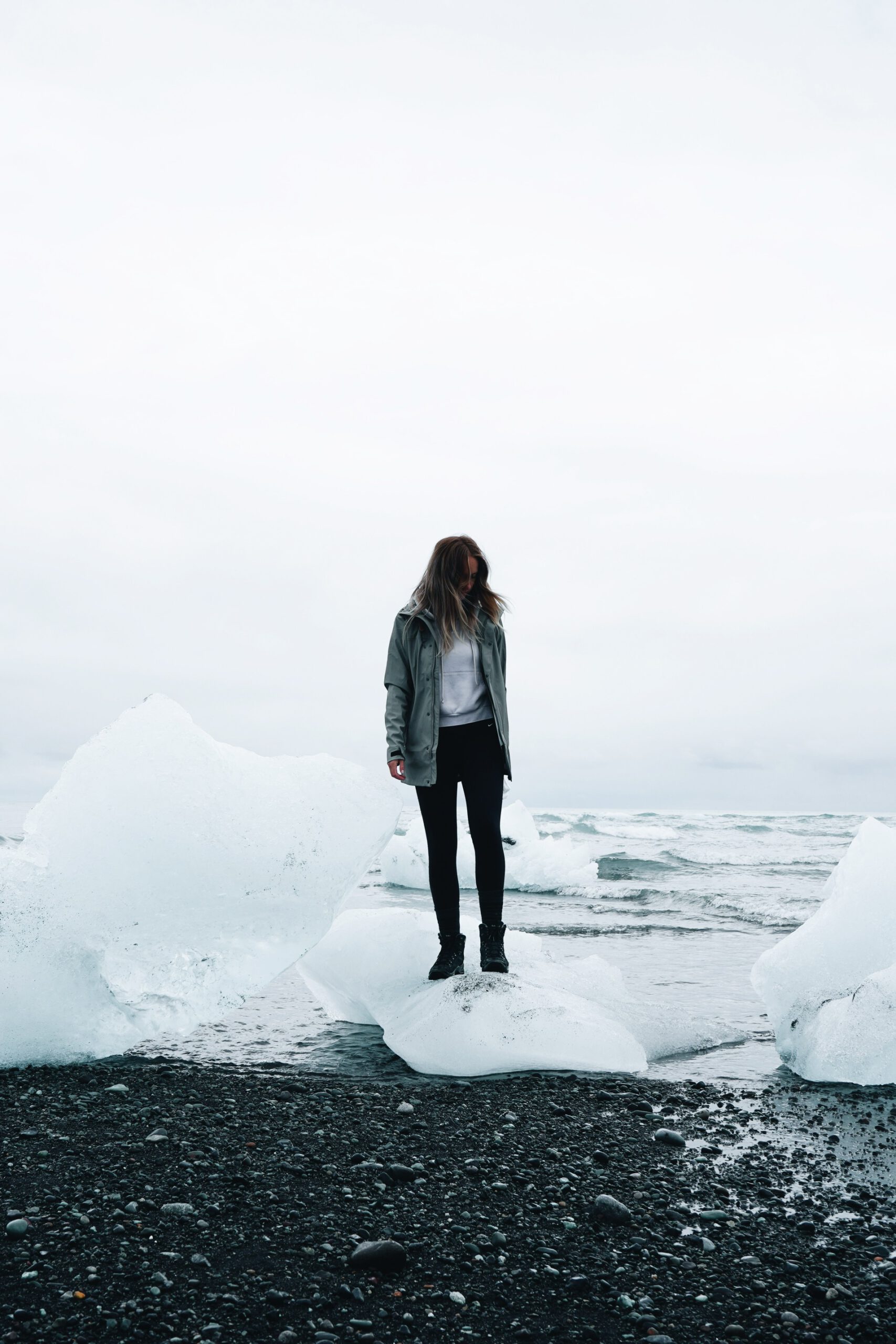 What to bring to visit Iceland's Black Sand Beaches
Planning your day trip to one of the beautiful black sand beaches in this post? Here are a few tips to help you pack
Things to leave at your accommodation:
Swimwear – they may be beaches, but their settings are not ideal for swimming. So, any swimming or sunbathing-related products, you really don't need to bring.
These are my top 5 favorite black sand beaches in Iceland. There are some of the most amazing spots to see with your own eyes, so make sure you pay them a visit if you can! If you do, I'd love to hear what you think of them. And if you're looking for more amazing spots to visit in the country, don't forget to check out my 10 ultimate Iceland highlights. I hope you have a great trip!