Anyone who's looked up pictures on Iceland travel has probably seen it: the famous plane wreck found in Sólheimasandur, Iceland. Found on a deserted black sand beach, the white plane looks absolutely incredible. It's like something straight from a movie! Want to visit the plane wreck for yourself? In this Iceland highlight guide, I'm sharing everything you want to know about visiting the famous Solheimasandur plane wreck.
The plane wreck in Sólheimasandur is one of the ultimate highlights in Iceland. The stark contrast between the white plane and black sand beach is such a unique view – a must-visit if you have the time!
In this Iceland highlight guide, you can find everything about the plane wreck: the story behind it, its location, how to get there, what to bring and where to stay closeby. So, read along to plan your trip!
The history of the plane wreck in Iceland
What is the story behind the plane on the deserted beach in Iceland? Well, it's the aftermath of a real-life plane crash. In 1973, a US plane crashed on the beach by Sólheimasandur. The cause of the accident is still up for debate. Most popular theory suggests that something accidentally went wrong with one of the fuel tanks, in an already challenging environment with cold and stormy weather.
Luckily, everyone survived the accident. Authorities decided to leave the plane on the beach, where it's been ever since. Recently, it's become a loved spot among tourists. Social media surely helped with its increasing popularity. But the plane has also been featured in big production media, such as a Bollywood movie and Justin Bieber's I'll show you video clip (which also features other gorgeous Iceland spots, by the way!).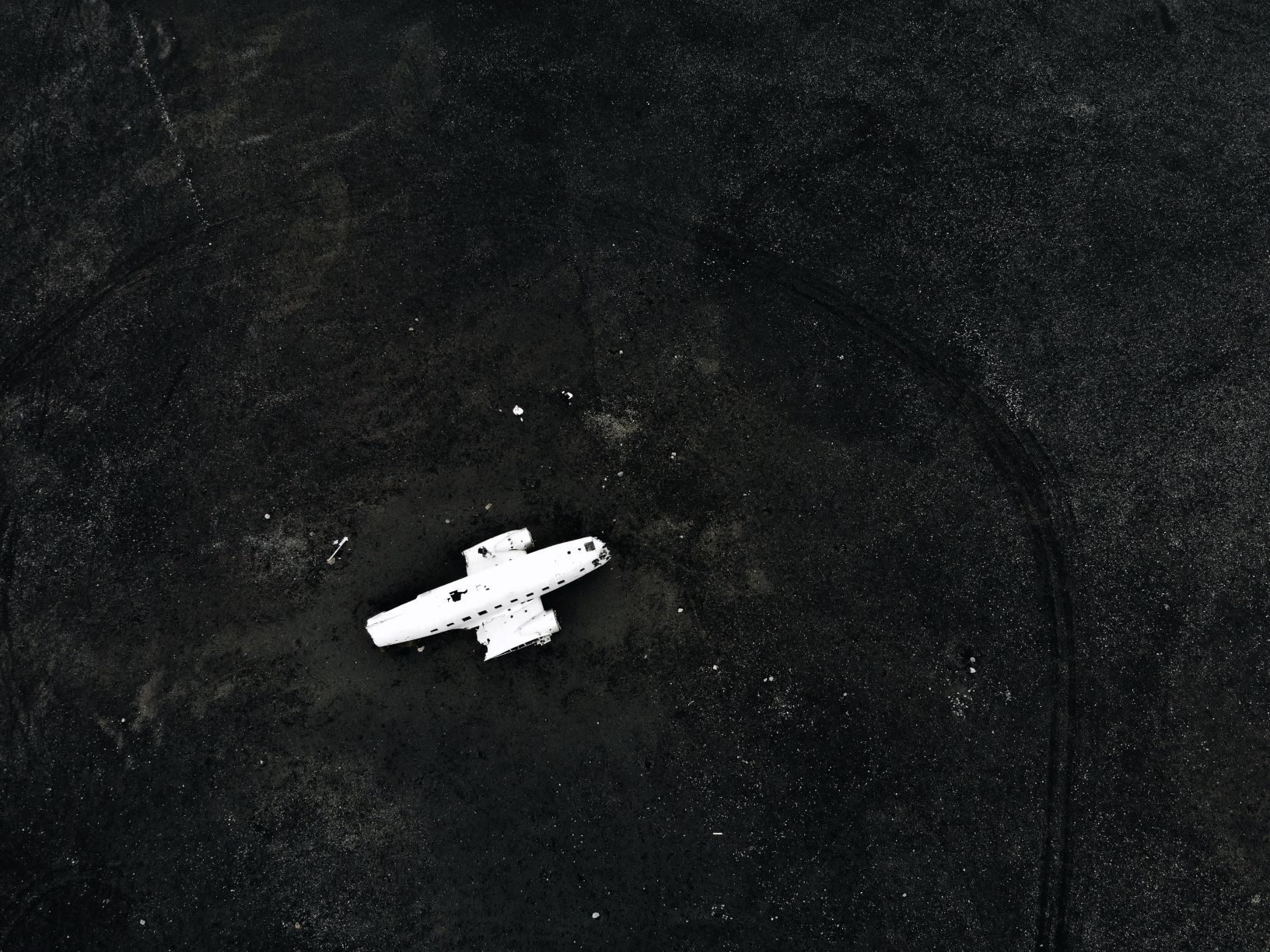 How to get to the Sólheimasandur plane wreck
Location: you can find the plane wreck in Sólheimasandur, located in the South of Iceland. At about a 2-hour drive away from Reykjavik, the remarkable sight is possible for you to visit even if you don't have a lot of time to spend in the country. How to get to the plane wreck? There are basically two options: you can drive yourself or take a bus or shuttle.
Drive to the plane wreck yourself
Are you renting a car on your trip? Good news: you can easily drive to the Sólheimasandur plane wreck yourself. It's located right by the Ring Road, the main highway taking you all around the island. Because of that, it's generally very well reachable, even without a 4WD. (Of course, this always depends on the weather and road conditions).
Upon arrival, you can park your car at the parking lot at the site, after which you can walk to the plane (see below). You used to be able to drive to the plane in a 4WD, but as in many places, this caused too much damage to the natural environment. Now it's only reachable on foot.
Visit by bus or shuttle
Don't have a rental car? Don't worry, you can still visit Sólheimasandur plane wreck! There'll be lots of services you can make use of to take you form your accommodation to the beautiful sight. Still, be prepared to hike from the parking lot to the actual plane itself (just like the rental car folks). There used to be shuttles to drive you to wreck, but they seem to have stopped lately – probably due to its impact on the natural surroundings.
The walk to the Iceland plane wreck
From the parking lot, you can reach the Sólheimasandur plane wreck on foot. The walk is roughly 4 km (2.5 miles) one-way, which takes about 45 to complete. For the round trip in total, then, it takes 8 km (5 miles) or about an hour and a half to get to the plane and back to the parking lot again.
With overall flat surface, the walk is pretty easy and will be doable for most people. In good weather conditions, you'll clearly see the path you need to follow. However, you won't see the plane for most of the walk. It's only as you get really close that it'll suddenly pop up! Still, the vast beach is pretty impressive, too. So, you'll still enjoy the walk.
Visiting in winter
Although the walk to get to the plane is relatively easy in good weather conditions, Icelandic authorities strongly recommend against visiting the wreck in winter. Covered in snow, the walk is not just harder, but the path leading you through the deserted area is also much more difficult to find.
Unfortunately, it is not uncommon that travelers to get lost, injured or even die trying to find the plane in the harsh Icelandic winter conditions. So, unless you're visiting with an experienced guide, you're better off leaving a trip to the plane wreck until summer. Which gives you all the more reasons to come back another time – how convenient! 🙂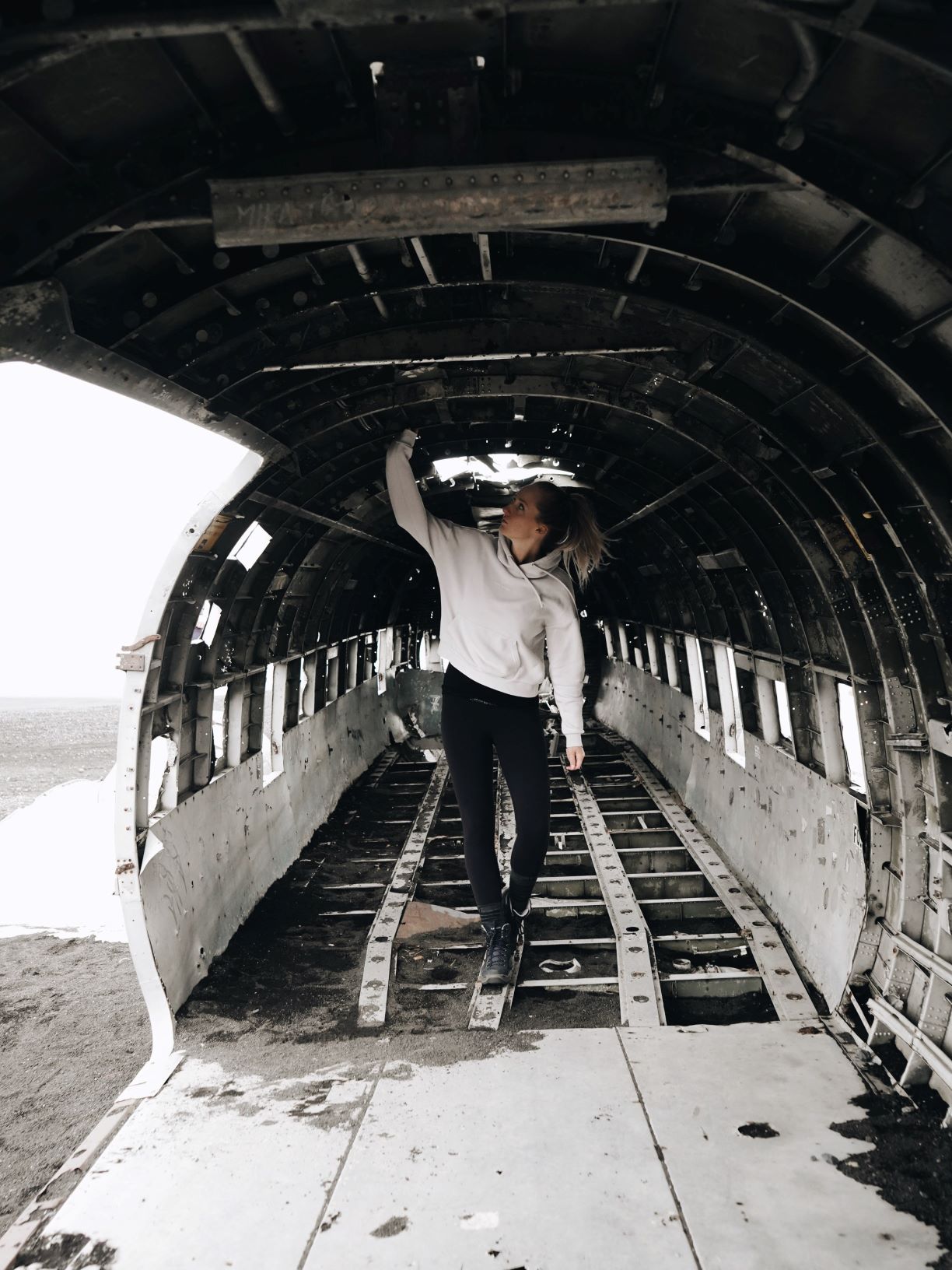 Exploring the wreck
Once you reach the plane wreck, be prepared for some amazing views! It's just incredible to view an abandoned white plane on a black sand beach. It's such an unnatural sight with such an interesting story (that luckily had a happy ending). I won't spoil too much for you – you'll just have to see for yourself! Once you get to the plane, you can walk around it, explore the massive beach and even walk in and explore the interior of the plane!
Now, you're not officially allowed to climb or walk on the plane wreck. I think the reason for this is because the top of the plane is a lot less stable than it looks to be from the ground. In fact, it has many wide gaps, so it's probably not regarded as safe by the authorities.
However, when I visited, I only noticed this warning sign upon actually having climbed it. Yep, the only sign I noticed was on top of the plane, haha. I didn't walk any further, though, because it did look a bit dangerous. So, if you do decide to climb it, I'd recommend being careful.
Plan your trip to Sólheimasandur, Iceland
Location: Sólheimasandur, in the south of Iceland
Best season to visit: summer (or other times with mild weather conditions)
Best time of day: early, to avoid the crowds
Hike difficulty: easy, generally flat
Hiking distance: 8 km (5 miles) roundtrip
Trip duration: about 1.5 hrs walking + time to explore
What to bring
Hiking shoes: I'd say this is one of the few hikes in Iceland that are doable on your sneakers. However – and I know this is strange coming from me, who hikes every trail, in every country, on sneakers, always – I generally would recommend bringing good waterproof hiking shoes on your Iceland trip. Trust me, I'm so happy I did!
Your camera: whatever camera you have, don't forget to bring it! The plane wreck is such a fantastic photography site. 🙂 Here you can read what cameras I use and brought along on my trip. For drone lovers: at the time of visiting (2020) it was also allowed to bring a drone to the site!
Where to stay near Sólheimasandur
Want to stay close by the Sólheimasandur plane wreck, to explore the lovely area? Or to make sure you're the first ones there in the morning to have the amazing sight all to yourself? Here are a few good options with different budgets:
There you go, the complete guide to visiting the incredible plane wreck in Sólheimasandur, Iceland. Are you going to visit the plane wreck on your trip to Iceland?
Some links in this post may be affiliate links, meaning I earn a small percentage of any purchase made. They're at no extra cost to you, but allow me to keep creating new content for you guys. Of course, you're free to use any other link!