Cheap flights to the most incredible destinations – who doesn't want them, right? Honestly, though, there are so many tips out there these days! Some of them work, others really don't. In any way, it has become hard to figure out how to really get the ticket you want. That's why today I'm sharing my no-bullshit guide for finding the best deals, which is based completely on my own experiences. Here are 10 tips for booking the best cheap international flights!
This guide to booking cheap flights is completely free of all myths that circulate the internet. I'm not going to give you a specific time frame in which you should book your flights, because I personally don't believe there's a single ultimate truth for this. I'm also not to debate whether or not you should clear your browser cookies when searching, because honestly: who knows?
Instead, I'm giving you 10 tips that always work really well for me, plus bonus advice in the end. Everything I'm sharing in this guide is based on my personal experience. With these tips, I hope to give you some new insights that'll help you save lots of money.
So, let's get straight into the best tips for booking cheap international flights!
1. Avoid travel during peak season
There's no way around it: finding cheap plane tickets isn't easy during peak season. When schools are closed during summer or on other public holidays, the popularity of travel and tickets rises quickly.
Good news though – if you're not dependent on public holidays, this gives you a great advantage. Skip the peak season and travel off-season for a much better deal. Not only will you get cheaper prices on plane tickets, but there's a good chance everything will be cheaper, from accommodation to day trips and sometimes even restaurants.
If you're worried about the weather being bad – don't. Lots of countries have good weather all year round. And if not, off-season really doesn't have to mean cold, rainy days. Do some research on your travel destination or check out one of my travel guides and get ready to plan your off-season trip!
2. Use flight comparison platforms
One of my best tips for booking cheap international flights. Honestly, I can't even imagine how the best deals were found before flight comparison websites and apps. They're such lifesavers! When looking for flights, I never go directly to a specific airline. Instead, I always go on the hunt for the best deals by comparing different airlines.
Though there are lots of different platforms online, my ultimate favorite platform is Skyscanner. I haven't booked a single flight in another way in over 6 years (and use it for rental cars too, btw). Skyscanner is super user friendly and allows you to filter precisely according to your needs. I love it!
3. Focus on finding good intercontinental deals first
If you're flying to the other side of the world, it can sometimes be cheaper to fly to a big international airport in another country first, and later set out to your intended destination. The idea behind this is to find the best deal to the other continent first, and go further from there.
I've been told by so many people visiting Europe that they fly to the cheapest airport in the area first. Then, take a cheap connecting flight – booked separately. The same is true for other destinations, too. Let's say you want to visit Hanoi in Vietnam. You may be cheaper off booking a separate flight to Bangkok (Thailand) or Singapore first, before flying the last few hours to Vietnam.
The best thing about this is that it can't just save you a lot of money, but also allows you to explore some extra places for a few days!
4. Fly on the cheapest days
I used to hear a lot about how some days were better for booking flights than others. Though this has never proven true in my own experience, it is definitely true that some departure days are cheaper than others.
It's hard to give you an exact rule on the cheapest days. In my experience, this really depends on the destination and the kind of airline you're using. A business destination and airline may have other peak days than holiday-oriented ones. To know which day is the best, simply use a flight comparison website. Use the features to compare different days for a longer period of time.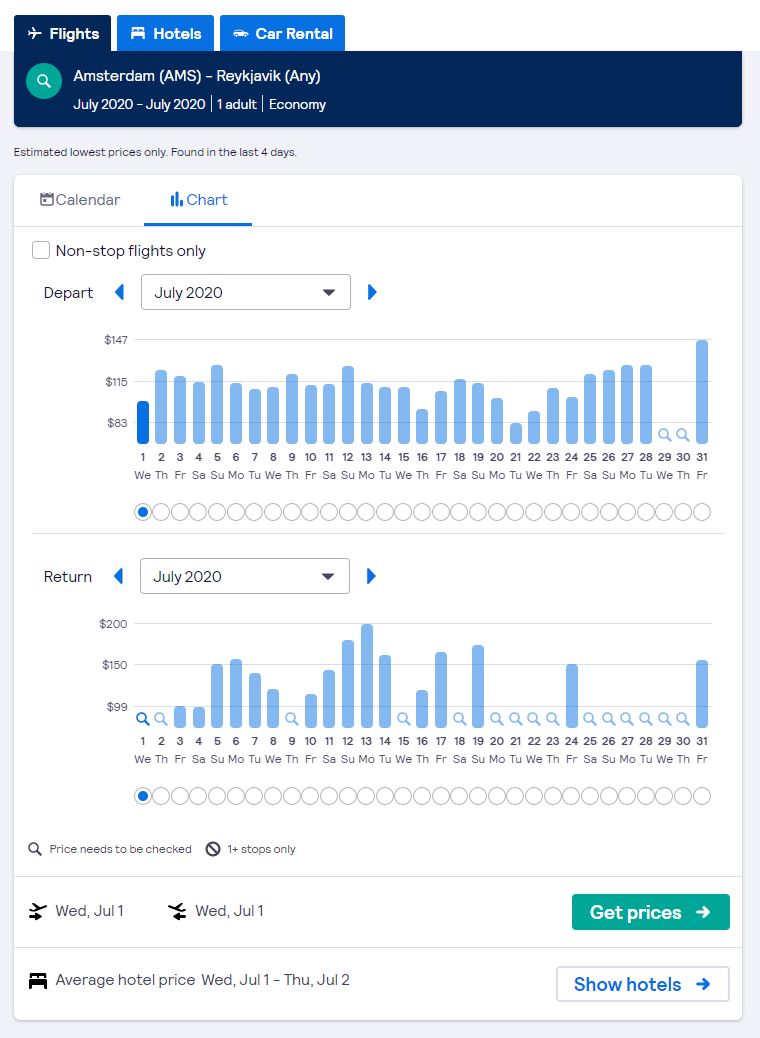 5. Be flexible
This also brings me to my next tip: be flexible. The more flexible you are, the better deals you're gonna find. And with flexible, I mean in every respect. Think departure days, length of stay, airport of arrival or even your specific destination, just to name a few. If you're able and willing to adjust your trip to the best deals, you're gonna be able to find incredibly cheap tickets!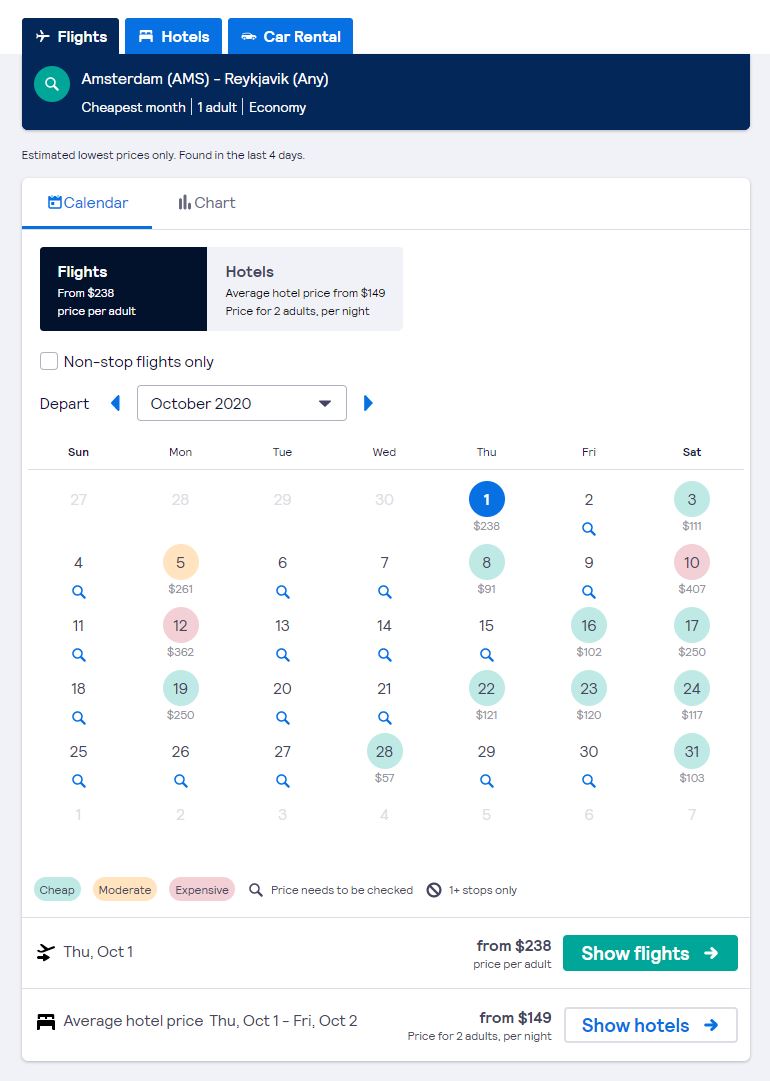 6. Understand & anticipate hidden costs
Let's say your searching for the cheapest options on a flight comparison platform and think you've found your ultimate budget option. You click through to the booking website, only to find out that the final price is a hundred bucks more expensive. What?!
This is often the case for the most low-budget airlines and a problem I've encountered so many times in the past year alone. Let me explain: oftentimes, those airlines are only able to offer deals that are that good, because they will charge for every little add-on you can possibly imagine. These things are often basic features of a long international flight, like luggage fees to meal fees. In most cases, you can't really not pay for them.
Sometimes, the airlines that seem a little bit more expensive on the comparison websites, end up being a lot cheaper because they already include these costs. That's why I never just opt the cheapest option. Instead, I always find out if there are any hidden costs before booking.
7. Search for plane tickets for 1 person
I came across this tip a few years ago and honestly have been amazed by the results it has brought me at times! Always search for tickets for a single person, even if you're going with a travel buddy or even an entire group. Here's why: it's possible that there's only one seat at a cheaper price available, which won't show up in your search results if you're booking for a bigger group.
So, to begin with, search for just a single ticket. Then, expand your search results to 2 (and if needed, more) persons. If you find the same deal for all travelers, great! If not, book the cheap ticket(s) that is/are available, even if it's not for everyone. Split the extra costs and you'll still have a better deal than you normally would!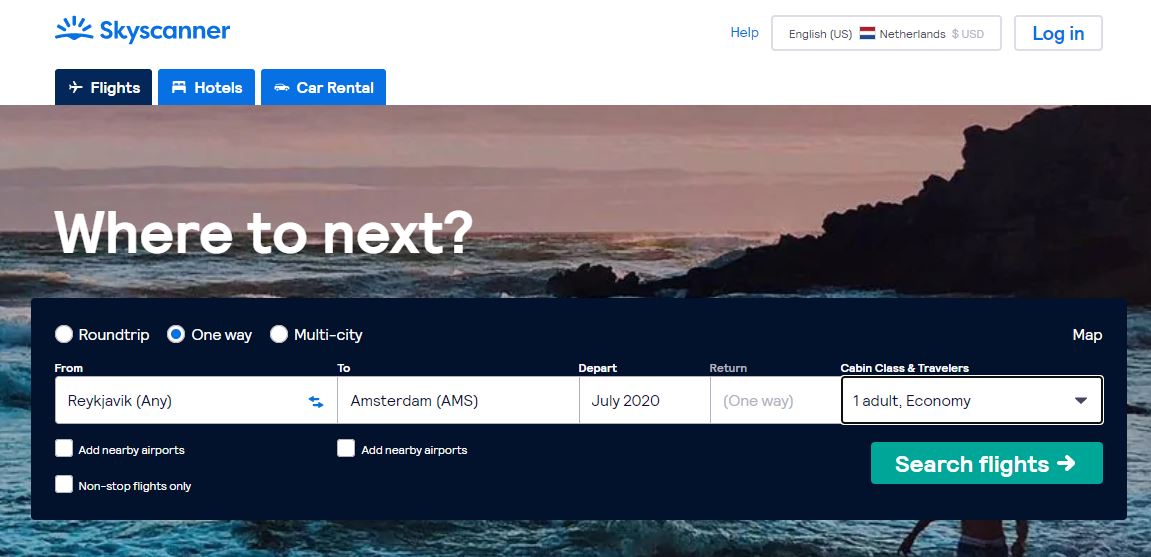 8. Subscribe to airline newsletters for deals
This may sound like a weird one, but trust me! I'm really picky when it comes to newsletters and really don't like spam (I mean, who does?). However, when you're looking to book a possibly expensive flight, you may just find your perfect ticket or an incredible deal in your inbox.
I wouldn't recommend subscribing to every single airline you find, or your entire inbox may turn into a spam folder. Just pick one or a few of your favorite airlines and keep up to date with the deals they're offering. For example, when I'm traveling in South East Asia, I usually subscribe to AirAsia's newsletter. They regularly offer discount codes and promotions for their email subscribers.
9. Track your flights options for a little while…
If you're searching for flight tickets way in advance, it can be a good idea to keep track of the options for a little while. As I wrote before, I have never experienced a clear-cut rule when it comes to the best days to book. However, it's definitely true that prices are constantly changing and fluctuating. By keeping track of the different options or even subscribing for lowest price alerts, you may just find even cheaper prices!
10. … but if you find a good deal, book it
That being said, if you find a good deal you're happy with, book it. Don't wait around, thinking (or hoping) a better one will come around soon. Trust me, in those cases they usually don't. I can't tell you how many times I've waited too long to book a flight and never found as good a price. It sucks! Just remember that the best deals are in great demand and usually are sold out pretty quickly.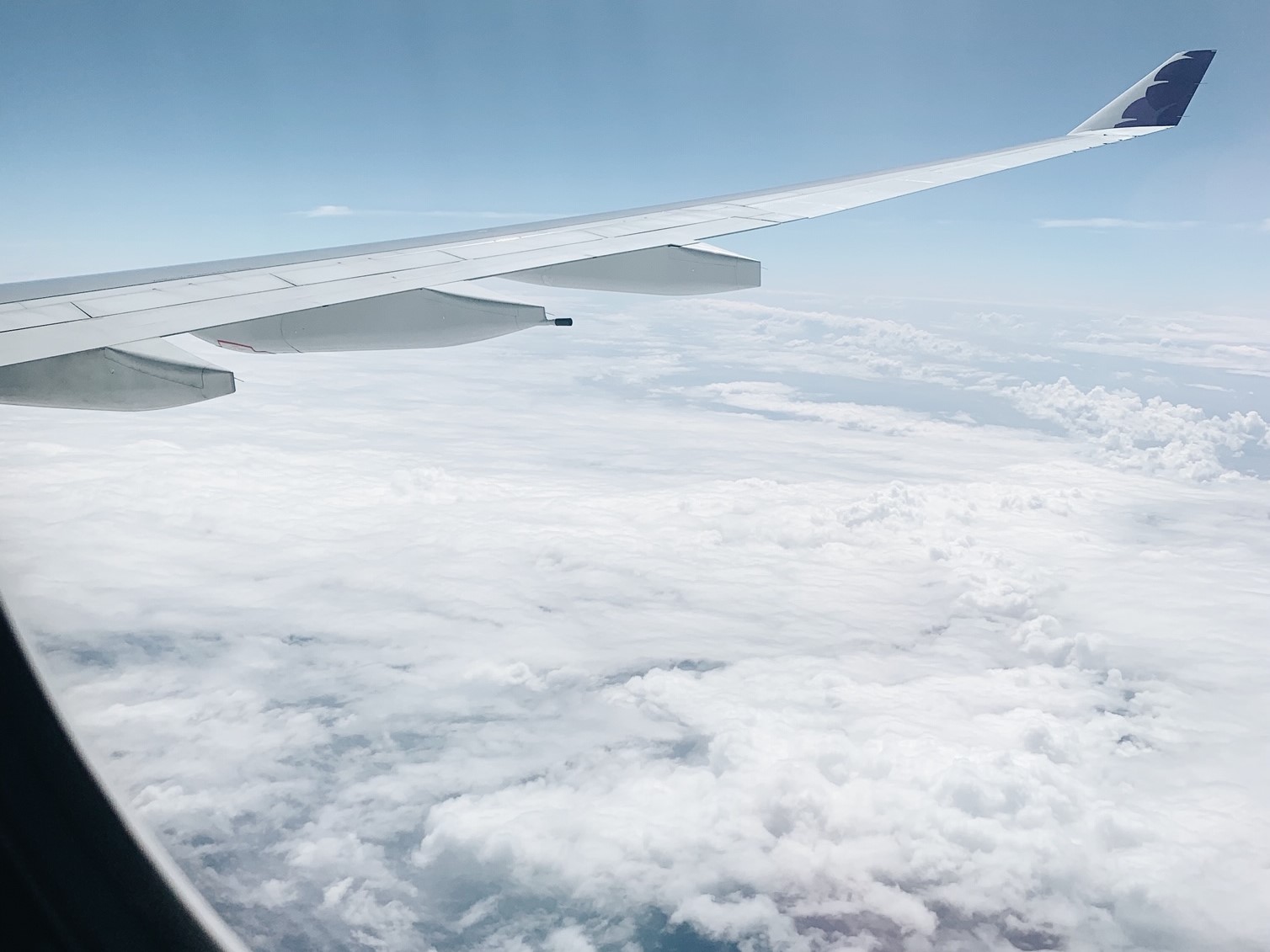 Final tips for booking cheap international flights
Should you book a flexible plane ticket?
Flexible tickets are those for which you can still change certain aspects after purchase, such as the departure date and airport. Personally, I'm not a fan in terms of costs. For lots of flexible tickets, added costs can and often will be charged depending on your changes. In my experience, if your plans are still unclear, it's usually cheaper to use the 10 tips above to find cheap one-way tickets. I've bought a flexible ticket once and ended up changing it, which still cost me a few hundred bucks extra.
Tip: when booking one-way tickets, make sure your visa allows you to enter the country without a return or onward ticket. Otherwise, book a cheap ticket out of the country before departure.
Only book from third-party websites you trust
Lots of great deals on plane tickets are offered through third-party websites (instead of on the official airlines' websites). Most of the time this isn't a problem, especially if you book with a company that you trust. If you've got previous experience and are happy with a company, go for it! If you don't, simply find some reviews of the companies online.
However, if a company has super bad reviews and doesn't seem trustworthy, don't book with them. I've had issues with double credit card charges and customer service calls to a country I didn't even know existed. Though in my case it luckily turned out alright, save yourself this stressful situation and only book with companies you trust.
Hidden city ticketing: yes or no?
Hidden city ticketing is not something I would recommend. If you don't know what this is, let me explain. In some cases, a ticket to a destination with a layover in a particular city is cheaper than just booking a direct flight to that same city. In has become a popular budget option to simply get off the plane in the 'hidden city' and never show up for your connecting flight.
However, hidden city ticketing can have a lot of consequences, like practical (luggage traveling to your end destination) or even legal ones (breach of contract). I know, it's super frustrating to see that booking half of the trip is more expensive than 'accidentally' missing a connecting flight. Still, it's not an option I would personally consider or recommend.
That's my complete no-bullshit guide with my 10 tips for booking cheap international flights! I hope you've found these tips useful and that they'll save you lots of money on your next trip. Let me know in the comments if you have any other tips for finding the best deals on flights that you swear by!
Liked this post? Save it for later!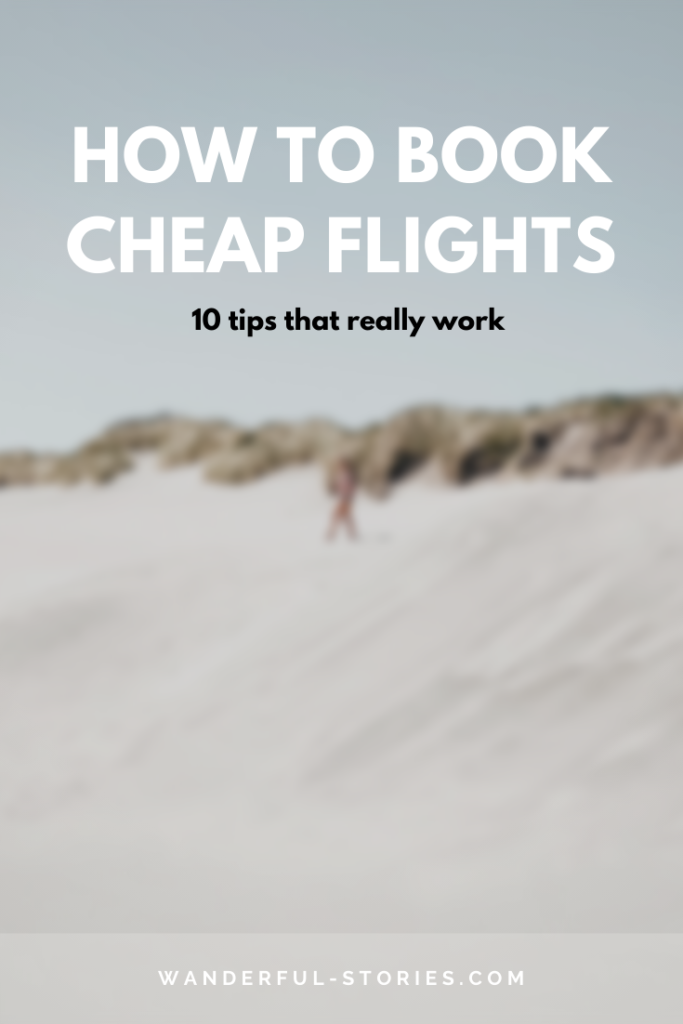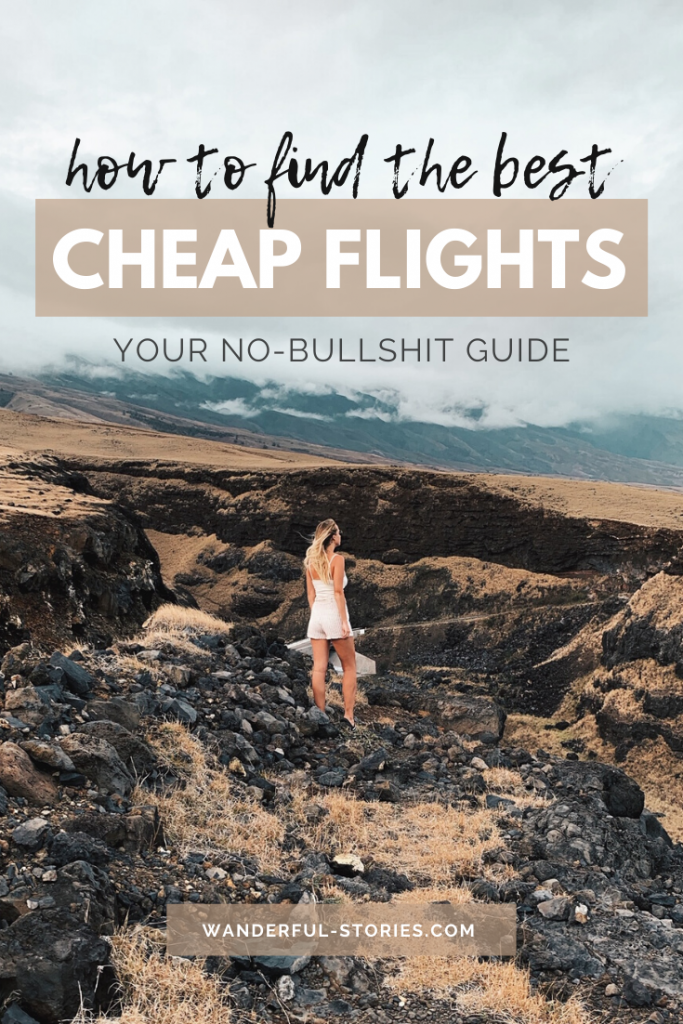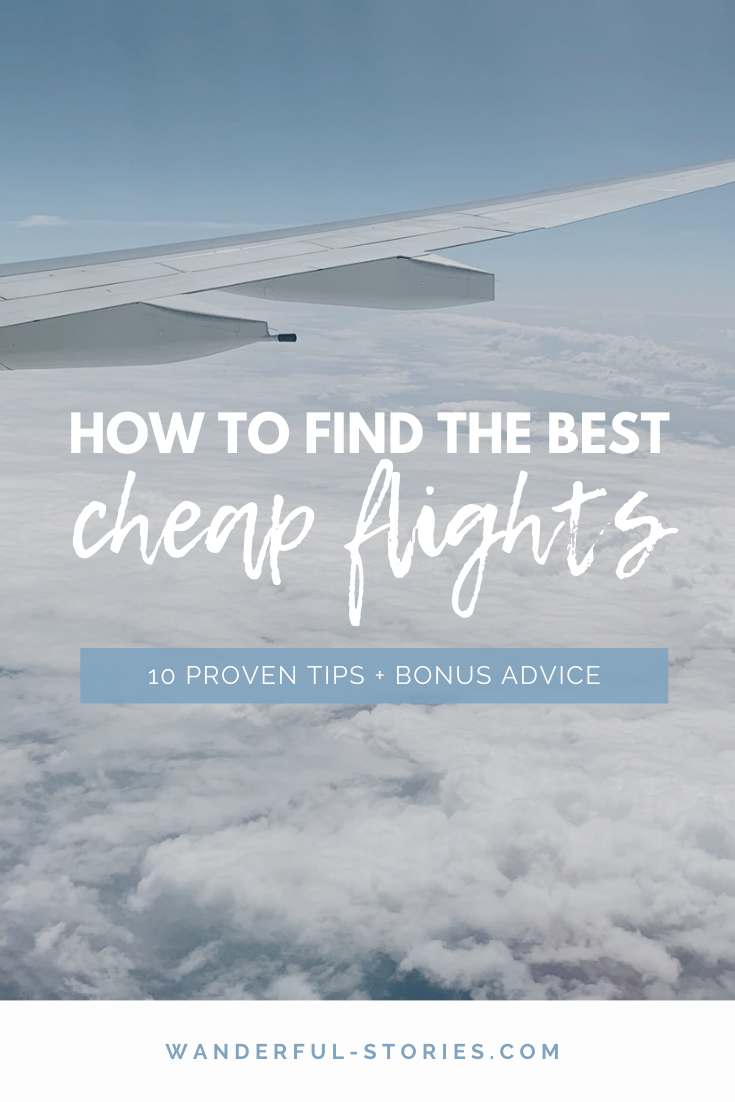 ---
Popular budget travel tips