On the first day on my trip to Iceland, I stumbled upon a true Iceland gem: the Reykjadalur thermal river. This natural hot spring turned out to be one of my favorite places of my road trip. Today, I'm sharing everything there is to know about the Reykjadalur hot springs.
In this post, you'll find everything to help you plan your trip to this wonderful place. So, if you want to know how to get there, how much it costs, what to bring and much more, just keep reading!
How to get to Reykjadalur hot springs
The Reykjadalur thermal river is hidden in the mountains in the southwest of Iceland. From Iceland's capital city Reykjavik, it's about a 45-minute drive (50 km/31 mi) to the Reykjadalur parking lot. From there, the thermal river is accessible only on foot.
To get to the right spot, simply search 'Parking Reykjadalur' on Google Maps, for easy navigation to the start of the trail. At the parking lot, you'll find a public toilet, the only one available nearby.
If you don't have a rental car, you can also opt for an organized tour to the hot springs.
Reykjadalur hike
From the parking lot, you can reach the hot springs by hiking around 3.5 km one-way (2.2 mi). The hike takes you through incredible landscapes. Honestly, I think it's even worth visiting the springs just for the beautiful Icelandic views!
For most people, it'll take about an hour to get to the hot springs and 45 minutes to return. I found that, especially in the beginning, the hike was quite uphill at some points. As you get closer to the hot springs, though, the trail gets a lot easier. Based on my experience, it's definitely not the hardest hike to complete. However, if you're not in great physical shape, you may want to be careful at some points. Anyway, once you get there, the reward is incredible!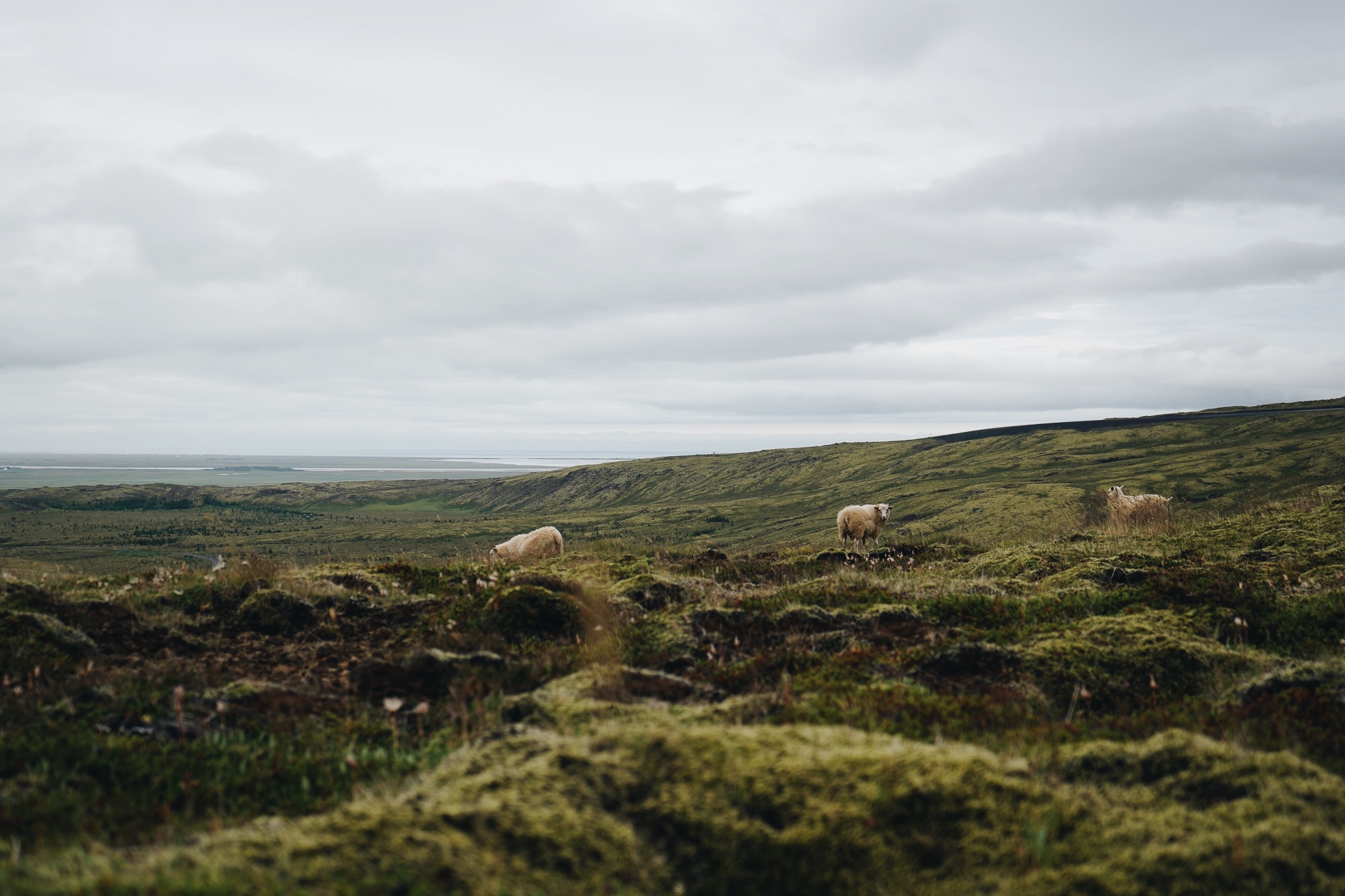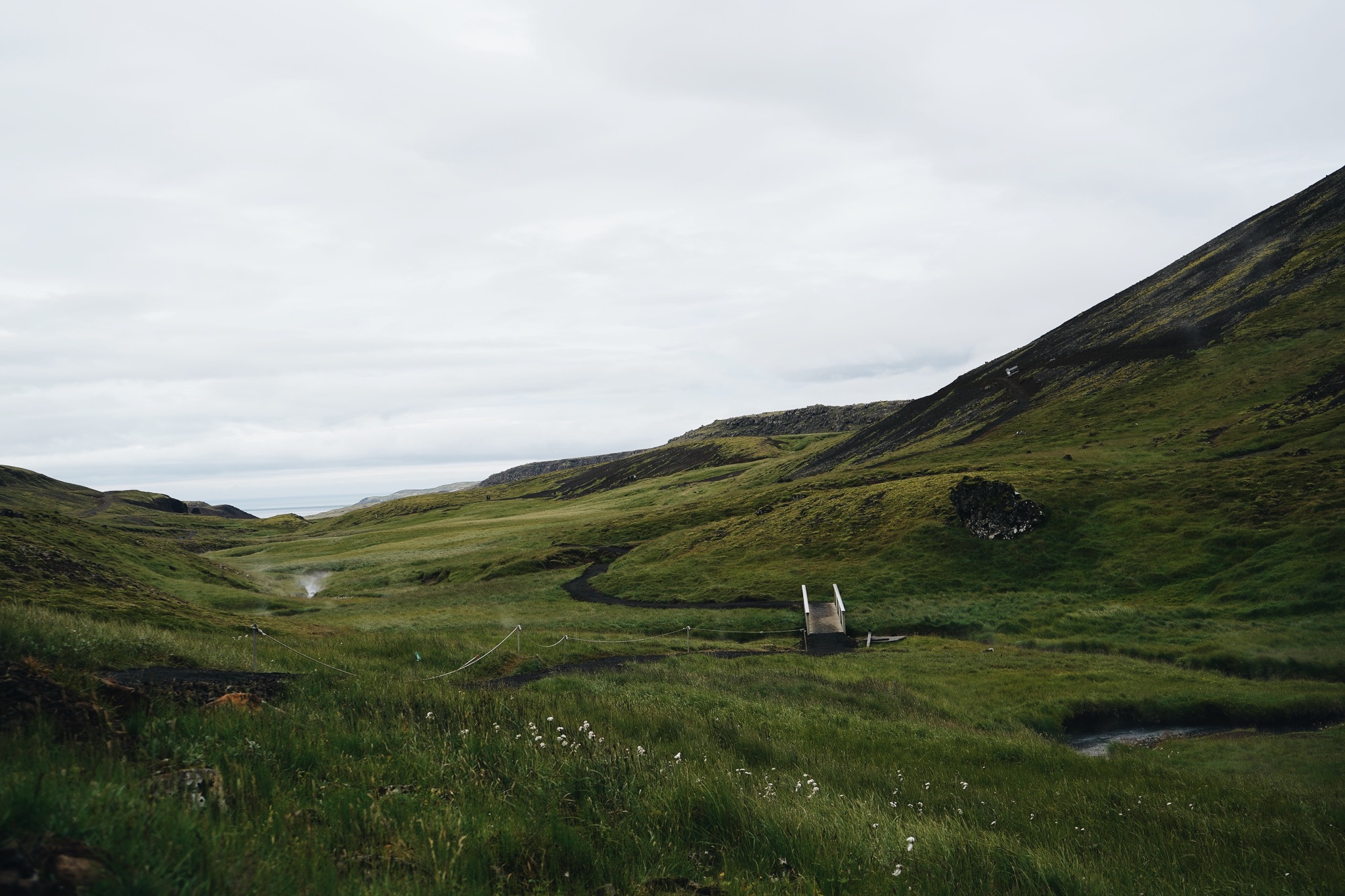 Costs of visiting Reykjadalur hot springs
You're in luck, Reykjadalur is one of those amazing Icelandic natural attractions that won't cost you a thing. Both parking and entrance to the trail, as well as the hot springs, are totally free. (Except for when you book a tour, of course.)
| RELATED: Traveling in a pandemic: my experience in Iceland during COVID-19
Bathing in the thermal river
As you arrive at the river, you're greeted by a sulfur smell. If you've visited geothermal areas before, it'll be very familiar to you, haha. However, at this place, the smell really is not too bad! The hot springs are such a lovely place to sit and chill for a little bit and take in the beautiful surroundings.
Along the river, you'll find several places to take of your layers of hiking clothes and change into your bathing suit. These are not really changing rooms, though. They're like wooden partitions that sort of shield you from the public eye, but are still open. But don't worry! Everyone has to change at the same spot and no-one is looking at you anyway, since they're all just enjoying the hot springs.
You can sit anywhere you like in the river, but be careful with walking to far up the stream. Just past the final changing spot, the water is much hotter. This is because that area is before the point where the hot water gets mixed with a cold mountain stream. And let me tell you, that's definitely not a comfortable bathing temperature!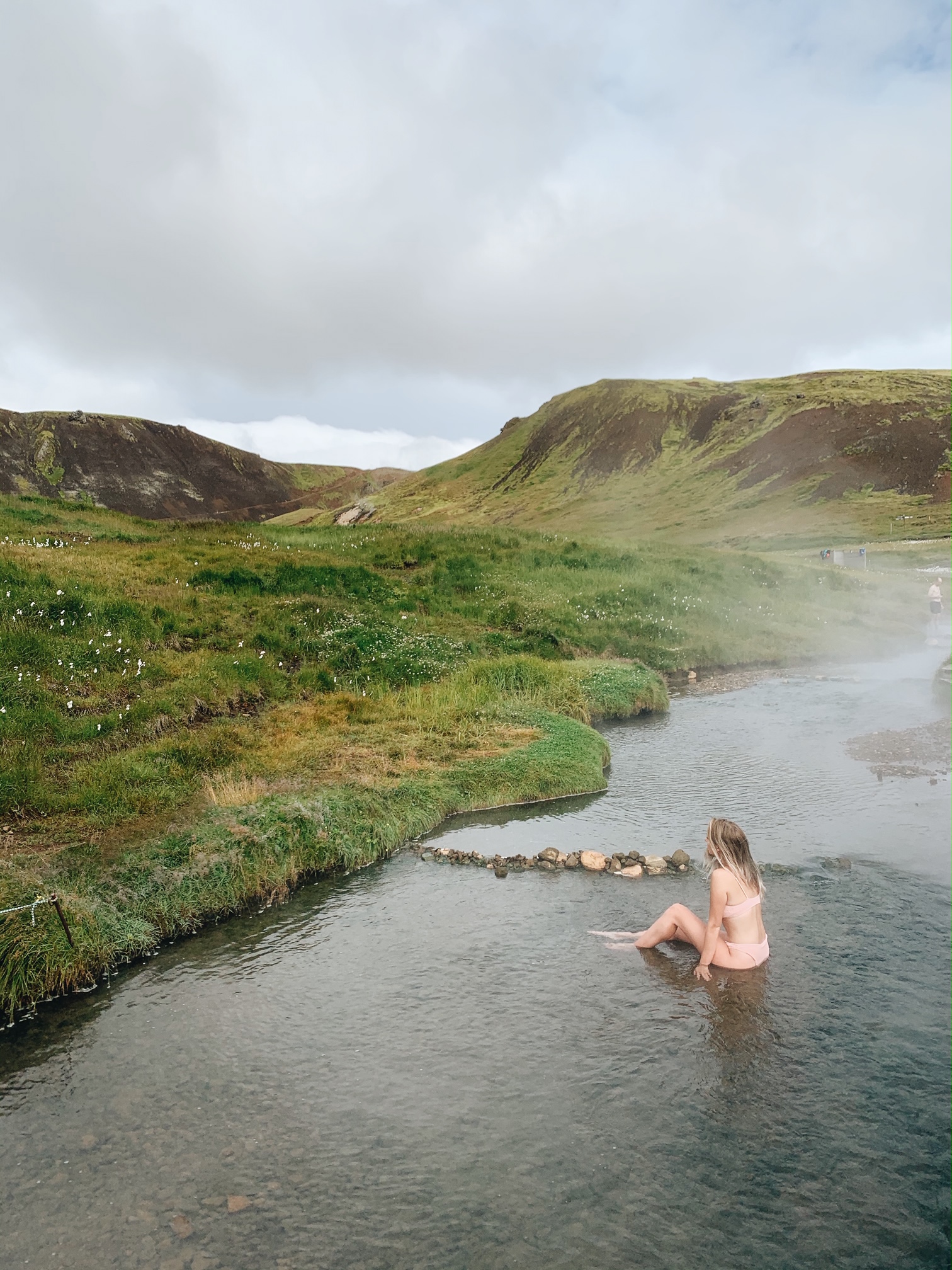 When to visit Reykjadalur hot springs
Me and my friend visited in late summer and decided to head out early to the river. After driving to Reykjadalur and making our way into the mountains, we arrived at the hot springs at around 9 am. This ended up being the perfect time for us. The hot springs were mostly deserted, apart from a few others. But when we left (around 10 am), the river was getting very crowded very quickly.
So, as with most Icelandic natural attractions, I'd recommend going early to avoid the big crowds. We visited in late summer, so we had lots of daylight even in the morning. If you're visiting in winter, you may want to adjust this advice to the current circumstances.
As far as I know, the trail should be accessible all year. However, in Iceland you're always kind of dependent on the weather and its impact on trails, roads and attractions. So, it may be possible the hot springs aren't accessible some times.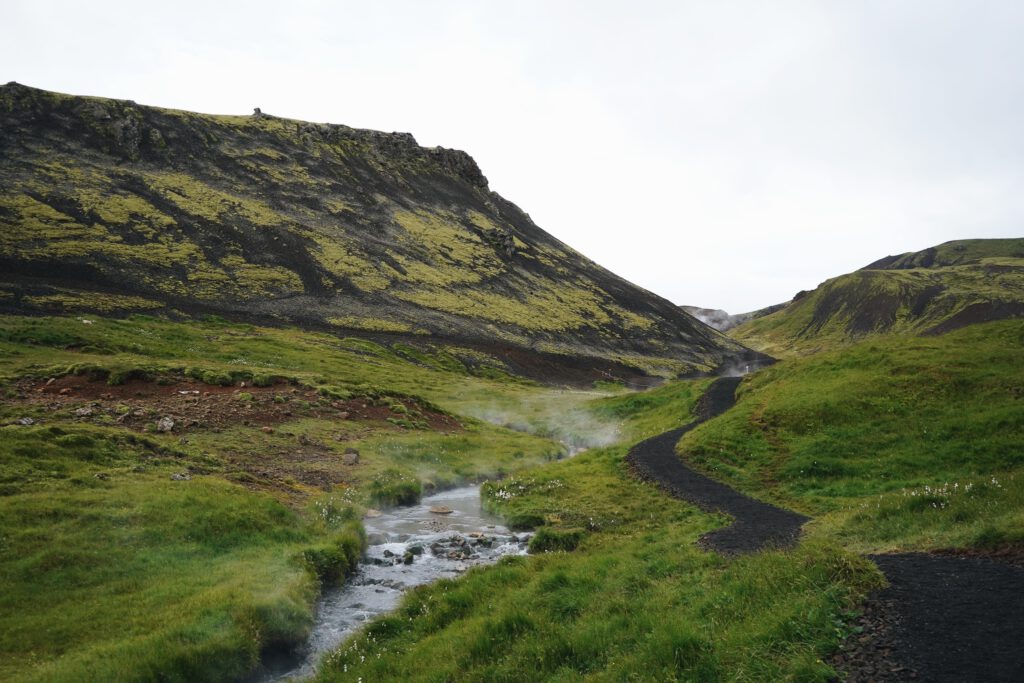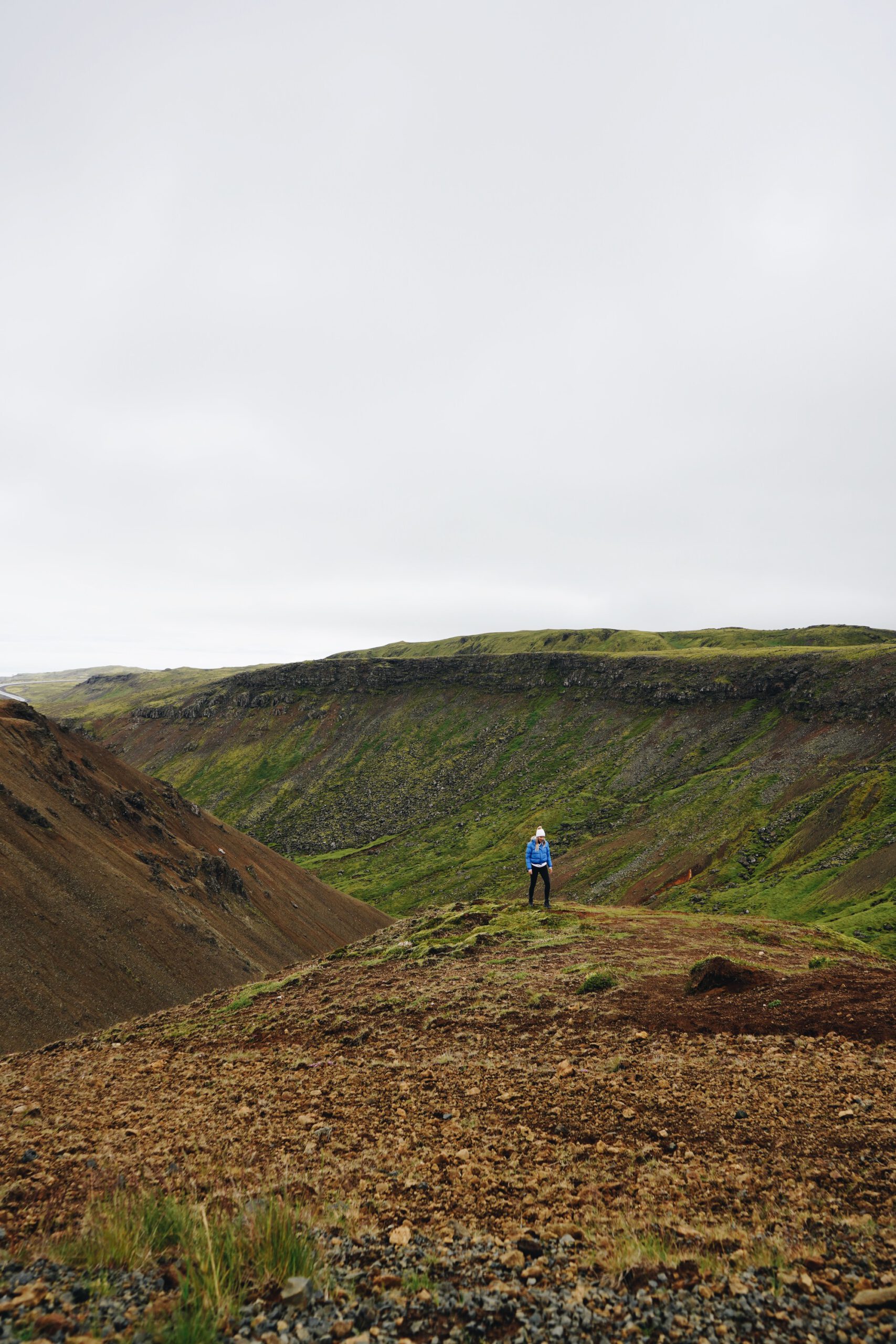 What to bring to the hot springs
Some items you definitely don't want to forget are a bathing suit and towel. Another product that can come in handy is a bag of some kind for your wet stuff, since you'll have to carry those all the wack back down.
Apart from that, make sure you're wearing the right clothing and shoes for the hike. In my experience that means layered clothing (to adjust according to the temperature) that shields you from wind and rain. Really, you never know what the sky has in store for you on the island!
I was also really glad I wore decent hiking shoes that were waterproof. Though I'm normally a hike-on-your-Nikes kinda gal, I brought a good pair of hiking boots to Iceland and I couldn't have made a better decision. There wasn't a single day where my shoes weren't exposed to lots of water, and visiting the Reykjadalur hot springs was no exception.
I really loved visiting the Reykjadalur hot springs and am sure you will feel the same! The somewhat challenging hike takes you through a beautiful landscape, and the reward afterward just couldn't be better. Bathing in the thermal river is a must-do on your trip to Iceland. I hope you've found this post helpful. If you do visit the hot springs, don't forget to let me know what you think!
Liked this post? Save it for later!