Recently, we packed up our bags and left Central America for the first time in months for a whole other destination: Miami, Florida! Upon booking the trip, I was told by several different people that Miami just wasn't for them. I started wondering how I'd spend an entire month in 'just' a city… However, the second I arrived, I already realized my experience would be completely different. And it was! For me, Miami is the total package, meaning it really has something for everybody. Here are 7 reasons why I loved living in Miami as a digital nomad, and I hope you will too.
1. The tropical weather
Not gonna lie: the sun is pretty much the first thing I use to filter when considering new destinations to live in as a digital nomad. Meaning: sun, please! Because really, it's about 80% of the reason I escape my super cold European weather to begin with. 🙂 During our month in Miami (early March – early April), we had mostly sunny weather of around 30 degrees Celcius (85-90 degrees Fahrenheit), with barely any rainfall. Several locals informed us that not all months are great for living in Miami, though. So pick your time to visit this destination as a digital nomad wisely.
2. The overall great vibe
While Miami is a giant city (in my eyes, at least), it really doesn't feel like that at all. Maybe it's the sun, maybe it's the palm trees, maybe it's all the music and parties. Whatever it is, most neighborhoods to me seem like sunny towns with music and good, relaxed vibes. And I guess it makes sense, considering that for many, this city is either a great holiday destination or – from the looks of it – a place to enjoy spending the fortune they've made. 🙂 All in all, people are friendly and even the traffic and busy streets are noise-free, apart from the occasional honk or siren.
3. The cool beach life
Just like sunny weather, a beach is pretty much a prerequisite for any place I choose to live as a digital nomad. Even if you're not a 'must-have-a-beach-everywhere-I-go'-type of person, you'll still enjoy Miami's sandy paradise. I'll admit, if you've traveled around to tropical destinations or visited Hawaii, Miami's beach will not be the most impressive in terms of crystal clear water and bright white sand. However, there's something so spectacular about being in the ocean and looking back at the beach. The incredible Miami skyline, towering up high above you, everywhere you look.. it doesn't get much better than that! Besides that, the brightly colored beach houses (and eh, ripped lifeguards ;)) are pretty fun, too.
4. The next-level music and festival scene
If you love music, parties and festivals, Miami's your place. In fact, Miami Music Week – Ultra Music festival in particular – is the reason I decided to visit Miami in the first place. My travel buddy and I figured, "hey, if we're gonna be there for a week anyway, we might as well just stick around a little longer!" Hence, the very good excuse to stay in Miami for an entire month. And let me tell you, it did not disappoint.
5. The incredible mix of cultures
One of the biggest revelations for me when finally visiting Miami, was how diverse its culture is! For some reason, I'd always envisioned Miami as the typical shoreline-plus-silver-skyscraper combo. However, Miami really is an incredible mix of culture and history. From the colorful Art Deco hotels on Ocean Drive and incredibly expensive cars driving by on any street, to Cuban food and culture in Little Havana and much, much more. There honestly is so much to see, experience and taste.
While I usually avoid to do anything organized or touristy, we did a hop-on hop-off bus tour on our first day in the city. Since Rick and I work long hours every day, we thought it'd be a great idea to at least get a crash course on the city we'd be living in and its history. And it was a smart move! We learned lots about the history of Cuban immigrants, for example, which gave so much more meaning to our visits to the neighborhood, later on.
6. There is so much to do
That brings me to the next one: there's a lot to do in Miami. Like, a lot. Since it is a popular holiday destination, you'll find activities left and right. Even if you're not a fan of the aforementioned beaches, festivals, culture and food – which I can hardly imagine 😉 – you'll still find plenty of fun things to do in the city. Hop on a yacht, enjoy water activities, go visit a museum or do a segway tour 'round town – or any of the other hundred of things to do. We even embarked on a road trip to the SpaceX launch site during our time in the city. The possibilities are endless.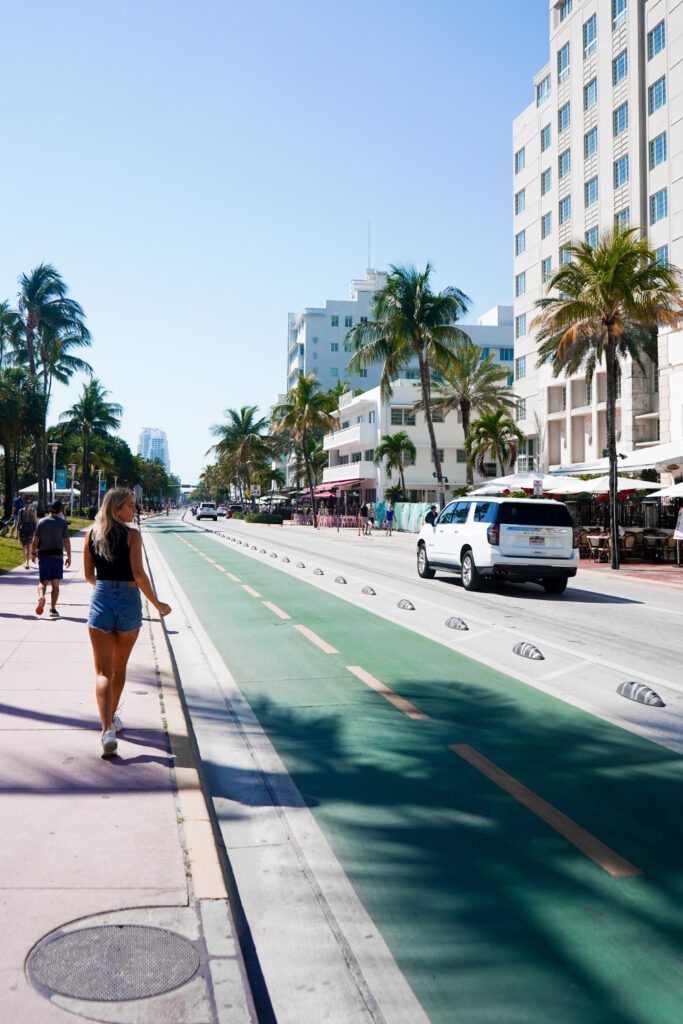 7. The great digital nomad facilities
Closing off the list with one that's a bit more practical, but we can definitely not forget: the basics you need as a digital nomad. Now, while living in countries like Mexico and Guatemala, strolling around with a laptop and working long days wasn't always an easy feat.
Here, however, that's no issue. The Internet is as fast and reliable as you'd expect from a city like Miami. We had some minor issues with the router in our Airbnb, but covered unexpected connection issues with a 5G e-sim with great coverage. On top of that, there are lots of great cafes you can bring your laptop to, and I never felt unsafe carrying around valuable items. (Although, of course, basic caution is always advised). We even saw a group of people working and living their best life in front of the Wholefoods supermarket. If that's not the next level of remote working, I don't know what is. 🙂
Are there reasons not to live in Miami as a digital nomad?
Just like any destination, Miami might not be for everyone. One of the downsides is the cost of living. Clearly, Miami is not one of the cheapest options out there. Yet while Central America on many occasions didn't turn out to be cheap as I'd hoped for, Miami wasn't the mega expensive trip I thought it would be. And finally, if you want to escape American/Western culture and go off the grid, you might be better off visiting another country. However, I loved Miami as a digital nomad and can highly recommend it!
As you can see, Miami is super diverse. From an active lifestyle of healthy food and exercise, to partying, festivals and water activities: there's something for anybody and everybody. Personally, that's what I love about any place I live in as a digital nomad. If you decide to pay Miami a visit and try this digital nomad destination out for yourself, let me know! Leave a comment below or hit me up on Instagram, I love hearing from you.